A few people have asked me what it's like to travel in Europe by camper van, so I thought I'd put together a post detailing our experiences so far.
The Van
Our rented camper would be known in the USA as a "class B" – it's a camper built into a standard cargo van. It's 6 meters long (about 20 feet) which keeps under a key size threshold for ferry and toll pricing here. It's based on a Fiat Ducato chassis (which I think is sold in the US as a Dodge Promaster, which is also very popular for camper conversions) and has a 2.3-liter diesel engine and a 9-speed (!) automatic transmission. That we got a vehicle with an automatic transmission was sheer luck — we hadn't requested it.
I read something the other day that said that less than 2% of cars sold in the USA have a manual transmission, and most Americans don't even know how to drive a stick shift. That's not the case in Europe, and if you buy or rent a camper (or any car) here, there's a good chance it will come with a clutch pedal unless you specifically request an auto.
Inside, it has a pop-top with two beds and two more beds inside in the back. The driver and passenger seats swivel to face a table between them and two additional belted seats in the back. There's a tiny galley and a small but functional bathroom with a shower. I (about 6'1″) can just stand up inside.
The pop-top is very functional and comfortable, but we miss the height of our Colorado Campervans top on the Sparksmobile.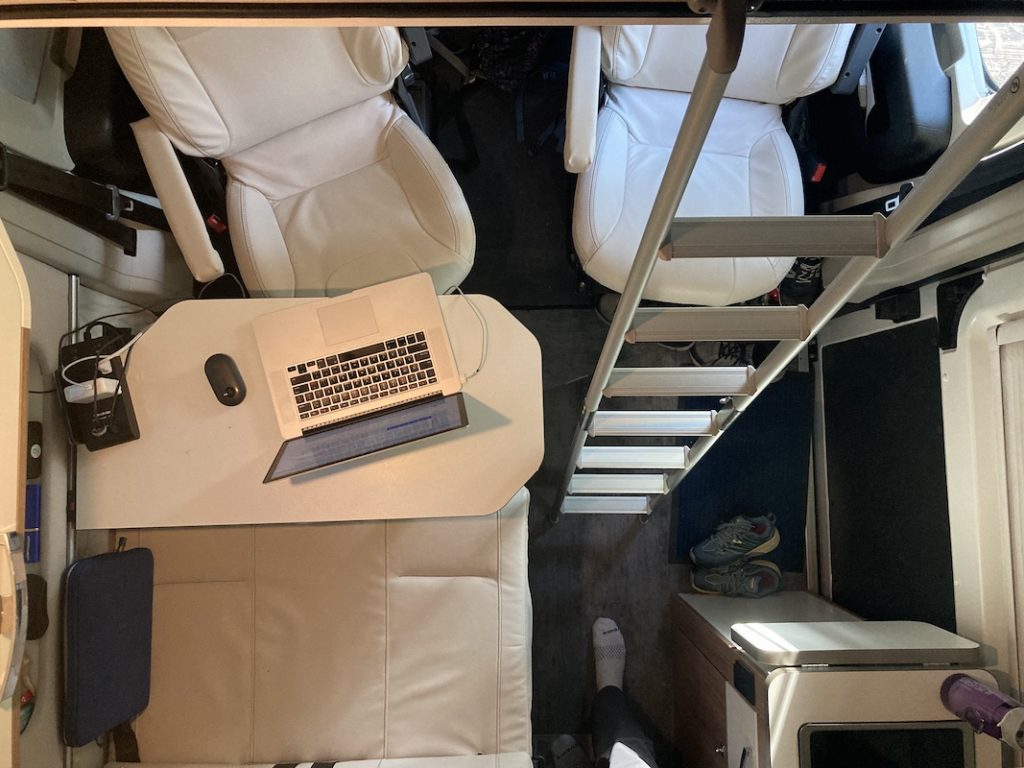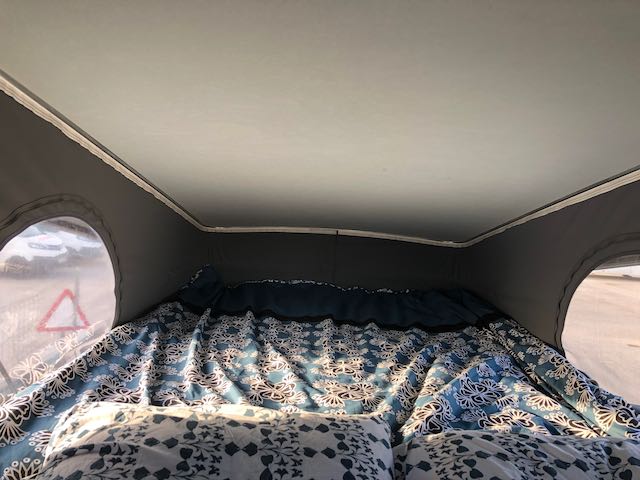 The toilet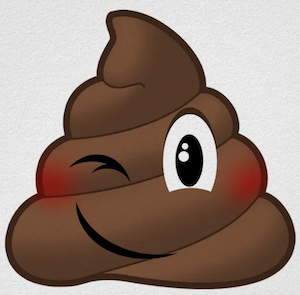 Warning: the section below discusses the process of dealing with poop. Feel free to skip this section if you don't care or are squeamish.
Ah, black water. A favorite topic of conversation among RVers everywhere. In the USA, black water tanks are common. Waste is stored in a tank, and a dedicated hose is used to drain the offending material at an approved location. In Europe, cassette toilets are the norm. There's a hatch on the side of the van that reveals a compartment under the toilet. Open it up, and slide the cassette out from under the toilet. It's about the same size as a roll-aboard suitcase and has wheels and an extendable handle. We usually stay in paid campgrounds at least every few nights, and they always have dedicated locations to empty and rinse the cassette. Once, we emptied it in a rest area toilet off a French motorway. After you empty it, you add a cap full of a thick blue chemical sold at campgrounds into the tank. The stuff is very effective at eliminating odor, so the process of emptying the tank isn't quite as disgusting as it could be.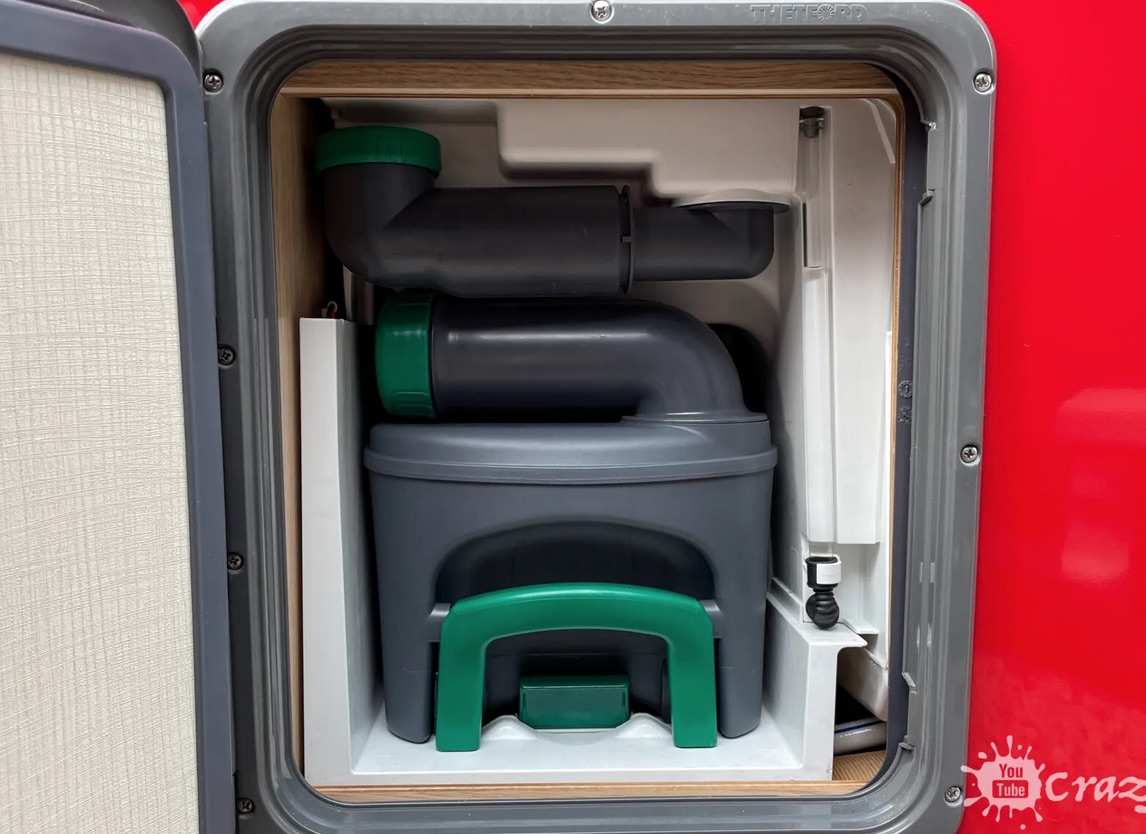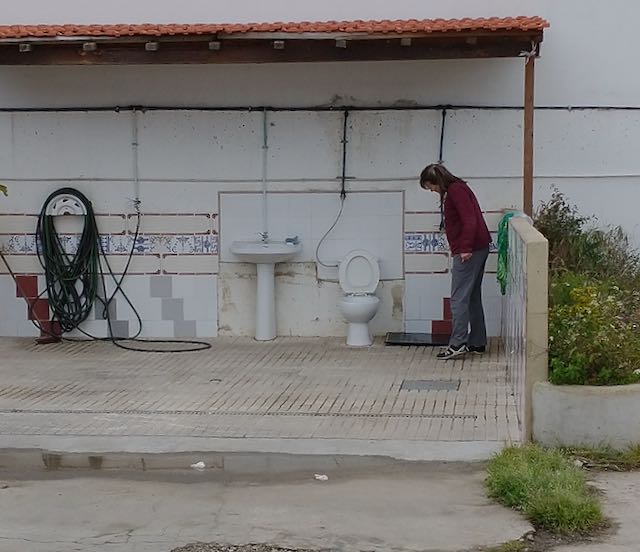 I've never used a black water tank before, so I can't speak to which is better. The cassette isn't unpleasant unless it has poop in it, in which case it can be a mission to get it completely emptied. We try to avoid pooping in ours when we can, but it's not always possible.
Enough about poop. Time to move on.
Plumbing, heating, and electrical
The rest of the systems are very familiar. There are two gas (propane, I assume) bottles in the back used for cooking, heating, hot water, and occasionally the refrigerator. When one runs out, you switch the hose to the other and then replace it. One of ours ran out after about three weeks, during which we ran the heater most nights and showered a couple of times. We've since learned that every country in Europe uses a different type of propane bottle. How they can agree on a single currency and open borders and yet all have different types of propane bottles I have no idea. Fortunately, it's warmed up enough so that we're not using the heater much anymore. We're hoping that our remaining bottle will last us until we get back into France in a few weeks.
The van has a coach (or leisure or house) battery that is recharged while driving, when plugged in at a campground, or via the solar panel. Since it's a rental, it's pretty bare-bones, and the battery and solar aren't big enough to support four of us using our laptops for gaming and working. If I had the ability to kit out my own van, I'd upgrade to lithium batteries and add another 300W of solar to the roof.
The kitchen is tiny with not much prep area. The one very generous item (space-wise) is the fridge.
Google Maps and Driving an RV in Europe
We were having lunch at a sidewalk cafe in Coimbra one day when a car came slowly down the narrow cobbled street and stopped, the driver talking to our waiter in American-accented English, asking whether he could get through or if he needed to back up. We asked his passenger if they were using Google Maps. She laughed and held up her phone as they continued on their way.
The central core of European cities (the parts tourists like to visit) can be a maze of twisting, narrow cobblestone streets. Google maps has a tendency to route you into these places; it has no idea that you're driving a 6m long van. For long distances, it's fine; it will put you on a motorway or other major highway. The last few km, though, can get dicey, and it's really difficult to figure out if Google's directions are really the best way to get to your final destination. The first sign of danger is when it tells you to turn onto a cobble-stoned street.
That may or may not be fine; the problem is that a route can start out looking good, but after a couple of turns, the street gets narrow and twisty. By that time, it's too late – there's nowhere to turn around, and there are probably some impatient locals behind you, so you can't back up. You just have to forge ahead carefully and hope that you don't snag anyone's drying laundry on your roof on the way through.
In one case, Google's directions were fine, but I missed a turn, and there were no viable ways to turn around or get back on course until we'd crept up through narrow one-way alleys to the fortress at the top of the hill. Google needs to add a feature so that when this happens, she says, "You missed the turn, jackass. You are now truly screwed. Good luck." Oh well, at least we ended out snagging a new pair of pants and a dishtowel on the way through.
Motorways are much easier to navigate. There are lots of tolls, and they can add up, but they are also fast and smooth. There are rest areas along the way ("Aires") where you can stay overnight if need be.
Camping and Campgrounds
Europe (at least the bits we've visited in France, Spain, and Portugal) offers a similar variety of camping options as the US. One thing we haven't seen is the equivalent of a national forest or state park campground. Our stays have been either free camps or at paid commercial campgrounds. We usually end out paying to camp every other night because we need showers, laundry, or power.
Free Camping
So far, it's been pretty easy to camp for free. In France (when we were there in March), we mostly stayed at free spots since most of the campgrounds were closed for the winter. There are a variety of apps to help you find spots. Our favorite so far is Park4Night. Free camping is usually in some sort of parking lot, either urban in and around cities, or if we're driving along the coast, we can usually find a place to spend the night at a beach parking lot, which is always very nice.
In Portugal, it's officially forbidden to free camp in a national park, and the entire coastline from Lisbon south to the Algarve is a national park (which is fantastic — it's a beautiful and largely undeveloped coastline). In practice, we have spent the night in beach parking lots in these areas with no problem, and there have always been other vans parked there as well. We think this might be because it's still off-season and they haven't started checking yet.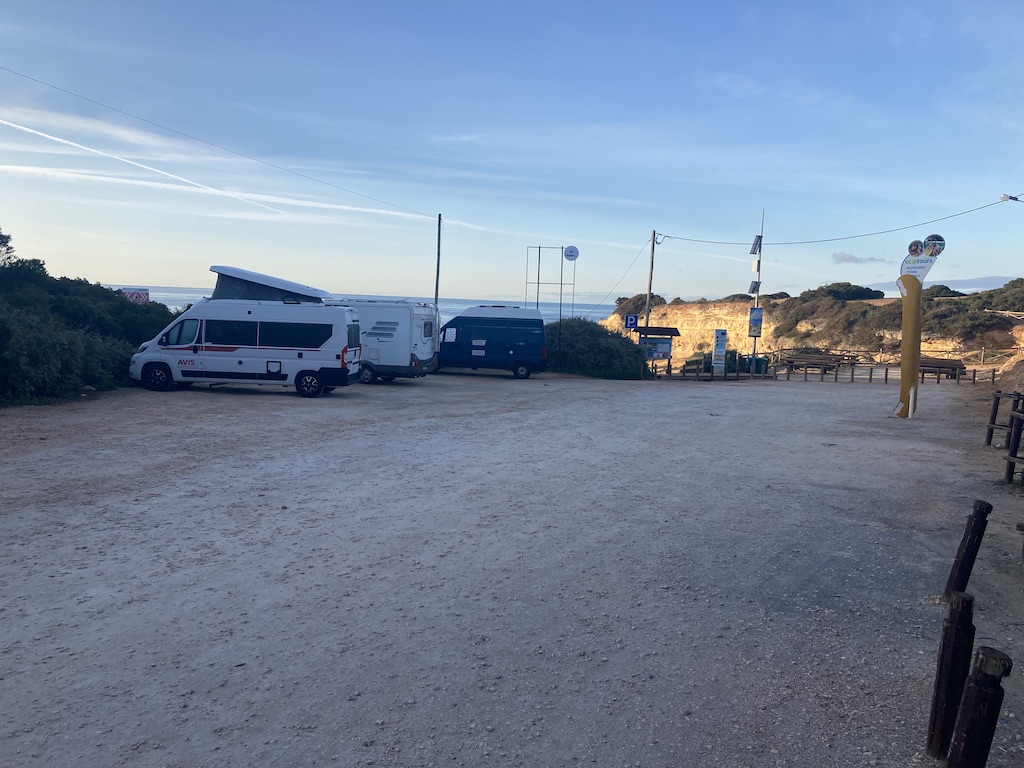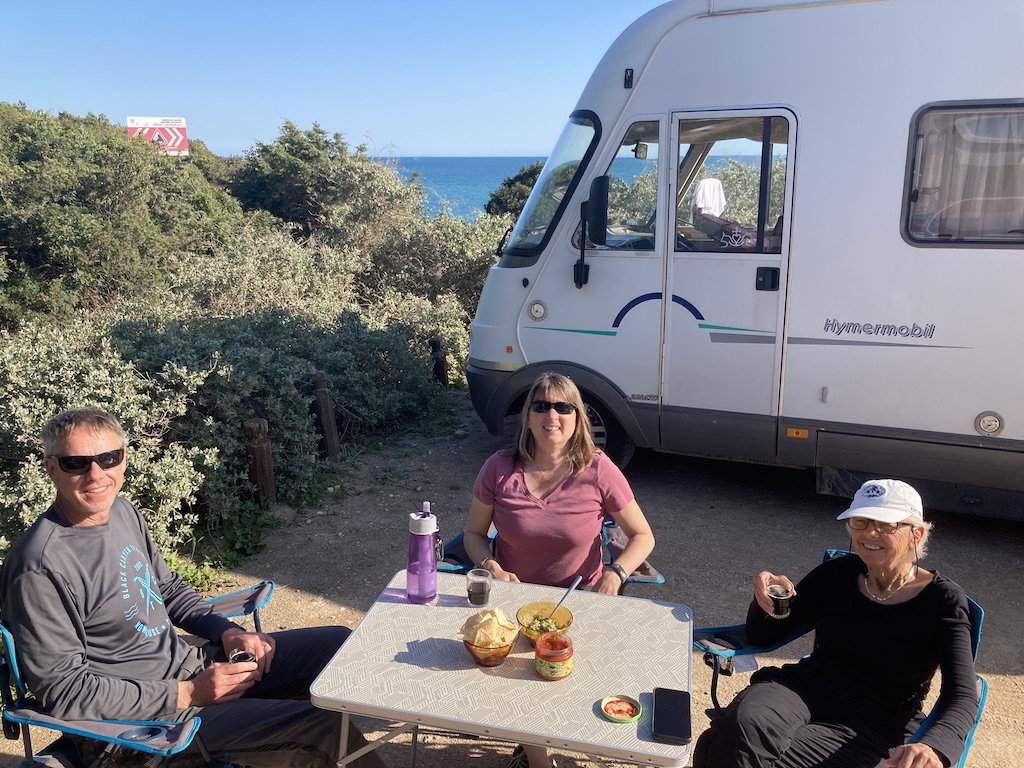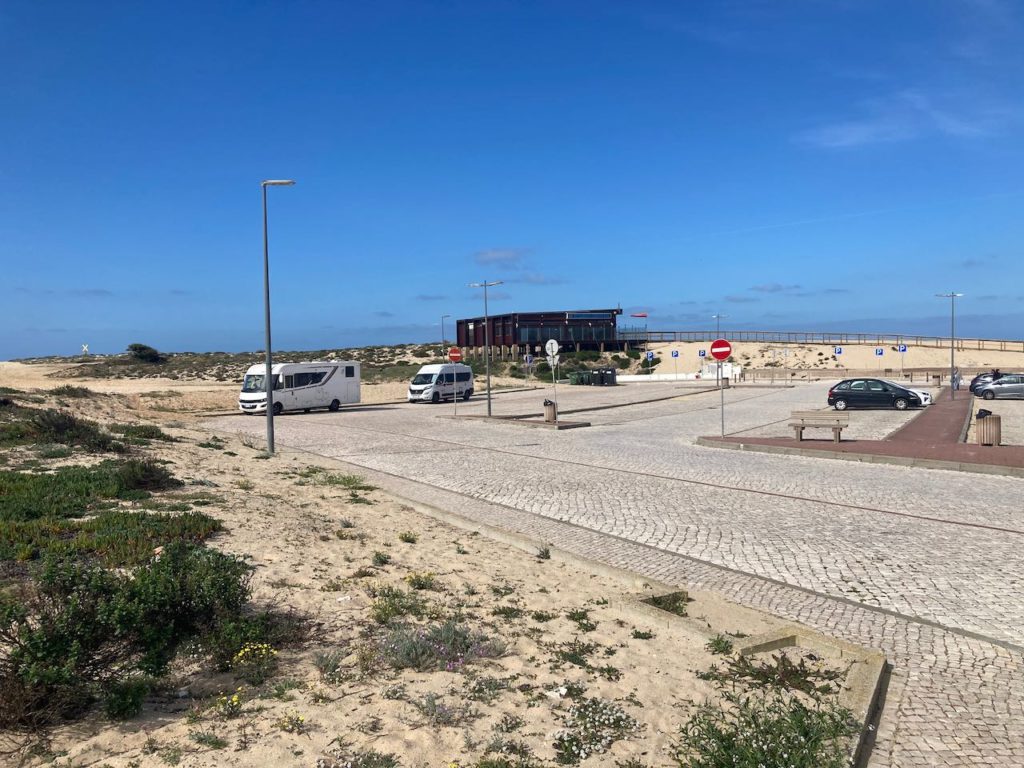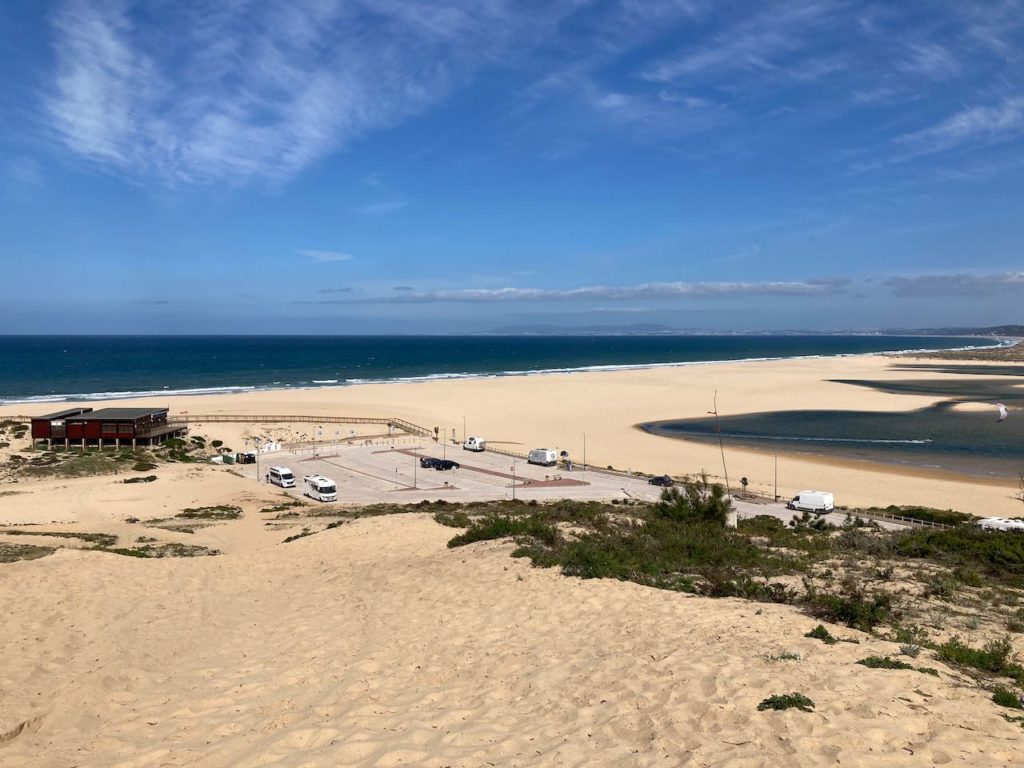 Paid Camping
The paid campgrounds we've found so far have all been commercial – we haven't seen the equivalent of US forest campgrounds here. As in the US, the quality, price, and services vary greatly, but in general, we've paid between 10 and 50 euros per night. As I'm writing this, we're parked in a paid campground near Tavira, Portugal. We paid 13 euros for a gravel lot with electricity and coin-op showers and toilets about 1km from the town center. Last night we were in a small beach parking lot with a couple of other vans for free. We listened to the surf pounding all night — heaven.
Generally, paid campgrounds fall into one of two categories. First are the ones that try to be a pleasant place to spend time. They are usually in a nice setting and always have bathrooms, showers, and laundry. Some have an on-site restaurant or a pool. They can be up to fifty euros per night.
The other category is just a secure place to park for the night. In Seville, Spain, we stayed (along with probably 50 to 75 other motorhomes) in a parking lot near an industrial port. They charged 15 euros per night, but it's worth it for a safe place to leave our van while exploring the city.
One thing that makes the prices higher is that they typically charge per person – since we're four, we pay more. The more expensive places tend to be near big cities, which makes sense because the land is expensive. Here are a few of the paid campgrounds we've used.