With a couple of days left in England, we continued east toward Dover. Quinn found that the Romney, Hythe, and Dymchurch Railway was on our route, so we planned a stop. The RH&DR is a one-third-scale railway. Not full-sized, but not a toy either, it features rail cars that you can squeeze inside of and has thirteen miles of track connecting three towns. In World War II, the line was even requisitioned by the British government to aid in the defense of the coast, transporting troops and supplies.
Quinn wanted to visit not only because it features steam locomotives but because it was reproduced in a Roblox game that he plays. We bought tickets, and Quinn could describe exactly what we'd see along the way because he's seen it all in the game.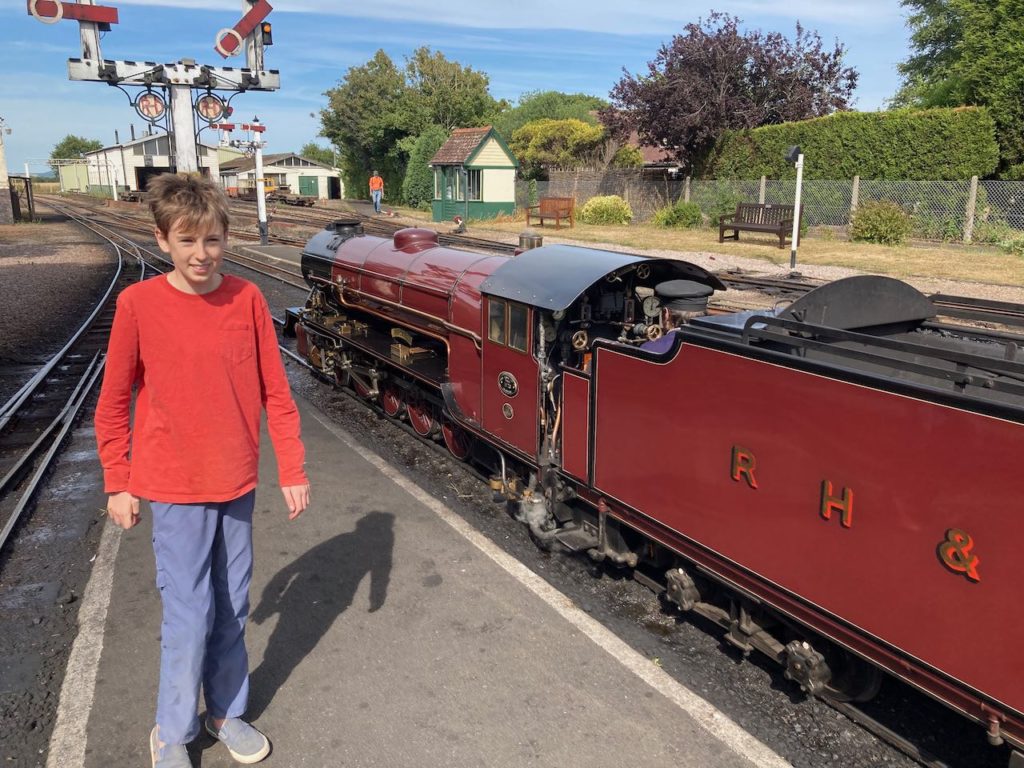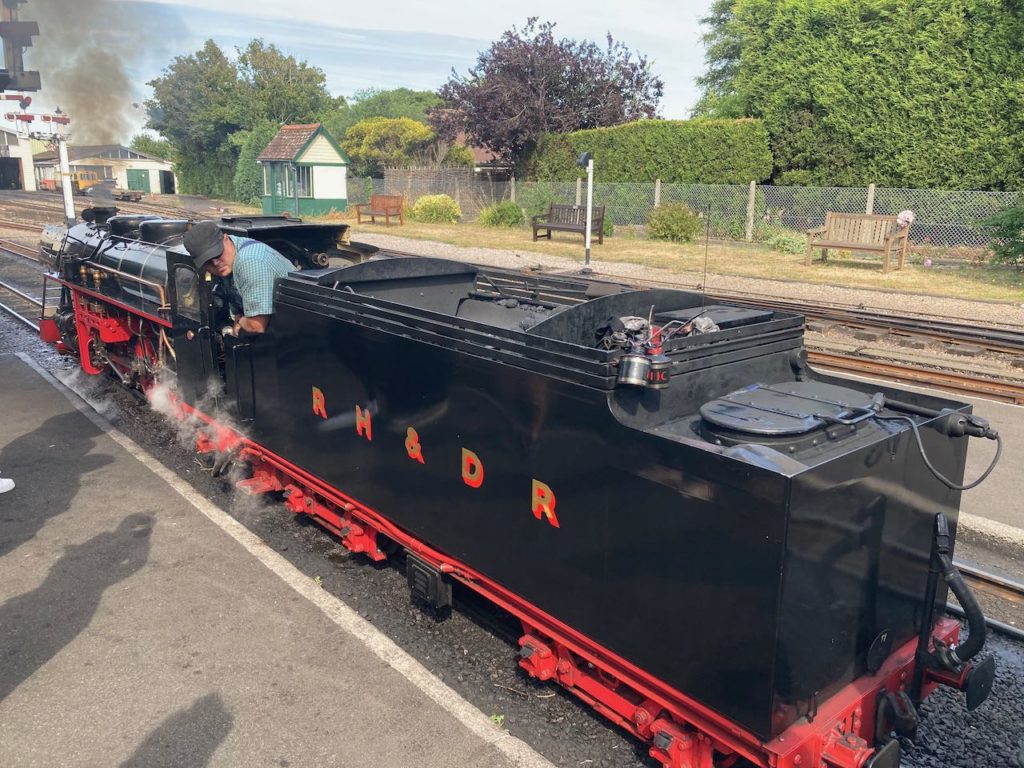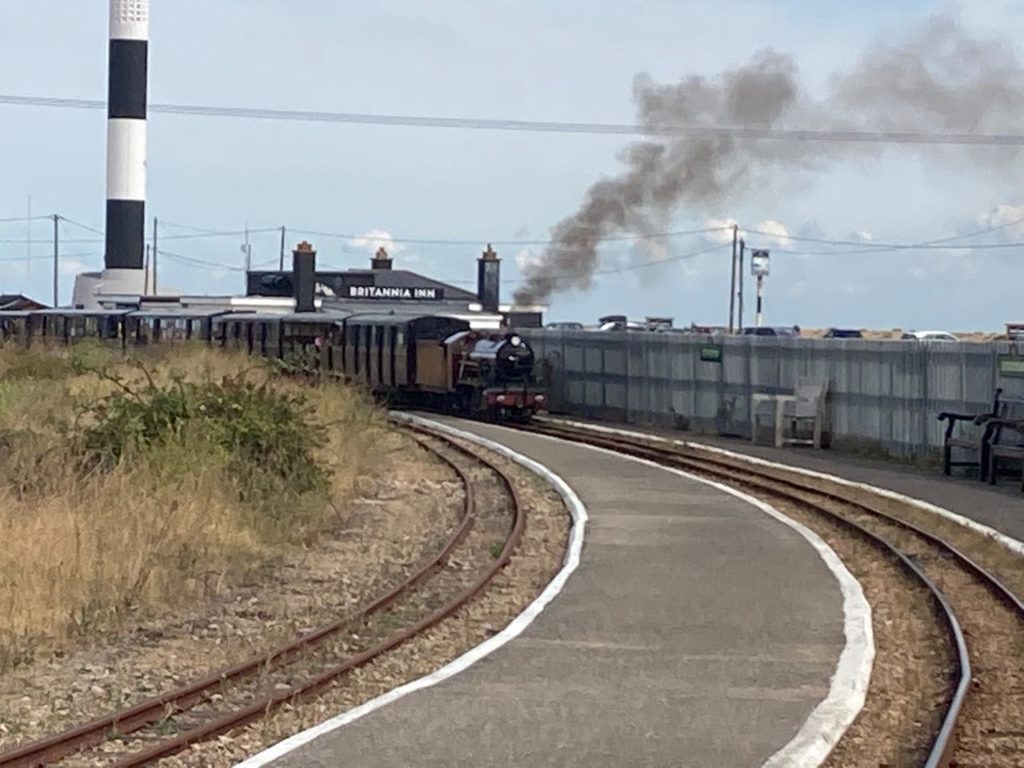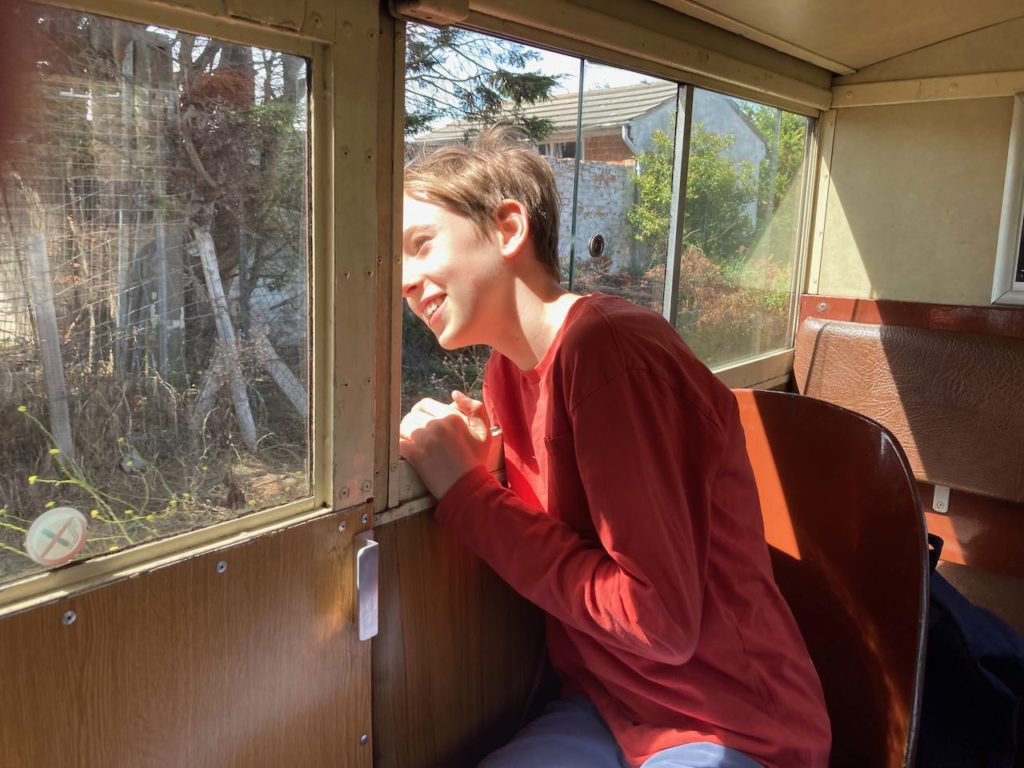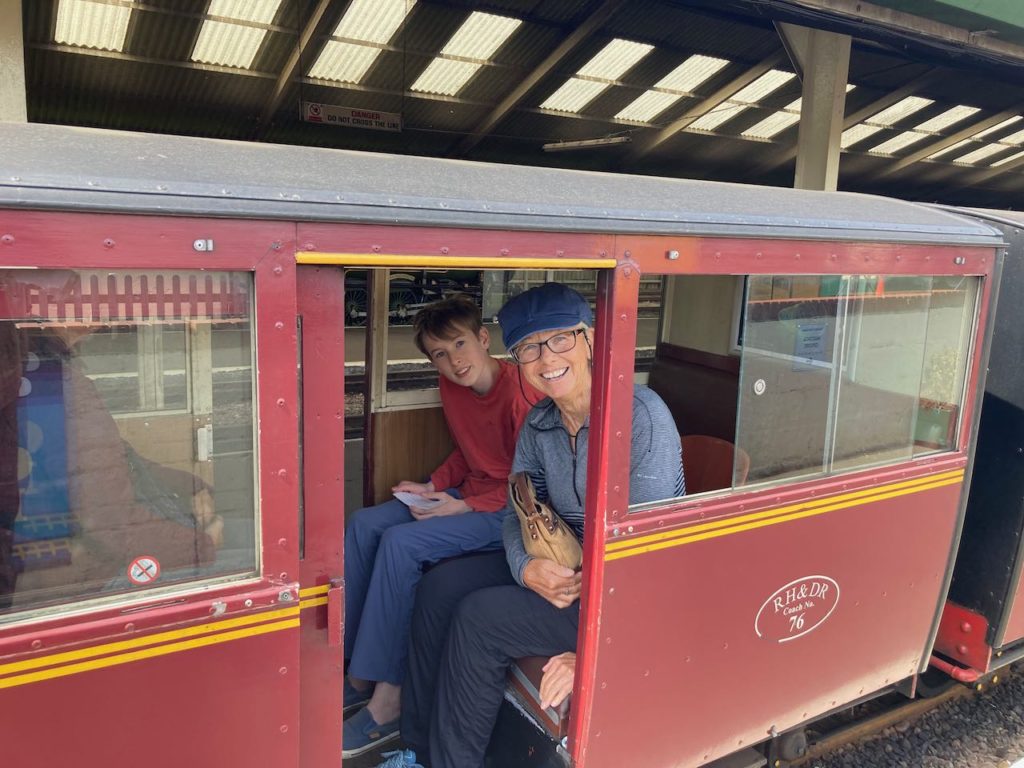 During the final leg of our journey to Dover to meet our scheduled ferry to Calais, we began hearing news reports of hours-long delays getting into the port facilities and clearing customs. To avoid any issues, we decided to camp along a road within a mile of the port. We awoke early the next morning and queued up, waiting an hour to board an earlier ferry than the one we had booked. A clear, calm day allowed us to watch the white cliffs of Dover recede into the distance as we pulled away.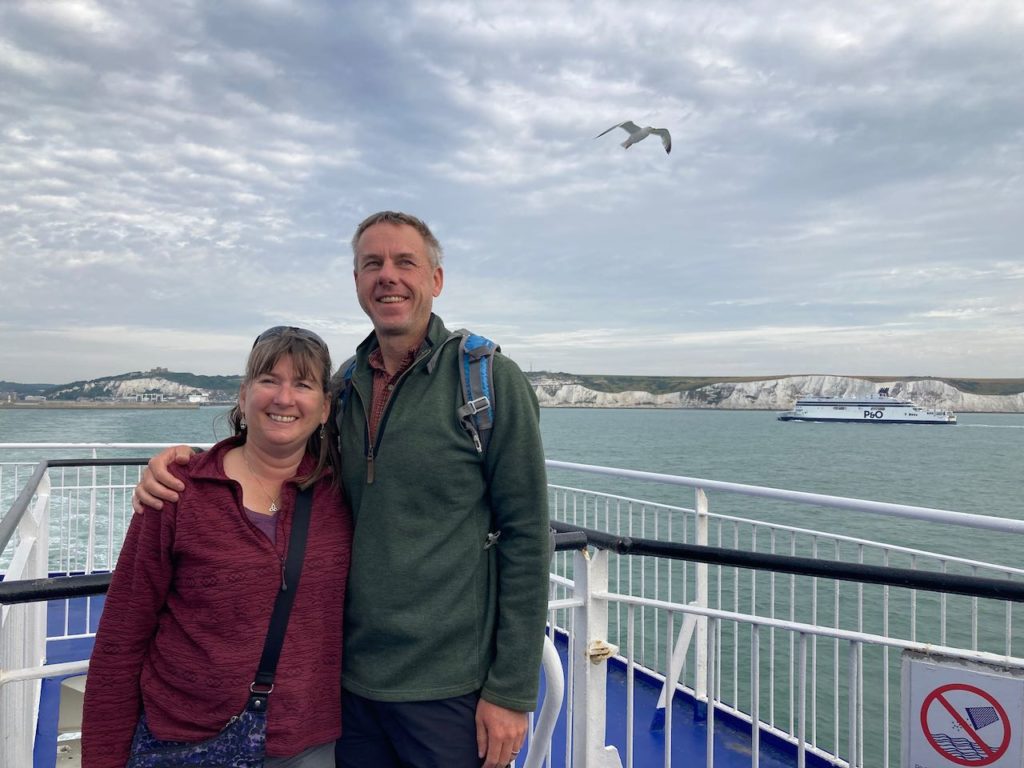 What's in a name?
The first thing we noticed arriving back in France was the nice, wide, hedge-free roads. As I engaged the cruise control on the auto piste, I realized that is one automotive feature completely wasted on most cars sold in Britain.
We'd booked an Airbnb in a Paris suburb, the primary requirement of which was parking so that we could clean out the van and prepare it for return to the rental agency. We spent the first afternoon unloading all of our stuff. The next morning was spent cleaning the inside, and Jen and I drove it to the Avis shop, where we bid it a fond farewell.
Not everyone names their cars, and almost no one names their rental cars. But all of our overland vehicles have had names (Our trusty Land Rover was called Rafiki, and the van we took through South America was named the Sparksmobile), so we sort of thought this one should too. However, in six months of travel, we hadn't come up with one.
It turns out that the rental agency names all of their campers, but since ours was brand new, it hadn't received its name when we picked it up. We found out that it was to be christened "Éclaire." I thought it was weird that they'd name it after a cream-filled pastry, but Jen informed me that the word in French means "flash of lightning." Okay, Éclaire, it is!
During our final two days in Paris, we failed to catch the thief in a really difficult escape room, enjoyed a final celebratory lunch, strolled along the Seine, rode carnival rides, and did a bit of VR gaming. No boring old rocks for us.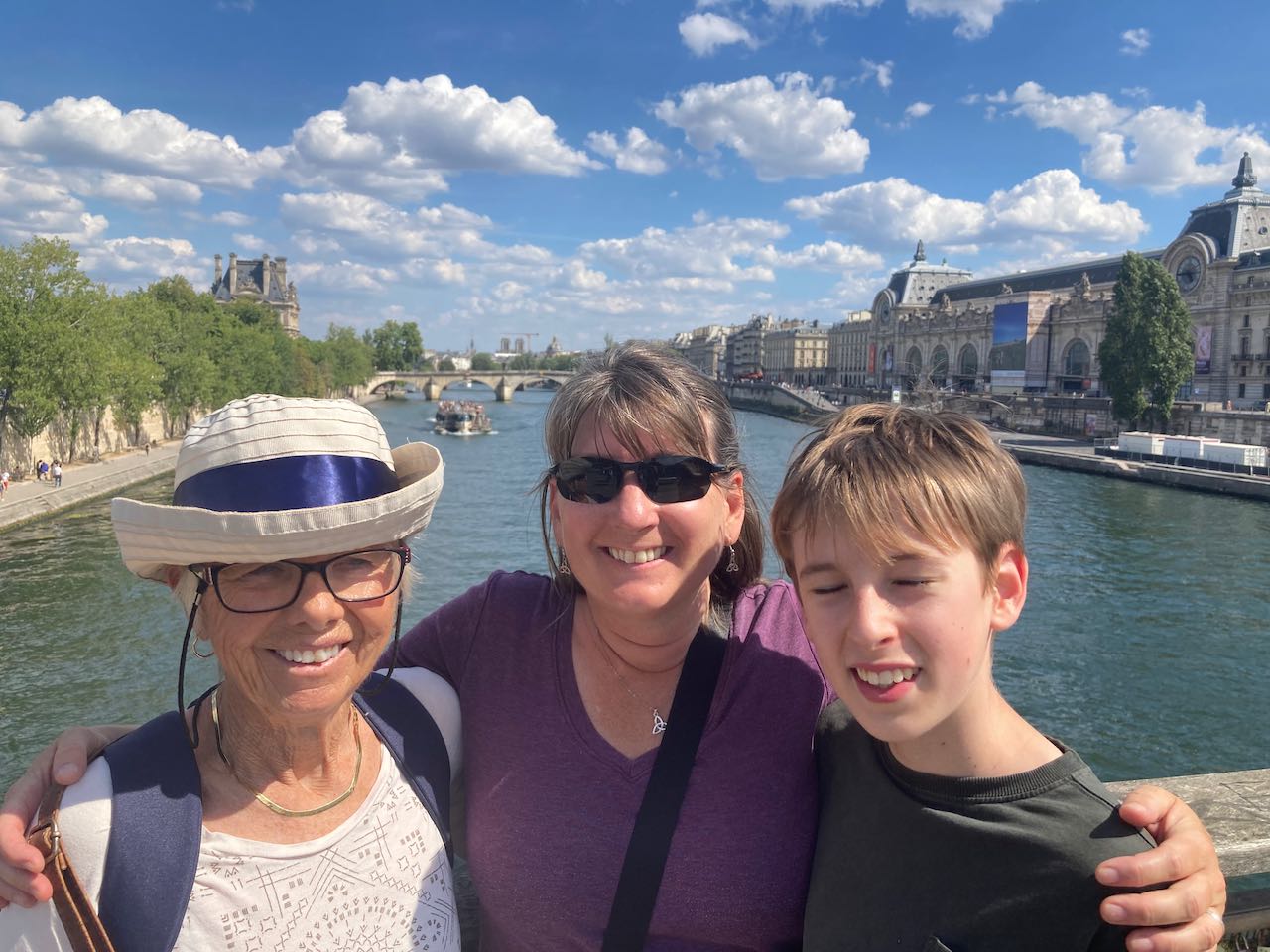 Next stop, Iceland
A few months ago, we spent many rainy nights huddled over our computers, trying to figure out how to get back to the States during the peak travel season. The best we could come up with was a trip on Iceland Air. This had a few benefits:
Not flying an ultra-budget airline where we'd have to pay extra to sit inside the plane instead of hanging off the wing by a strap
Having two non-stop flights reduced the chances of missed connections and lost luggage
It was much less expensive than many of the other options on offer.
And of course the most important benefit: a visit to Iceland.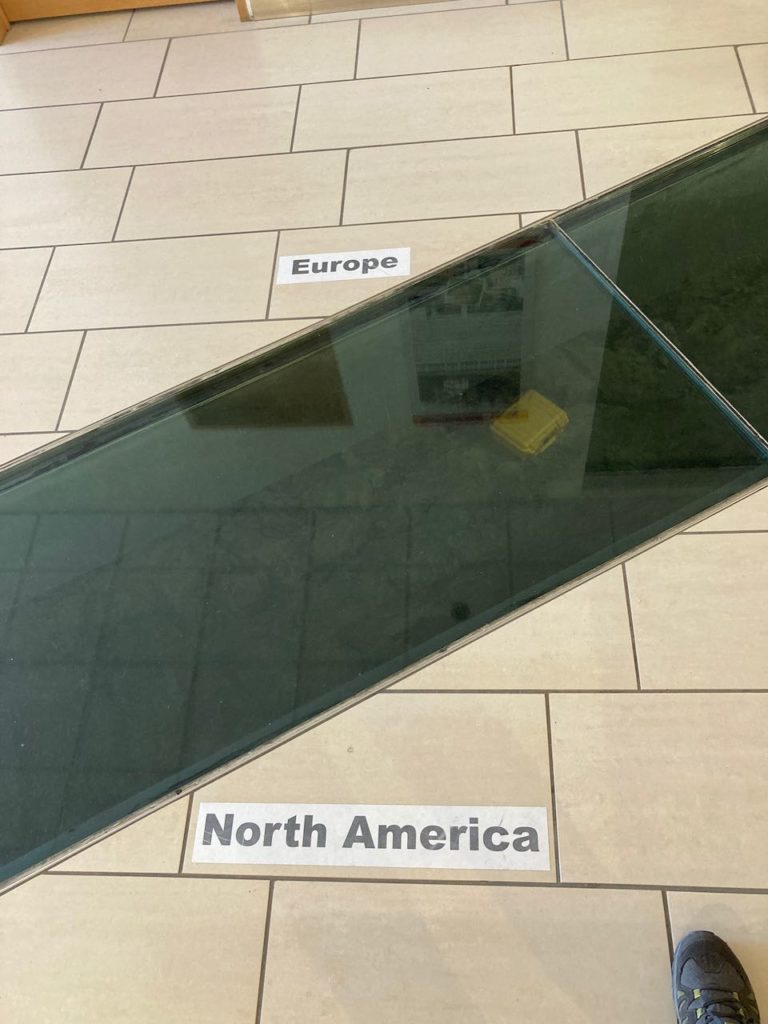 Our flight to Reykjavík wasn't until mid-afternoon, but we began our journey first thing in the morning, and in the end, it did take us about two hours to make our way through the Charles de Gaulle airport. The rest of our travel day was smooth, and we arrived at our Airbnb without any issues.
With only one free day in Iceland, we booked an all-day bus tour to get a sense of the country and see a few highlights.
Aside from the amazing natural beauty, one of the most interesting things we learned is that island sits astride the European and North American tectonic plates, which are pulling apart at a rate of about 2cm per year. This is what gives Iceland its high level of geologic activity. We felt mild earthquakes on two of the three nights we slept there.
One town we stopped in experienced a severe earthquake many years ago, and when they rebuilt the visitor's center, they placed a glass floor where you could look down at the fissure separating the two plates. If the plates really are pulling apart at 2cm per year, I'm not really sure how this floor stays intact, but it's pretty cool nonetheless.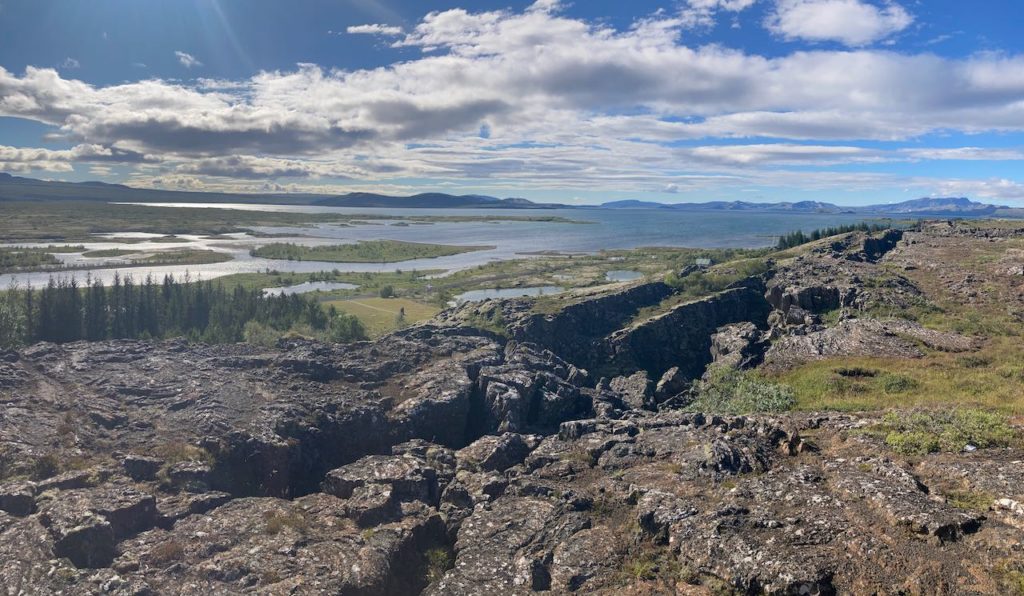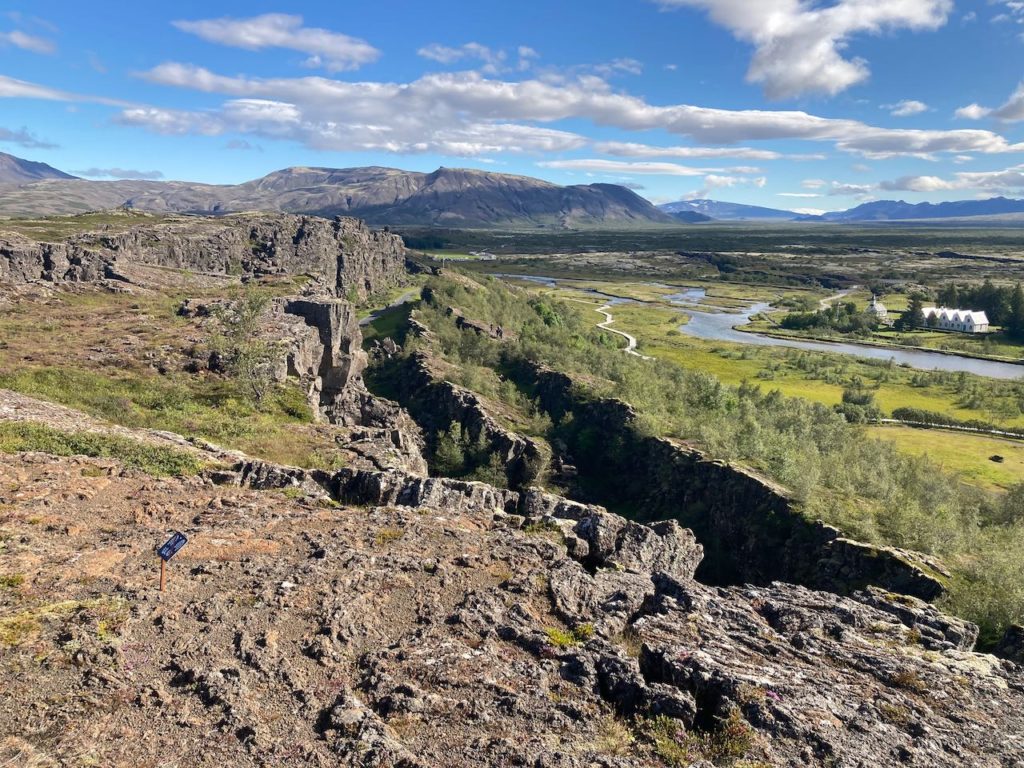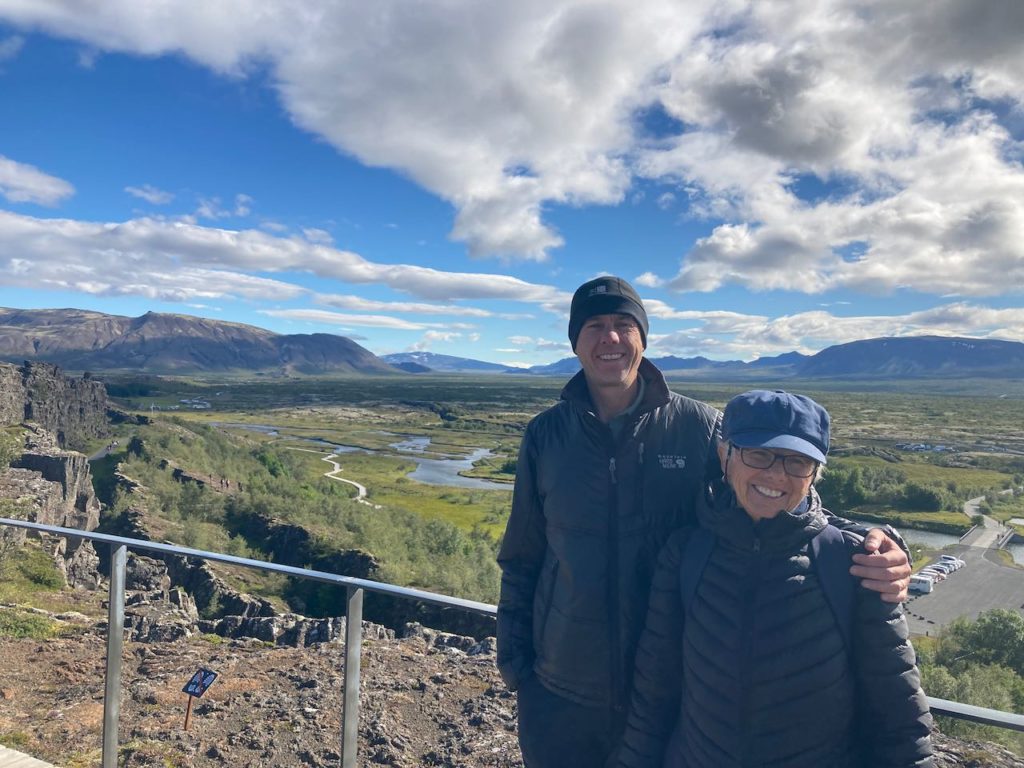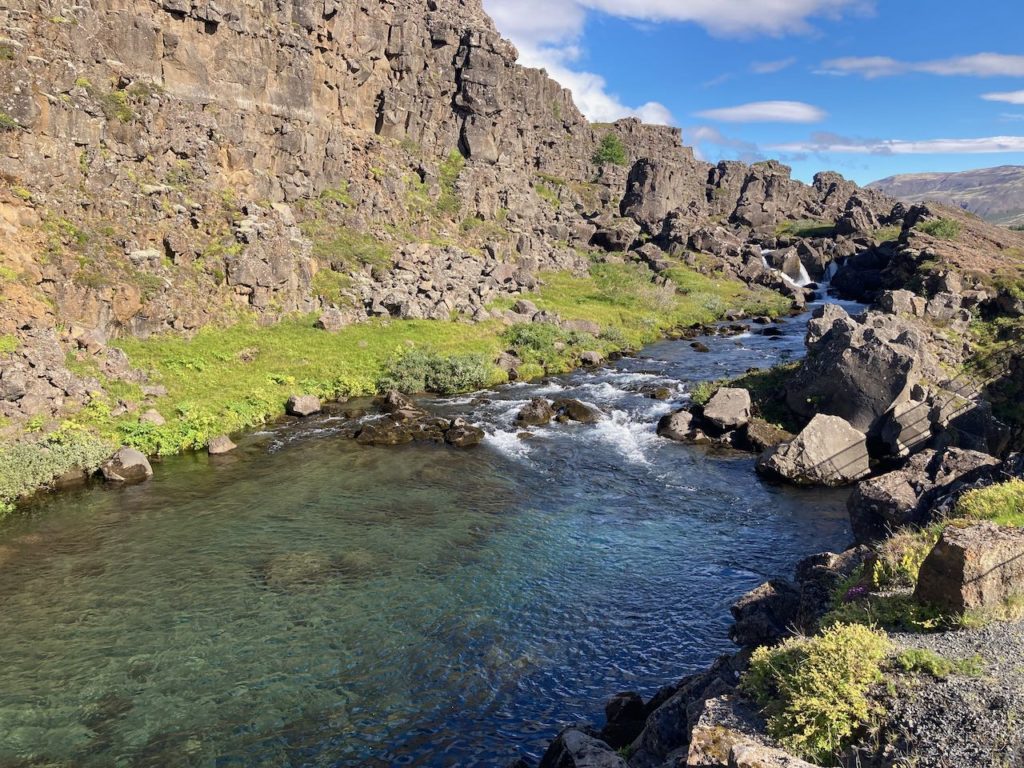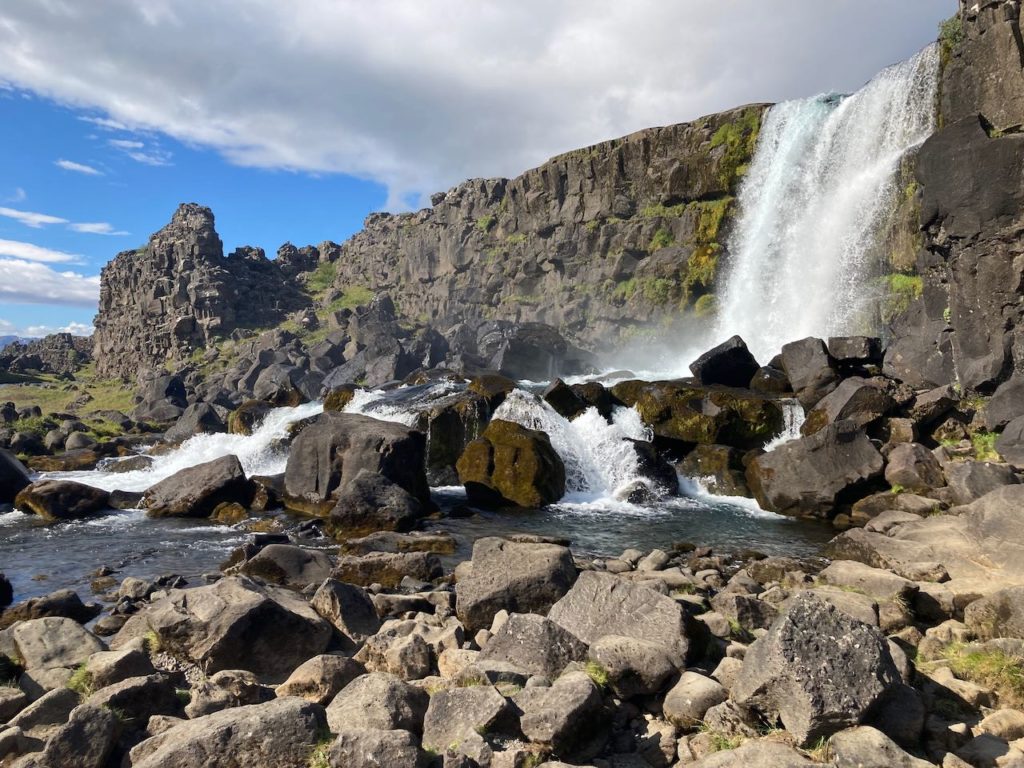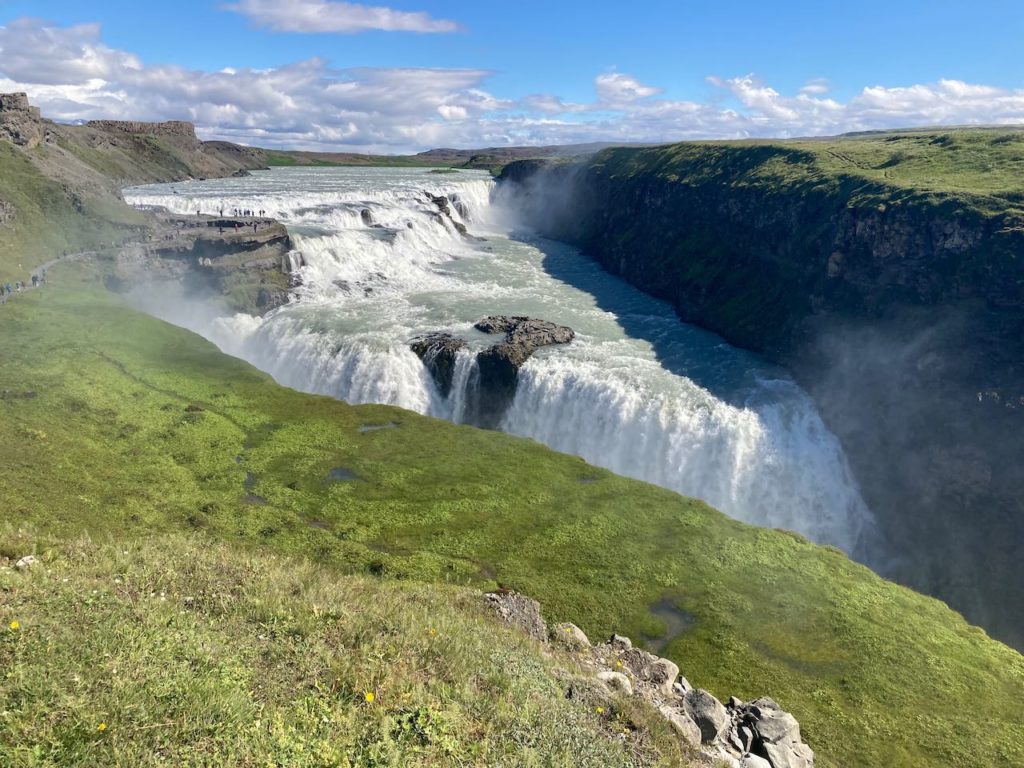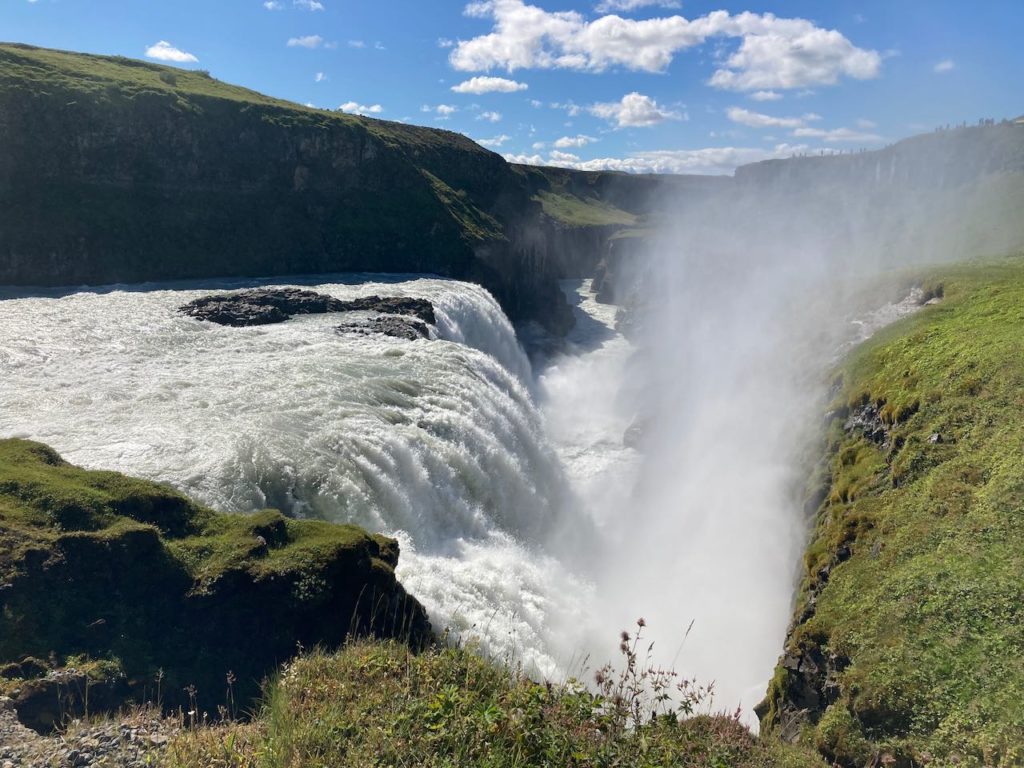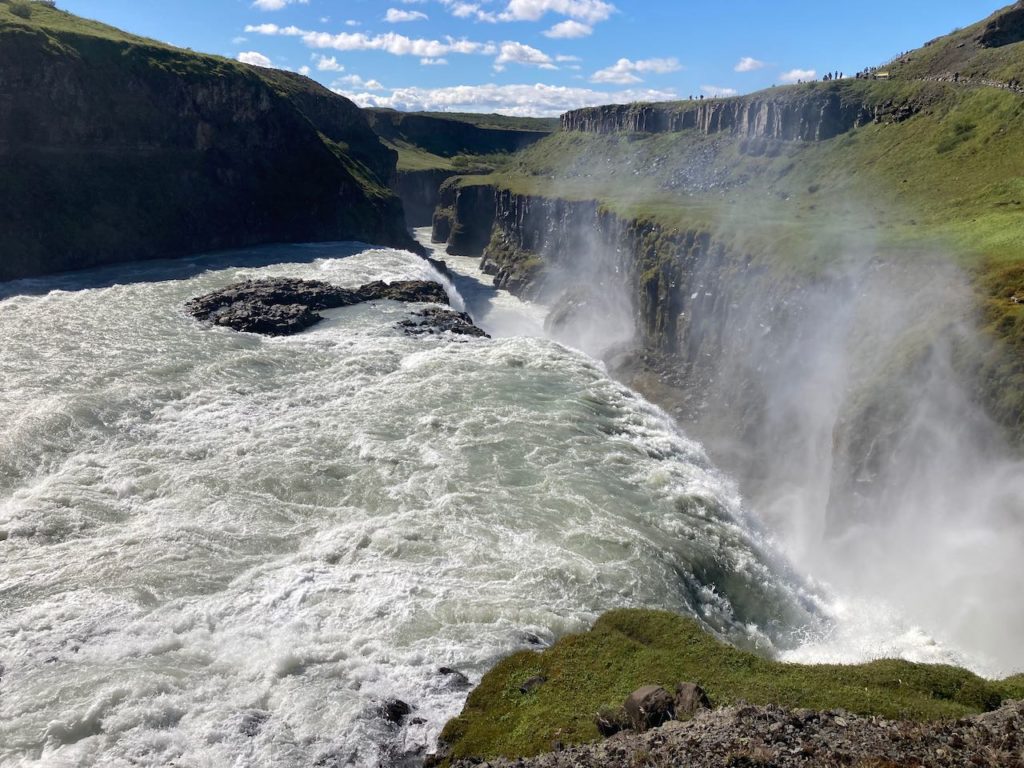 Our tour featured waterfalls, geysers, and bread baked underground using geothermal heat.
One cool thing about Iceland is that if you're an environmentalist, you can take long hot showers with no guilt at all about the amount of energy you're using. Unless, of course, you're a tourist who flew there on a plane.
The reason for this is, again, all of the geologic activity. Iceland is 100% powered by renewable energy, mostly hydropower and geothermal. Hydroelectric dams were built extensively in the past, but today geothermal plants are in favor as they don't dam up rivers. Electricity is so cheap that there are several aluminum manufacturing plants (which consume vast amounts of electrical power – making just one aluminum can uses enough electricity to power a laptop for five hours) located on the island.
For our last stop of the day, we visited the Blue Lagoon, a small lake heated by runoff from a nearby geothermal power plant. Our soak in the steaming waters was a wonderful conclusion to an amazing journey.

Check out our maps to get a bird's-eye view of where our travels have taken us.
Thank you so much for following along with us. We're happy to have been able to share our journey with you!