With our return date fast approaching, it's time to head back across the Irish Sea to the UK (and then onward to take the ferry to France). It's hard to believe that we've lived in this van for nearly five months!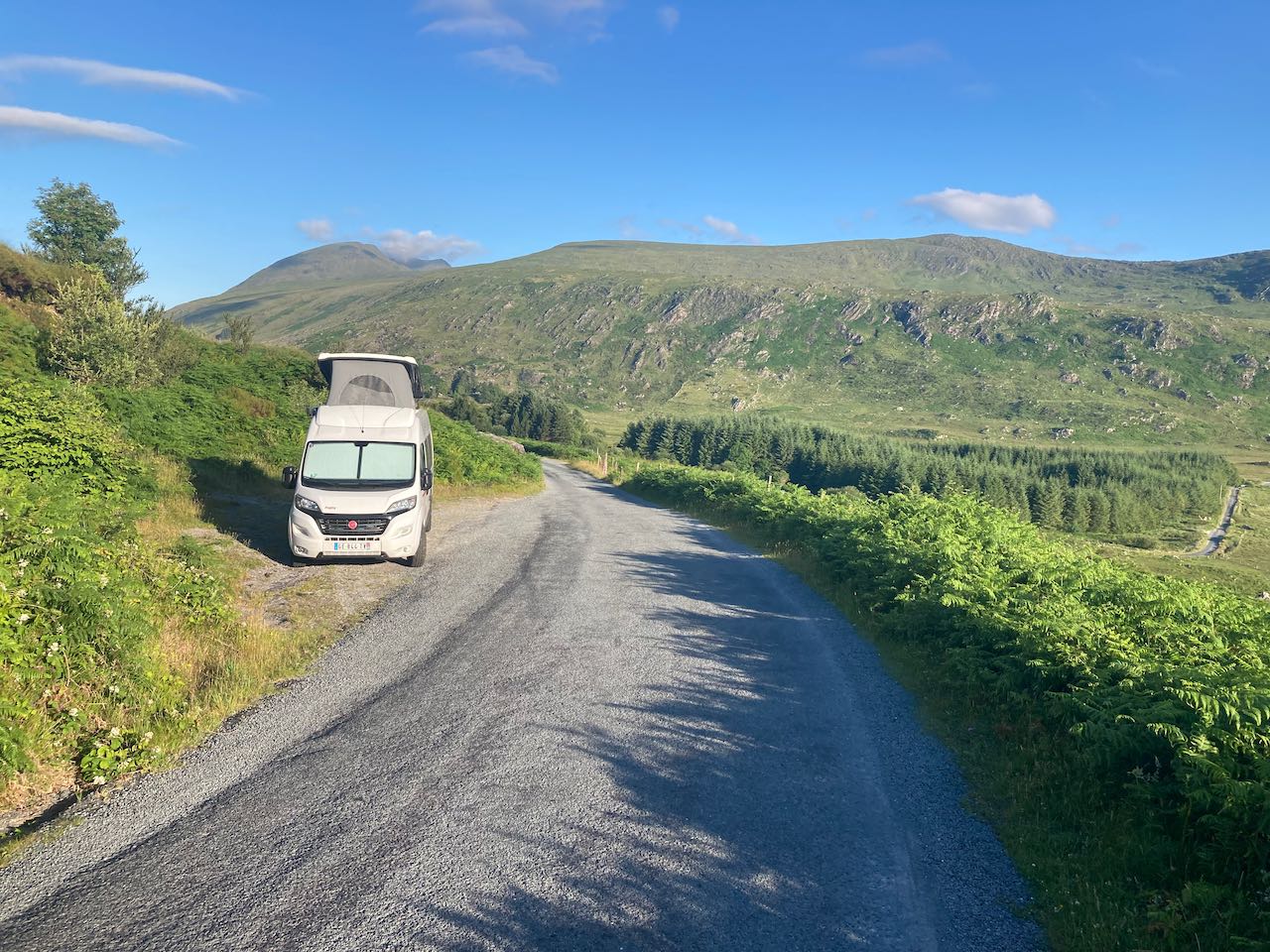 We spent a couple of days driving around the Ring of Kerry, another of Ireland's well-marked tourist routes. The first day of the drive was stunning, with clear skies giving spectacular views. Our next stop was to be Cork, and Jen found us a campsite in Blarney from where we could catch a bus into town. Unfortunately, a work emergency kept us at our computers when we were there, and we didn't get more than a brief visit to the city. Quinn and I got out to try our hand at pitch-n-put golf.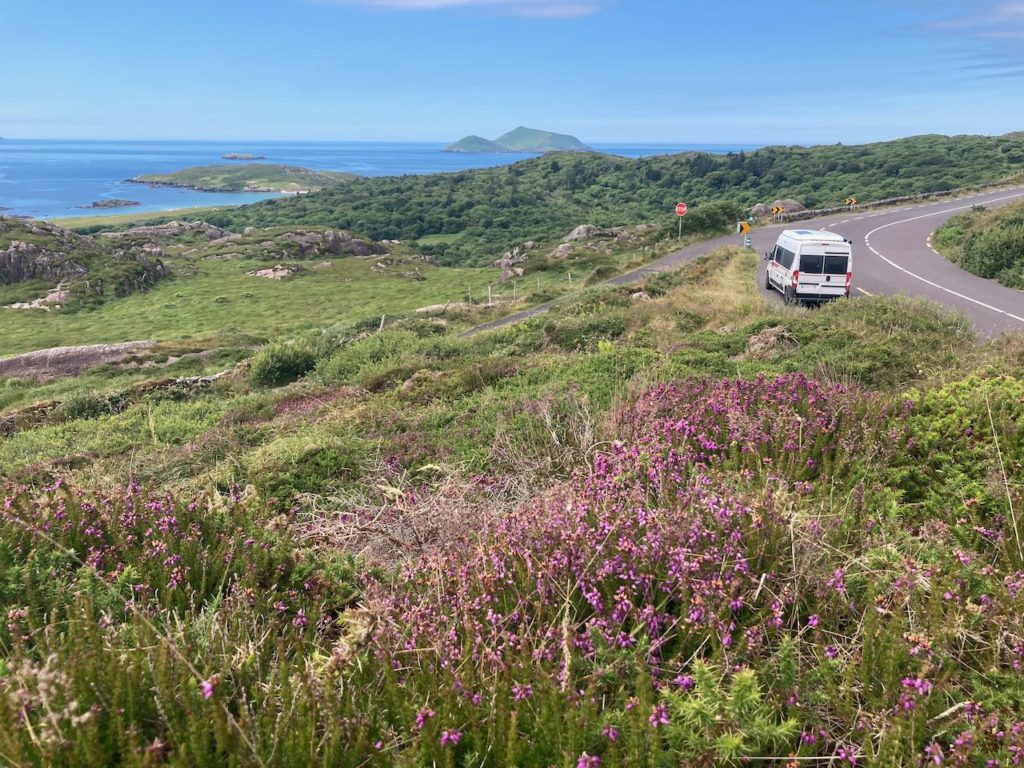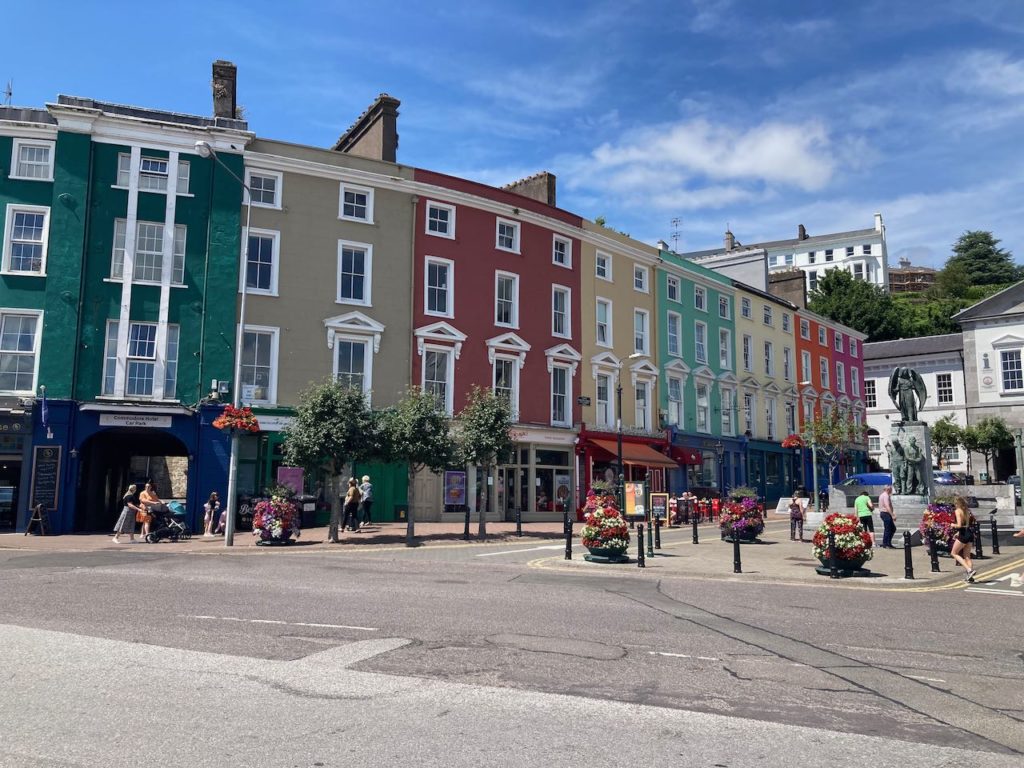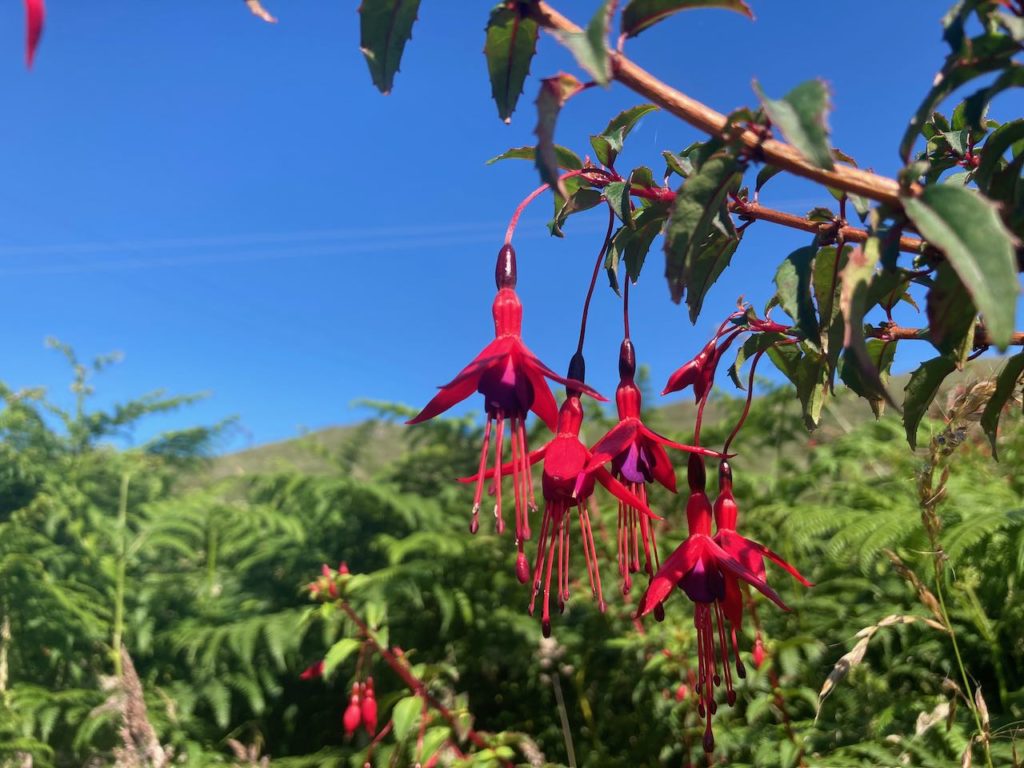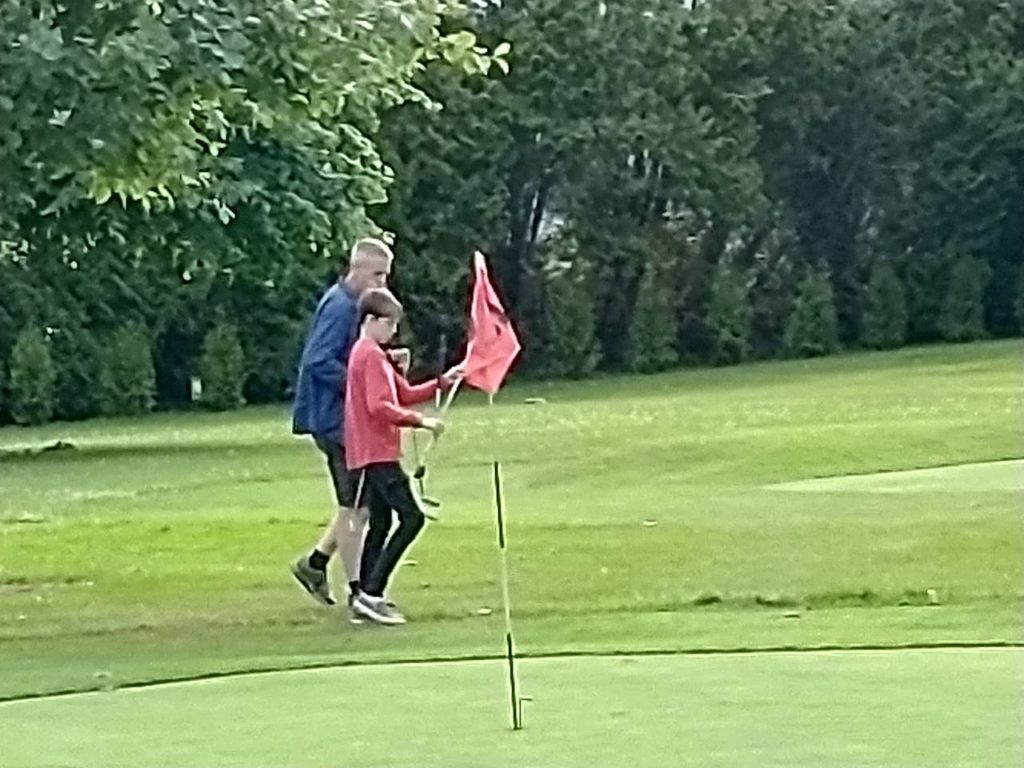 After we got things at work patched up, we made a stop in Cobh, which was Titanic's final port of call before heading across the Atlantic. During our final days in Ireland, we visited the Waterford Crystal factory and spent a very relaxing afternoon on the coast just soaking in the sun.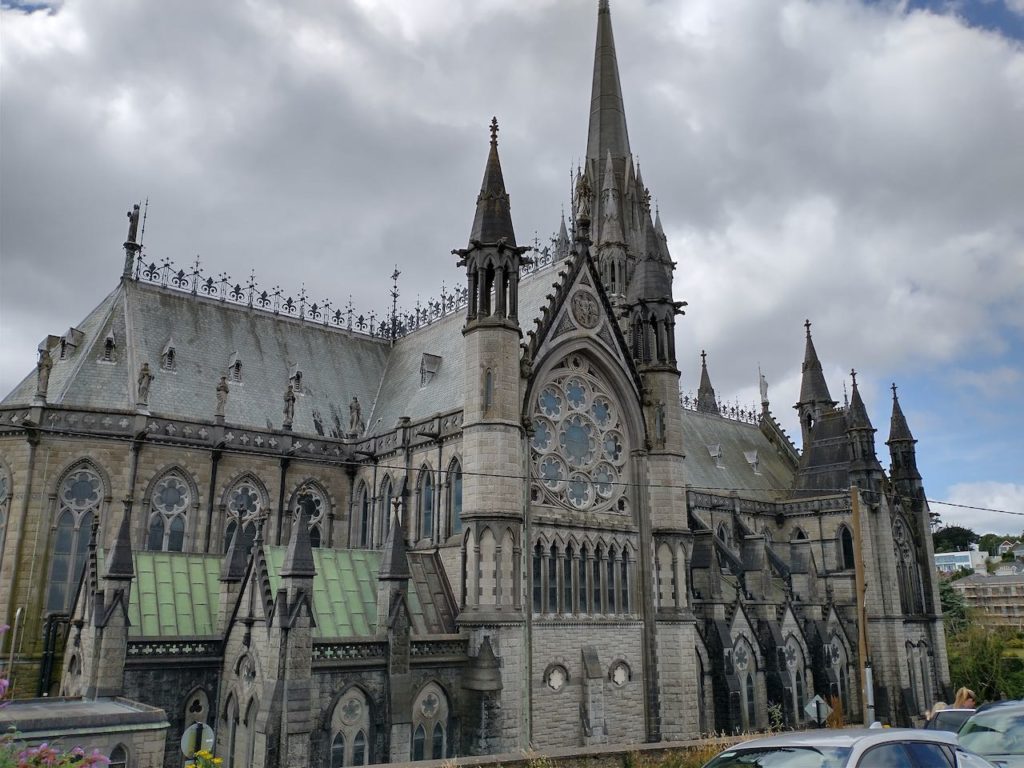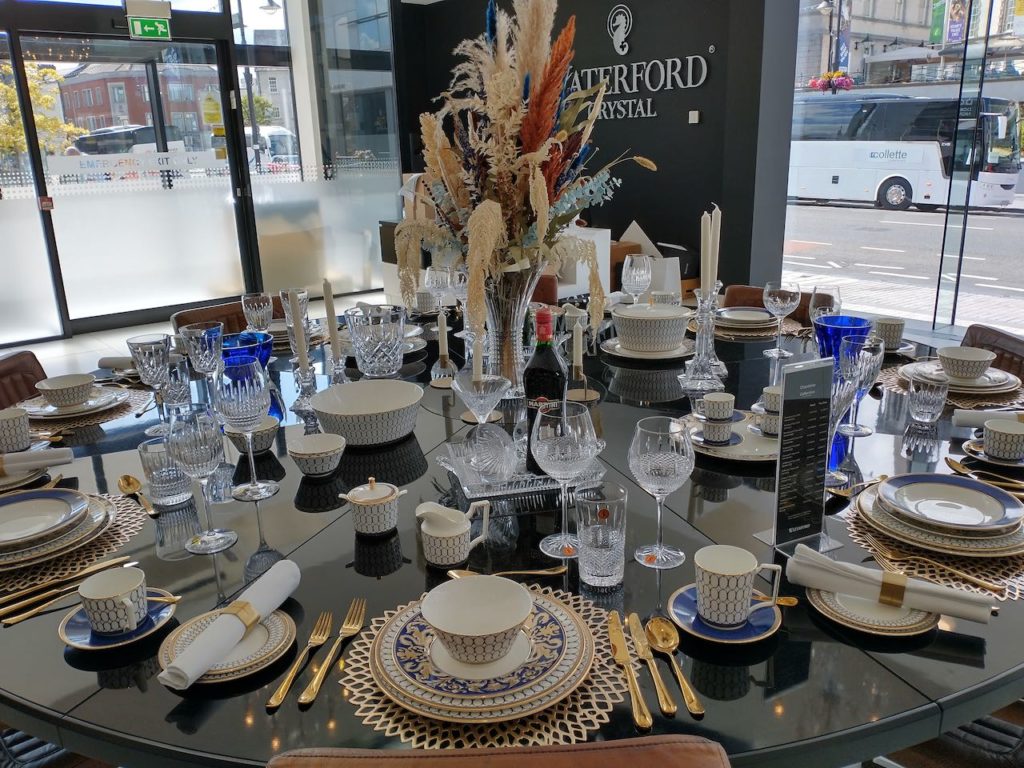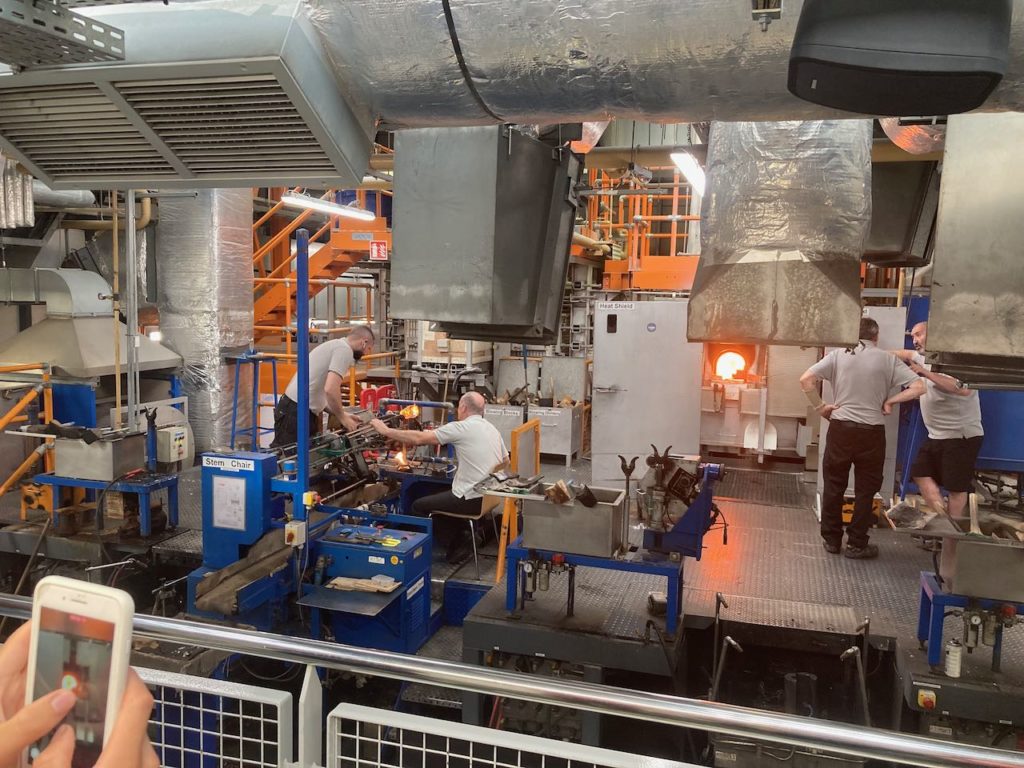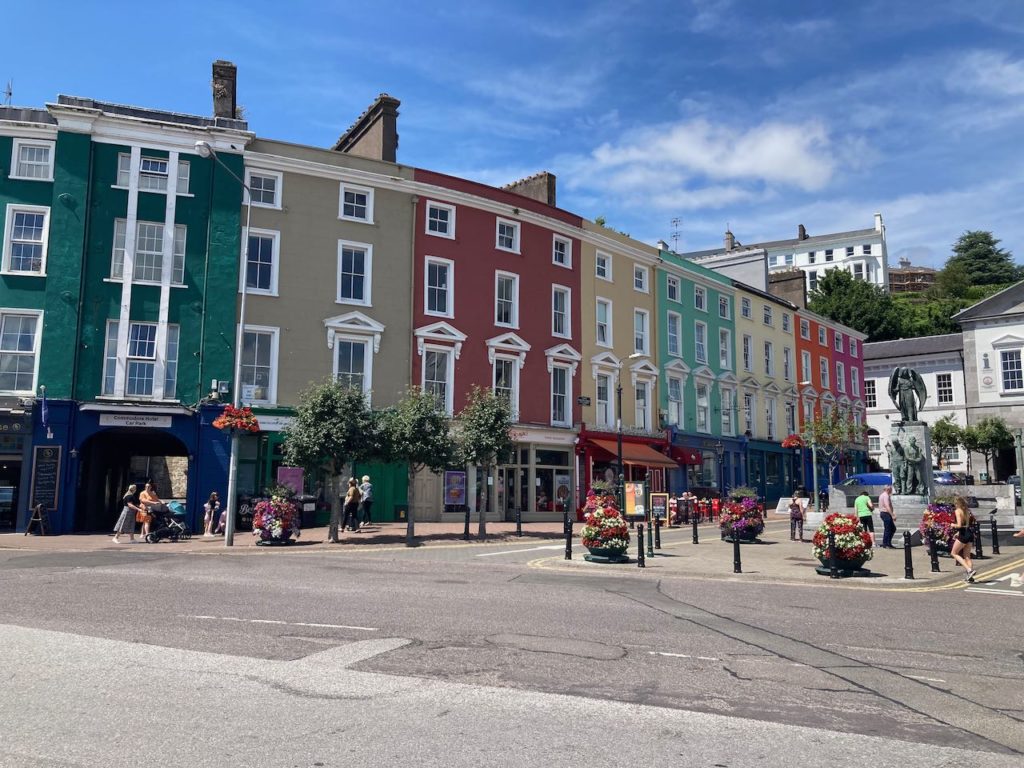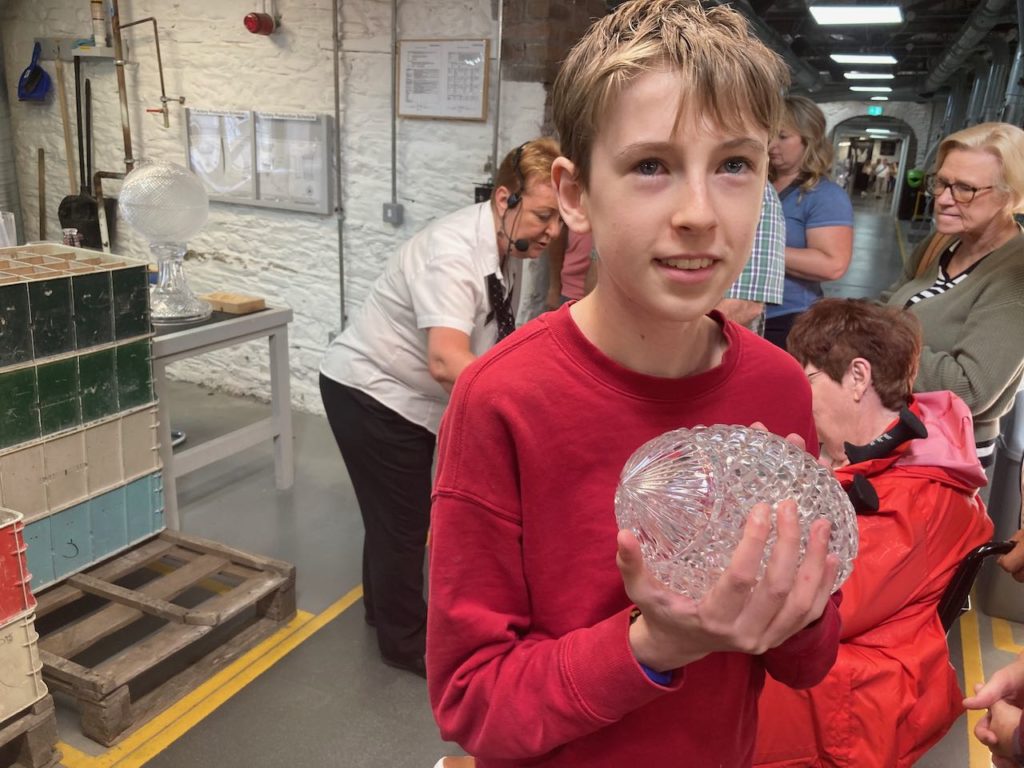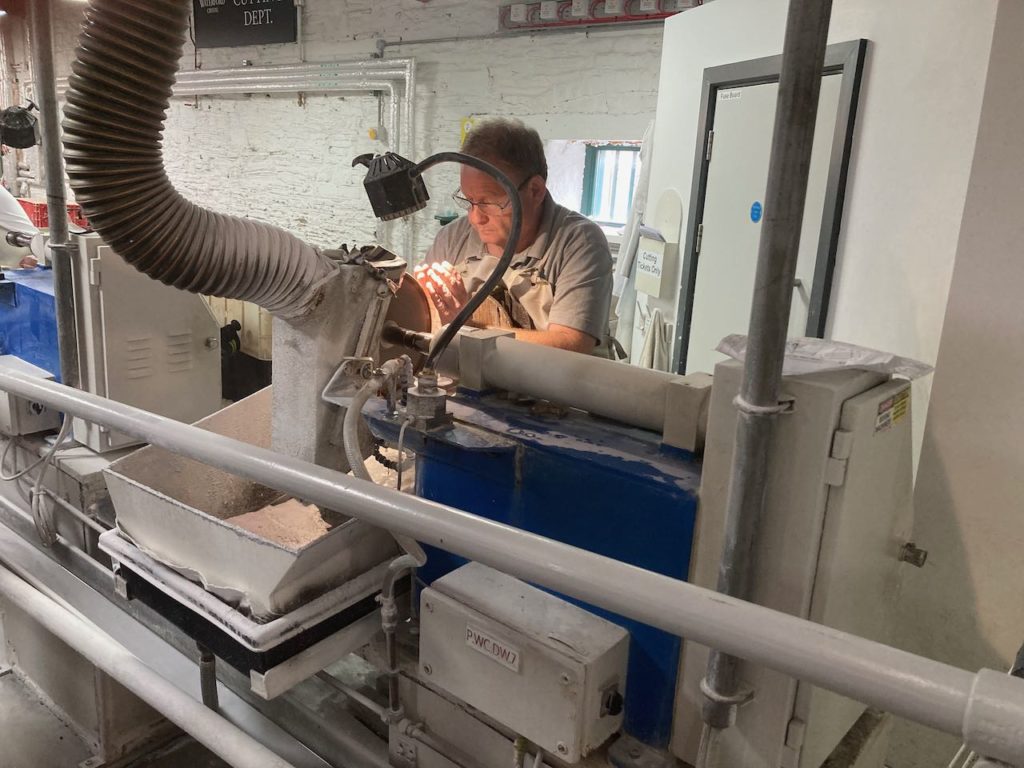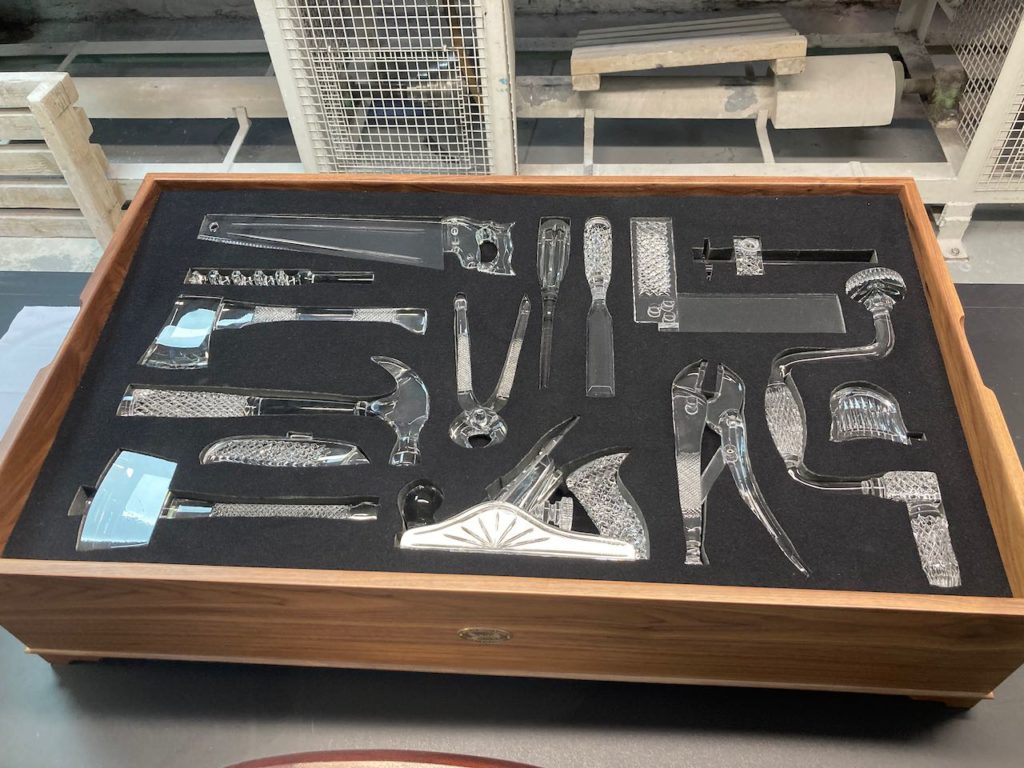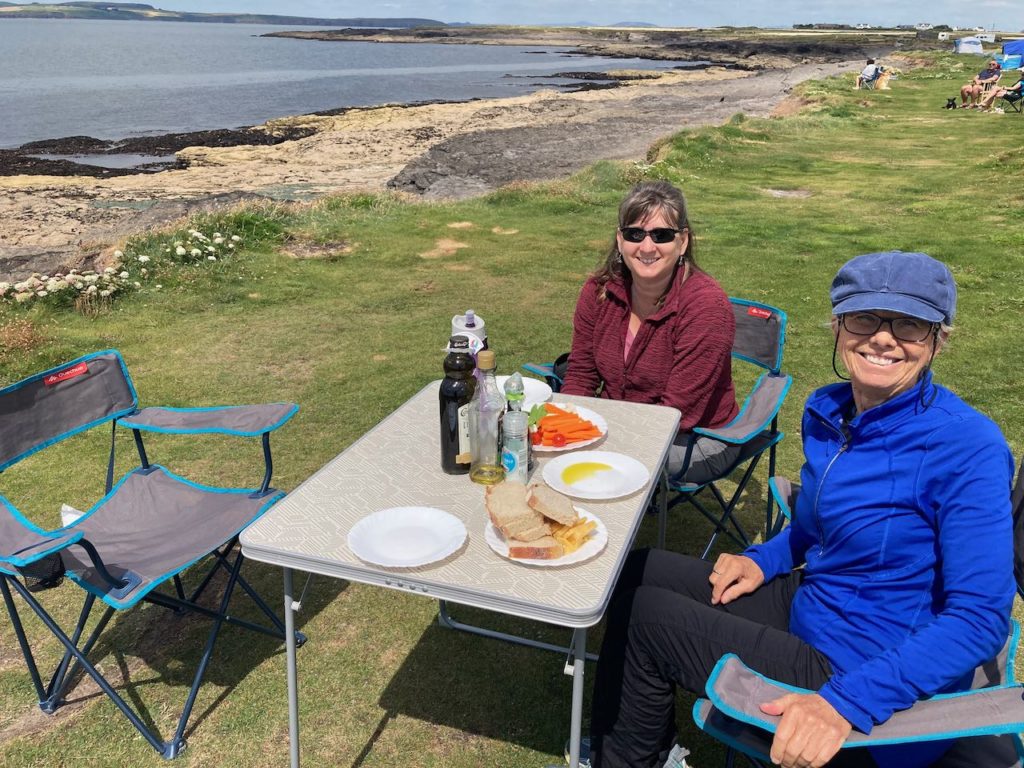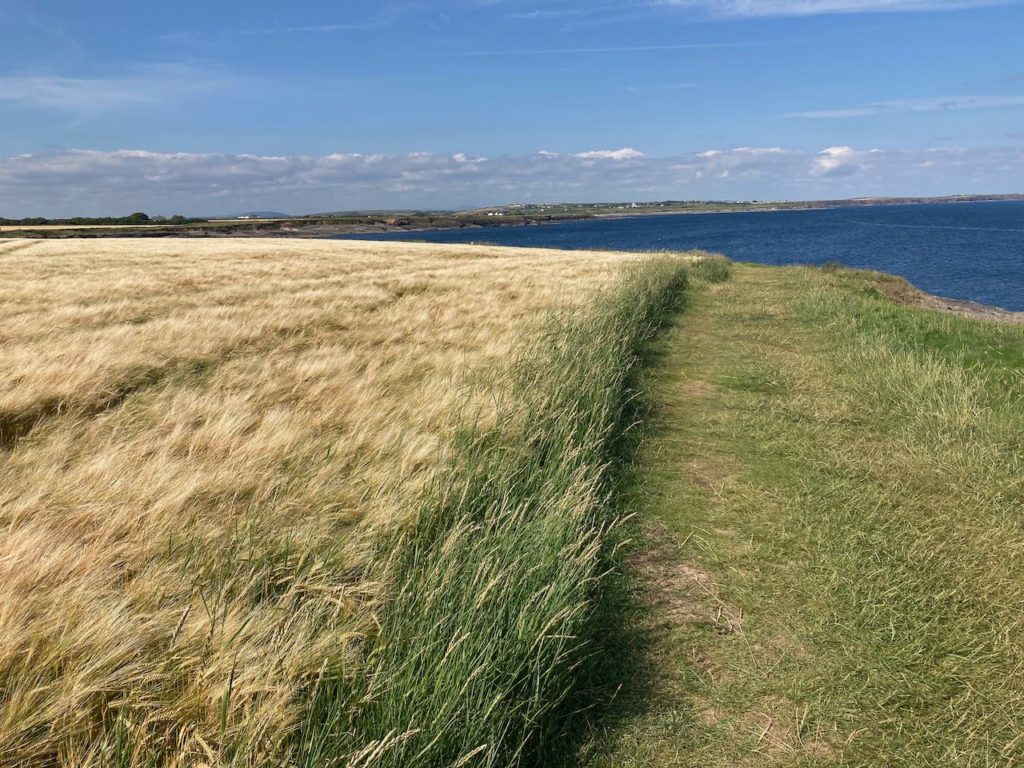 We camped that night in a parking lot at the ferry terminal and boarded the ferry early the next morning. The water was very calm, and we soon disembarked in Pembrokeshire, Wales. As we drove through the town of Pembroke on our way to our campsite for the night, we noticed many roads and businesses contained the name "Meyrick". Meyrick is the original spelling of Jen's maiden name, Myrick.
On our way to our next destination, we stopped at a beach for lunch. The beach was backed by an enormous pile of rocks which we learned was discarded ballast used by ships transporting coal.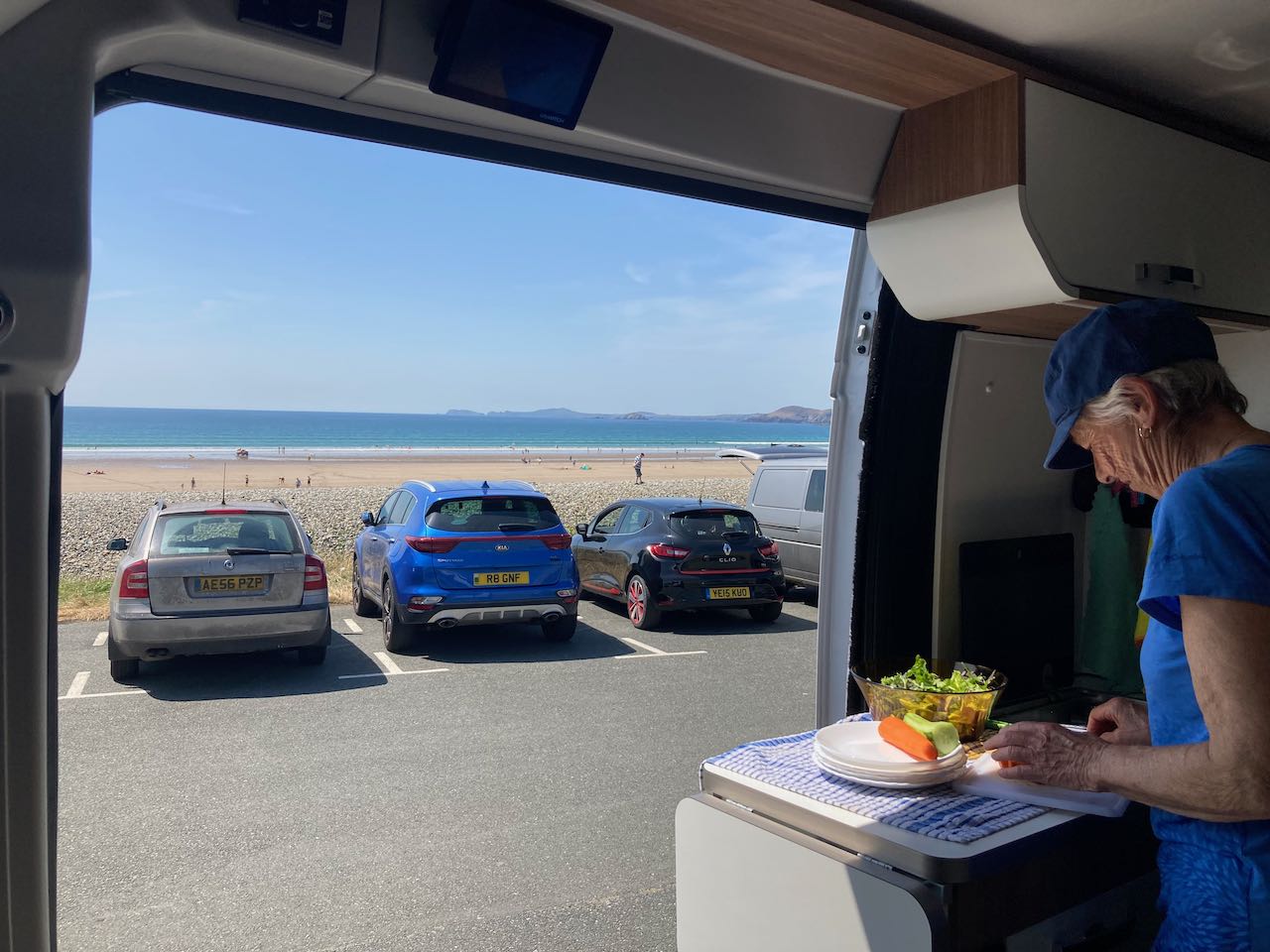 We camped for the next couple of days near the town of Saint Davids. Jen and I enjoyed a long hike around the Welsh coastline while Kathy and Quinn visited the beach.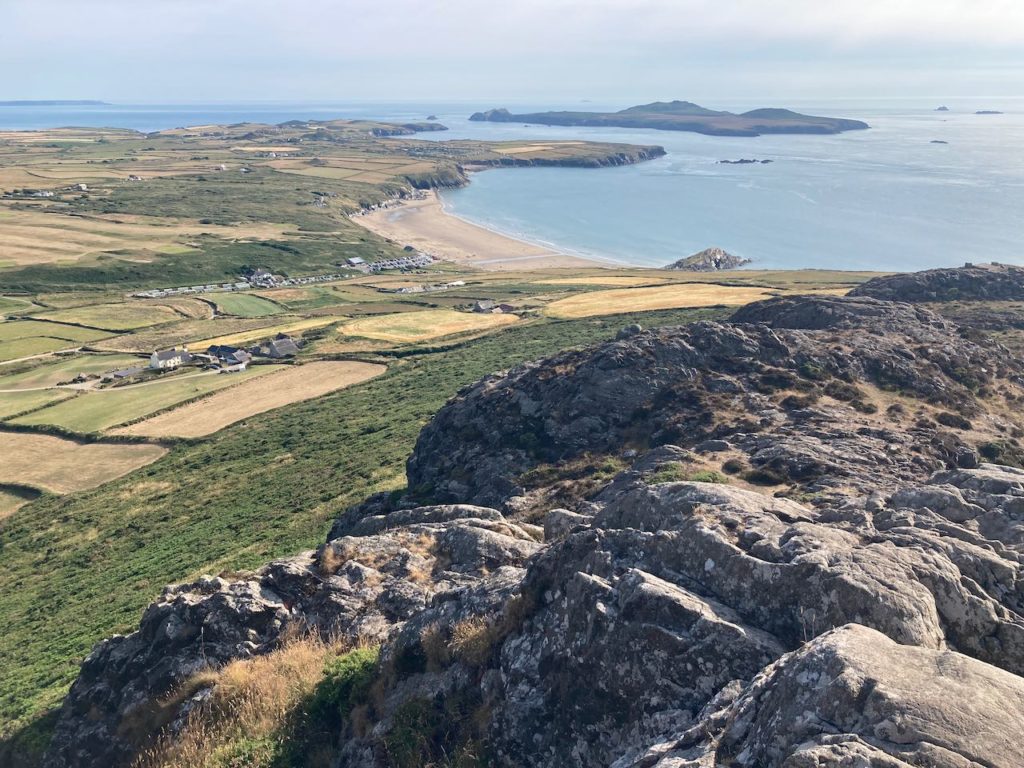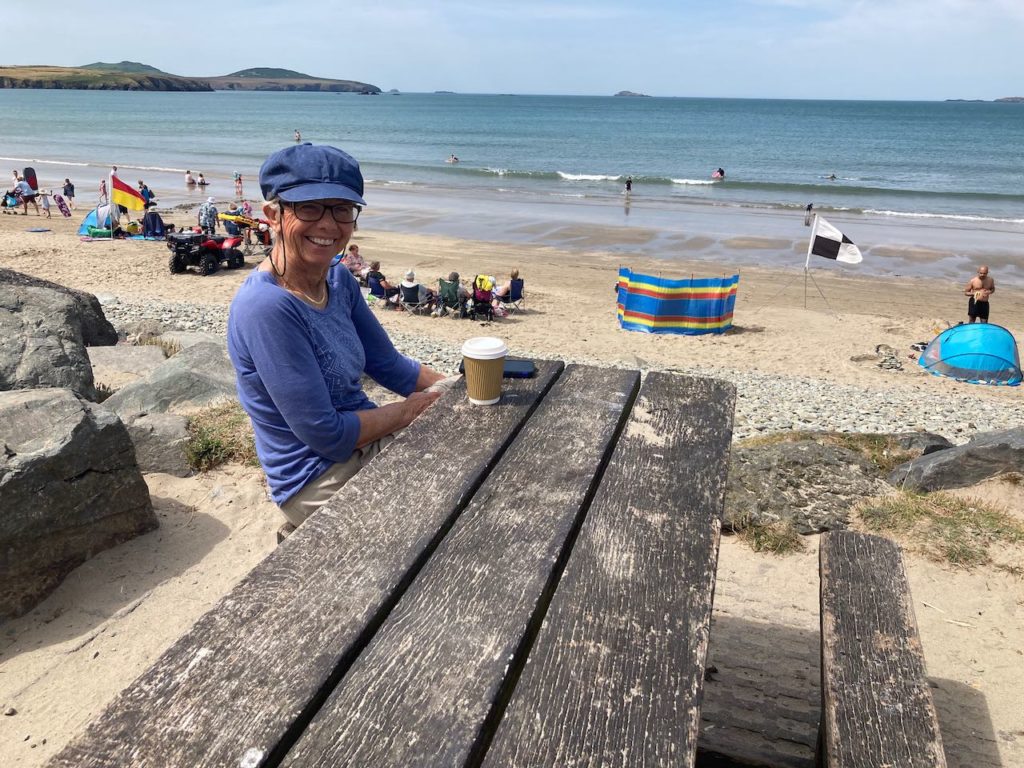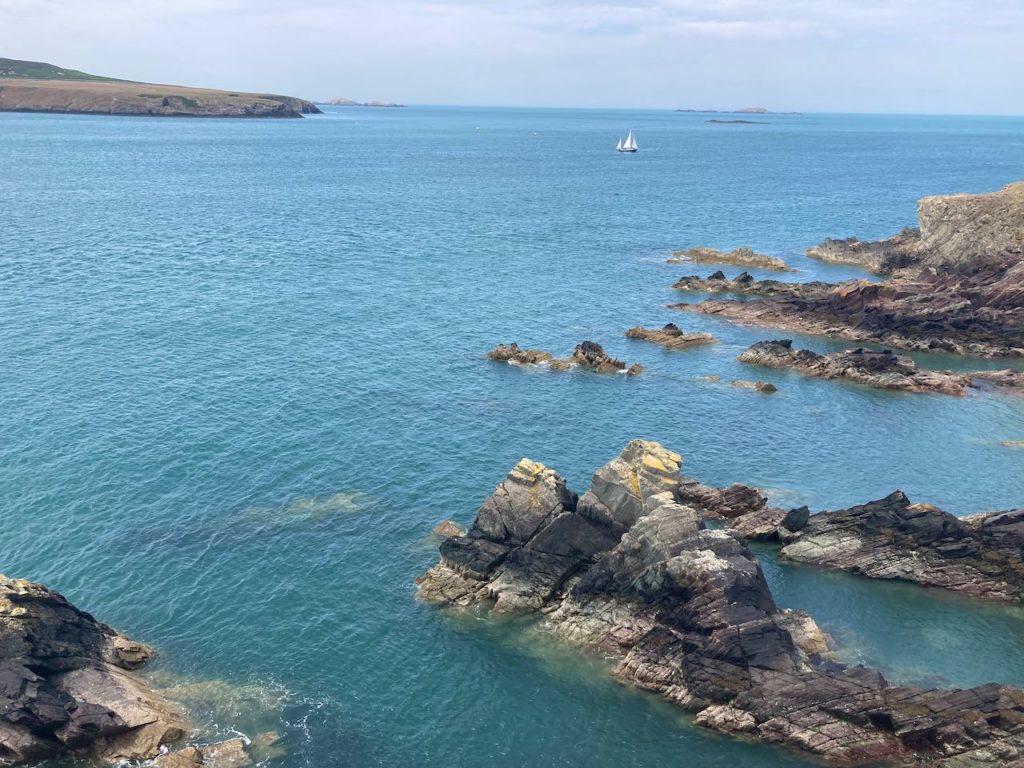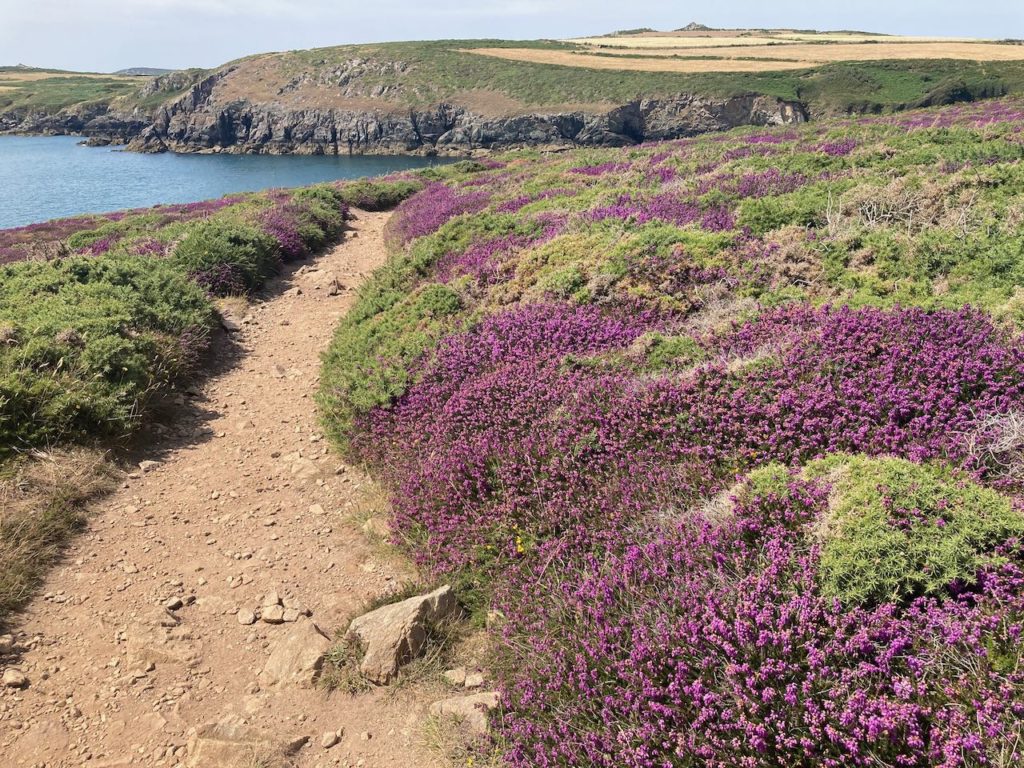 We spent the next two nights in Cornwall near a very large and flat sandy beach. I took the opportunity to go for a run, followed by a dip in the ocean.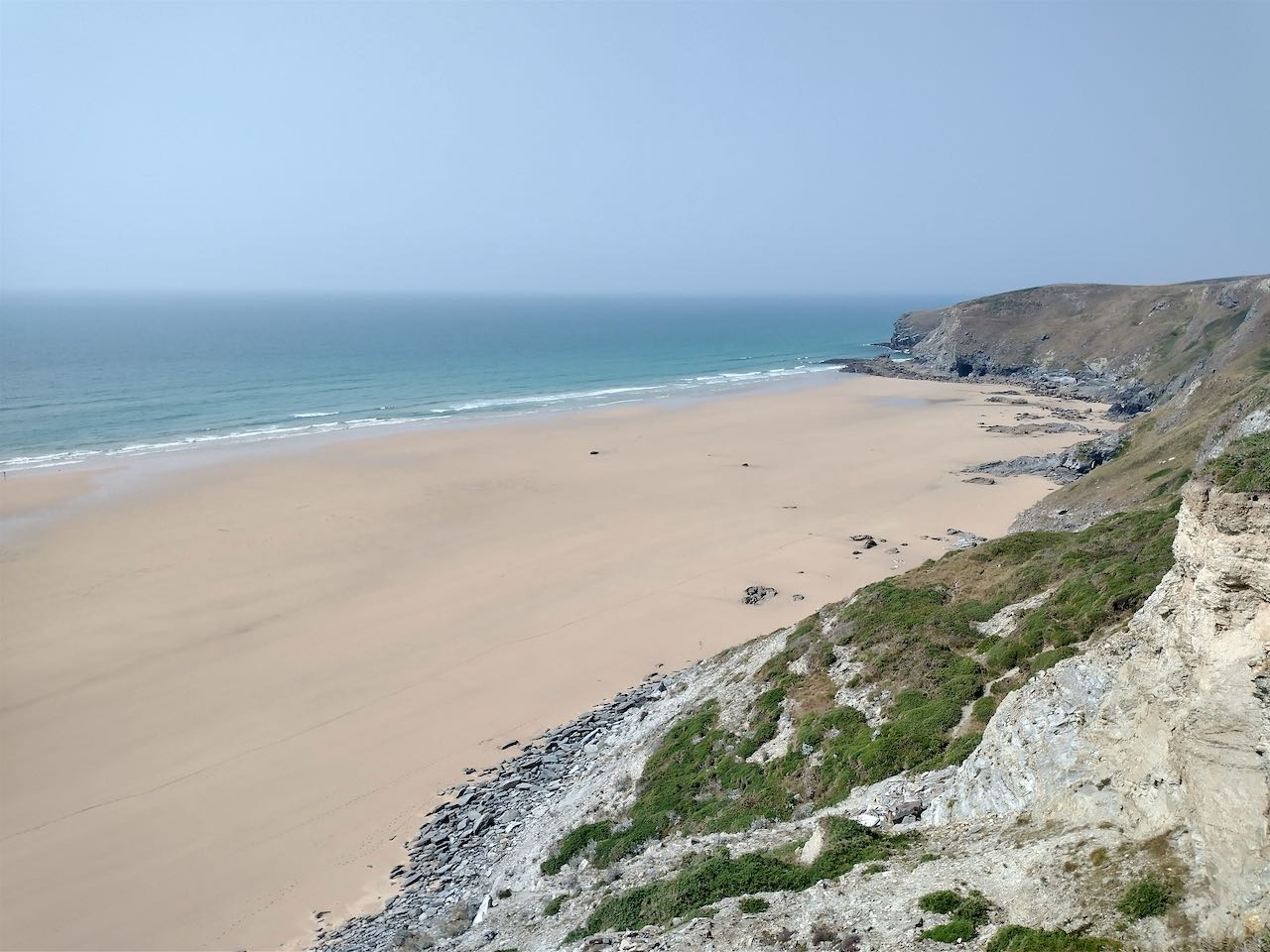 In April, when we were staying with our friend Vicky and her family in Wildhaus (Switzerland), we made plans to meet up again in Southern England, where she was planning to stay while visiting family. We drove to Dorset, where we had a campsite booked for five days – the longest stay of our trip! On the first day, our friends Krissy and Slade, whom we also met in Africa, were there as well, and we all had a fantastic time reconnecting.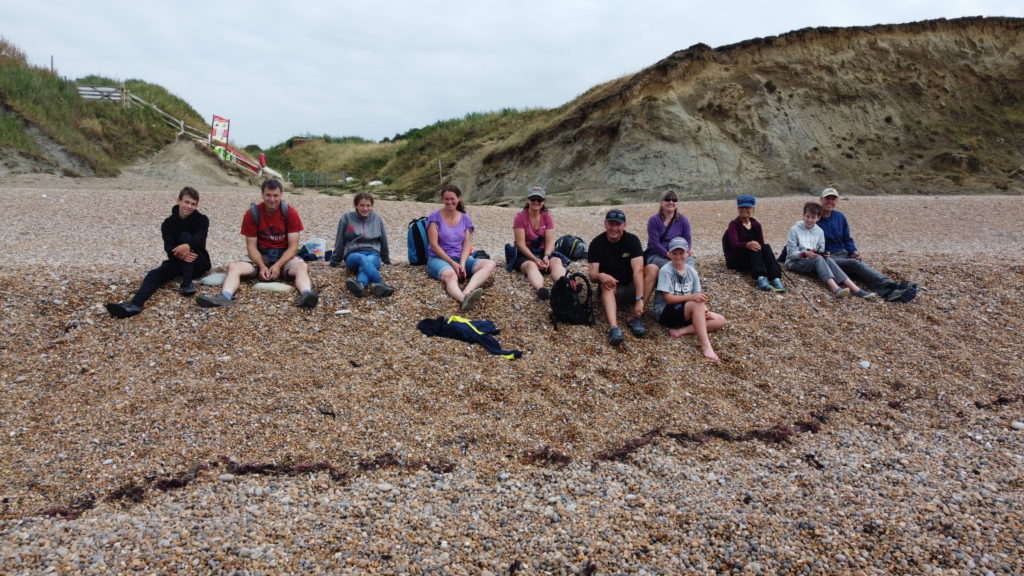 On Saturday, we drove to the nearby town of Lyme-Regis, where Vicky's cousin Kathryn lives in a farmhouse from the 1500s that once belonged to the Drake (Sir Francis) family. Kathryn showed us around the seaside resort town, and after taking in the sights and some fish and chips, we returned to her house for tea and a tour of her vegetable garden. With the cool, rainy weather, lettuce can grow all summer, but tomatoes must be grown indoors.
We received an email from our campground that day that warned of high winds for the next two days. Being perched high on a cliff overlooking the ocean is great, but it does get windy!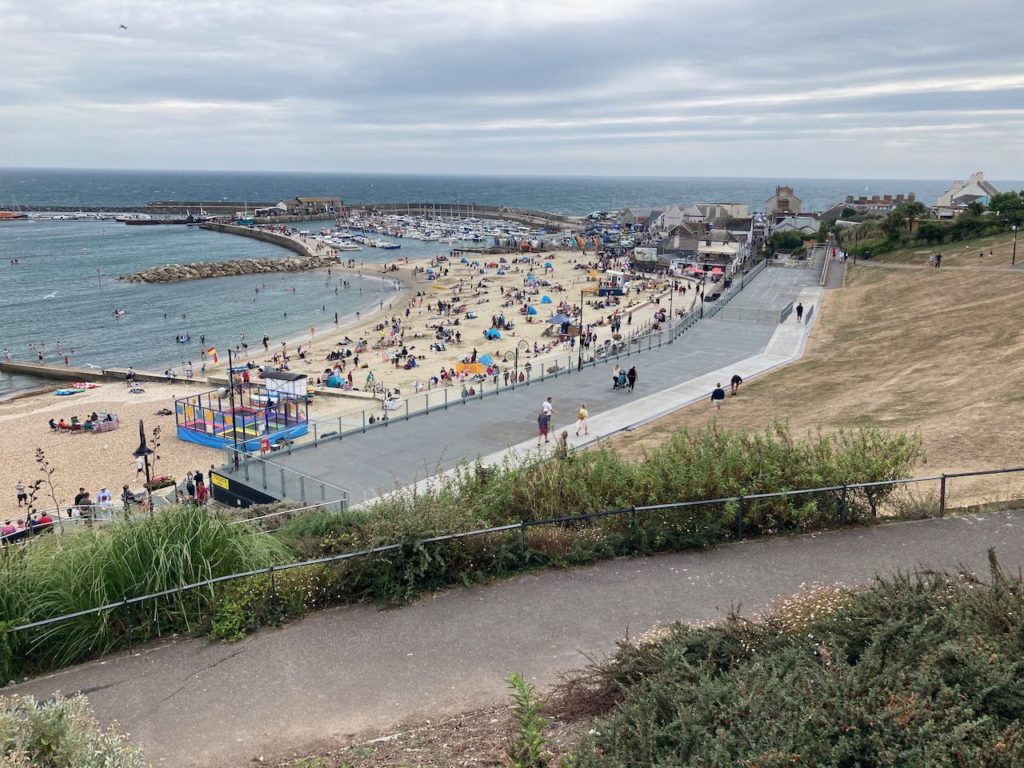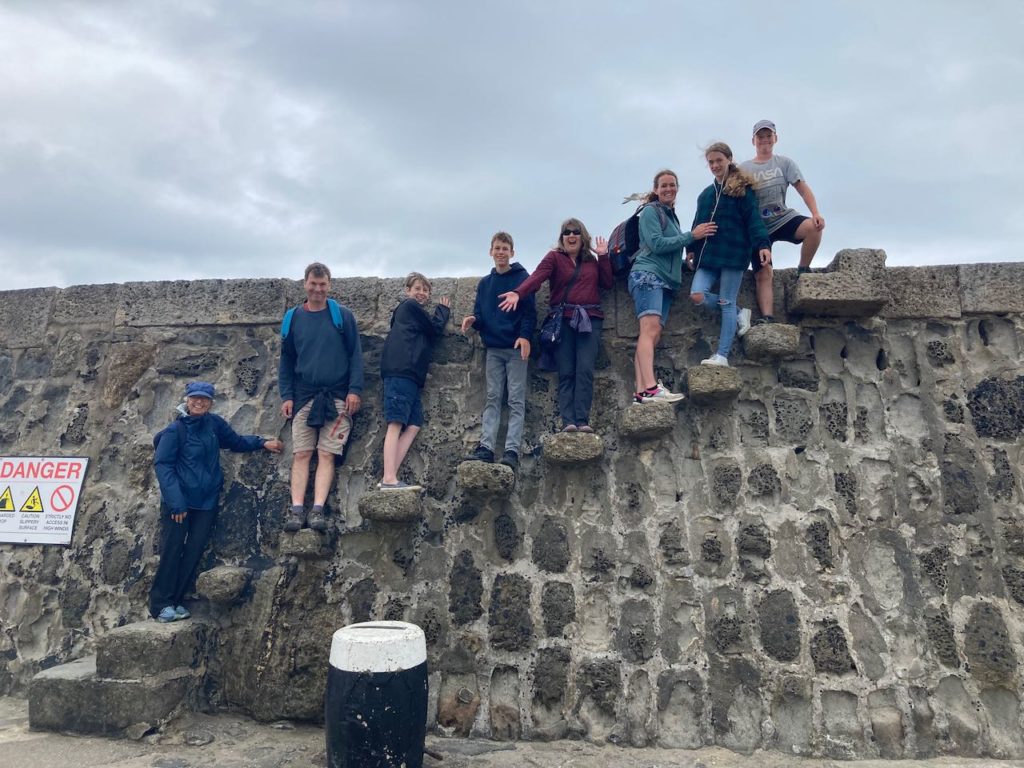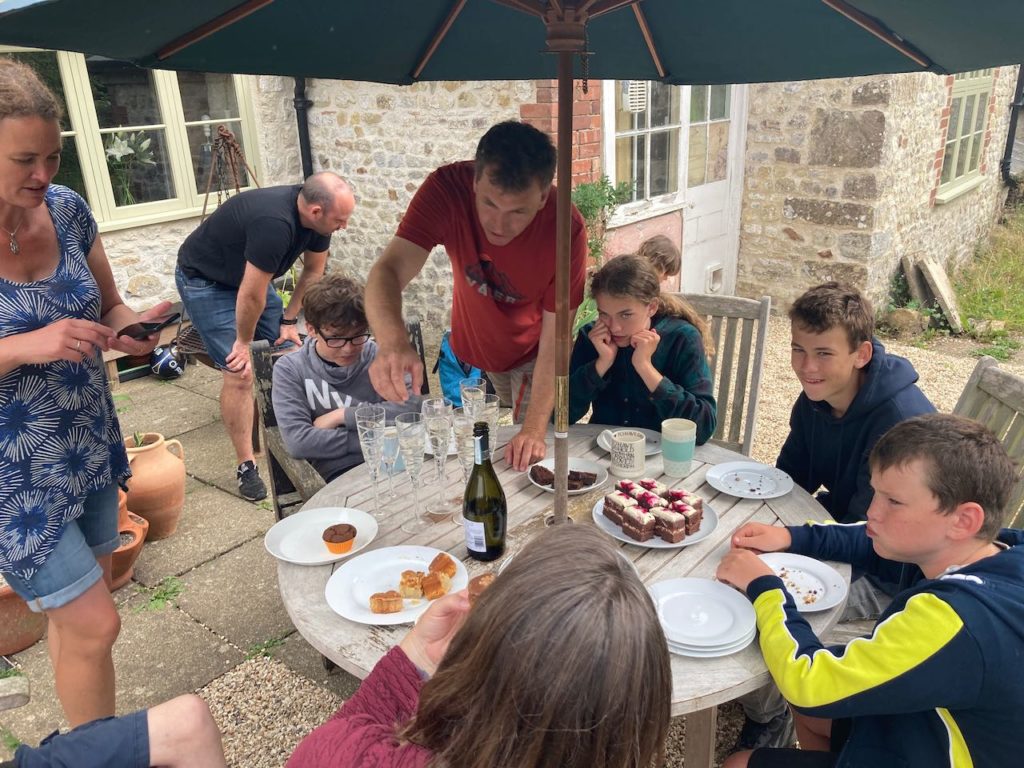 On Sunday, we booked a session for a zipline and ropes course. Kathryn's two kids joined, giving us six kids and two adults (Jen and Vicky) doing the course. We gave the Brits an American cultural experience, making them all peanut butter and jelly sandwiches for afterward.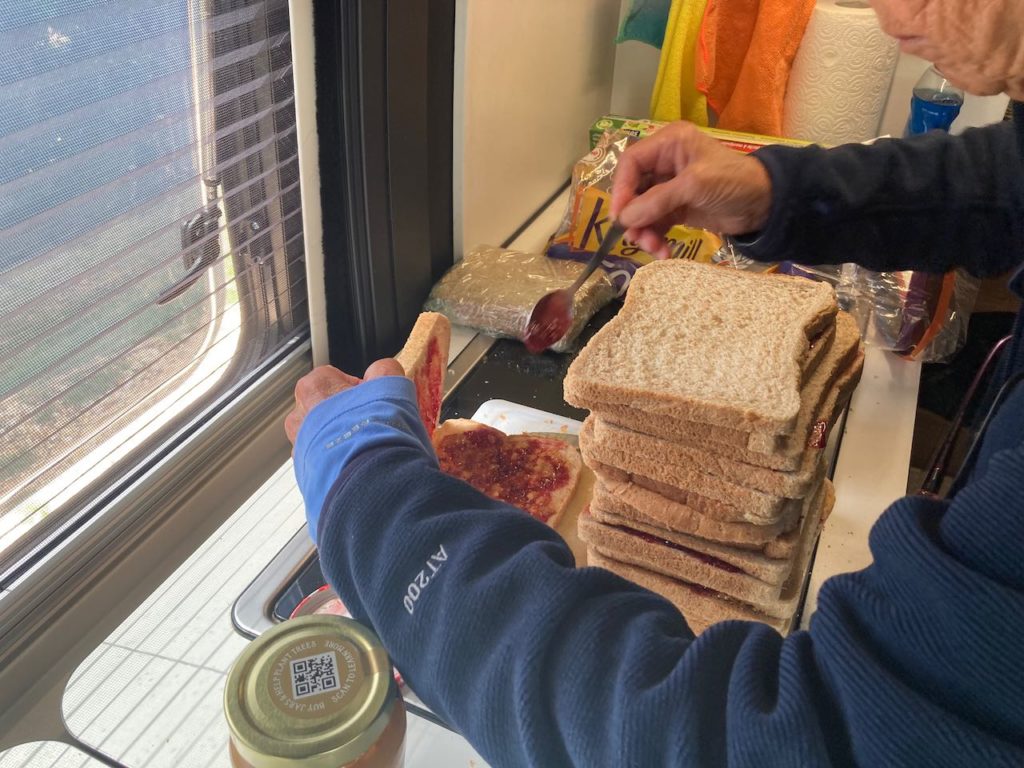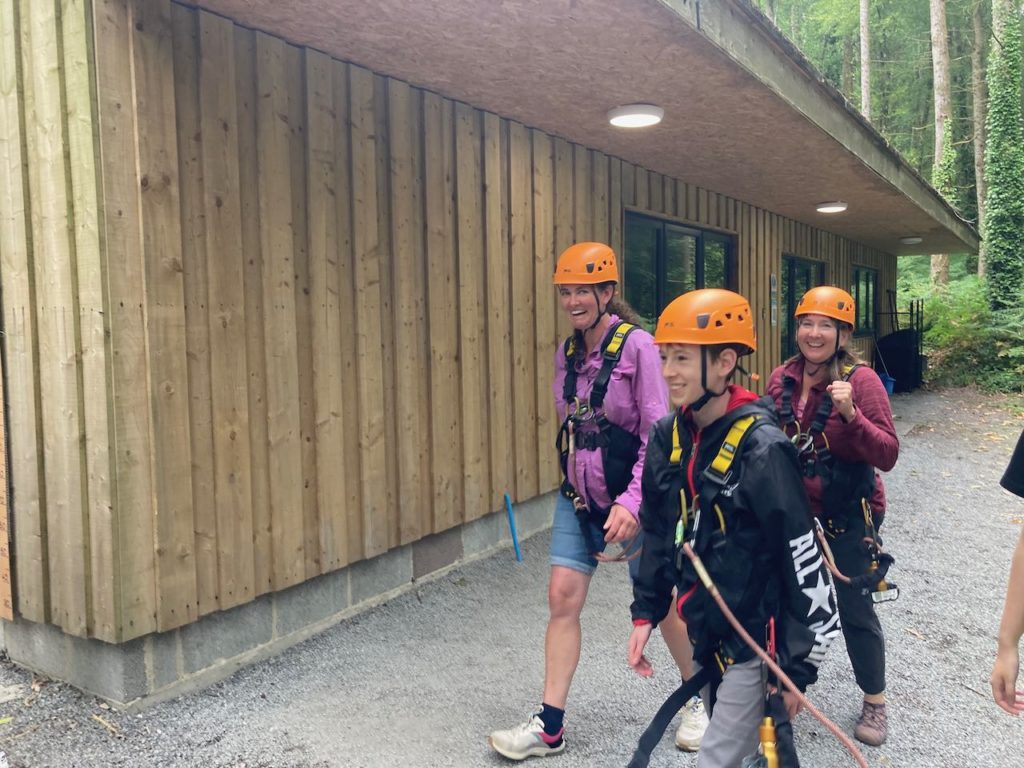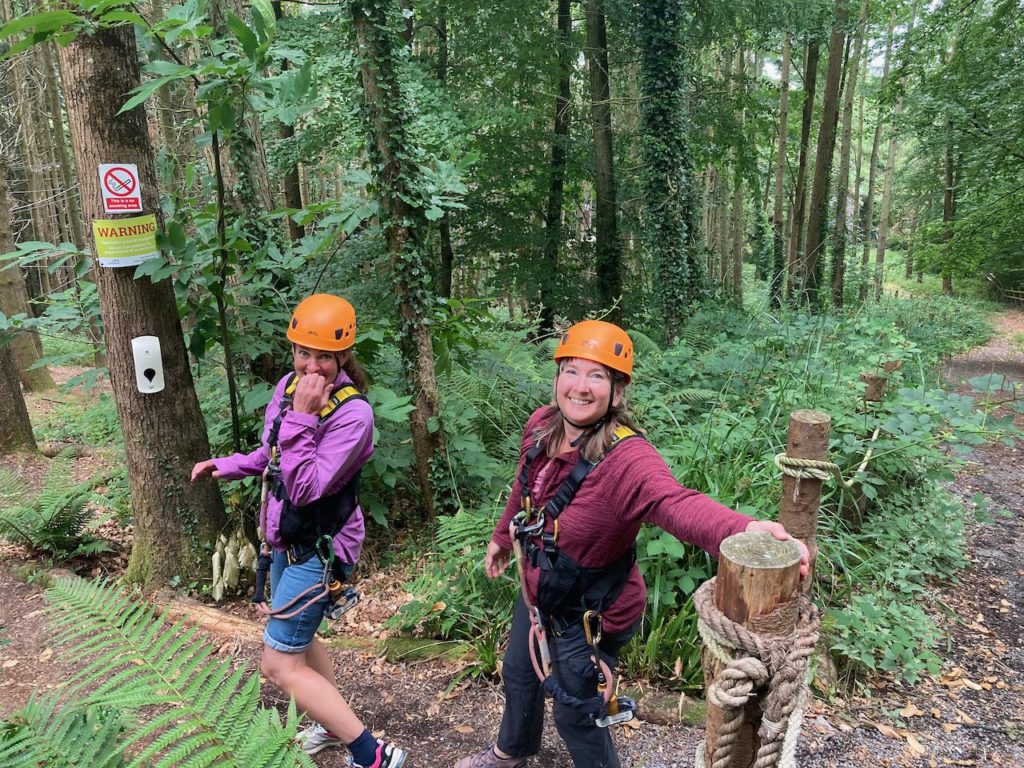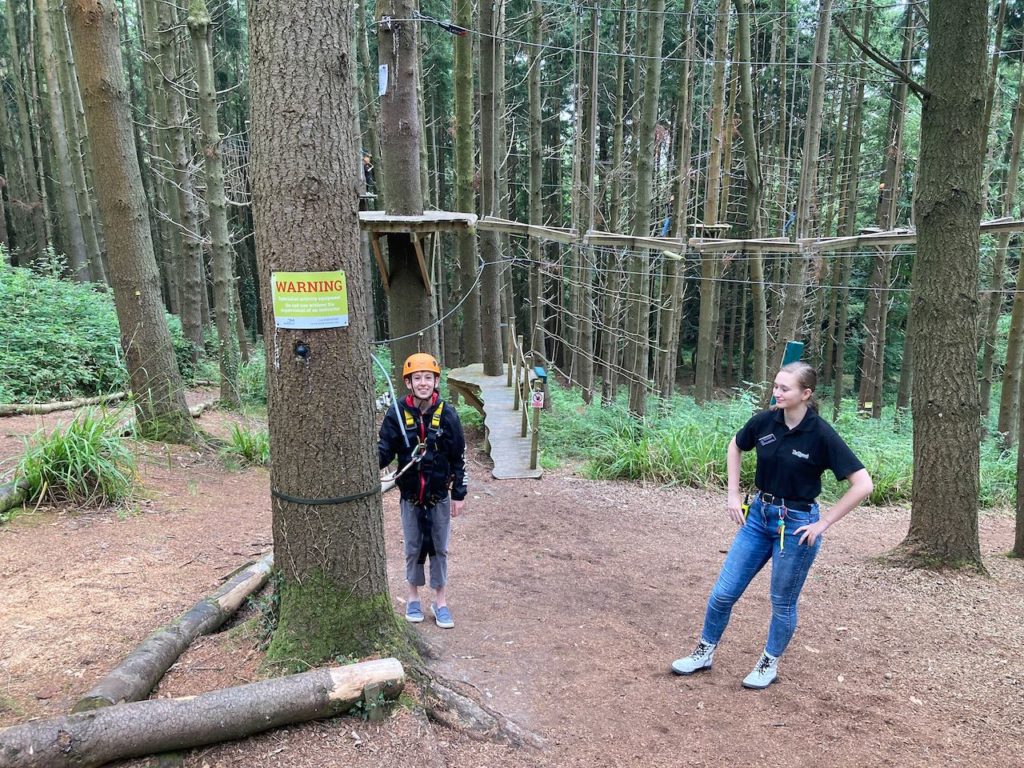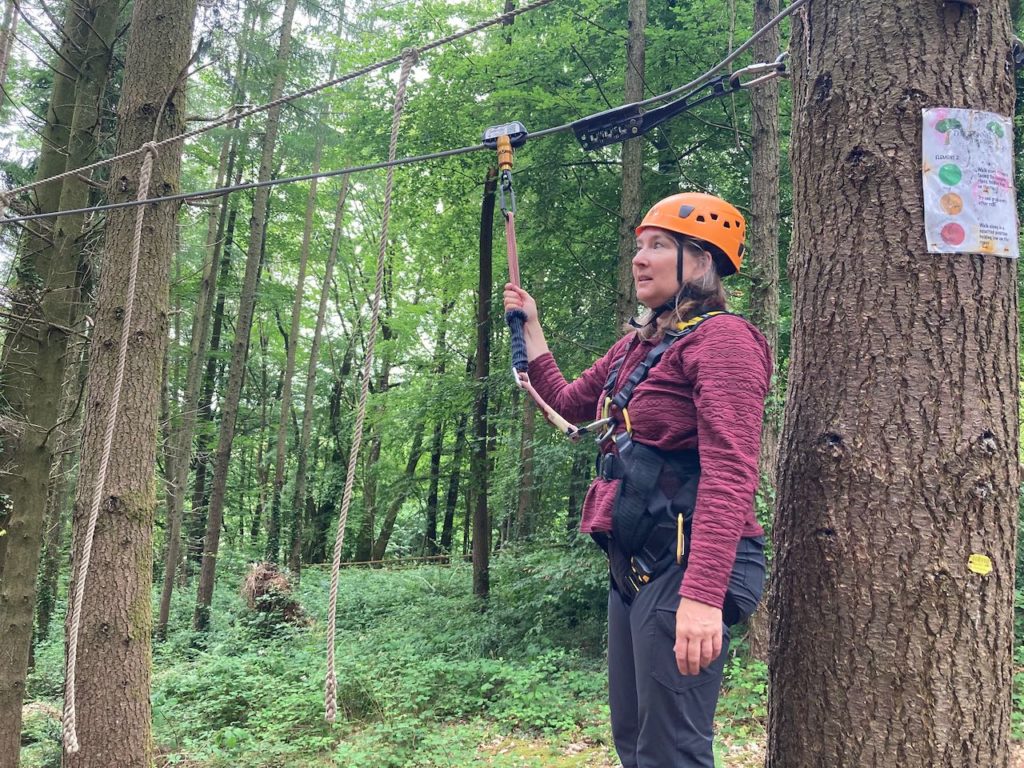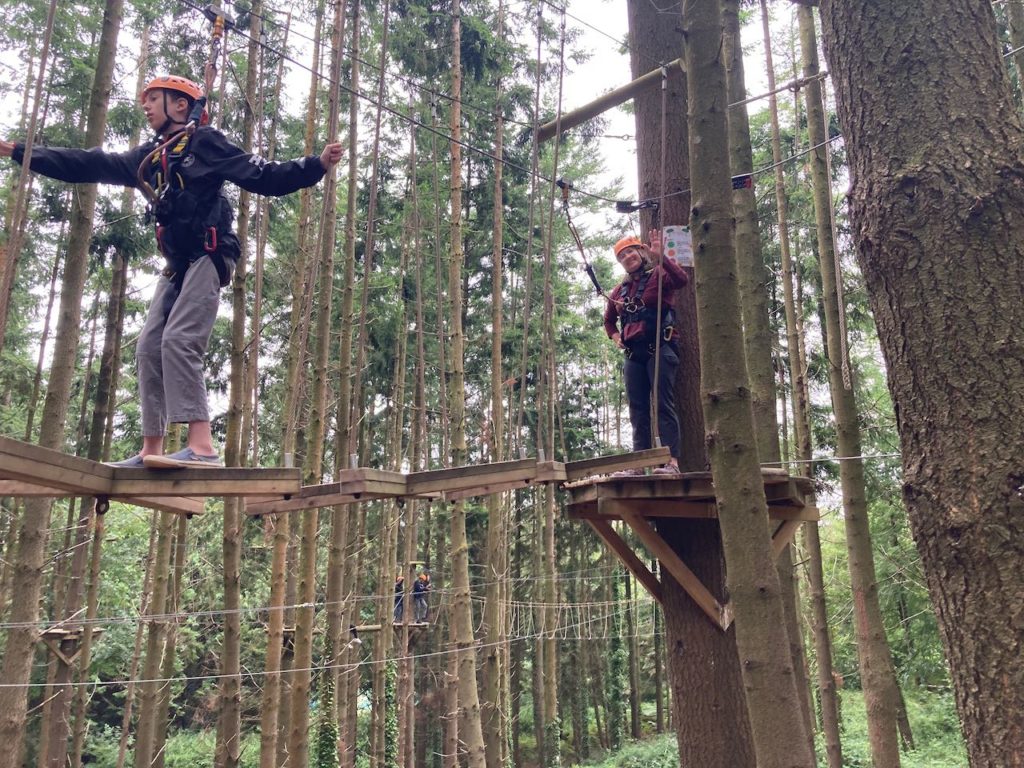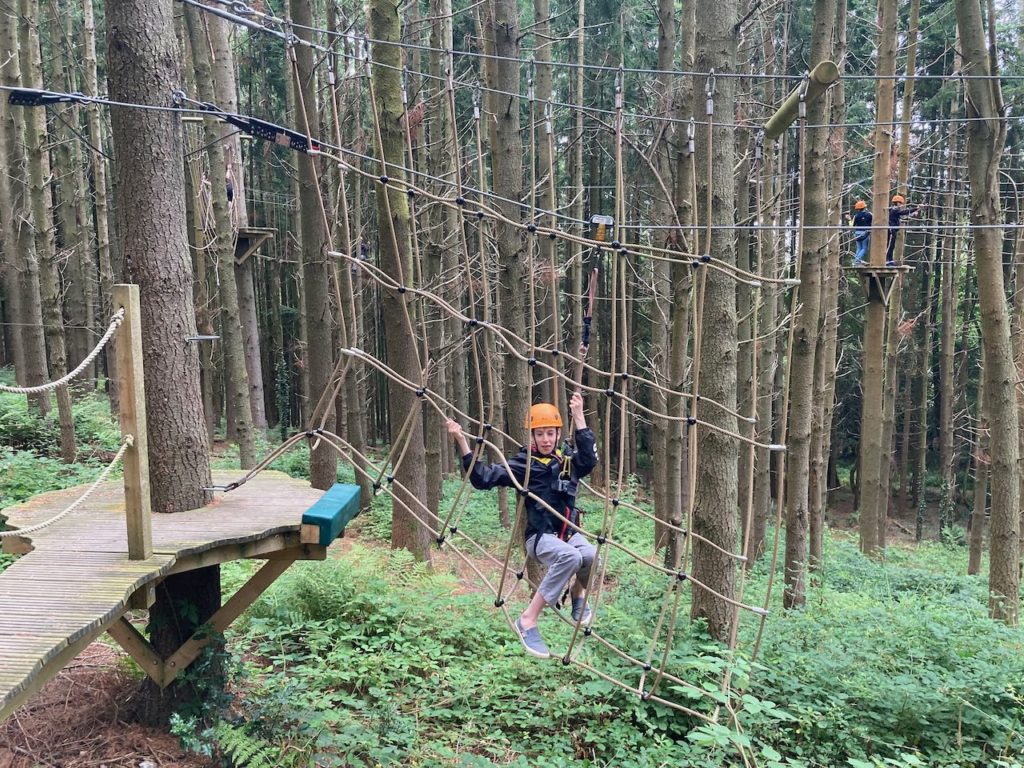 Richard dropped Jen, Vicky, and I off in Charmouth, from where we planned to walk along the coast back to our campsite. The walk took us about three hours, and we were all pretty tired after a long day.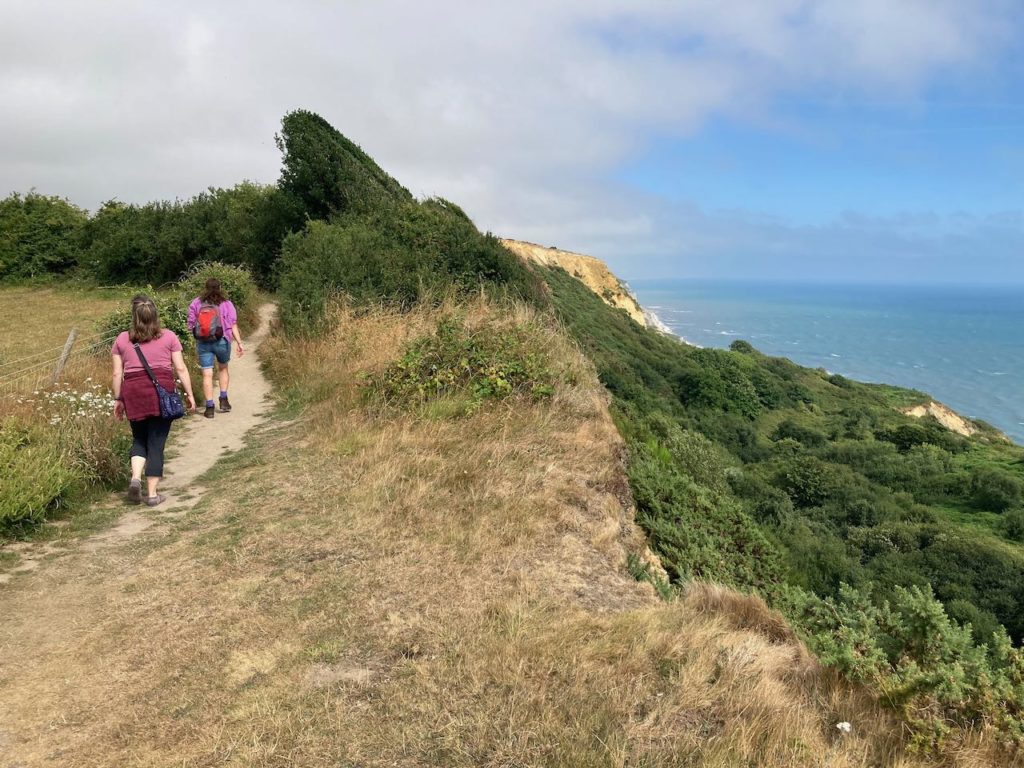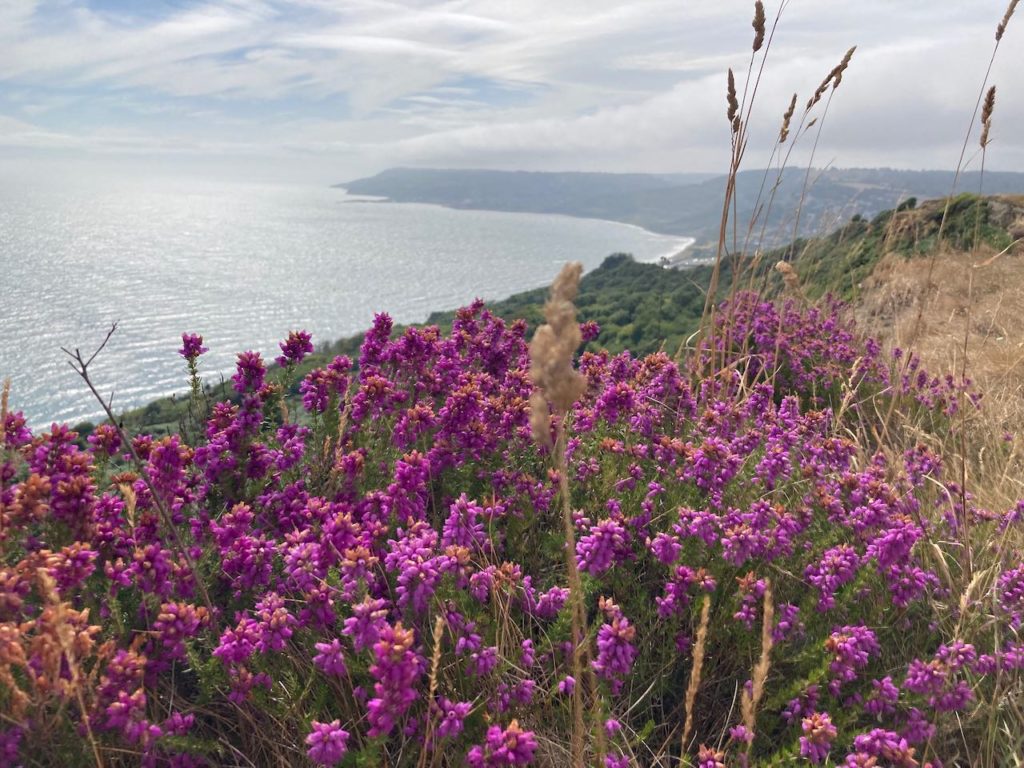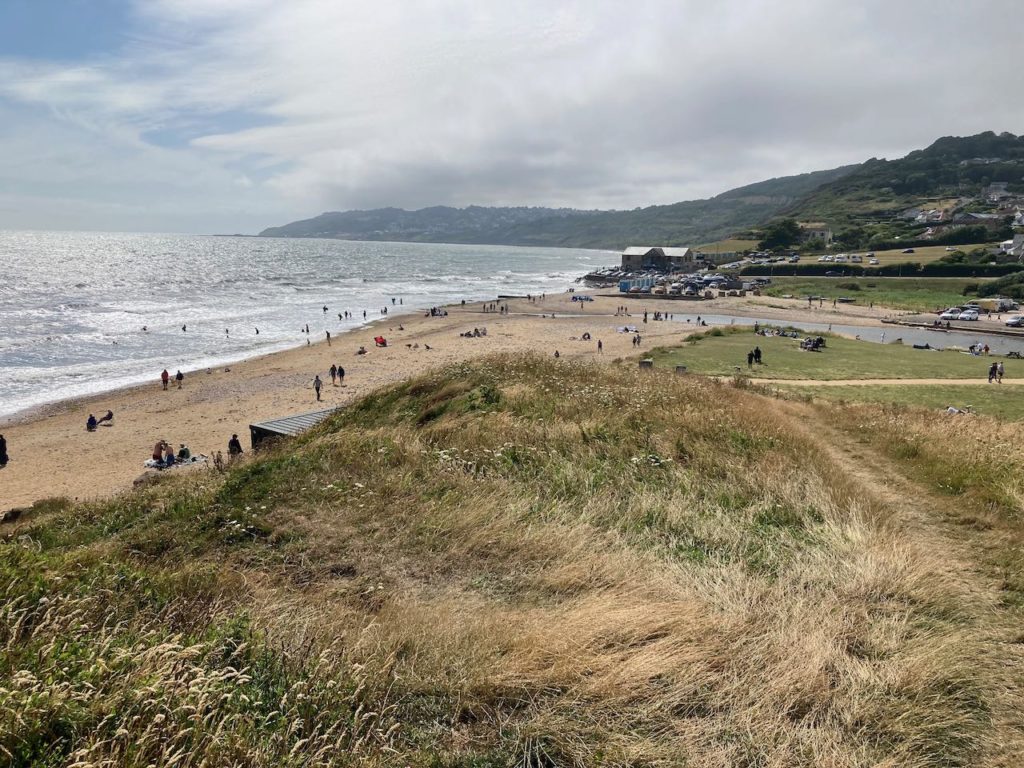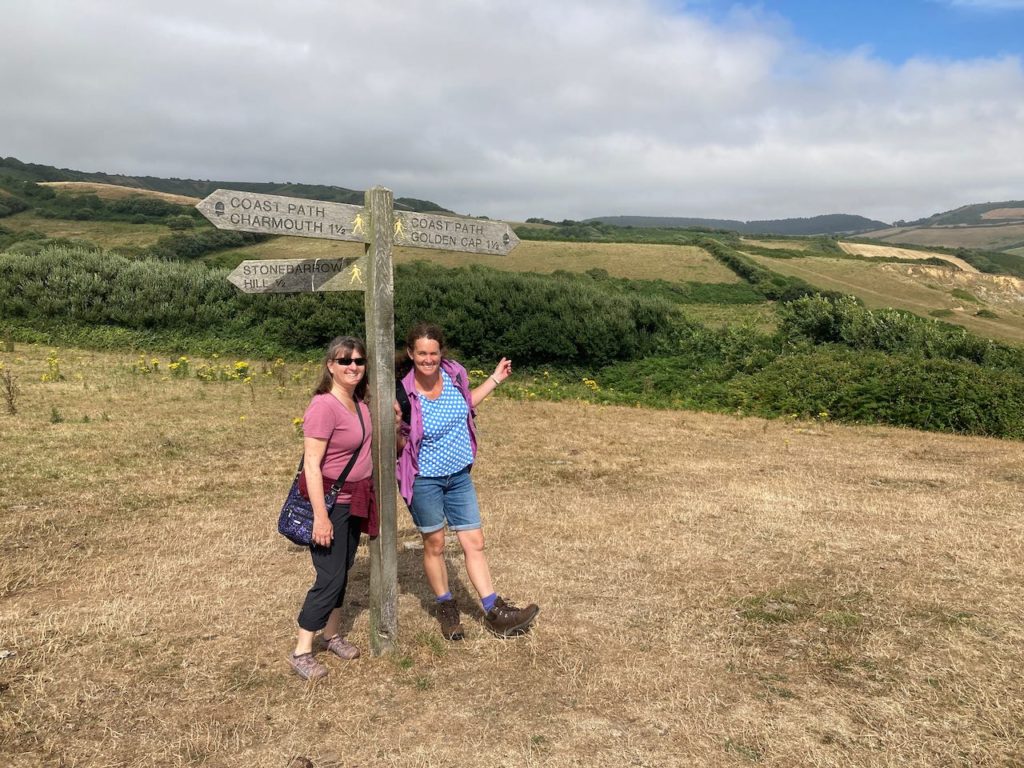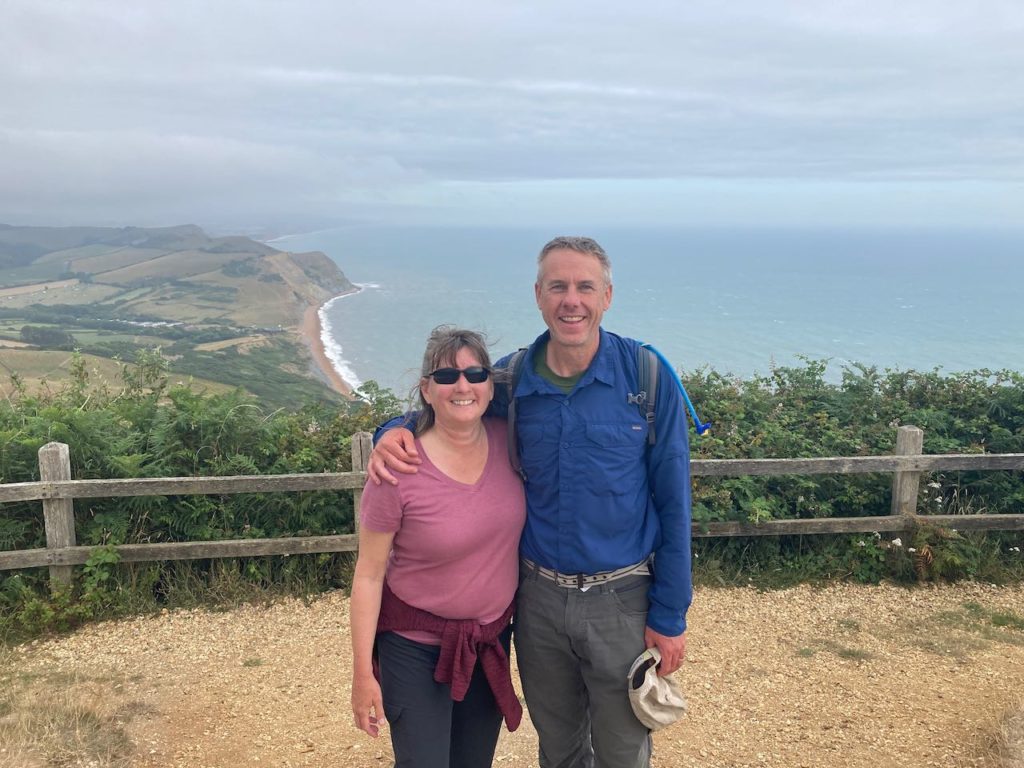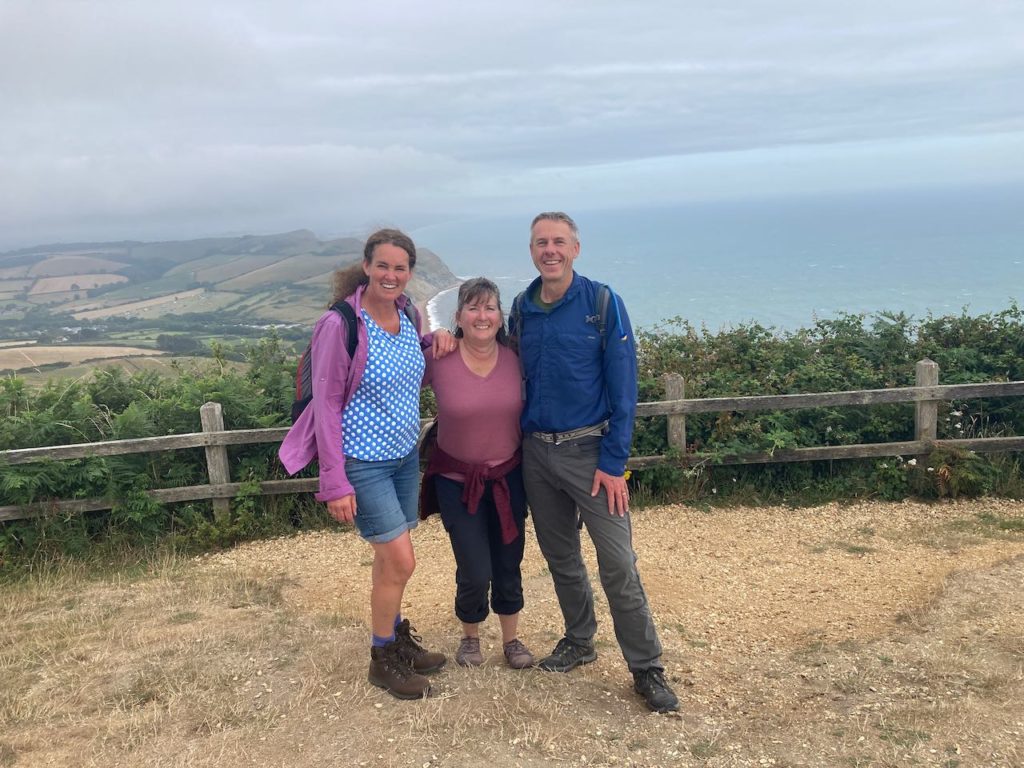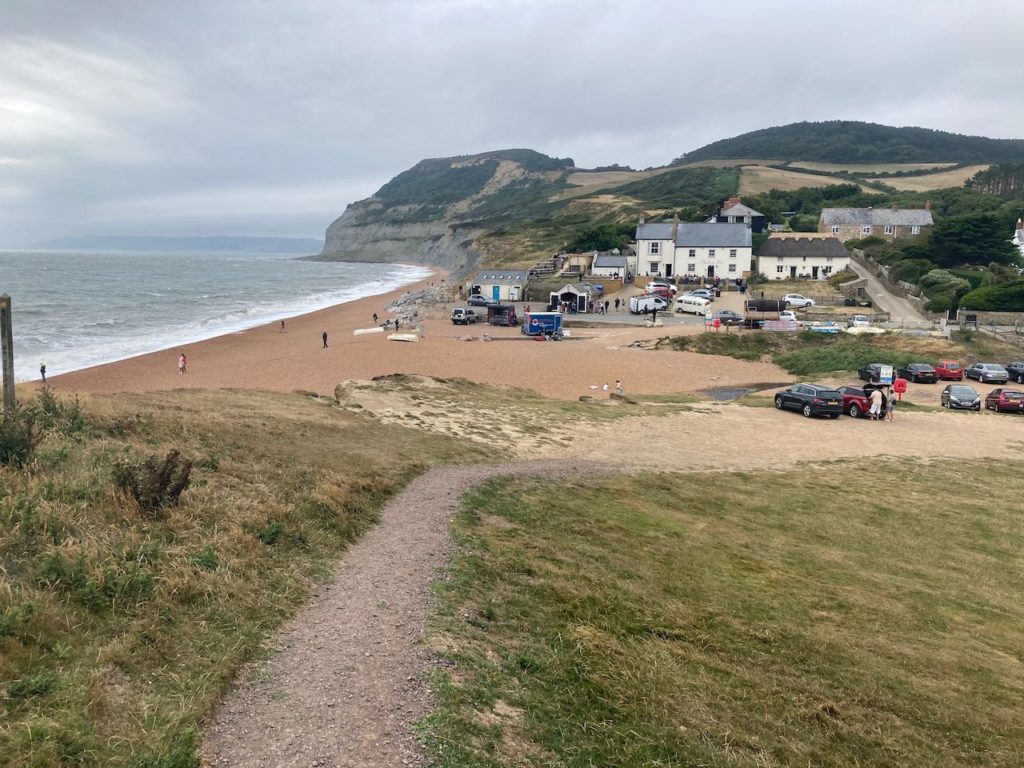 When we arrived back at our campsite, it was rainy and windy, so after a quick meal, we joined Vicky's family in the bar/recreation room for some drinks and a game of pool. When Vicky's family returned to their tent, they discovered that the winds had gotten the better of it, and they were forced to pack up and head to Kathryn's house for the night. We said our hurried goodbyes and the next morning set off ourselves towards Dover, where we're to sail to France in two days' time.