It's always a little unnerving when the customs guy spends a lot more time with your passport than he did with anyone else.
Jen, Quinn, and Kathy had already been stamped into Montenegro with a quick scan and stamp of the passport. I'd been standing there for five minutes, while the agent stared intently at his computer screen. I got even more worried when he left his desk to go and speak with some colleagues. Had my secret identity as an international spy been compromised? Had my cover as an unassuming family man on holiday been blown? I'd thought for sure that traveling with my mom and my kid would cement my non-threatening status.
These thoughts went through my mind as the man returned to his desk. It wasn't until he reached for the ctrl-alt-delete keys on his keyboard that I finally relaxed. Oh. Windows crashed. No big deal. About 10 minutes later, after his computer rebooted, he was able to re-scan my passport and I was on my way.
Our first order of business when arriving at a new destination is to figure out where everything is: Where is the nearest market? Where is the nearest good market? How do you get to old town? How do you get to the waterfront? Where can we hang our laundry to dry? Where is the trash dumpster? What is the true meaning of life? Inquiring minds want to know!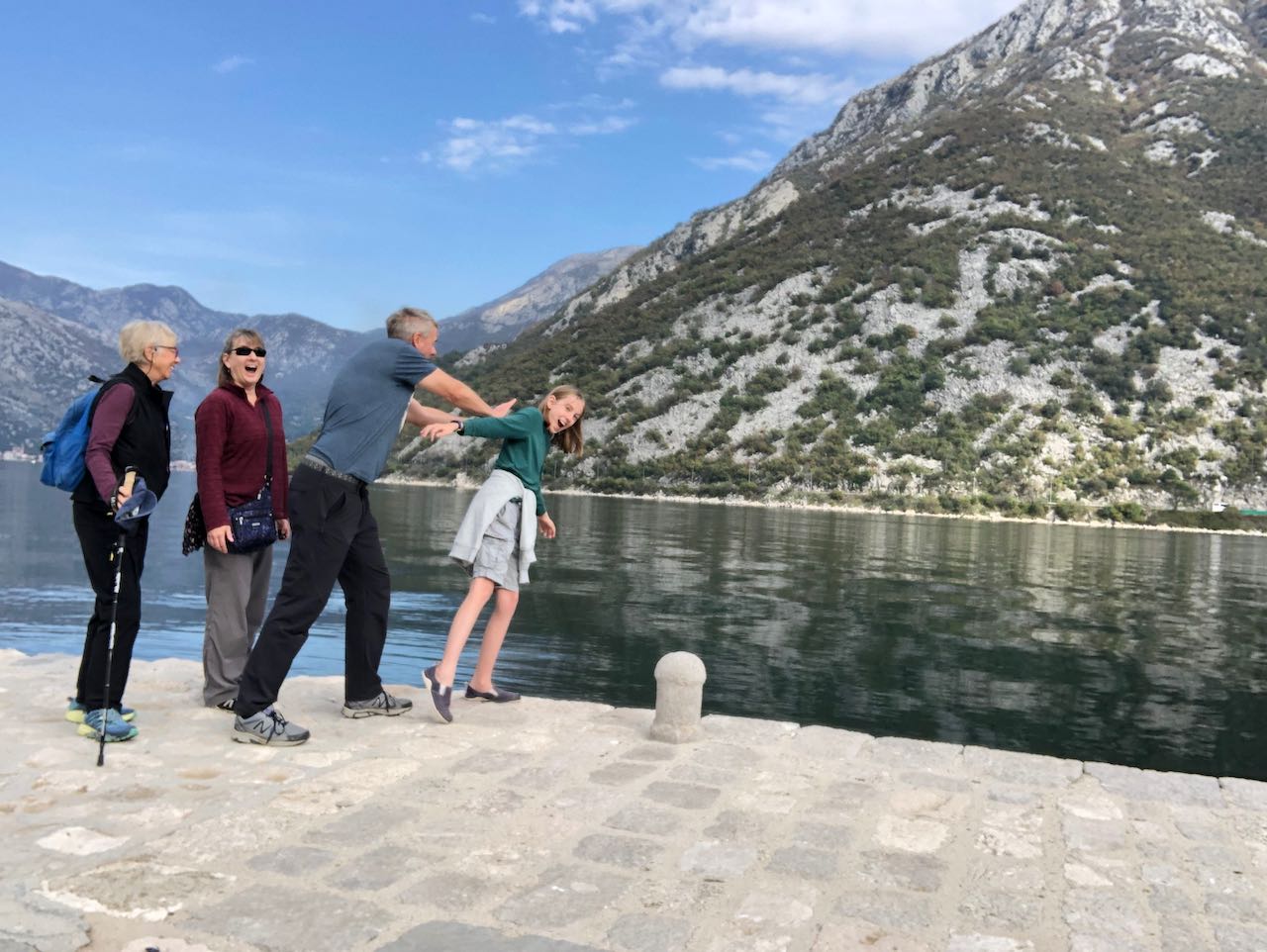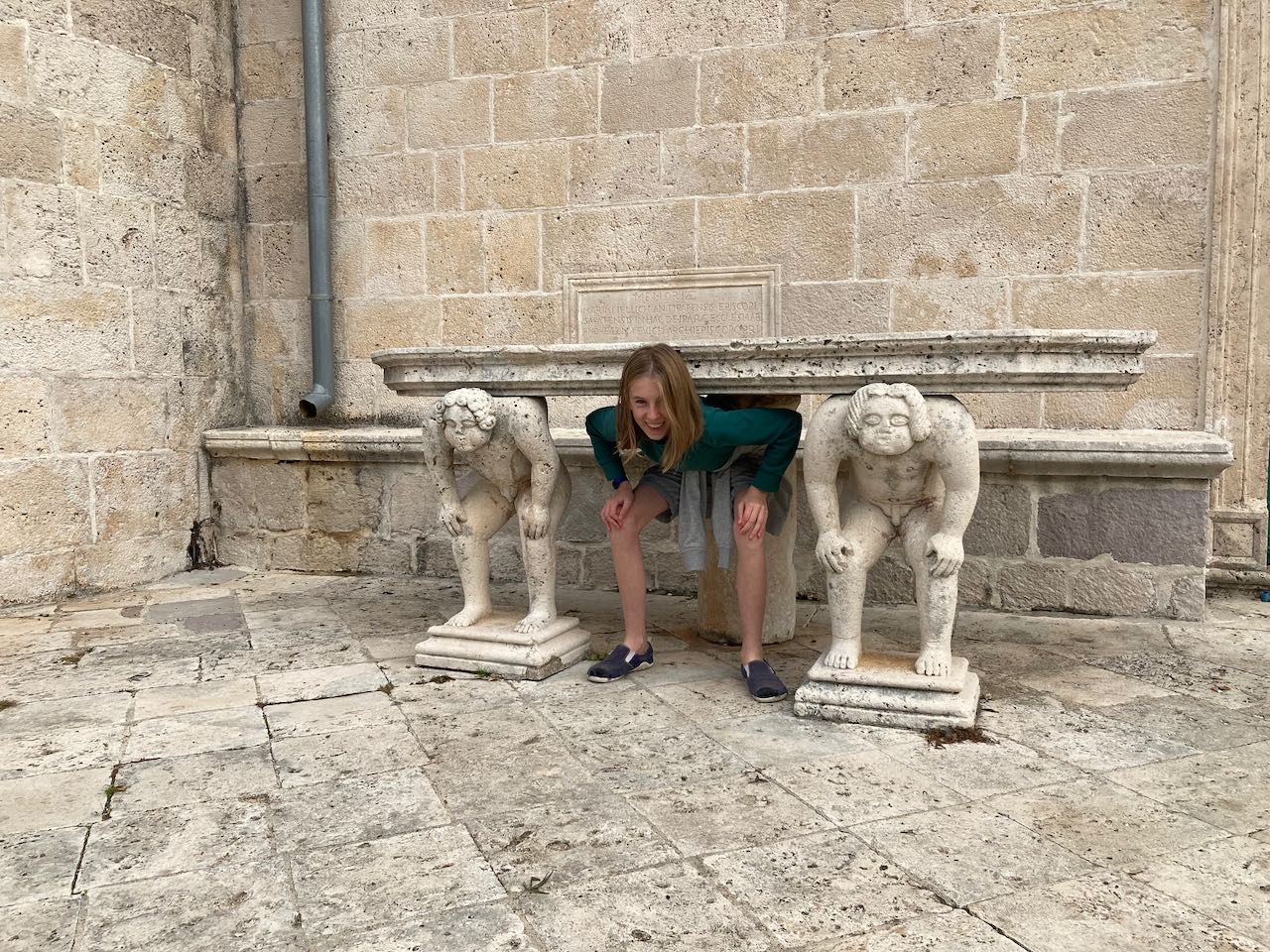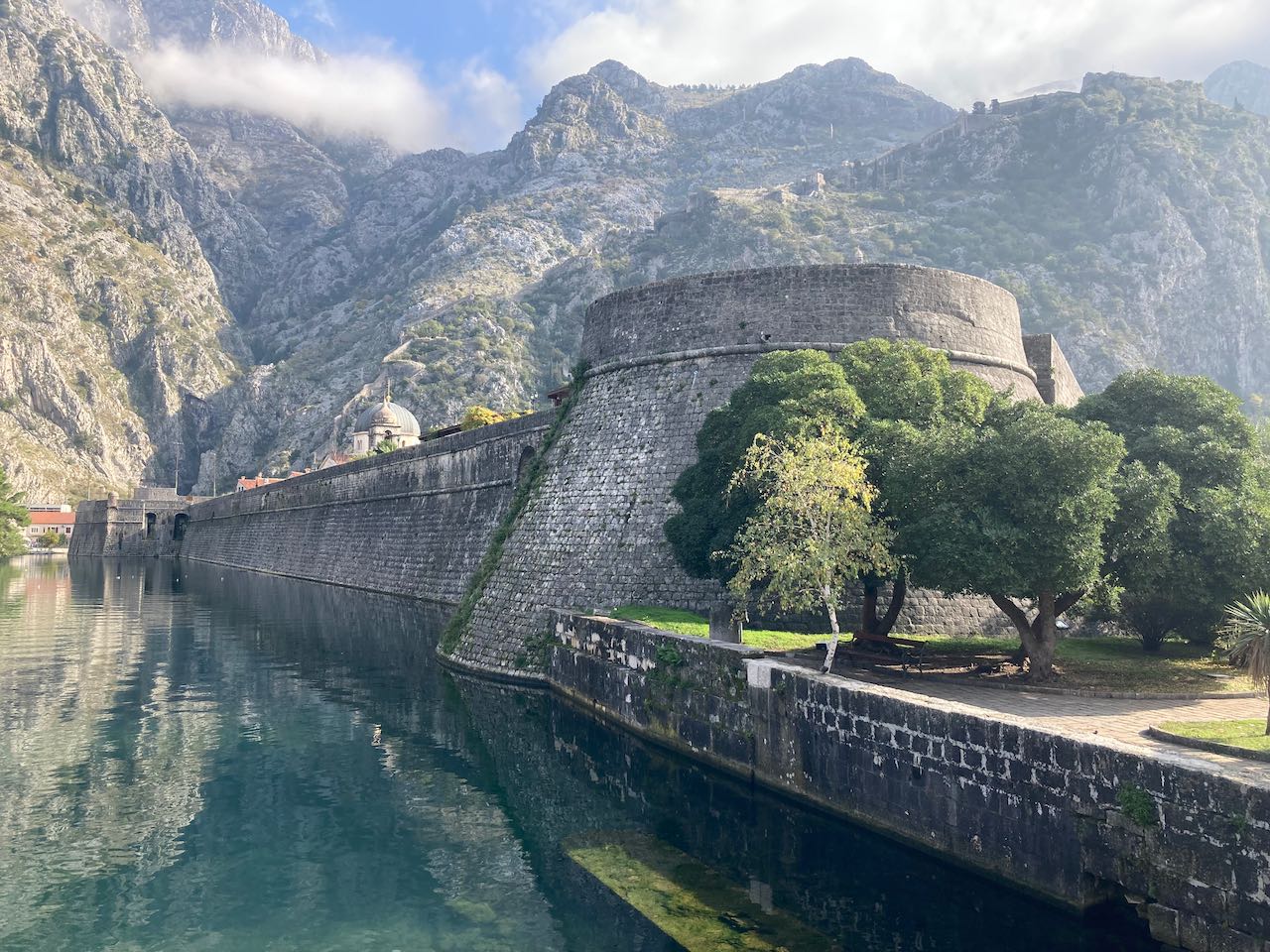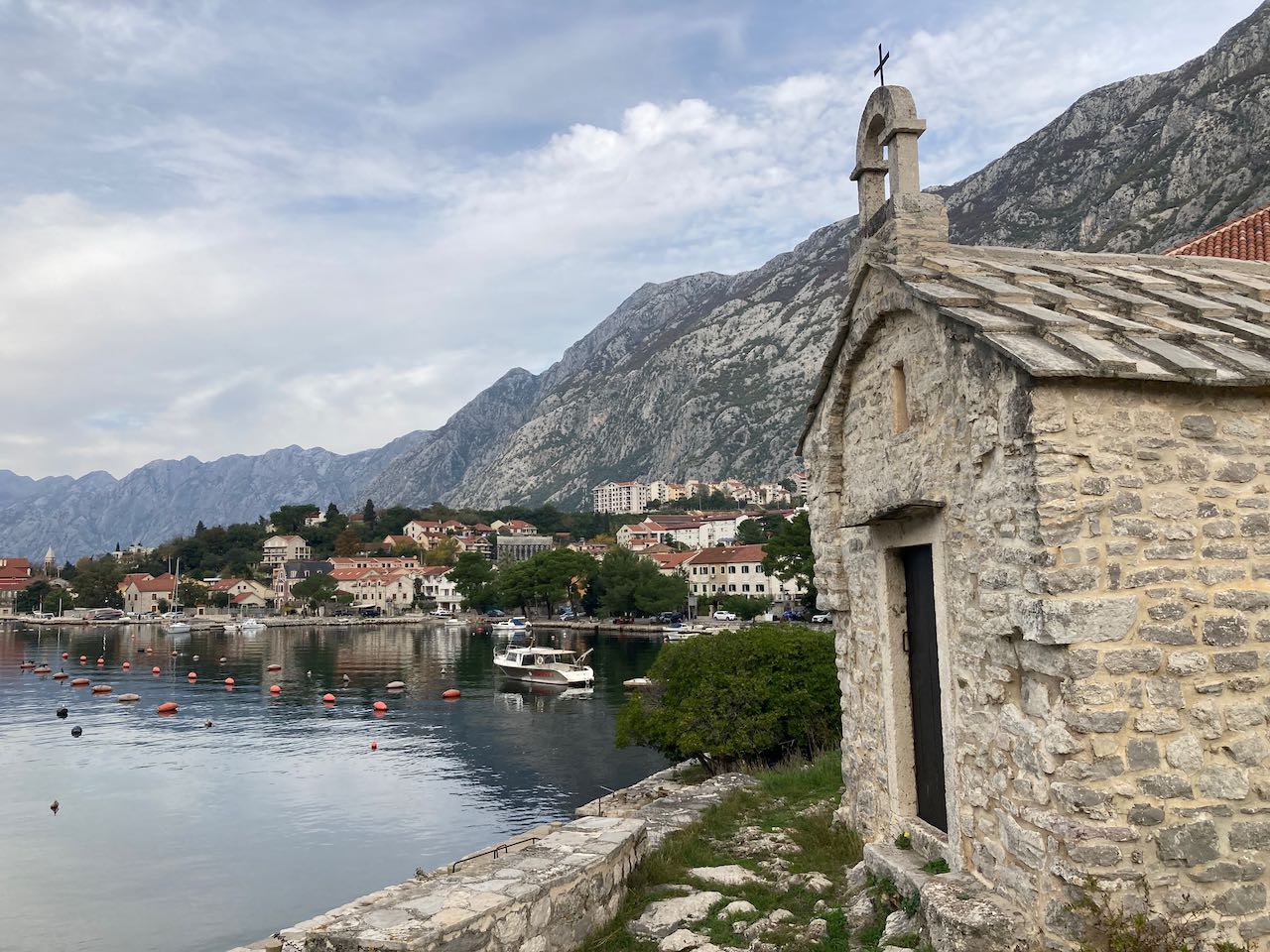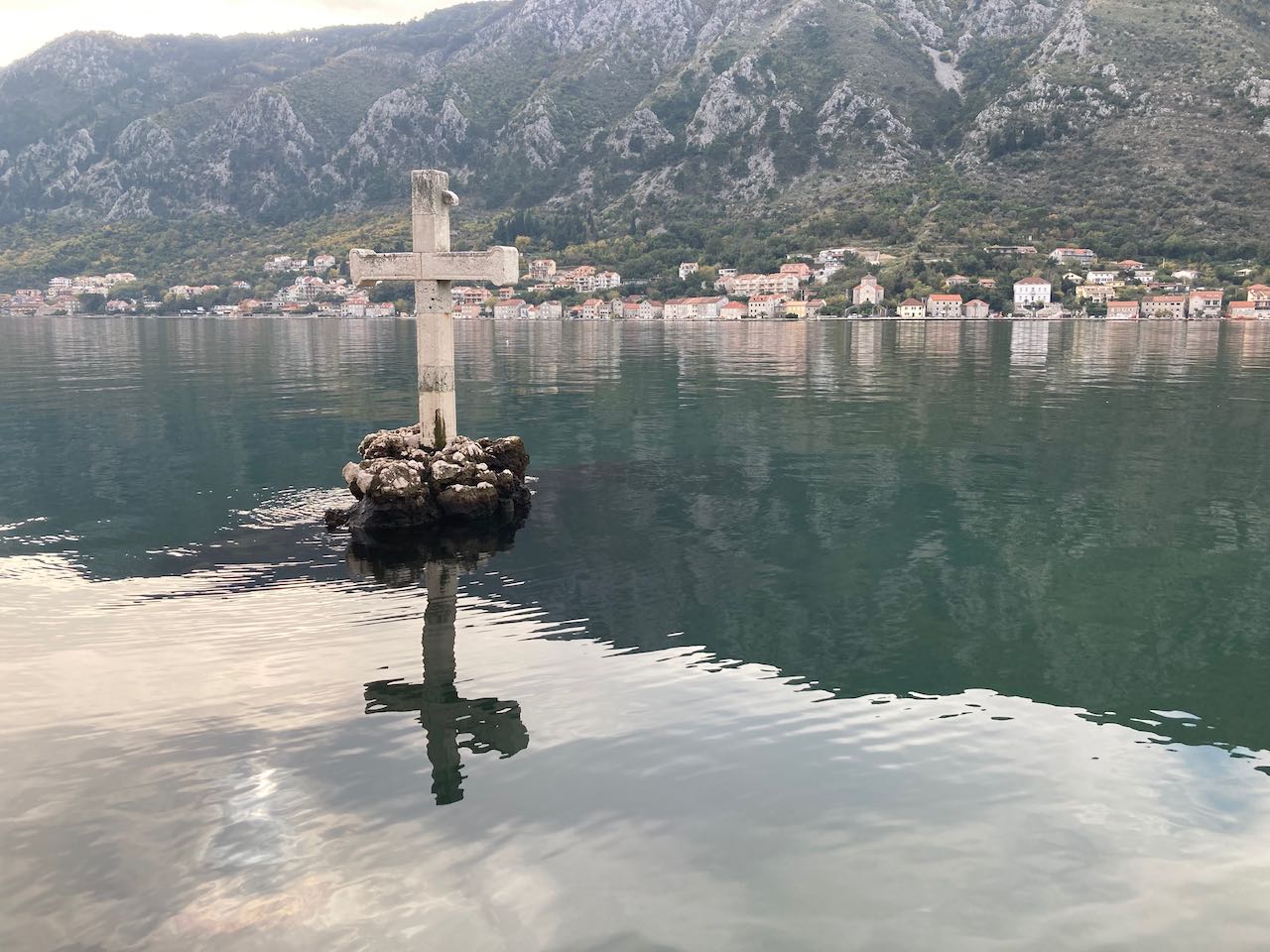 Hiking above Kotor
Kotor is set at the end of a butterfly-shaped bay near the coast of Montenegro. Nestled below towering 1000m+ peaks, the scene is reminiscent of Scandinavian fjords. It makes for a very dramatic setting, but it also means that during these short days of the year we only get about 4-5 hours of sunlight each day before the sun dips below the mountains.
During our first weekend in town, we took advantage of a sunny day to go for a hike. And what a hike it was! By the time we were done, we had climbed into the clouds at 3,000 feet. Keep in mind of course, that we started at sea level!
The map to the left shows our route – mostly following the red track. Our destination was a restaurant on the main road at the top, but since it is now well outside of tourist season it was closed.
We contacted our Airbnb host, who kindly called us a taxi to drive up and ferry us home.
Despite Quinn's dislike of hiking (and generally anything that takes him away from YouTube and computer games), he did a great job. Kathy too was a trooper to make it up this steep and difficult hike.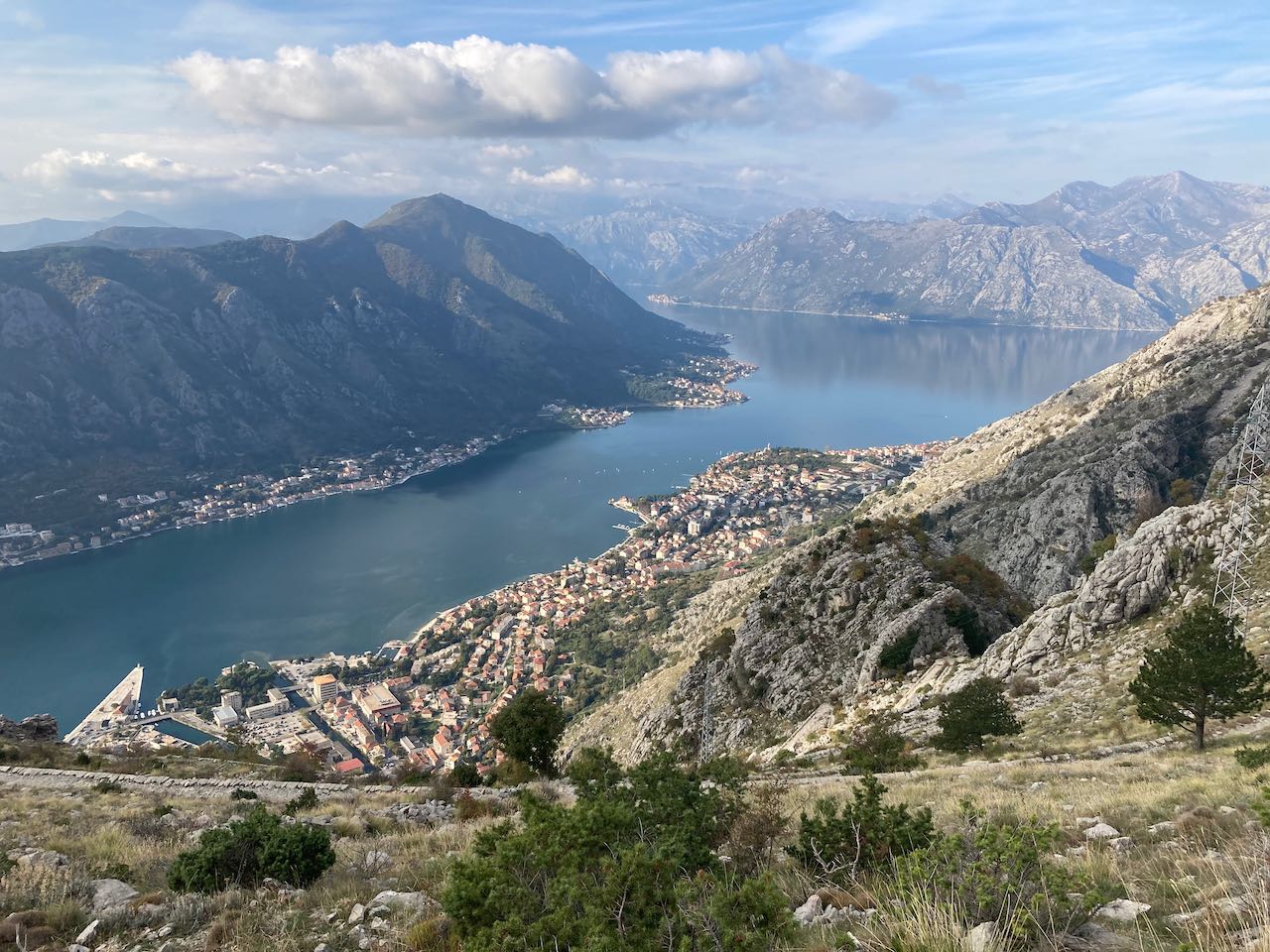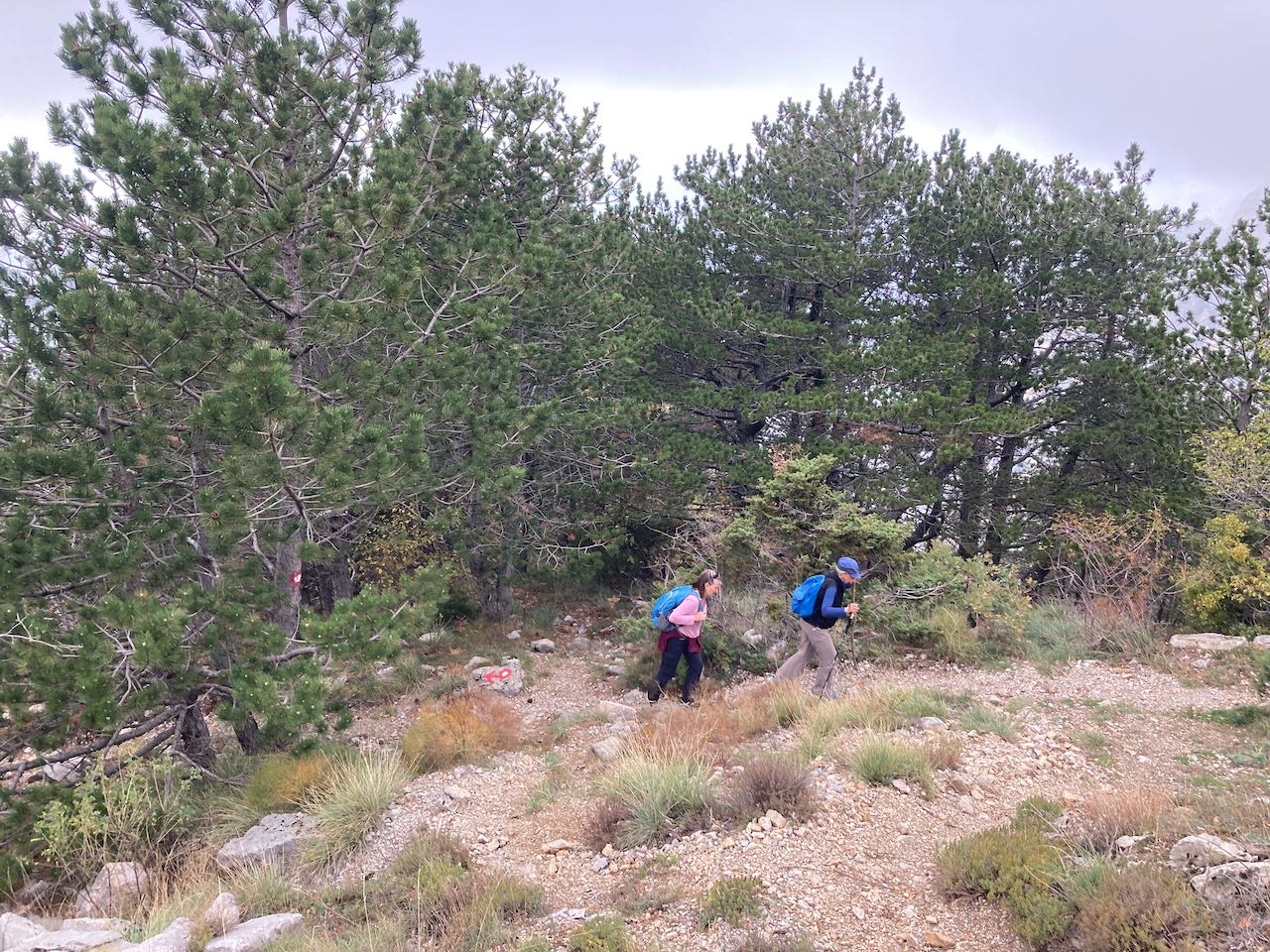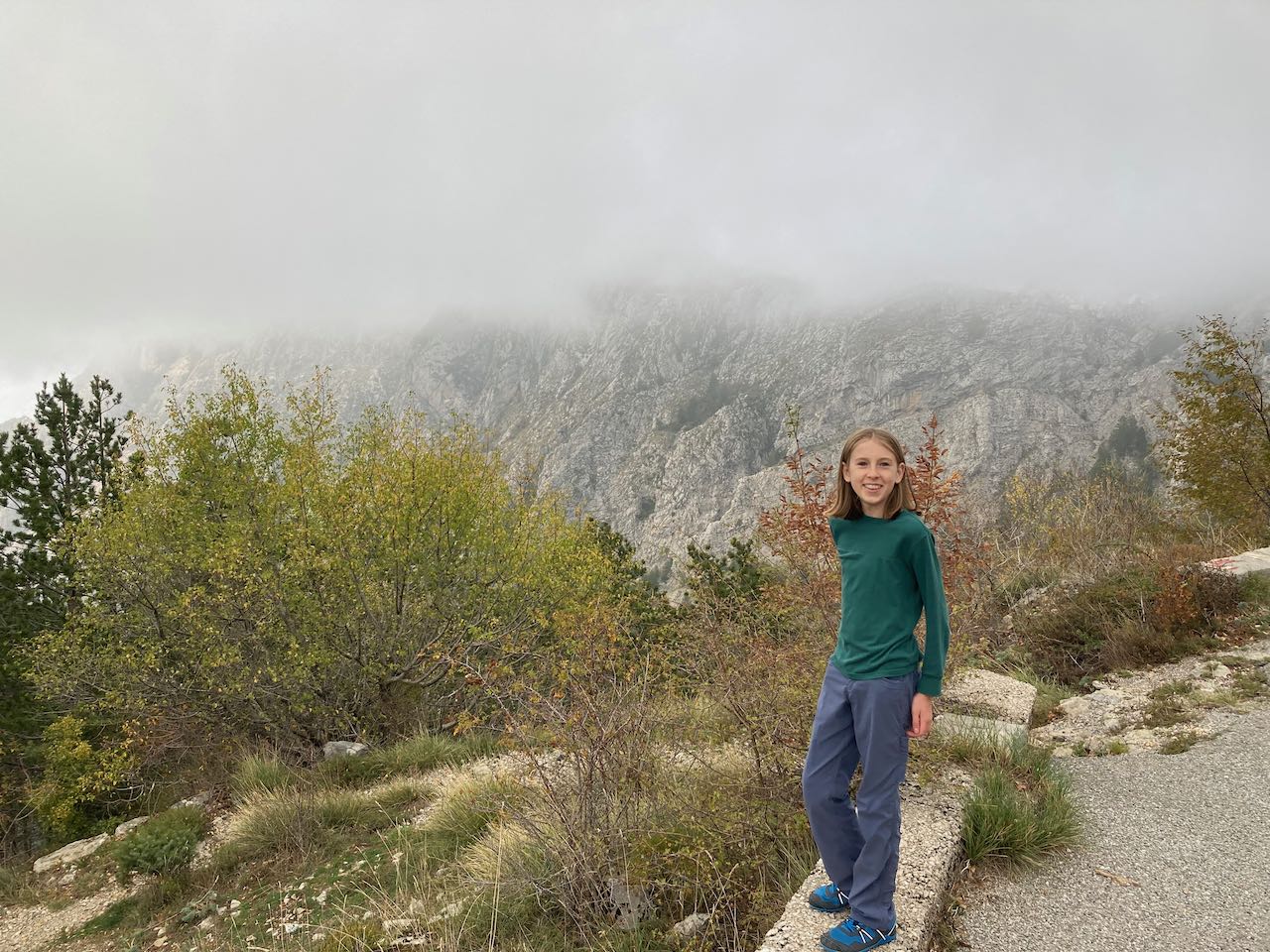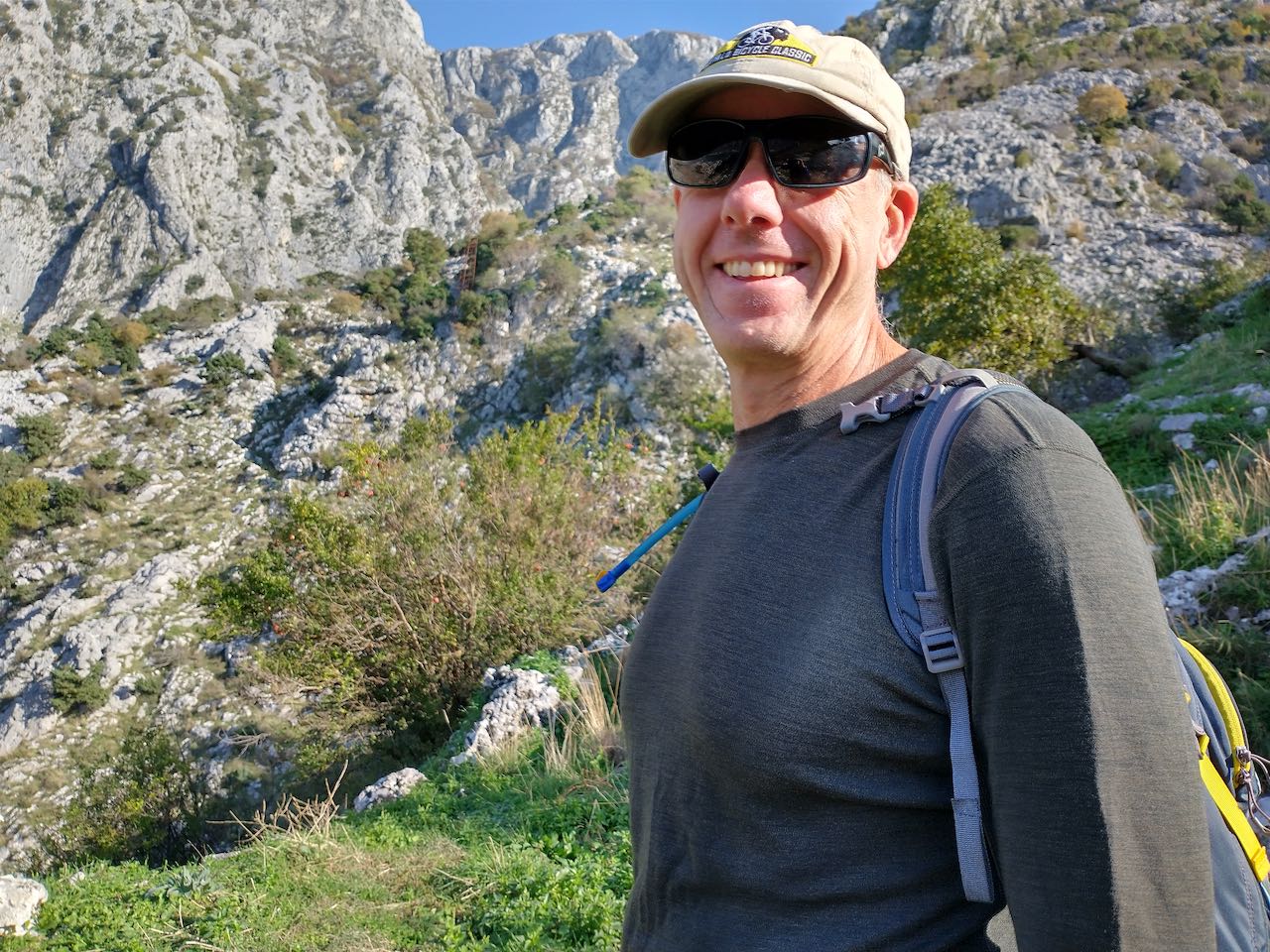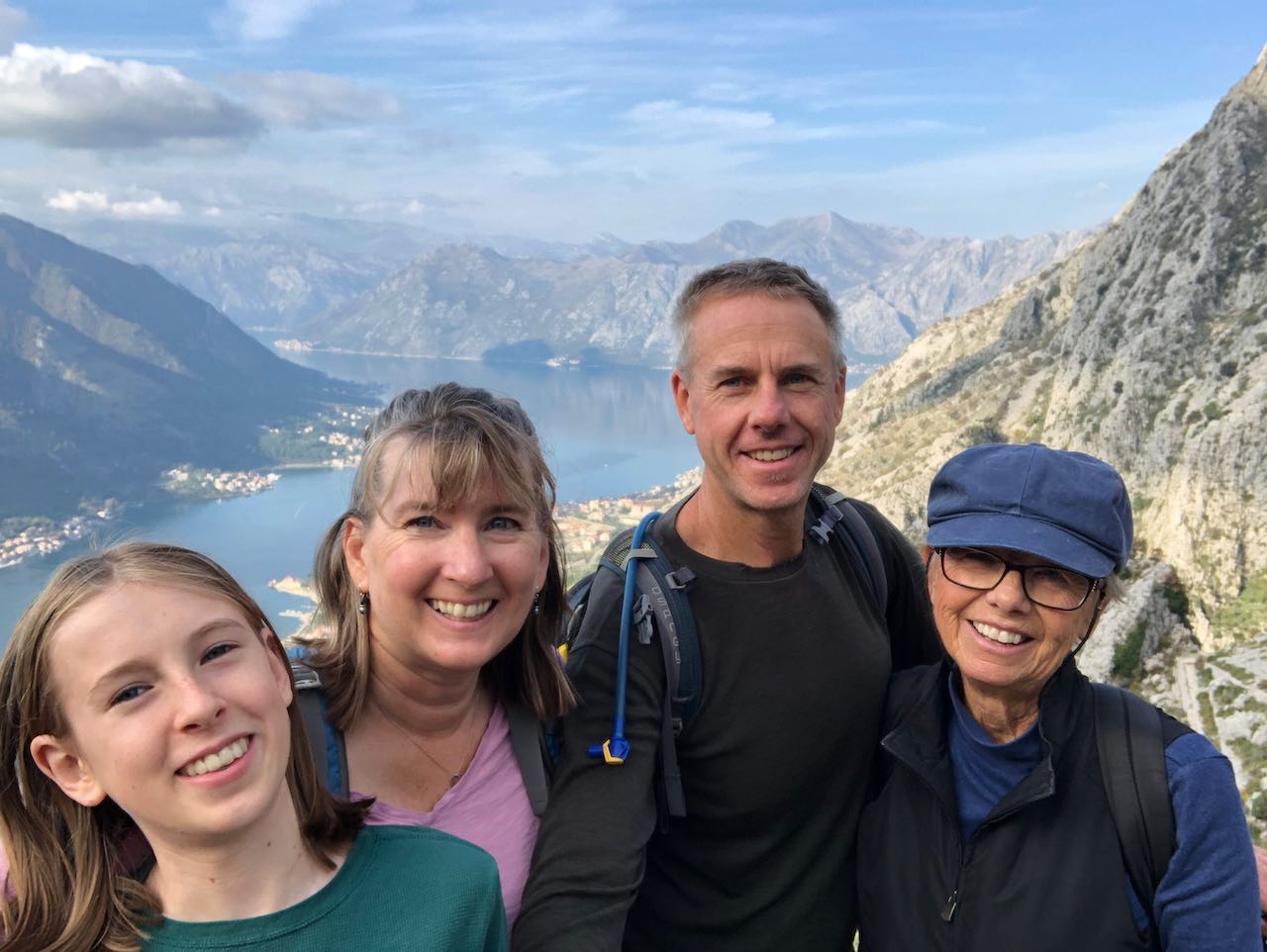 Our Lady of the Rocks
One of the things that we did to help get us excited about our trip (and to keep our sanity during the lockdown last winter) was to watch episodes of Rick Steves' travel show in the evenings. Yes, he's a bit cheesy, but he gave us some good ideas, and one of those happens to be nearby here.
For our next stop, we visited Our Lady of the Rocks, a small church set on a man-made island in the bay. The story goes that originally… Okay, I'll just shamelessly plagiarize Wikipedia:
According to legend, the islet was made over the centuries by local seamen who kept an ancient oath after finding the icon of Madonna and Child on the rock in the sea on 22 July 1452. Upon returning from each successful voyage, they laid a rock in the Bay. Over time, the islet gradually emerged from the sea. The custom of throwing rocks into the sea is alive even nowadays. Every year on the sunset of 22 July, an event called fašinada in the local dialect, when local residents take their boats and throw rocks into the sea, widening the surface of the island, takes place.

https://en.wikipedia.org/wiki/Our_Lady_of_the_Rocks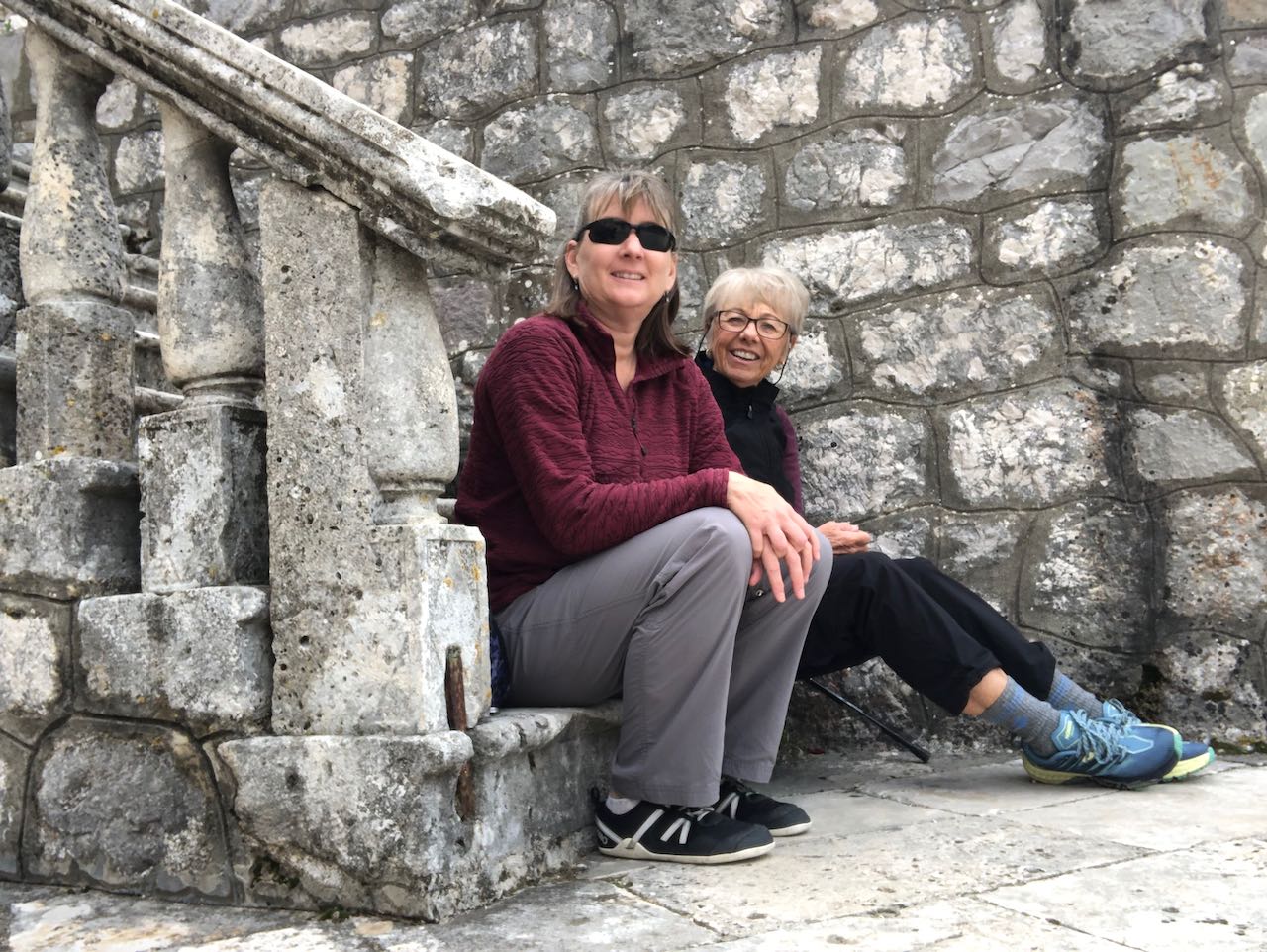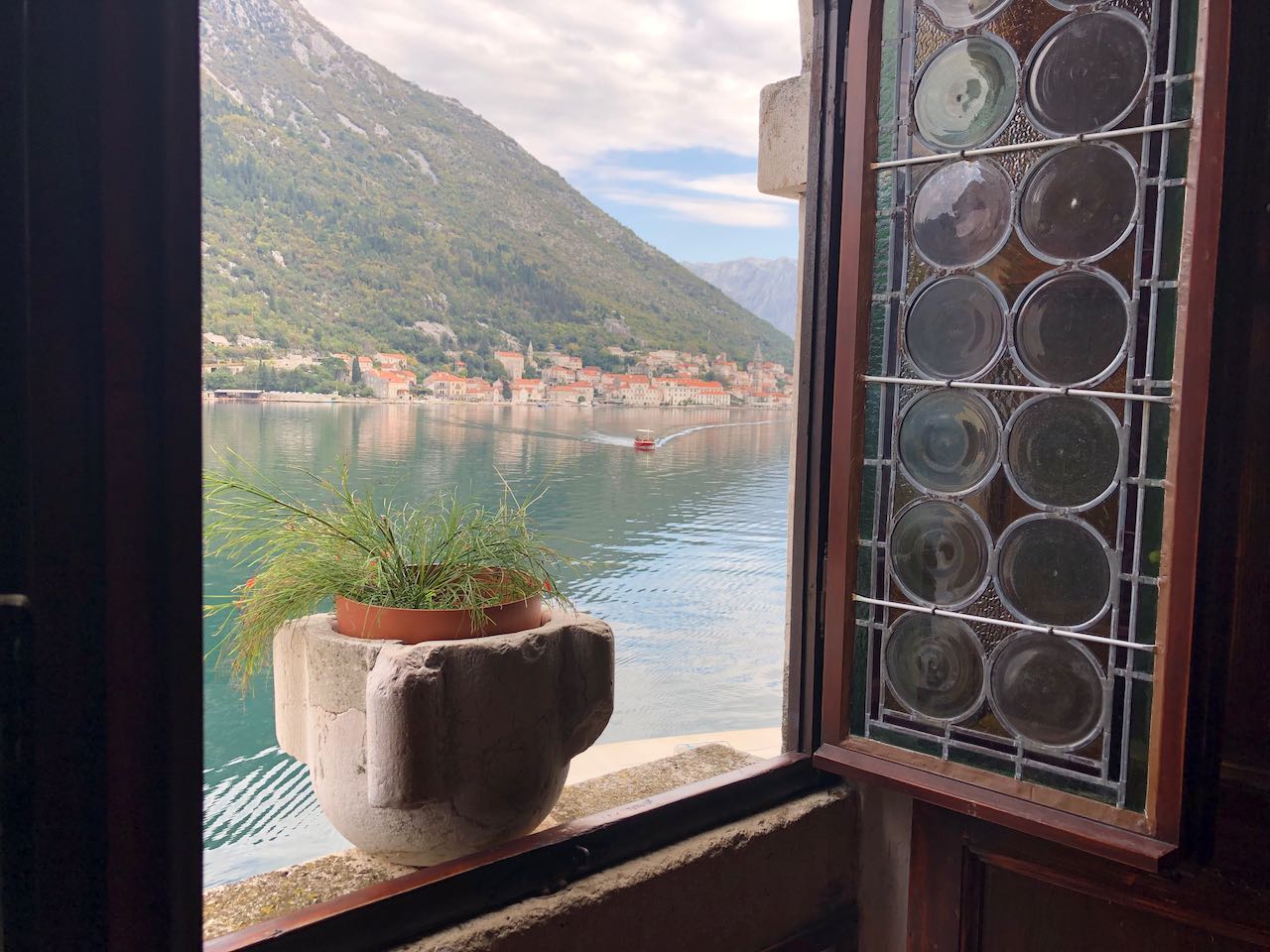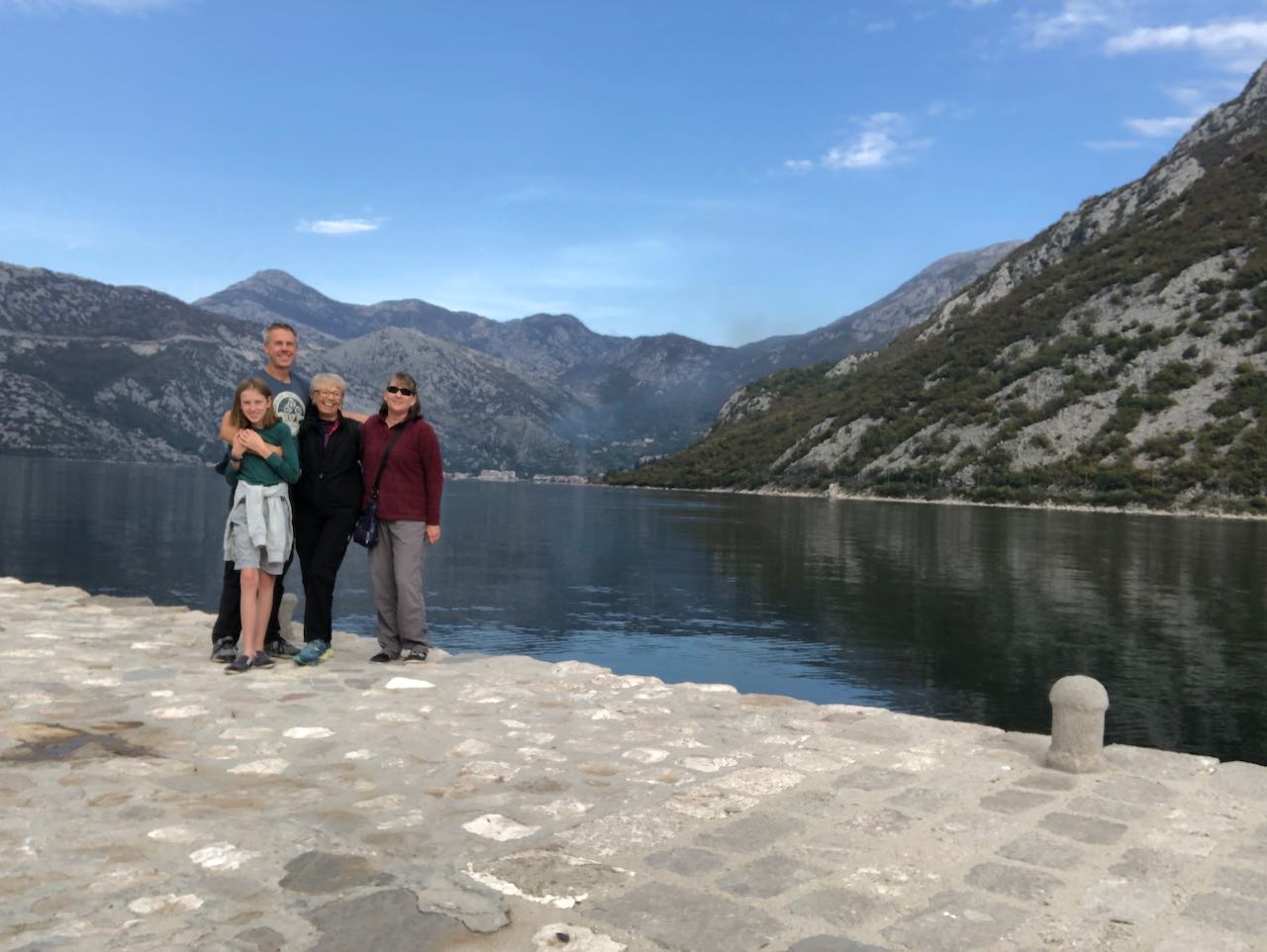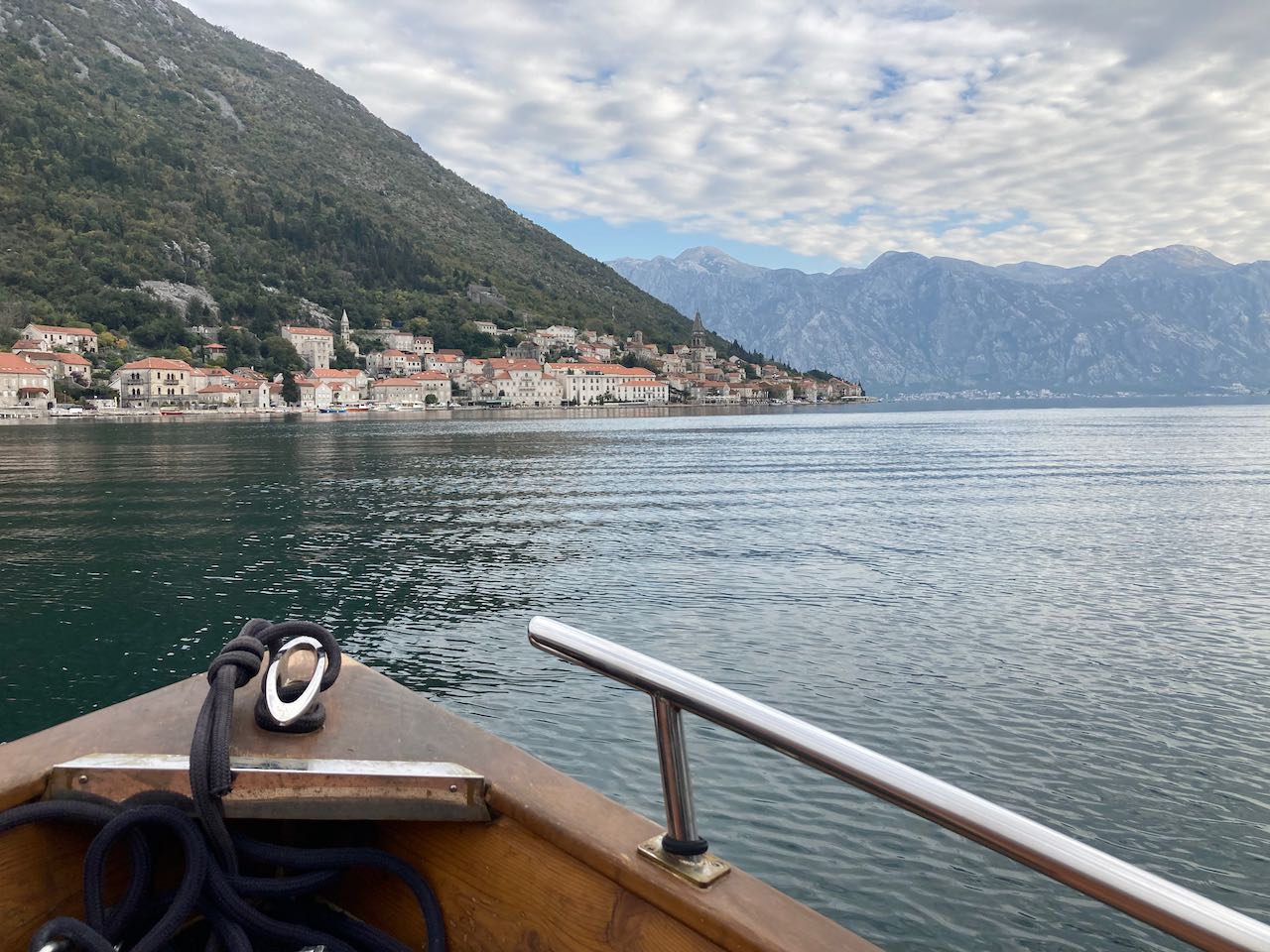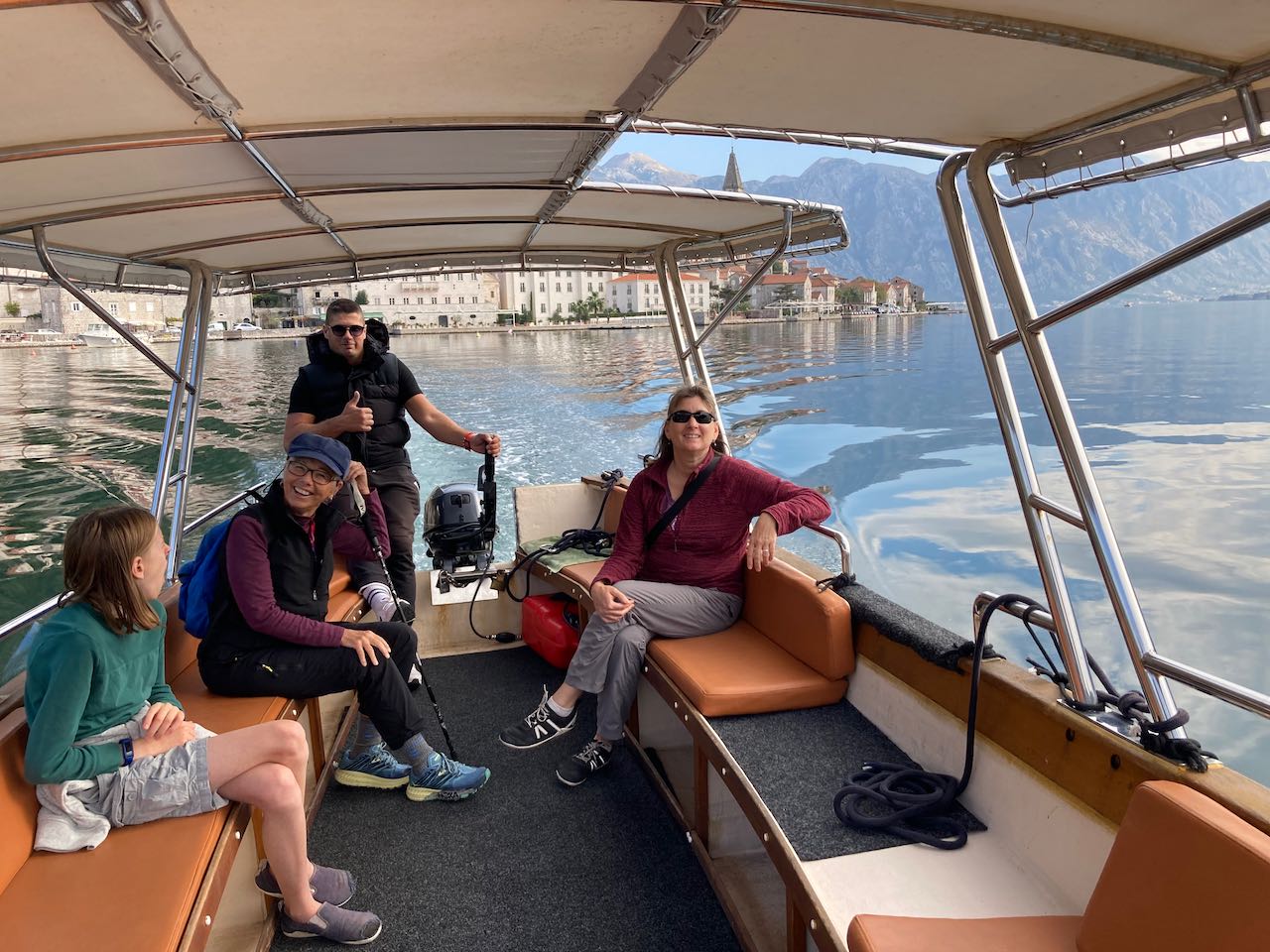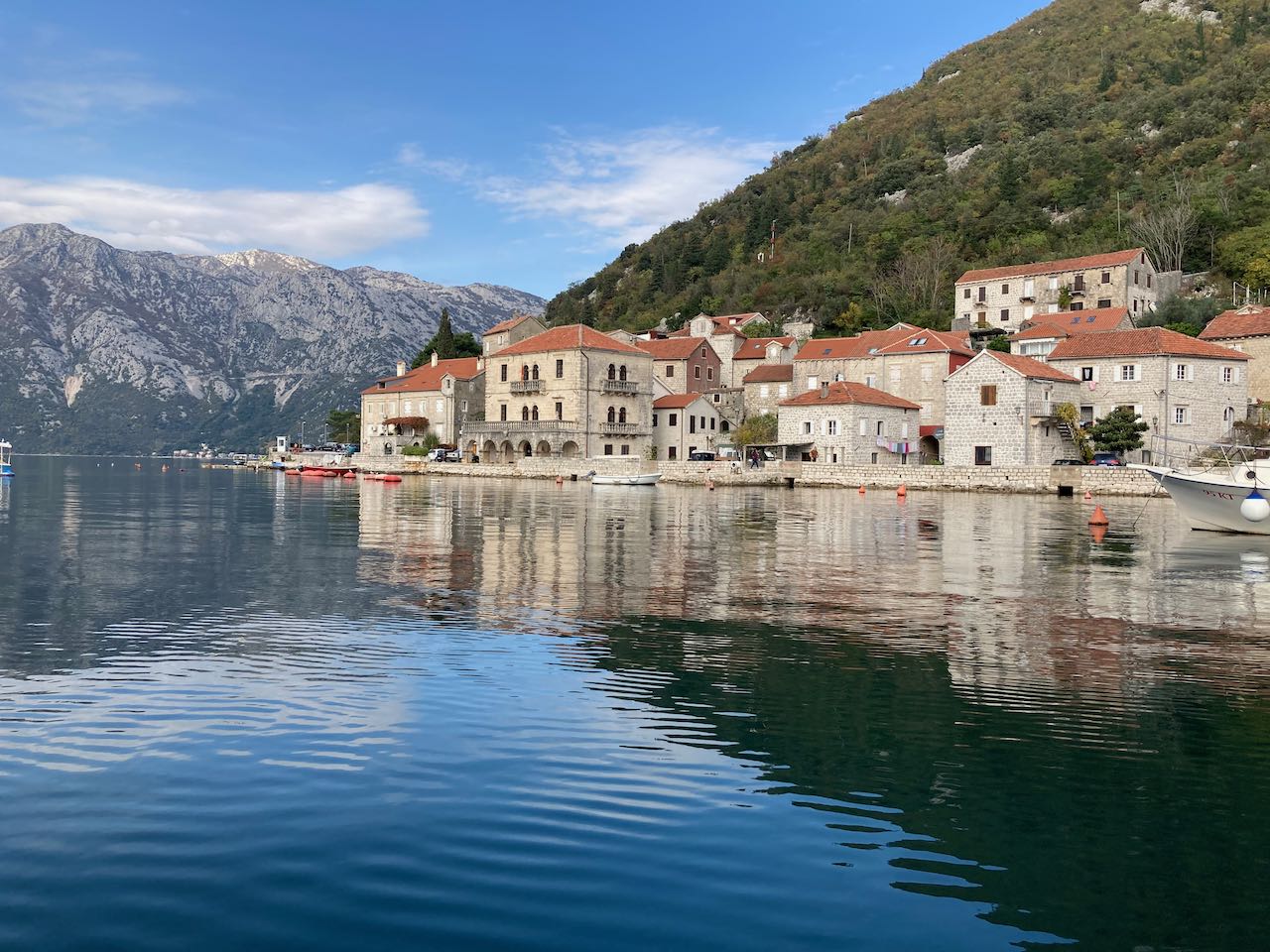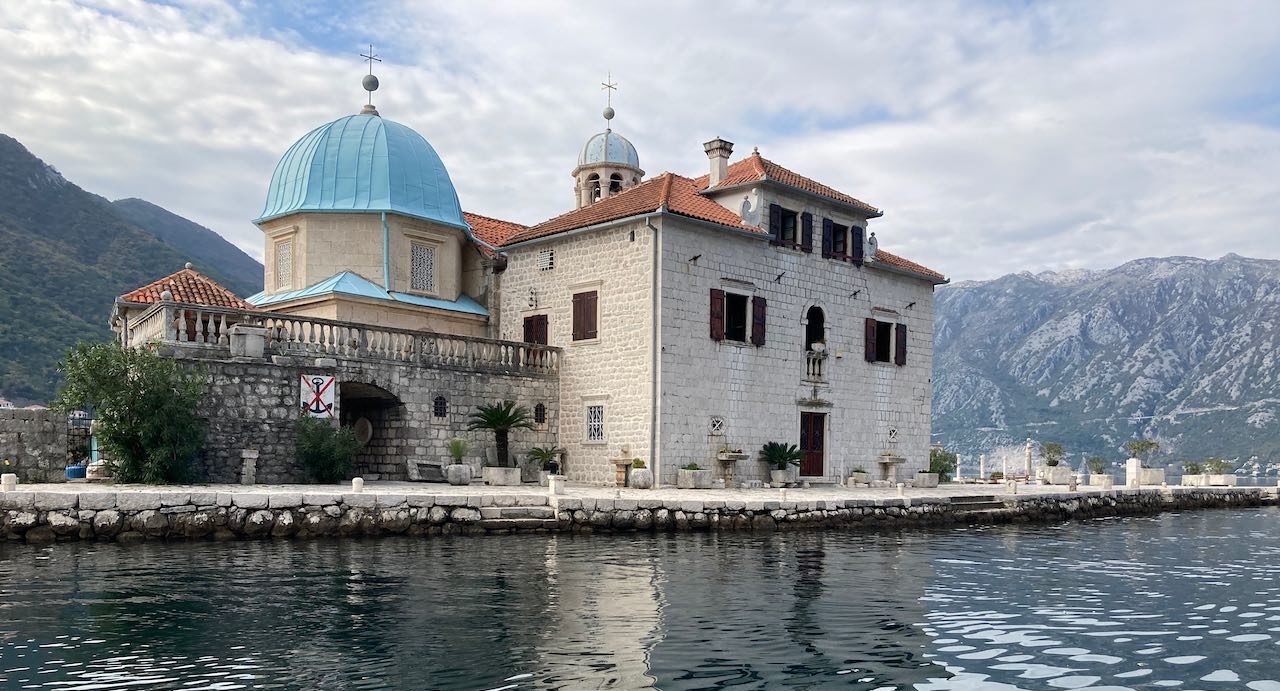 The Global Supply Chain
Unless you've been living under a rock, you've probably heard that phrase ("the global supply chain") more often than you care to. Since we're living out of suitcases, we mostly don't care, since most things delivered via said supply chain won't fit in our luggage. Of course, the huge glaring exception is the camper van that we ordered nearly a year ago. (The exception is to "we don't care," not to "won't fit in our luggage." If our new camper van fits in our luggage then we've made a horrible mistake.)
Since both the production and delivery of our camper van are delayed, we have to find a place (or places) to live for most of the rest of the winter. We thought it might be nice to go to Greece, where it's warm and sunny. Sounds like a no-brainer, right?
The problem for us is that Greece is in the European common visa zone (called the "Schengen Zone"), and so we're only allowed 90 days (out of 180 days) there. That would be plenty, except that we need to save that time for when we get our camper so that we don't have to immediately leave Europe when we pick it up. Fortunately, the Balkans, where we've been hanging out for the past few months, is not part of the Schengen Zone.
So we decided to see if we could get a special visa for Greece so we could stay there without it counting against our future time in Europe. That's the very long explanation for why we decided to go to Podgorica, the capital of Montenegro.
We figured we'd make a trip out of it and rented a car so that we could visit the Tara River canyon along the way. We had a nice sunny day for a long drive through the Montenegrin countryside to the canyon before arriving in the capital. Once in Podgorica, we spent a very rainy Monday visiting the Embassies of Greece and Croatia to inquire about digital nomad visas. Those visits were both a complete bust — neither would even let us in their offices, for different reasons.
Luckily the combination of visiting the canyon, eating at a wonderful Indian restaurant in the capital, and a stop at the amazing cliffside Ostrog Monastery the next day made the trip very worthwhile nonetheless.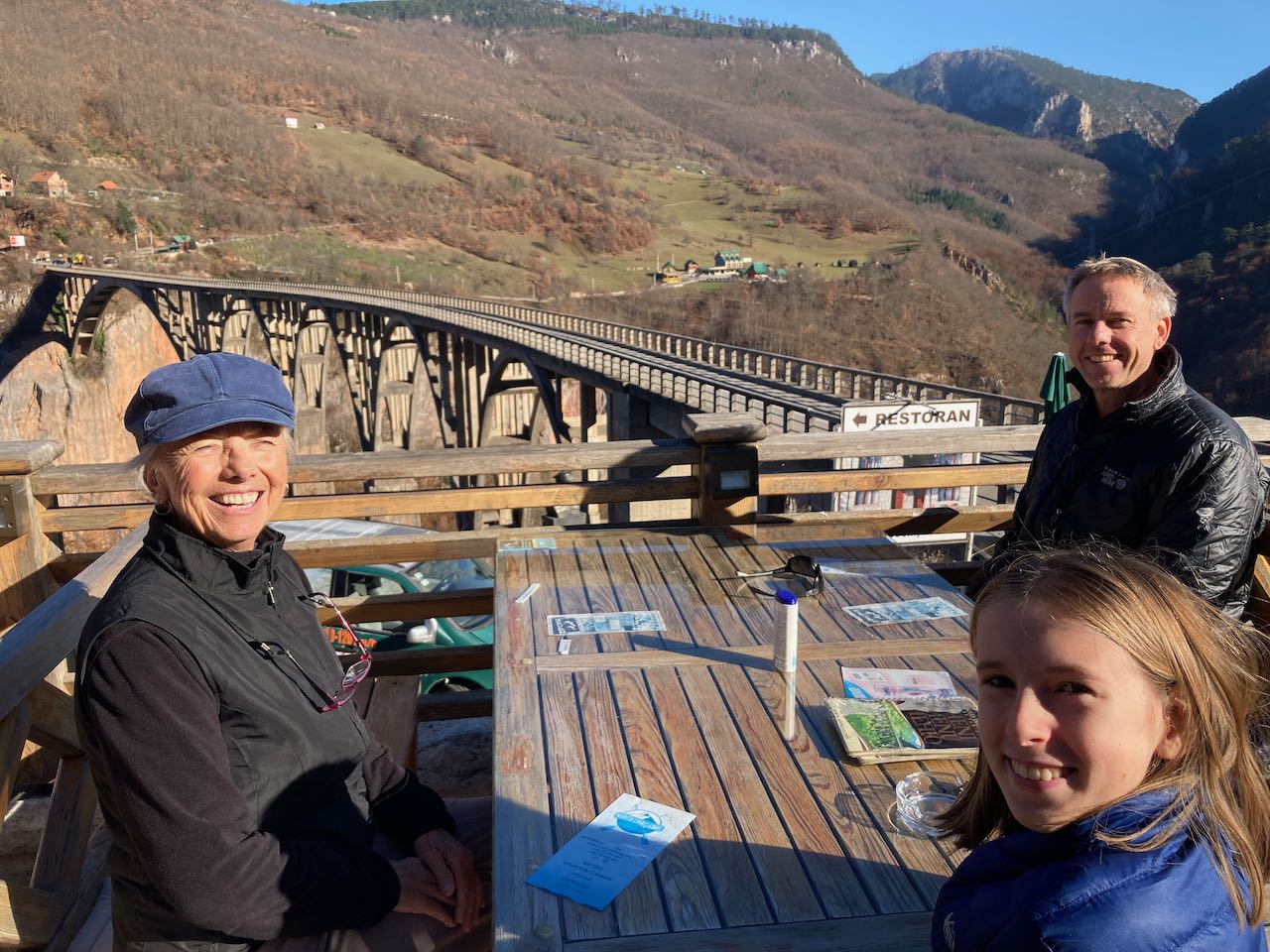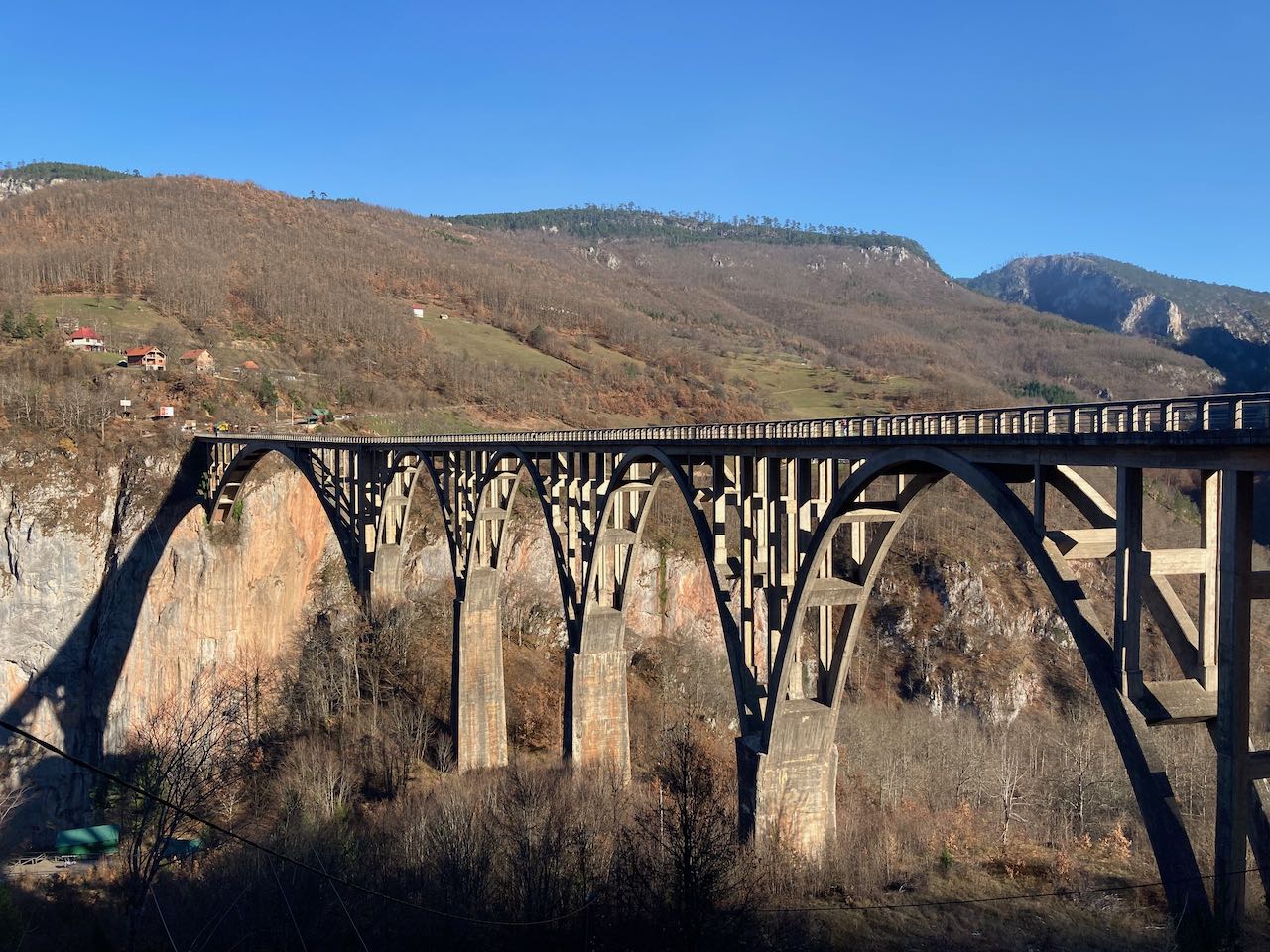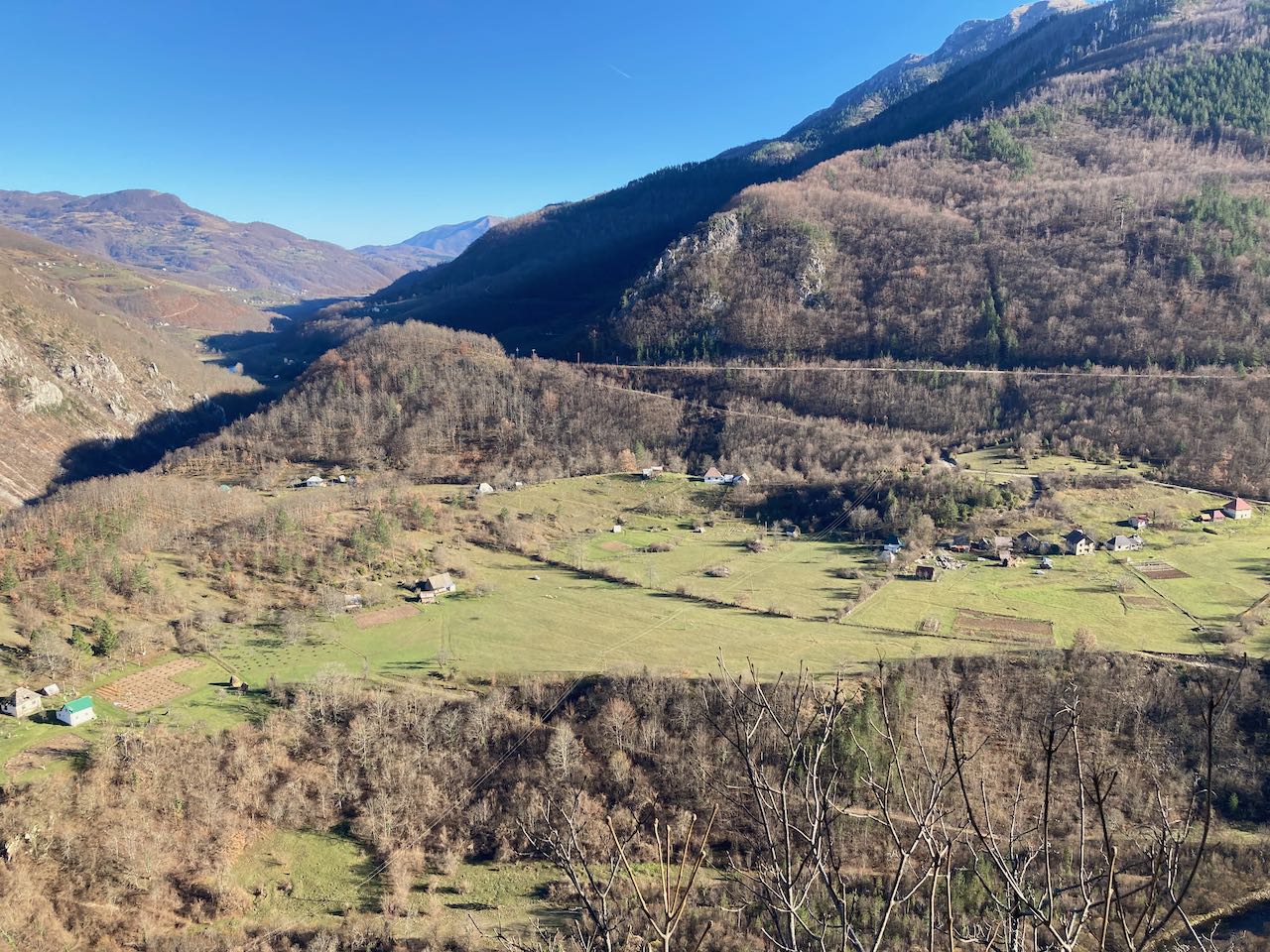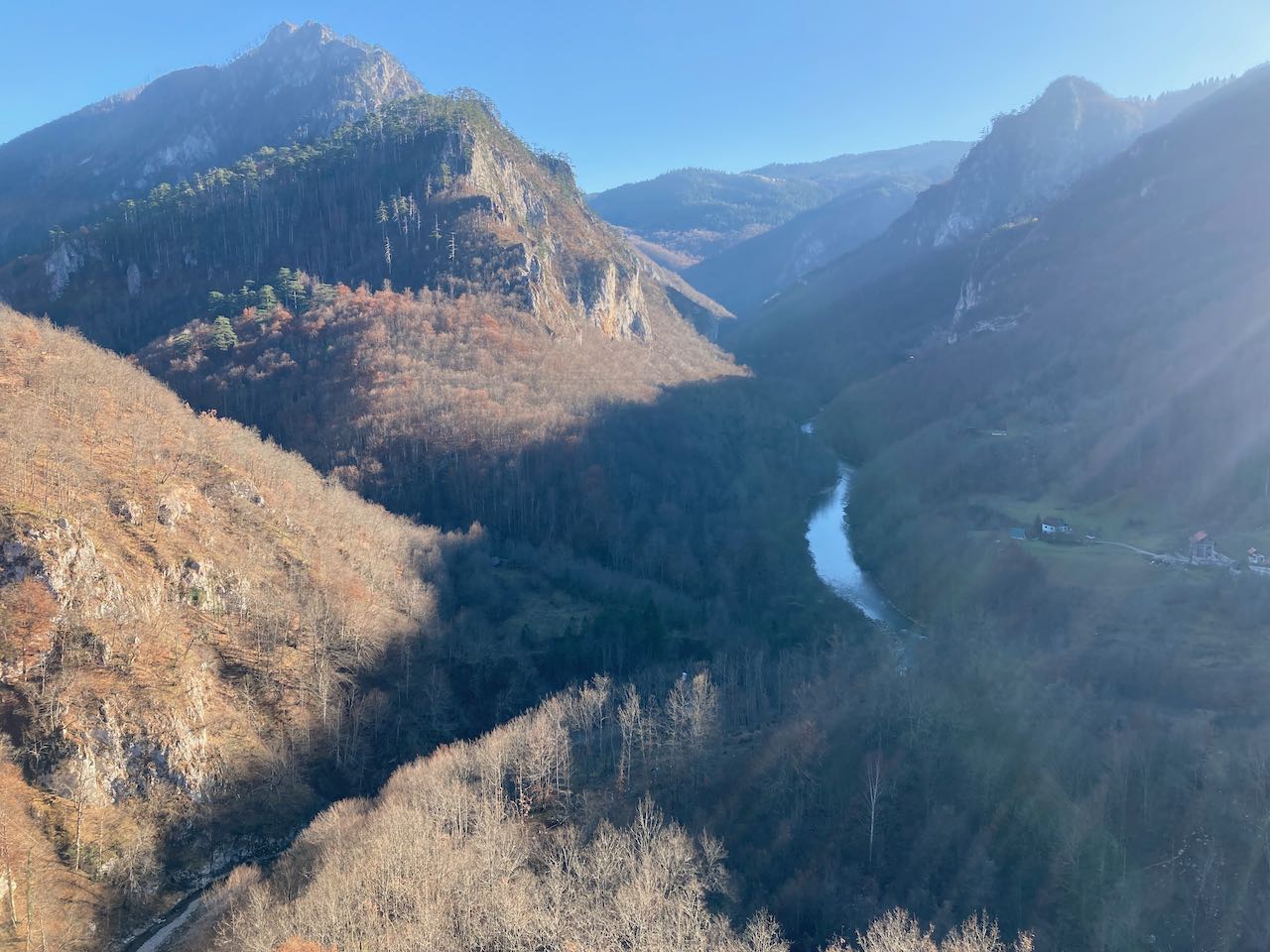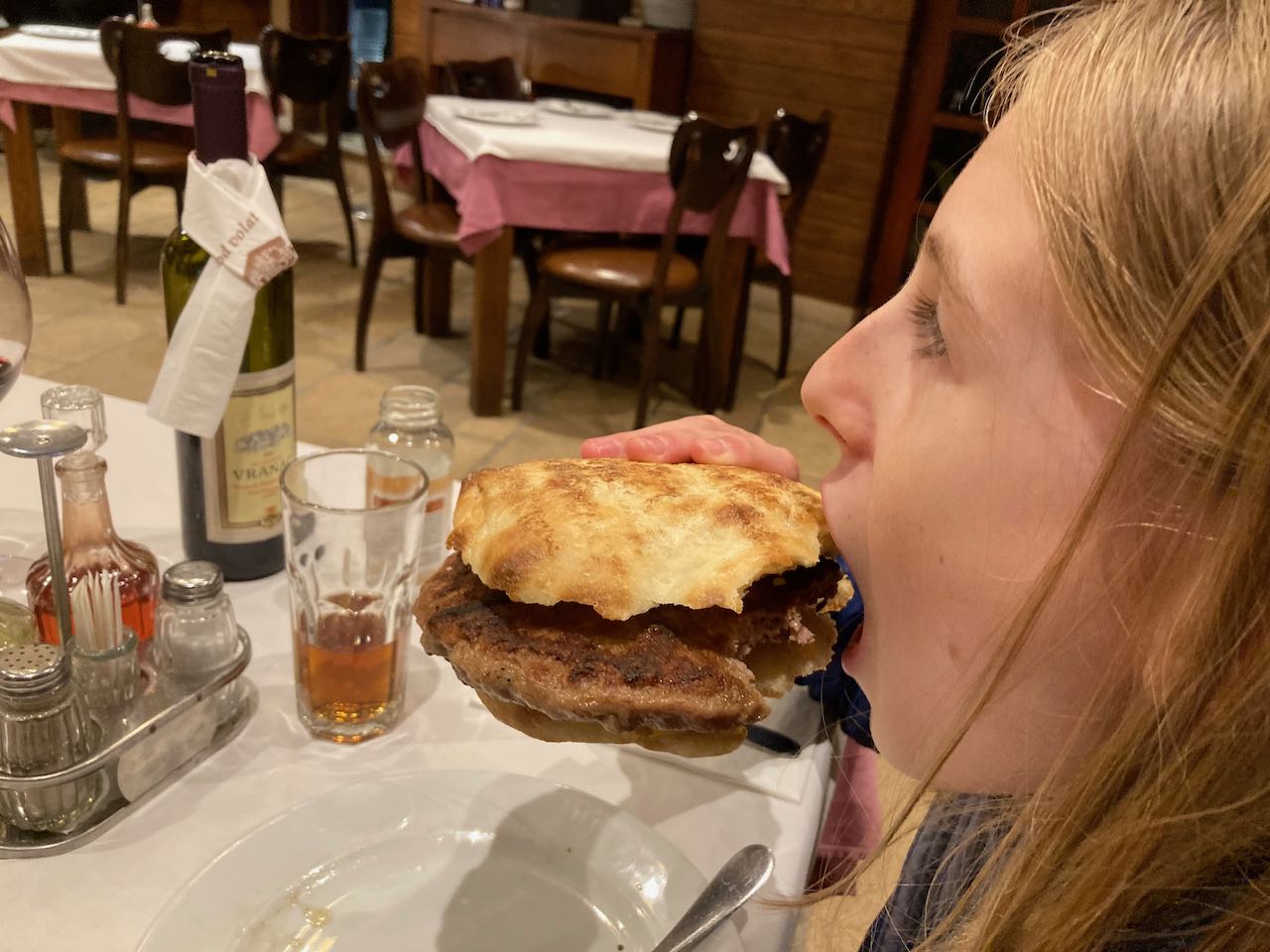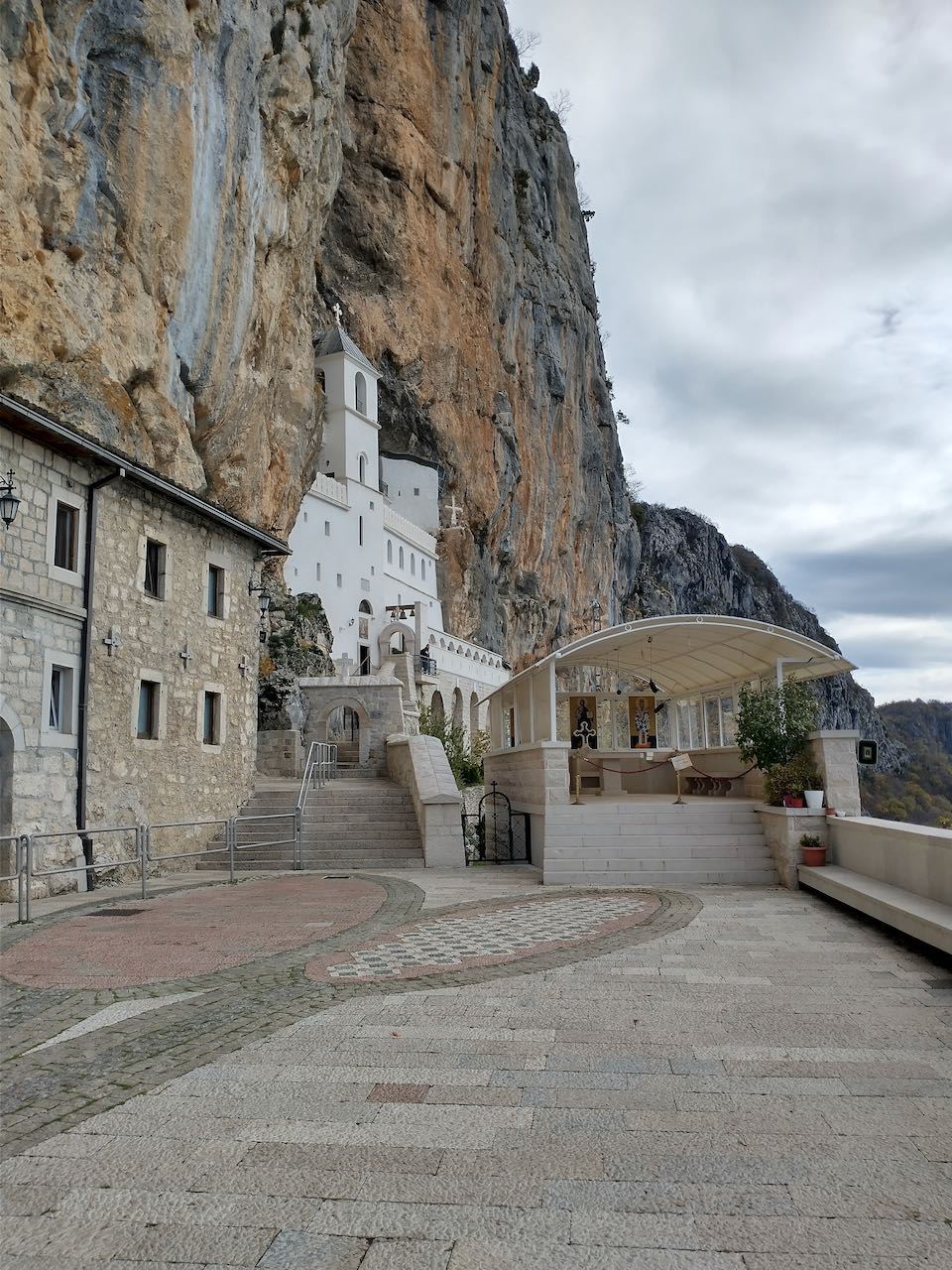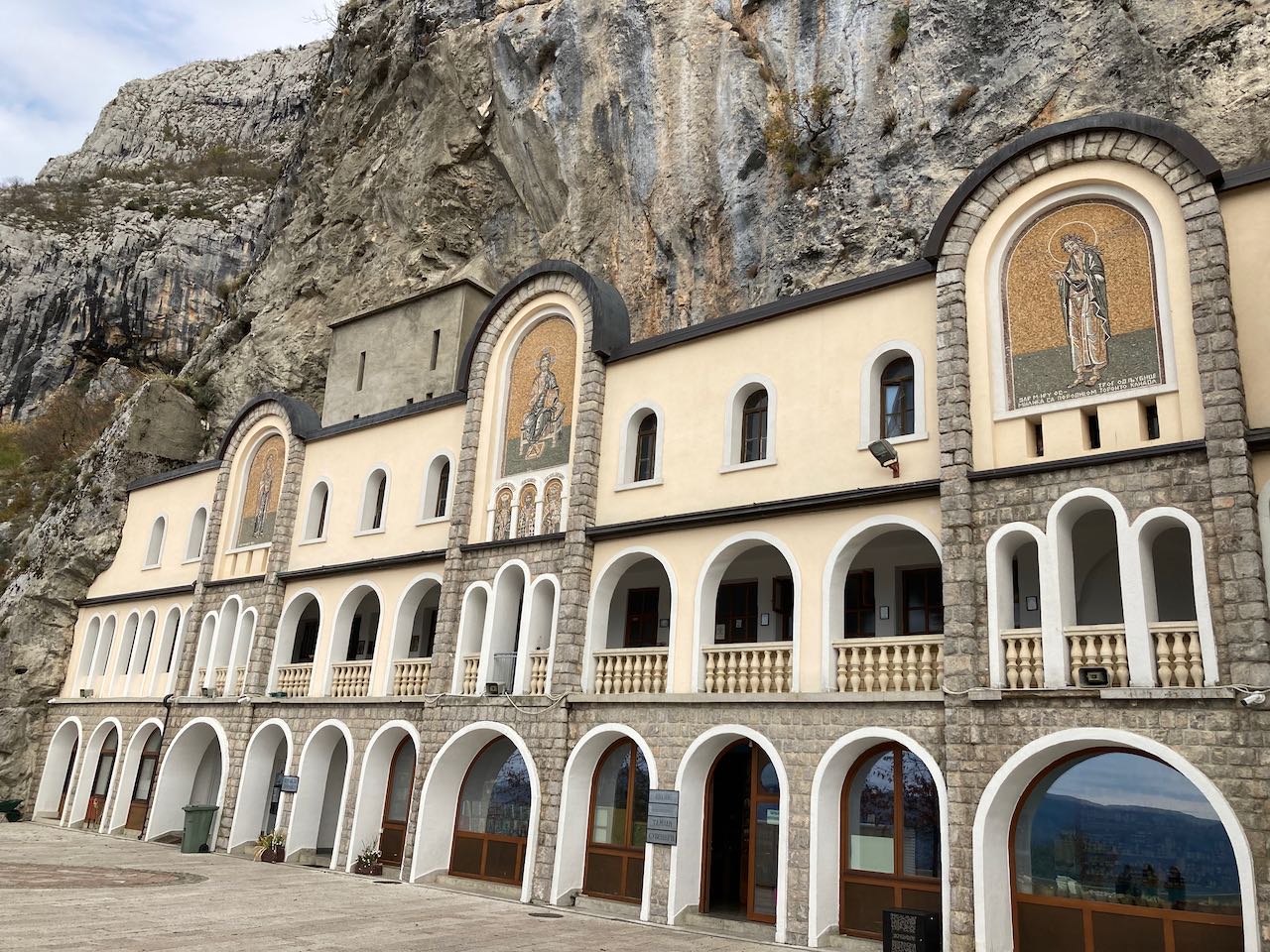 ДуШАн Булатович
Say what?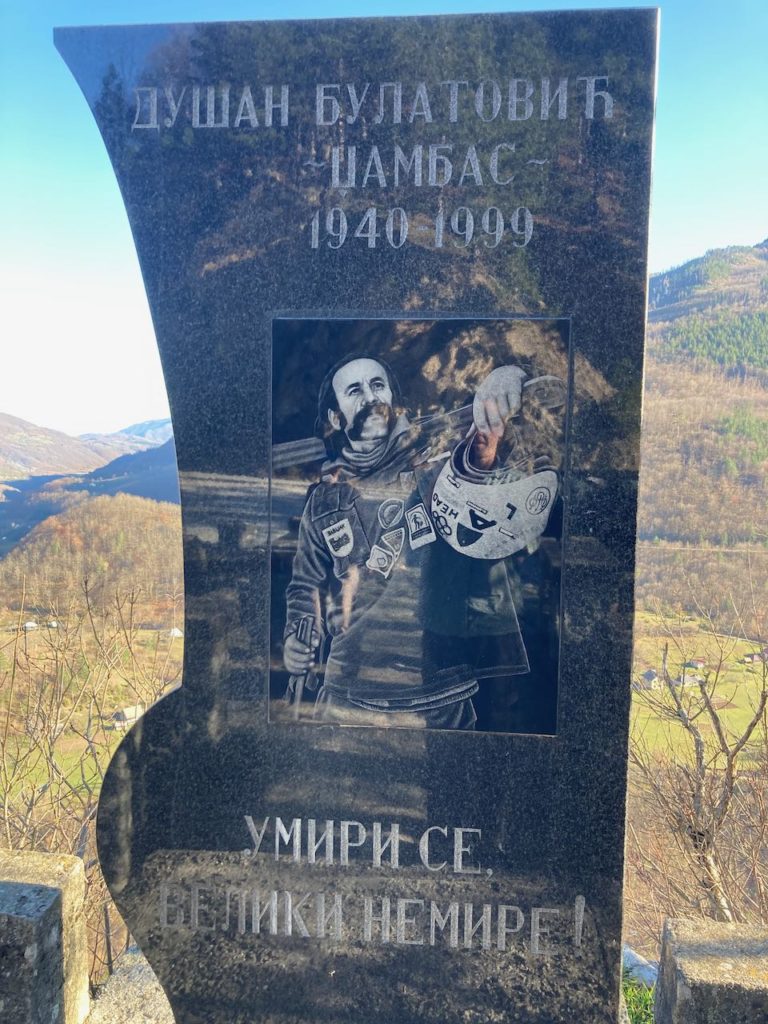 While we were driving through the canyon we stopped at a viewpoint for a photo and I saw this monument. Being a skier I was intrigued so I took a photo of it. Through the magic of online image translators, I figured out that his name is Dusan Bulatovic Dzambas. According to Google, though, he is more famous as an actor, but I do believe that the actor and the skier are the same person. He has an outdoor club and a mountain hut named in his honor.
With your off-beat history lesson for the day complete, you can now get back to whatever you were doing before!
Until next time,
Kathy, Jen, Quinn, and Witt