We're traveling with my mom, Kathy, and our son, Quinn — that's a 60 year age gap! One of our challenges is finding stuff that everyone likes to do. Kathy is easy — she's up for anything and says that we can always just leave her at a café if she doesn't want to go. Most of the things Quinn expresses interest in seem to involve the rental of motorized equipment: e-bikes (he's not so much into the old-school DIY pedal kind), motorized scooters, and jet skis. Unfortunately for him, those things tend to be expensive, and his dad tends to be cheap. 🙂
We all get to do some of what we want on this trip, though, so Quinn and I went on an ATV tour. Even though at home we lived in the heart of ATV country, I had never actually ridden one. So we signed up and went out for an afternoon of what I like to call Fossil-Fuel Powered Fun.
Fossil-Fuel Powered Fun
A van took us an hour from Split into the Croatian countryside, where we saddled up and rode through the hills, enjoying the views and the rough roads. Afterward, we capped off the afternoon with a traditional Croatian mixed grill. Meanwhile, Jen and Kathy enjoyed wine and mussels at a restaurant in the palace.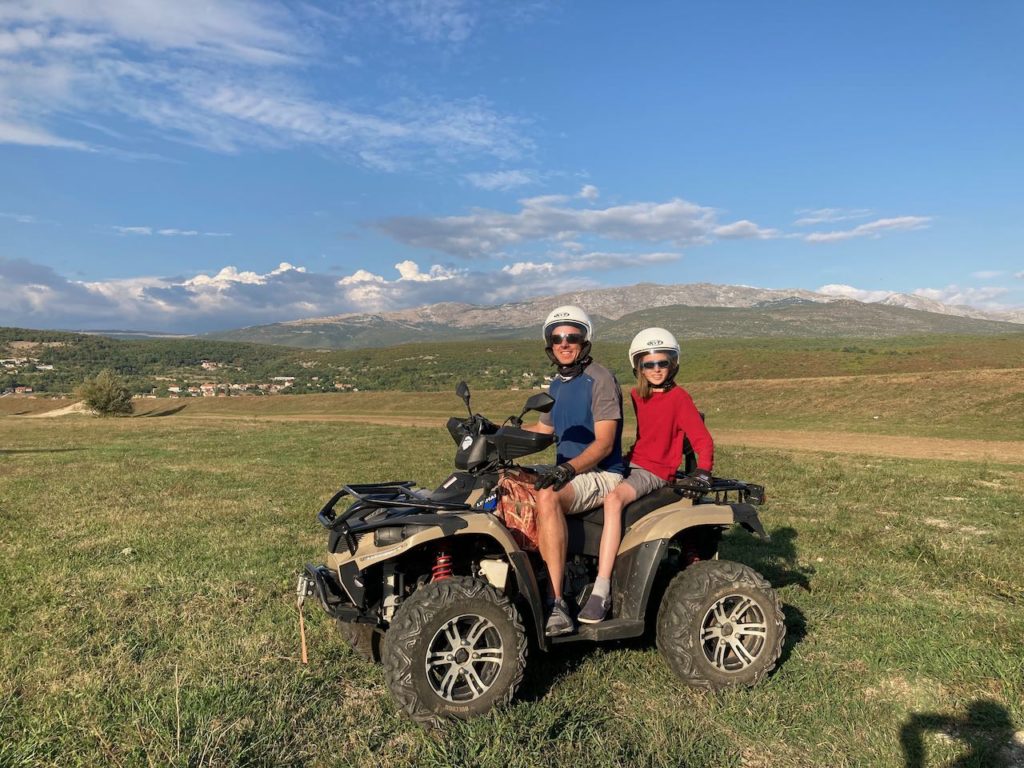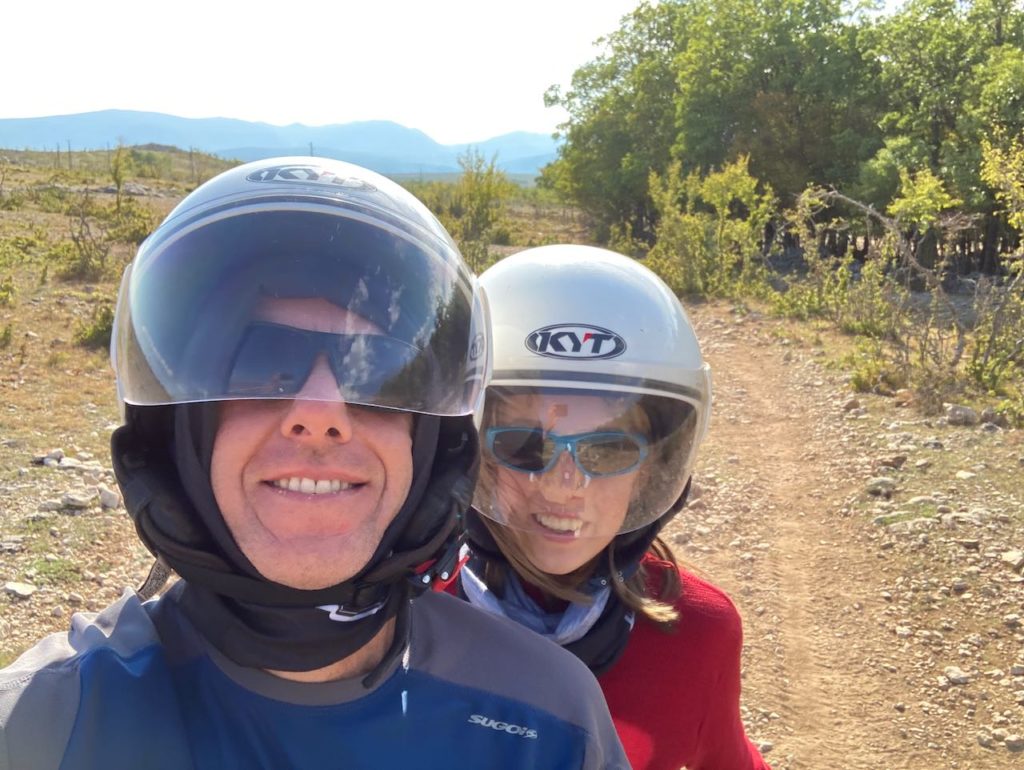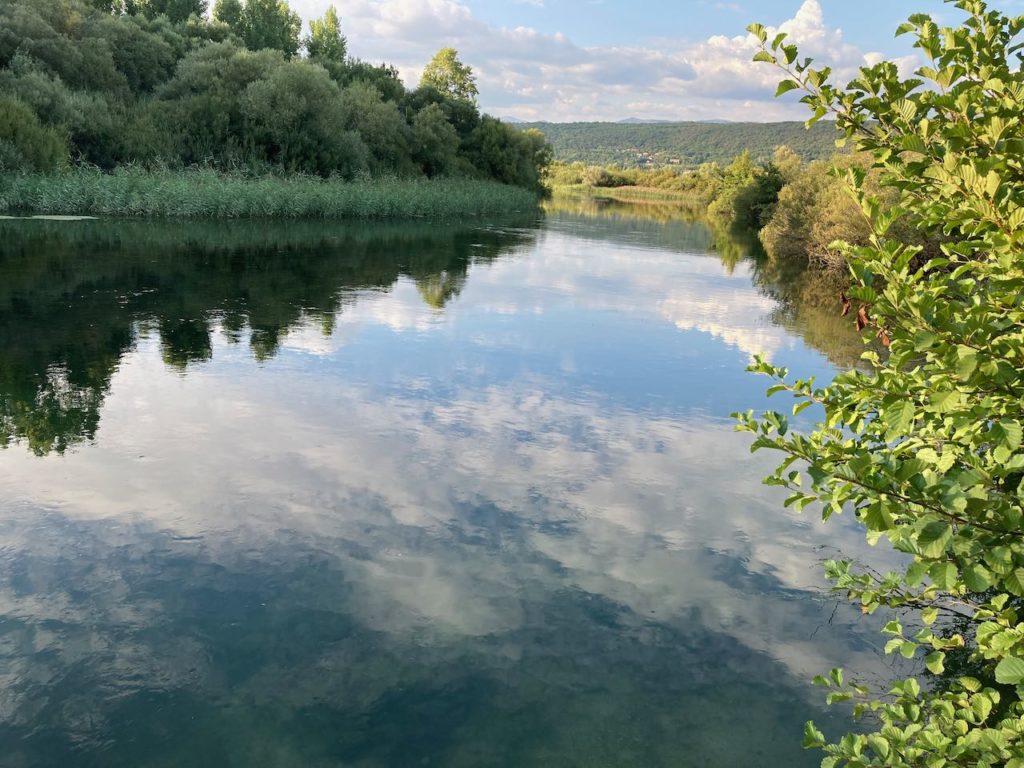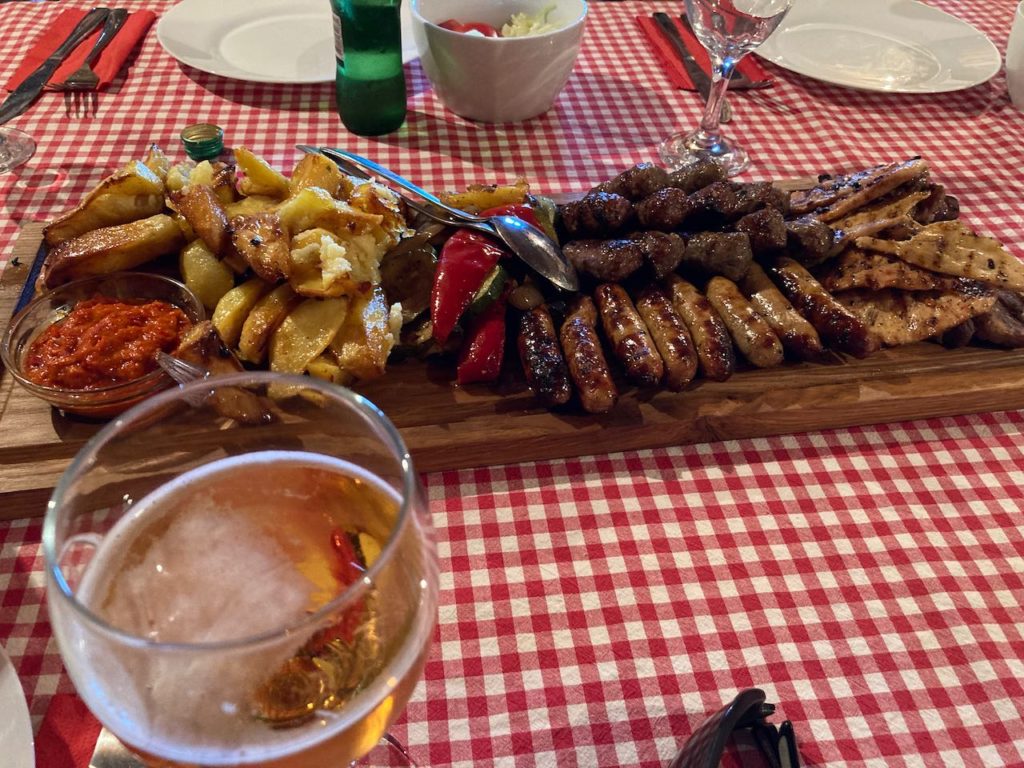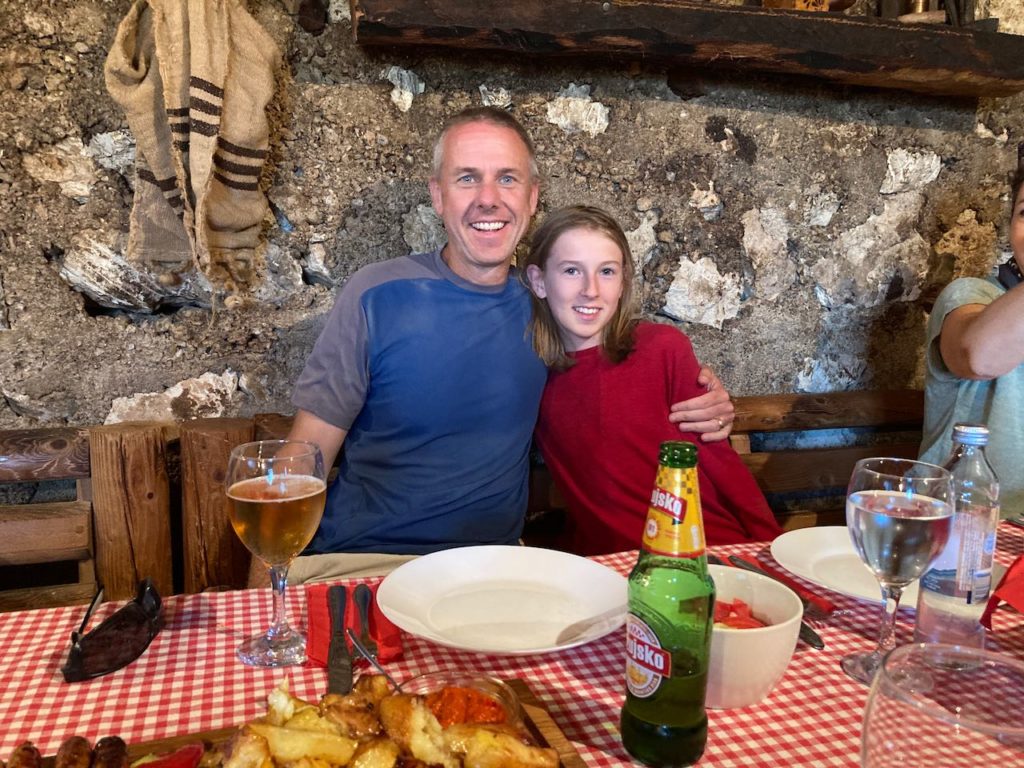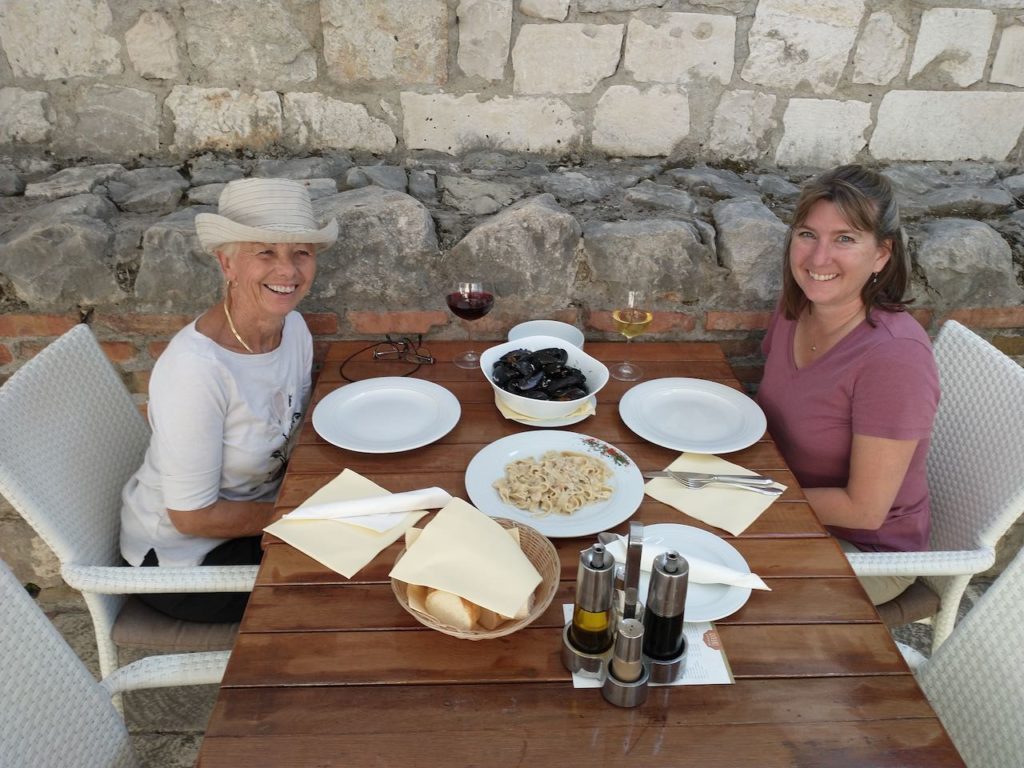 Hvar Island
The next day we had booked a ferry to Hvar, another of the many islands off the coast. Hvar town is known as a posh destination for the wealthy, and there was no shortage of fancy yachts tied up in the harbor. We rented a car for the day, and after a yummy breakfast (which for Quinn consisted of a milkshake (frappé) and cheesecake) we set off to explore the island.
Our first stop was Dubovica Beach. It was a steep hike down to the beach from the parking area, and Quinn gallantly helped Kathy through the tough sections. Once down we relaxed in the sun for a couple of hours and did a bit of swimming before heading to Stari Grad.
On our way, we re-discovered why Jen navigated "by hand" using Pocket Earth instead of Google maps navigation during our Pan-Am trip. Google sent us down a narrow cobbled lane barely wide enough for our tiny rental car. Eventually, we ended out on the pedestrian waterfront promenade, with everyone staring at us. Fortunately, it was pretty quiet and there weren't too many people around. We finally made it to an actual street, only to find it blocked by large planters (to prevent vehicle access for people coming from the other direction.) I was about to turn around to retrace our steps, but Jen thought we could make it through. She and Quinn jumped out and guided me between a planter and a metal barrier, which I cleared with inches an inch to spare. Kathy tried to convince me to drive back through it again since we forgot to take pictures, but as my credit card was attached to the rental car I declined.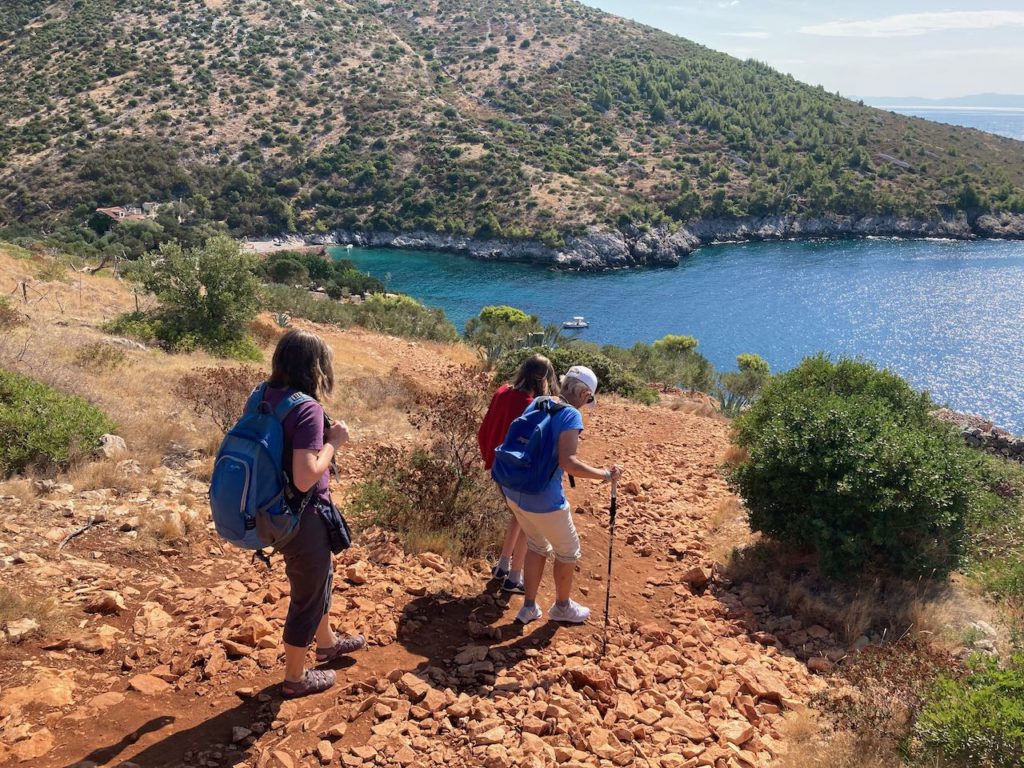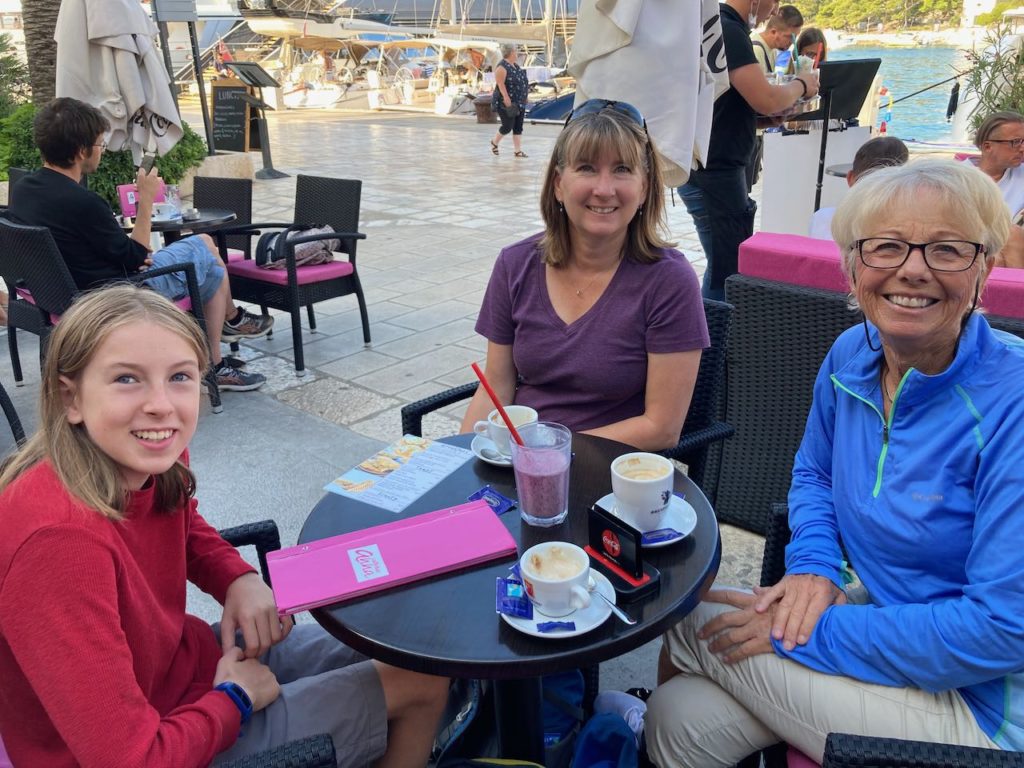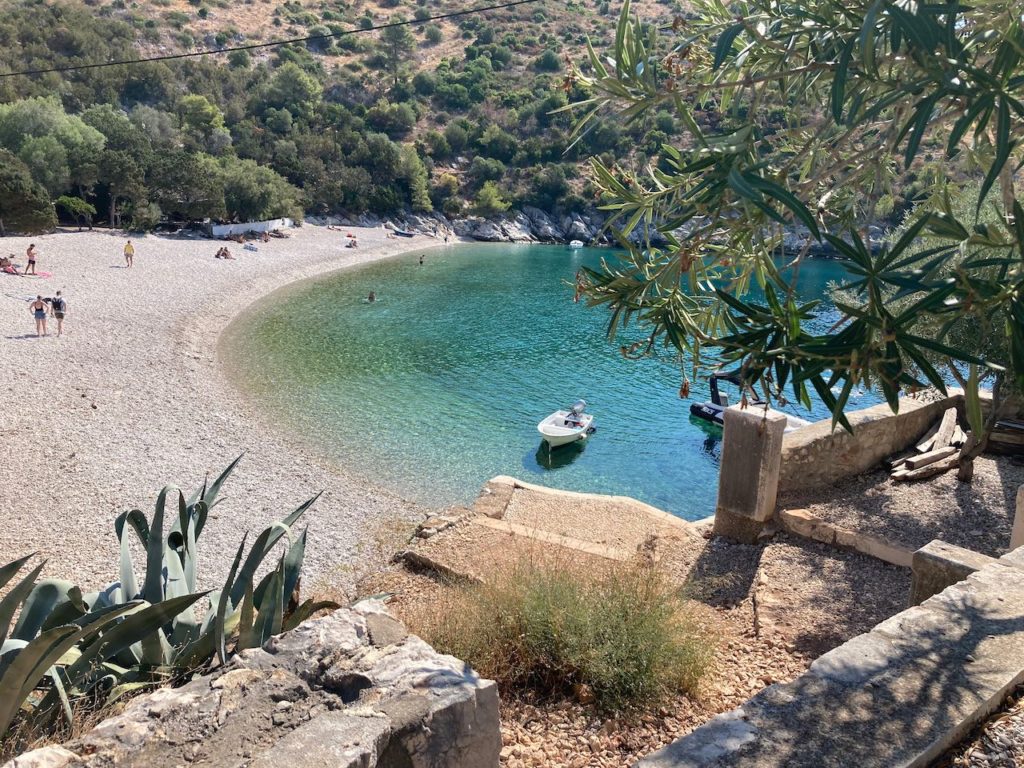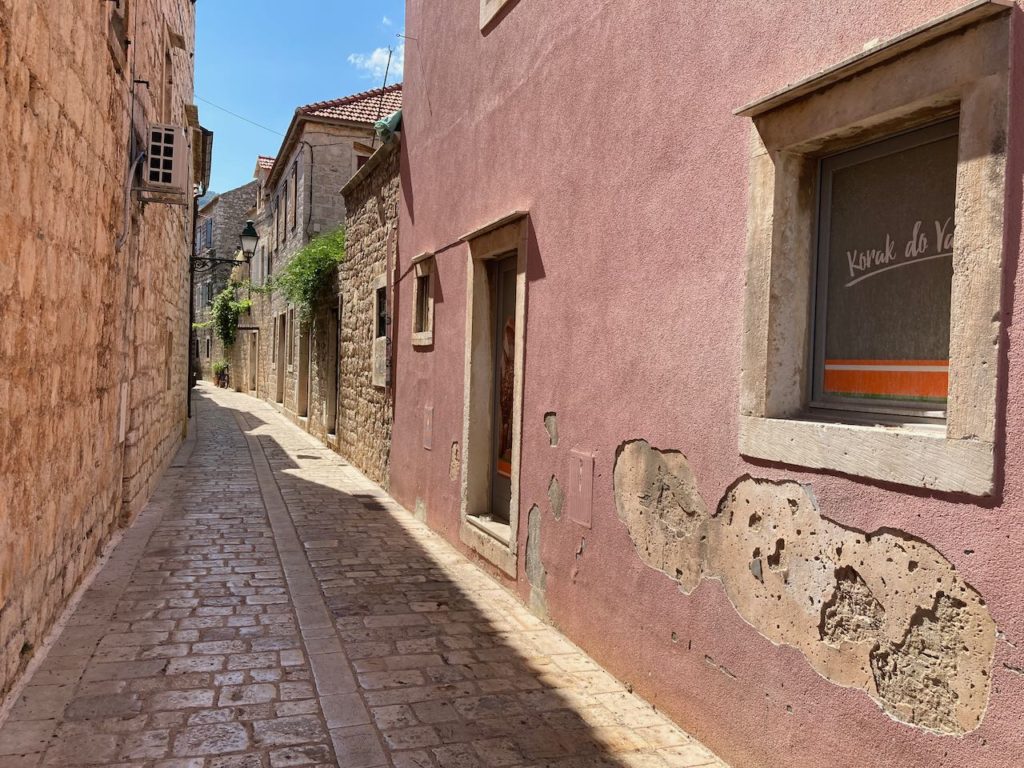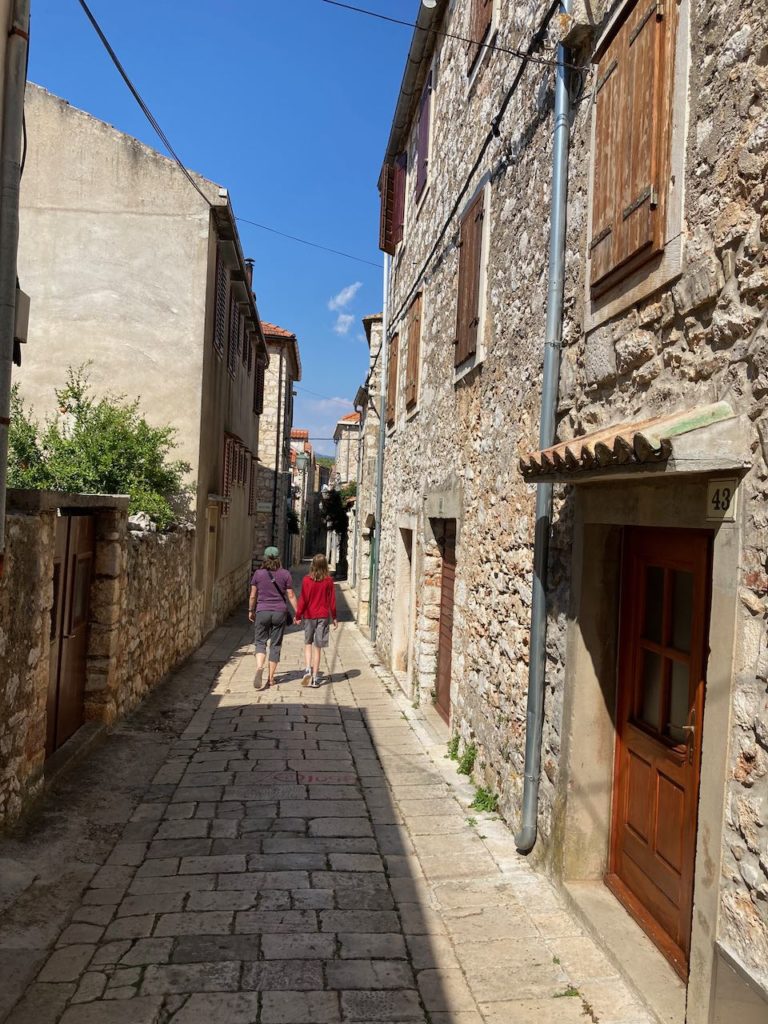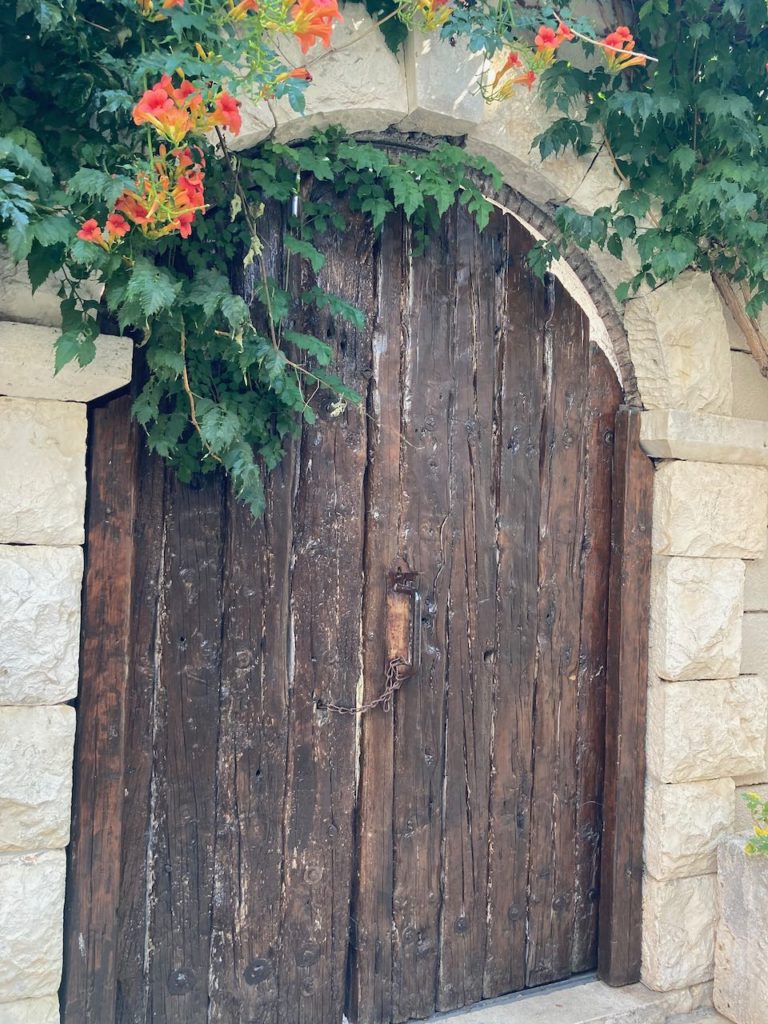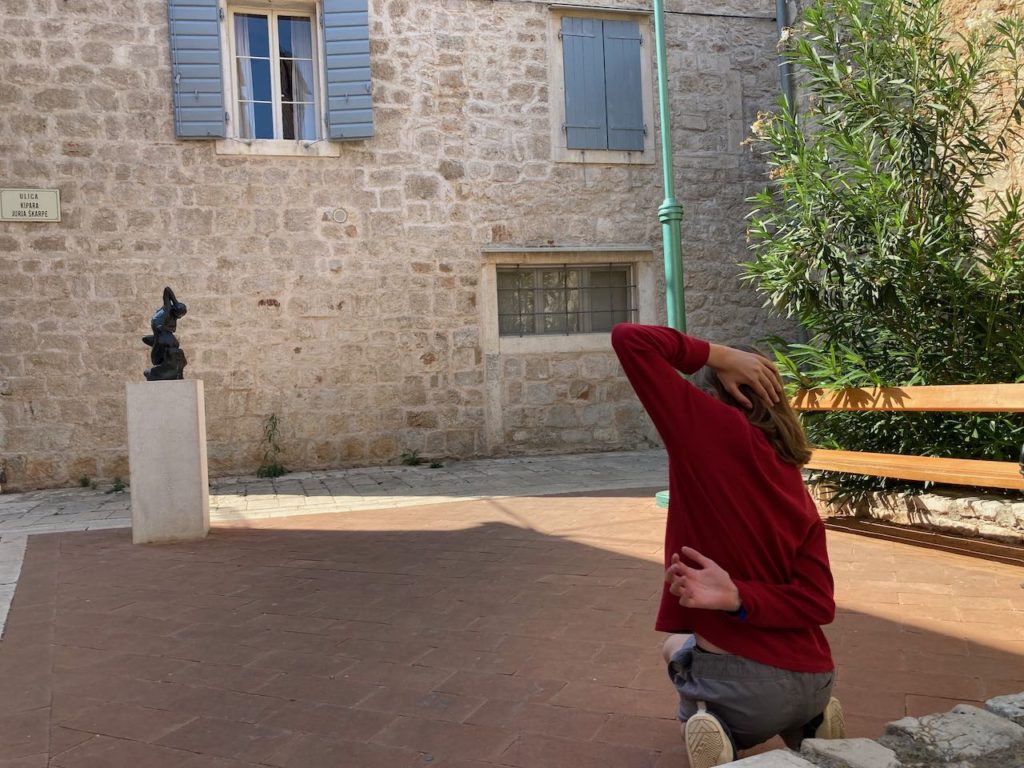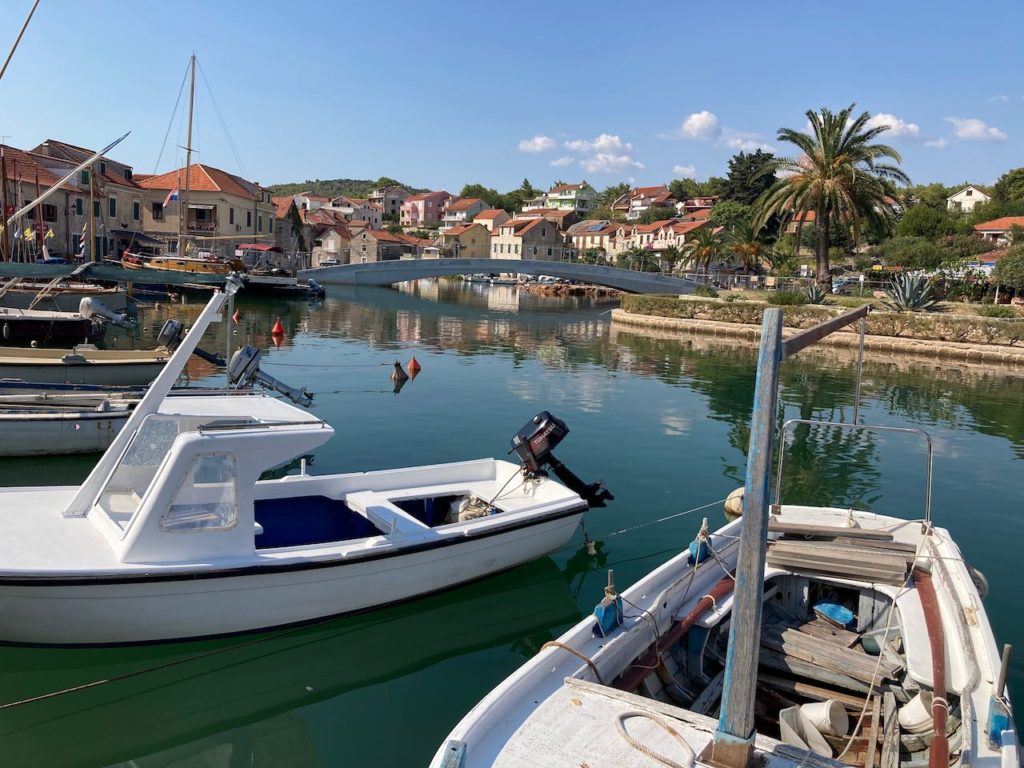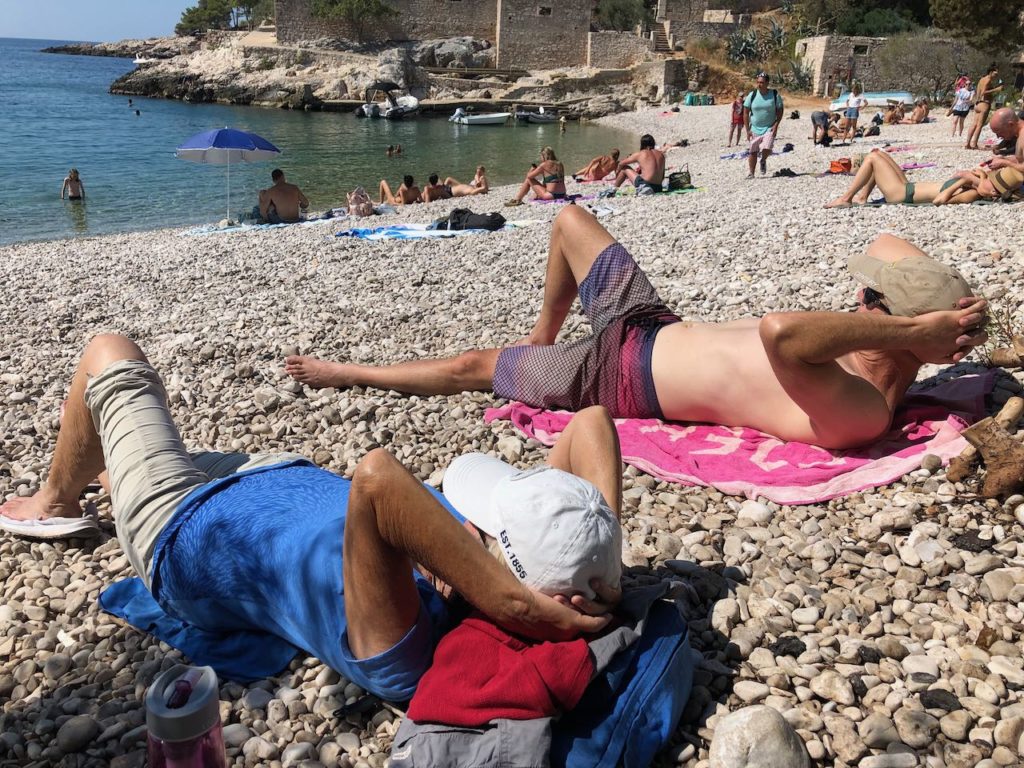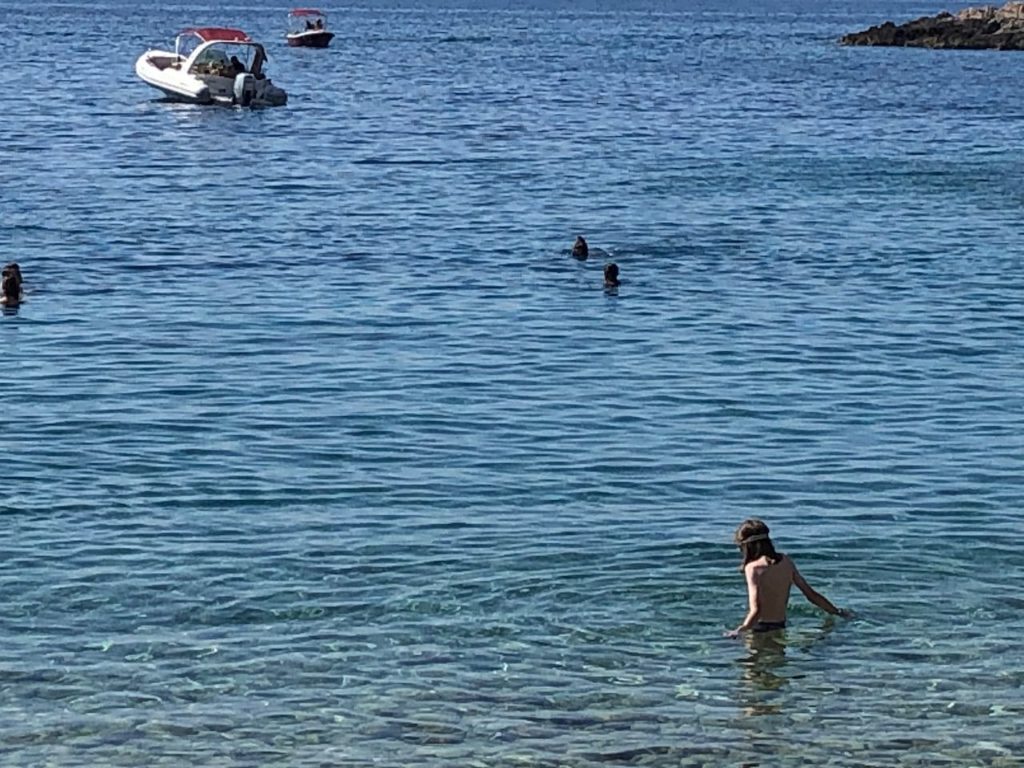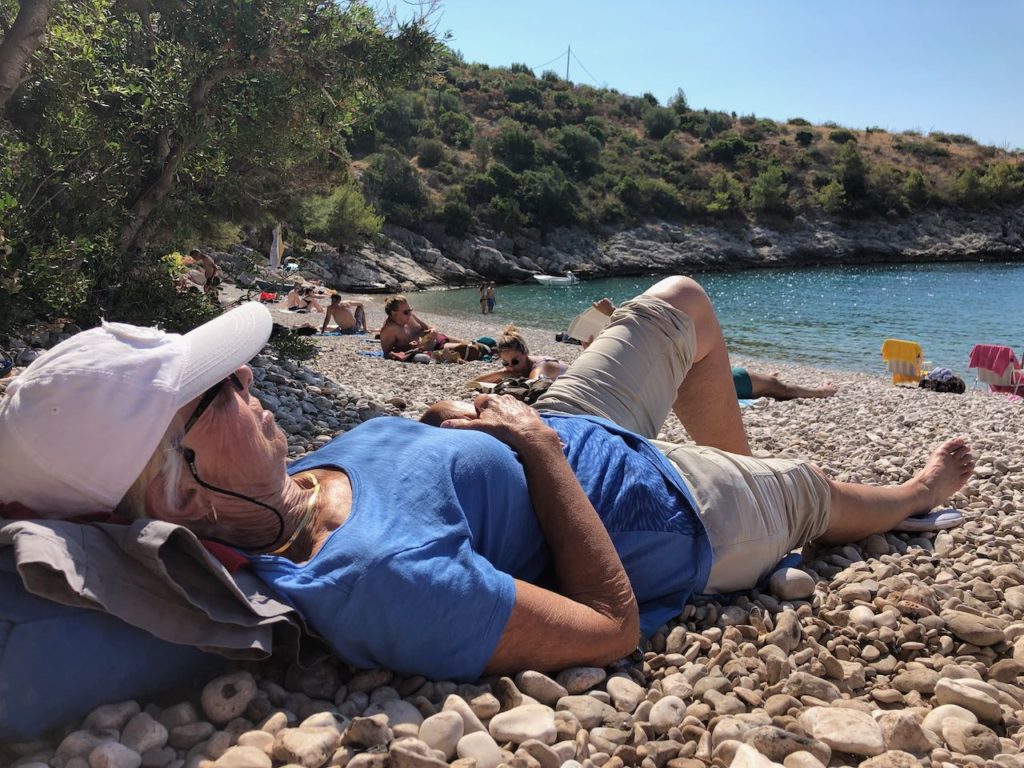 We really enjoyed Stari Grad. It was very quiet compared to the tourist bustle of Hvar town and Split, and we enjoyed wandering through the narrow lanes and alleyways of the old town. We enjoyed a wonderful lunch with fresh bruschetta and truffle cheese.
After returning the car back in Hvar town, we hiked up to a fortress and then capped the day with a glass of wine at the harbor before boarding the ferry back to Split.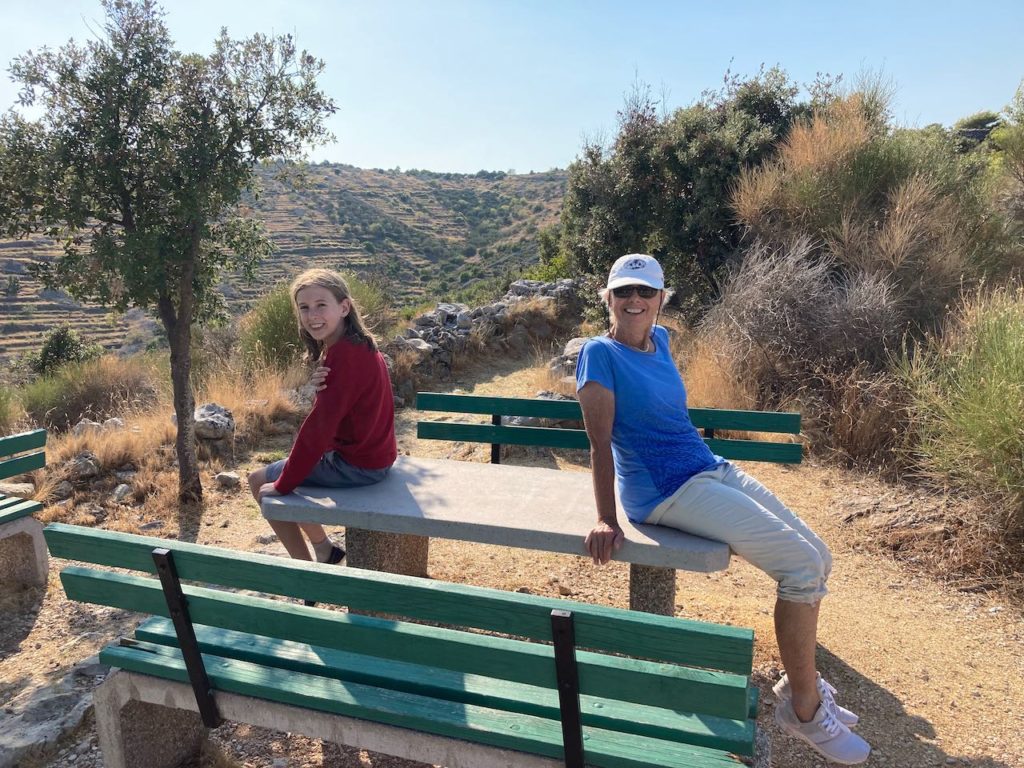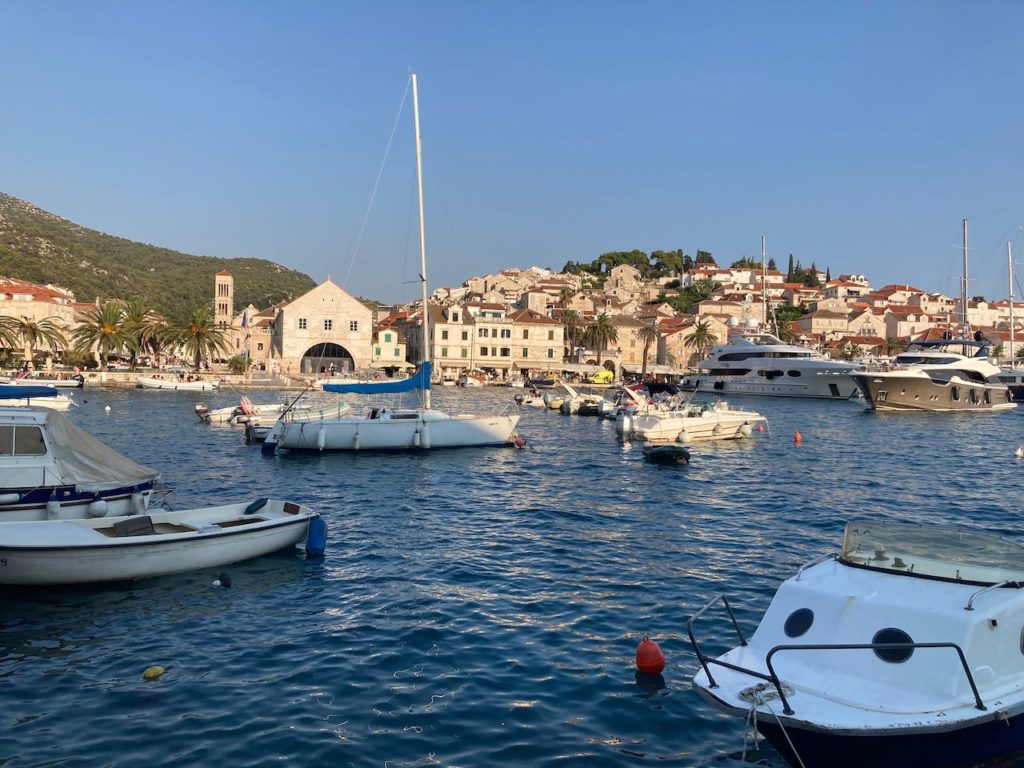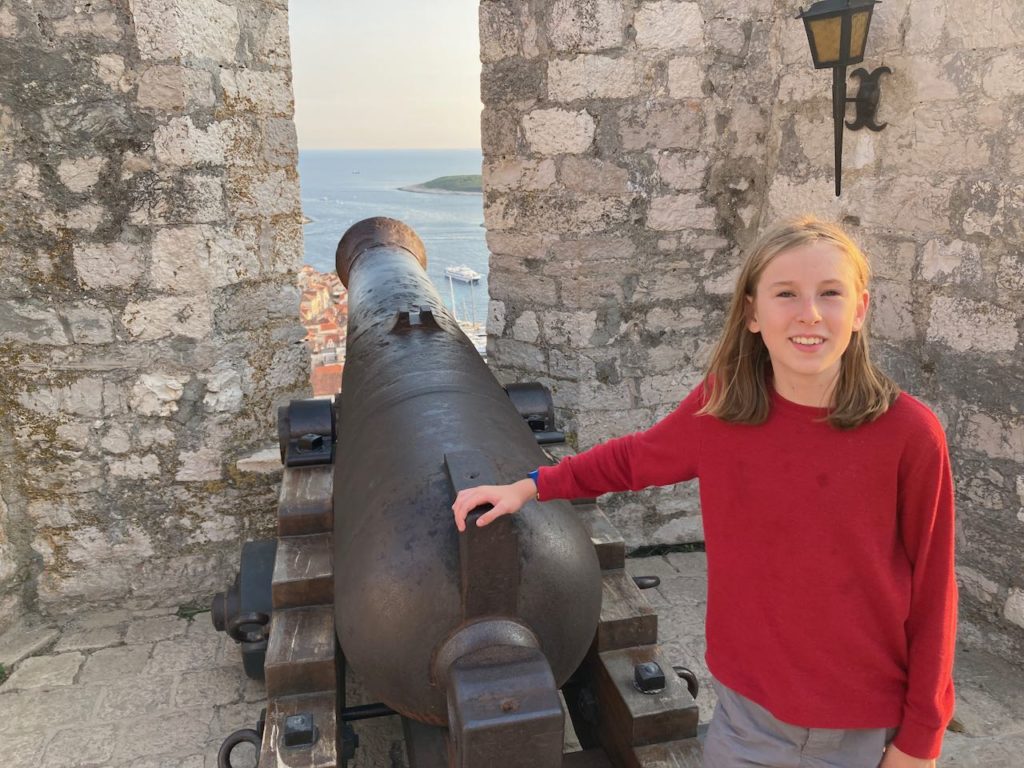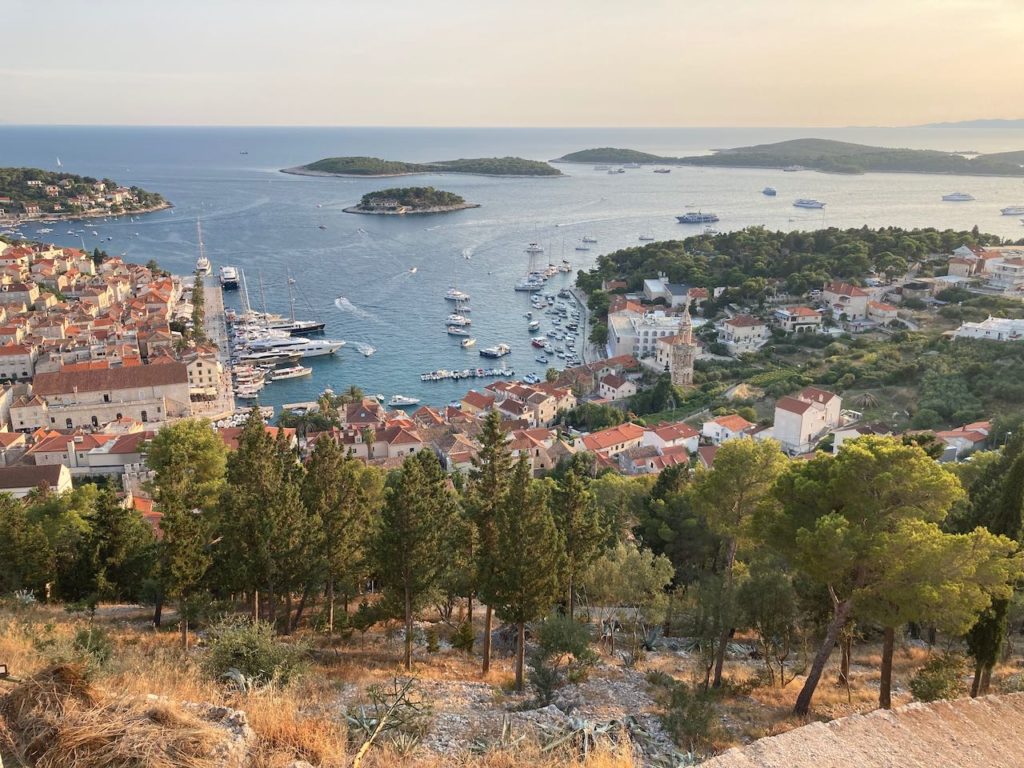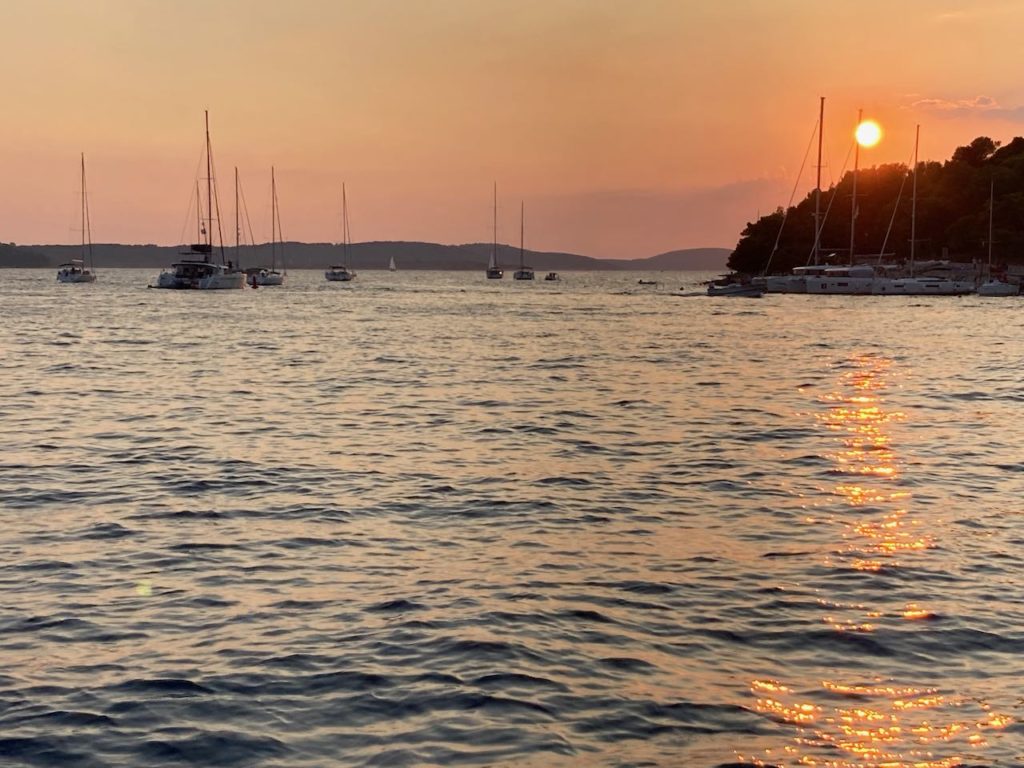 Biking to the Beach
Split has a bike share called Nextbike, and I signed up for their service early in our stay here when I went for a walk and ended out going farther than I had intended. On a recent morning, all four of us rented bikes and rode around the Marijan Forest Park — about 10km or so. Along the way, we stopped at a beach, had some lunch, and went for a swim.
On another day Witt and explored a few of the ticketed sights within Diocletian's Palace, the highlights of which were climbing to the top of the bell tower and exploring the basement rooms of the palace. The palace basements were built as part of the original Roman palace structure. During the middle ages, the new residents of the palace used the basement as a dumping ground for sewage and refuse, eventually filling the 20-foot high cavernous spaces to the ceiling. It wasn't until the 1950s that the basement was excavated by archaeologists, and today it is one of the world's best intact examples of Roman architecture. The floor plan exactly matches the floor plan of the original above-ground palace structure which is what allowed archaeologists to understand its original layout as built by Emperor Diocletian.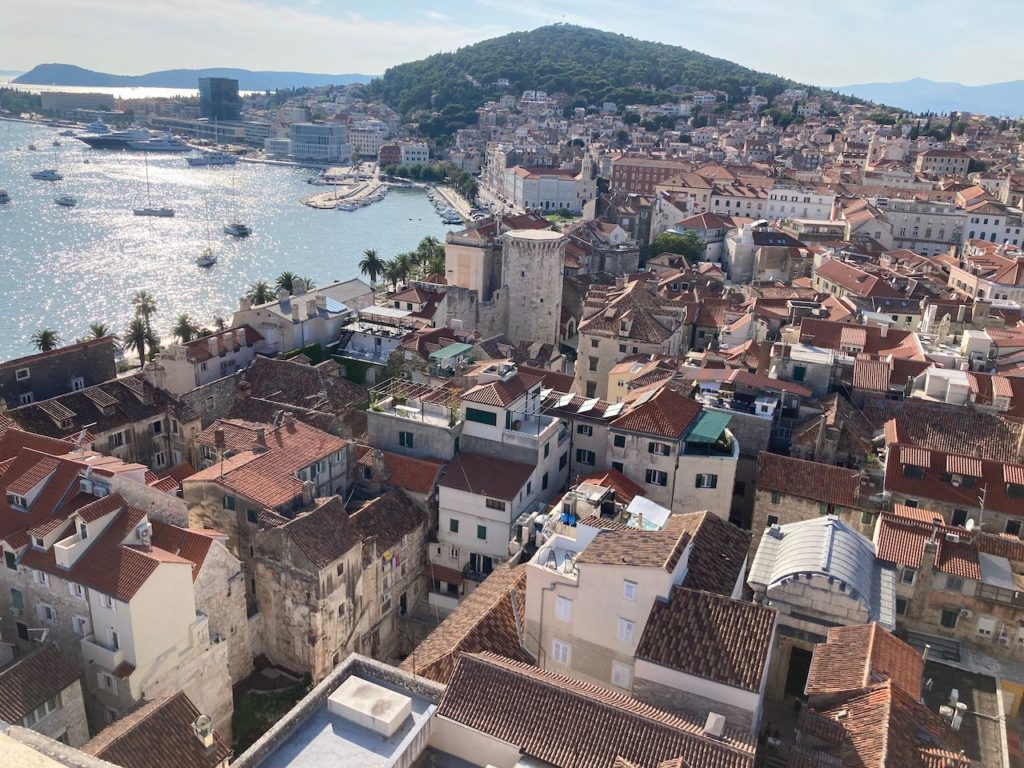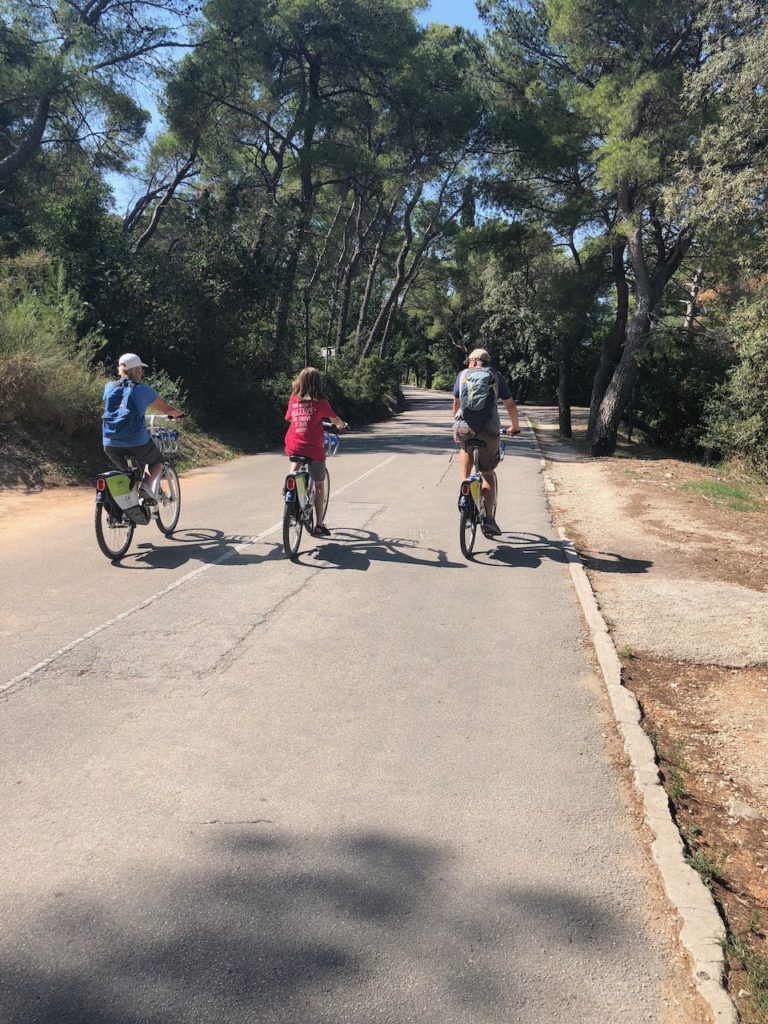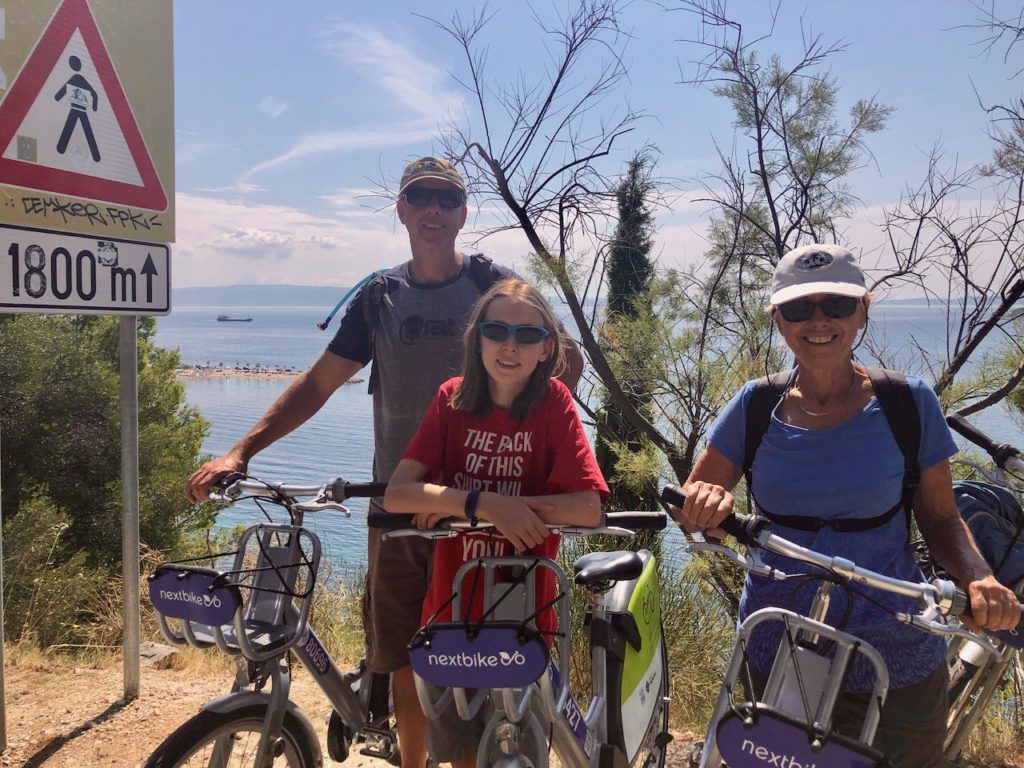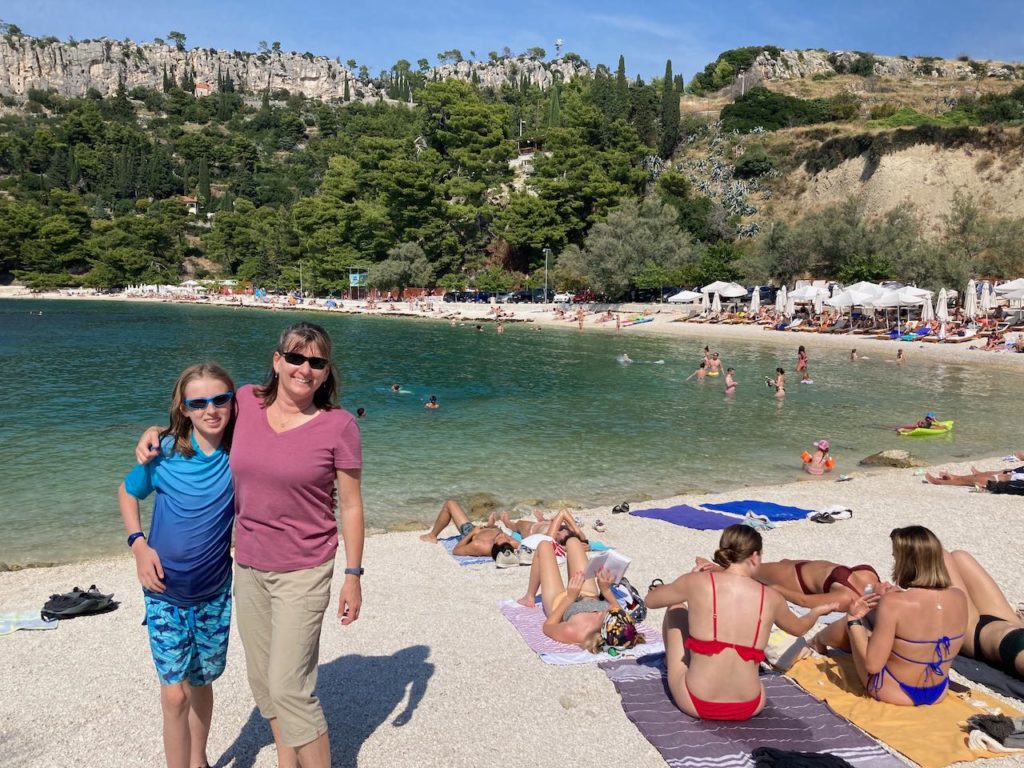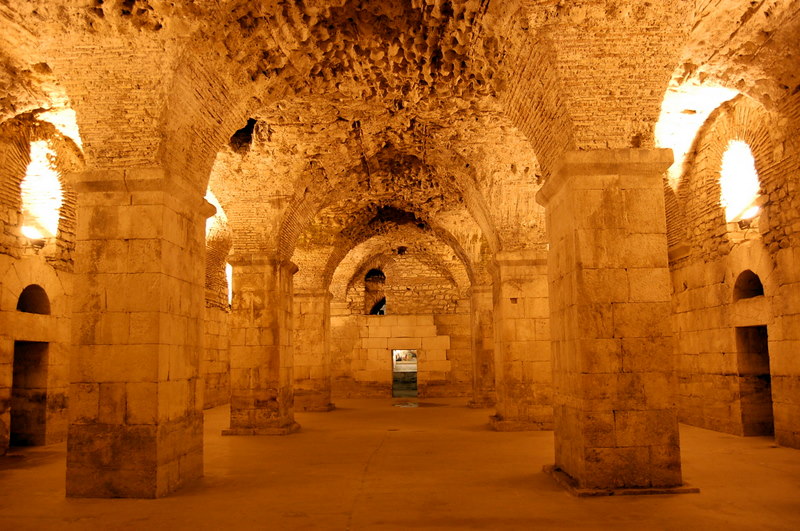 We can't believe that we've been here a month already! We're packing up to move out of our Airbnb in Split today. We're heading to Trogir, where starting tomorrow we're going to be living on a sailboat for a week to celebrate Witt's 50th birthday. Sailing has always been something I've wanted to try, and this should give us an idea if it's something we want to pursue.
Until next time! – Kathy, Jen, Witt, and Quinn