When I was in high school, I had a little 16-foot sailboat that I patched up and sailed around Boyd Lake in Loveland. I've always been fascinated by long-distance sailing, but Colorado isn't exactly conducive to coastal cruising. So when Jen asked me what I wanted to do for my fiftieth birthday I realized that this was my opportunity! We're in Croatia, which is a mecca for charter boats, and what better excuse than a big round birthday number for an expensive holiday.
At first, I looked into sailing schools — with about 2-3 weeks of instruction you can become qualified for a "bareboat" charter (meaning that you are the skipper) and I considered doing the first week of that instruction. However, that would have meant that I would be doing the course alone or with Jen, leaving the rest of the family ashore.
Instead, I decided to charter a boat with a skipper, the idea being that we would still learn a lot, and the whole family could participate. I'm going to write a separate post as sort of a beginner's guide to boat charters — the only resources I could find online were geared toward chartering much bigger boats. This post will mostly be about our experience during our week on board.
Setting Off
We met our skipper Vedran at the marina on Saturday afternoon. After waiting around for a few hours to check out our boat, the Aquaholic, we set off. Vedran took us a short distance to a cove on the island of Šolta for our first evening. We arrived after dark, and Vedran taught us how to help him set the anchor. It was a perfect first night: the bay we were in was very sheltered and the water was perfectly calm.
It's always great to sleep in an RV (or as we discovered, a boat) in a rainstorm. The sound of the rain falling on the deck is very relaxing. The next morning we awoke to clear skies and sun so we took advantage of the quiet bay we were in to do a bit of paddleboarding. We even got to paddle over a shipwreck!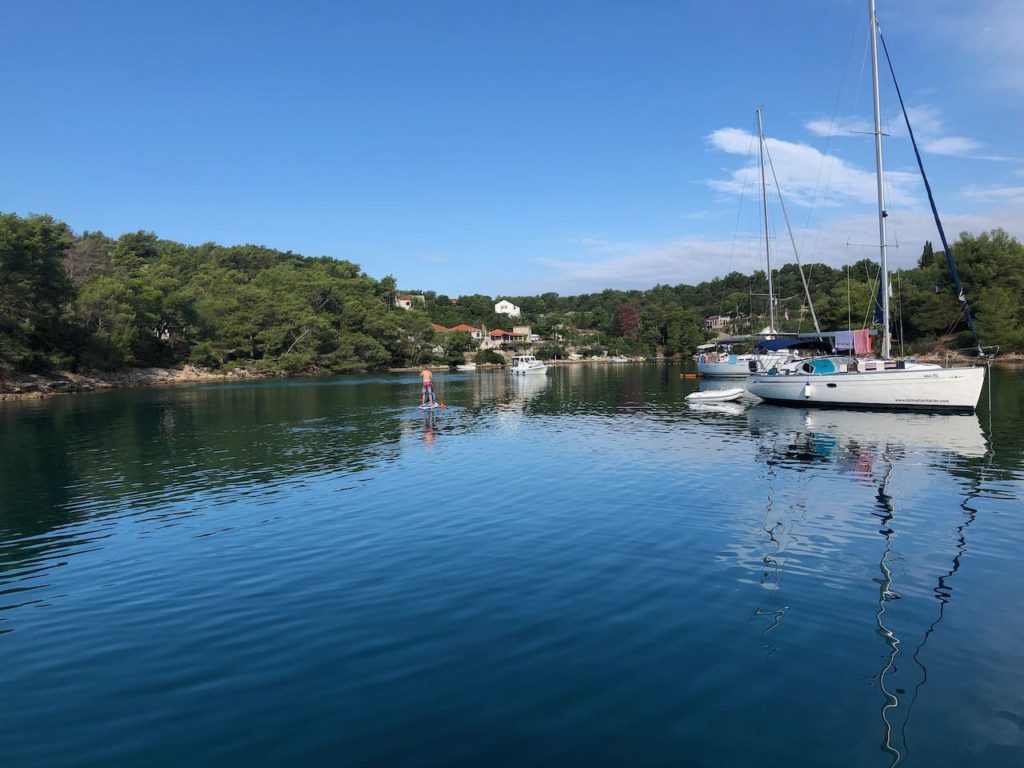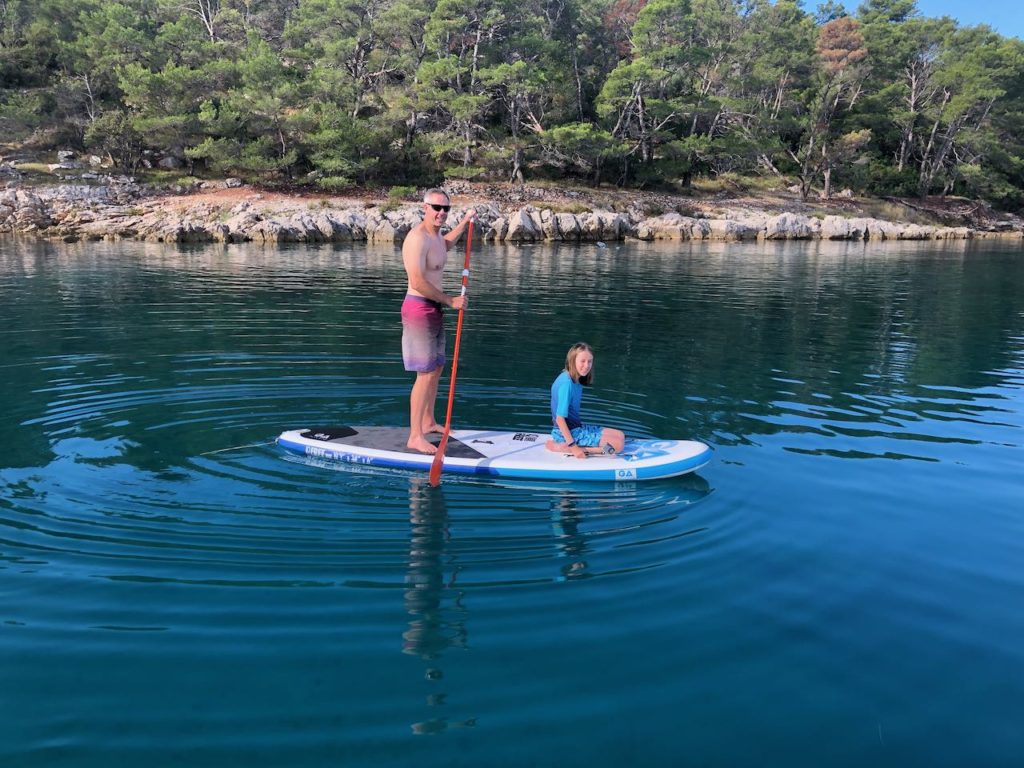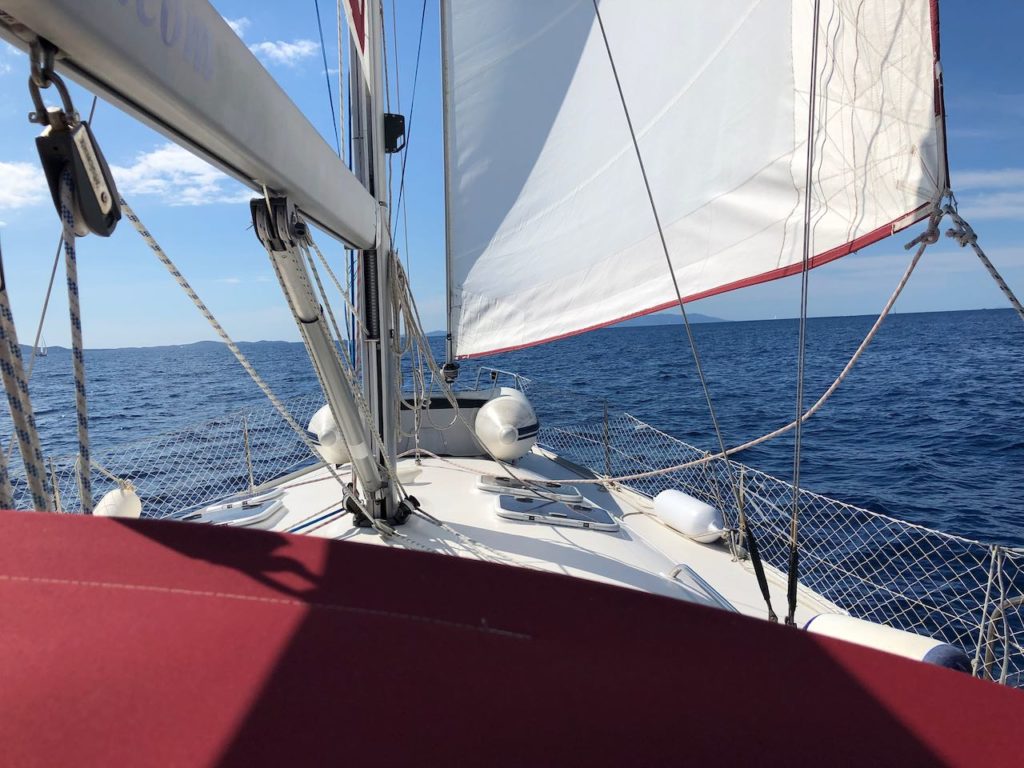 Here's a quick video of the shipwreck, recorded and edited by Quinn:
Vis Island
The next day we headed for the island of Vis. Here we tied up directly to the pier instead of anchoring or tying to a mooring buoy. Although this arrangement puts you right next to other boats, it allows us to leave the boat without using the dinghy. Vedran arranged for us to try a peka for dinner, so shortly after we arrived in port a driver picked us up and drove us to a restaurant 20 minutes from the harbor. Peka is a traditional Croatian dish that reminded us a bit of a South African or Dutch potjike, or a stew. Meat, potatoes, and other root vegetables are combined in an earthenware pot and cooked on coals from a wood fire for 3 to 4 hours. The whole evening, from the ambiance of the restaurant to the peka itself and then to the grappa tasting afterward, was an amazing experience.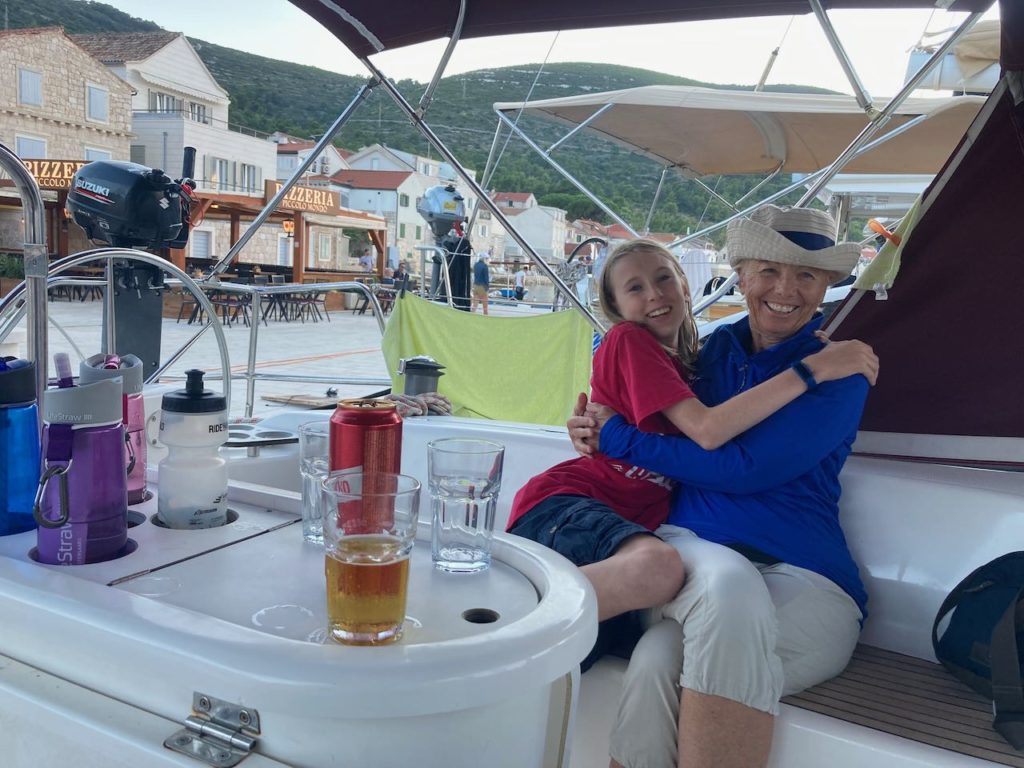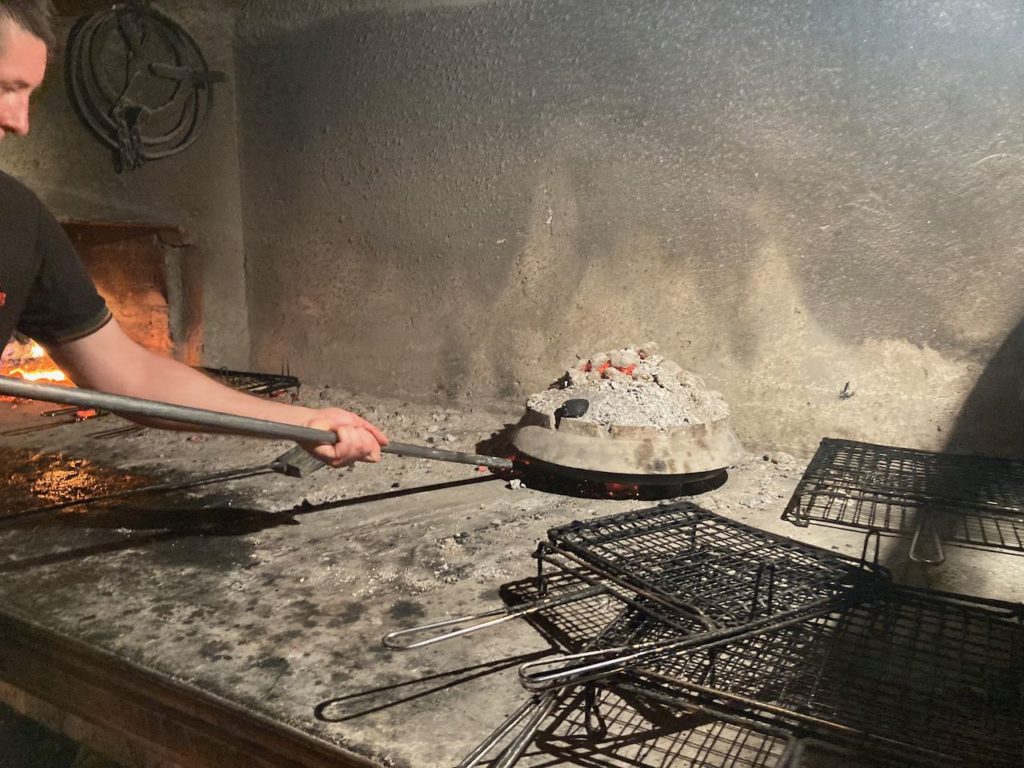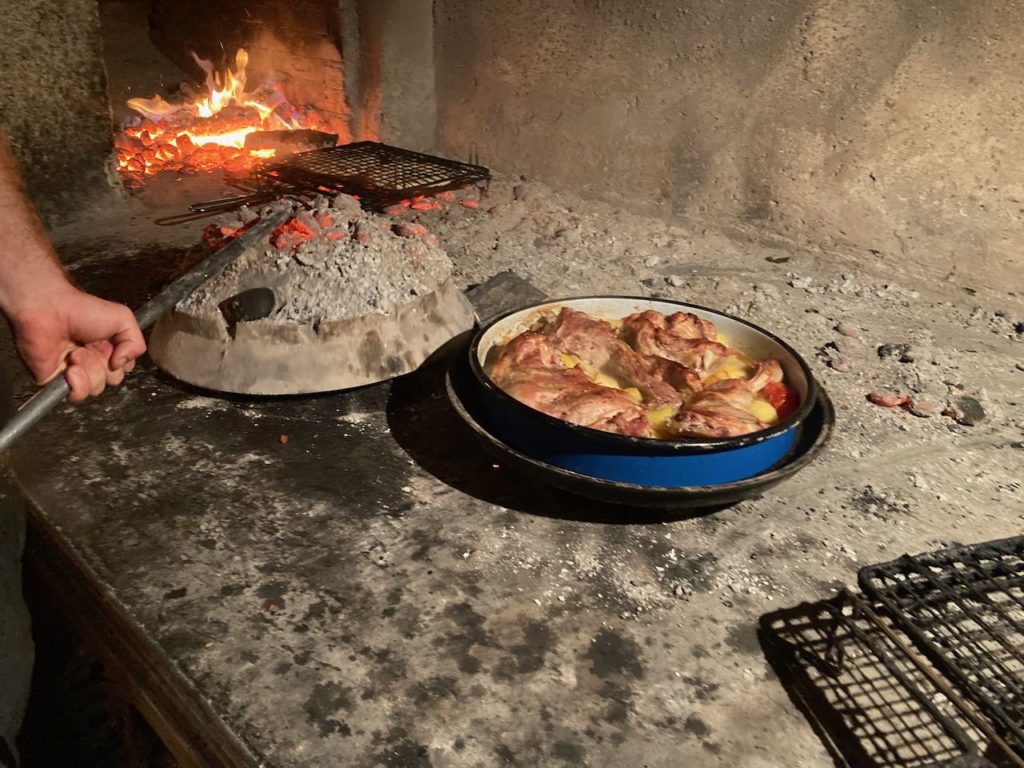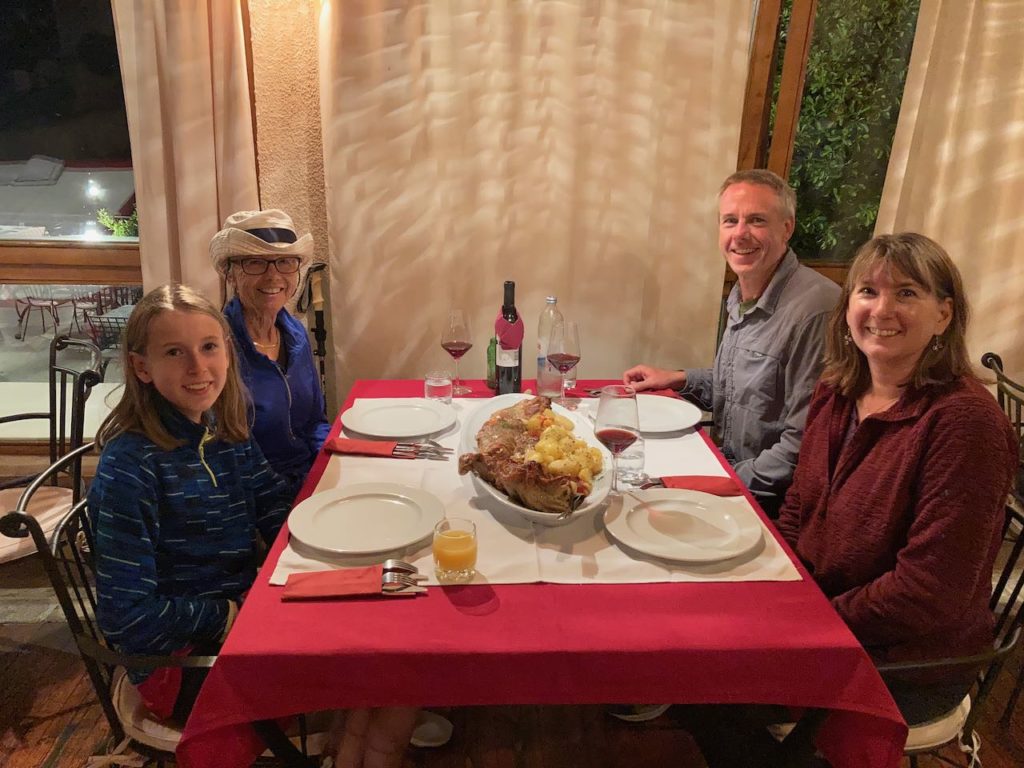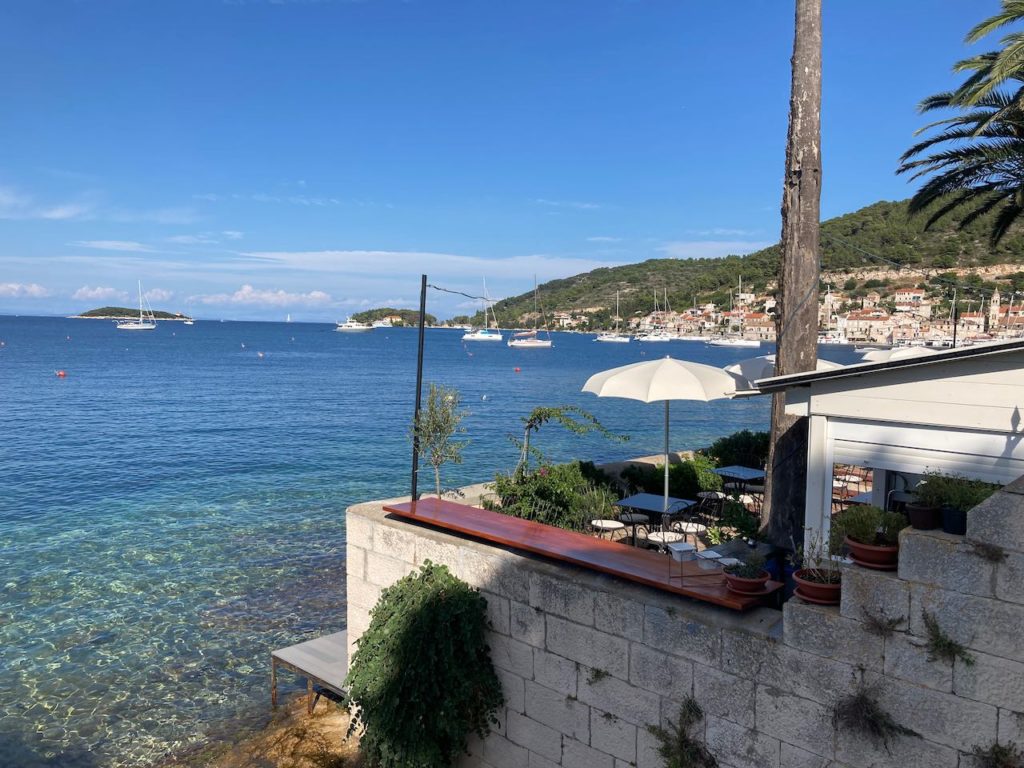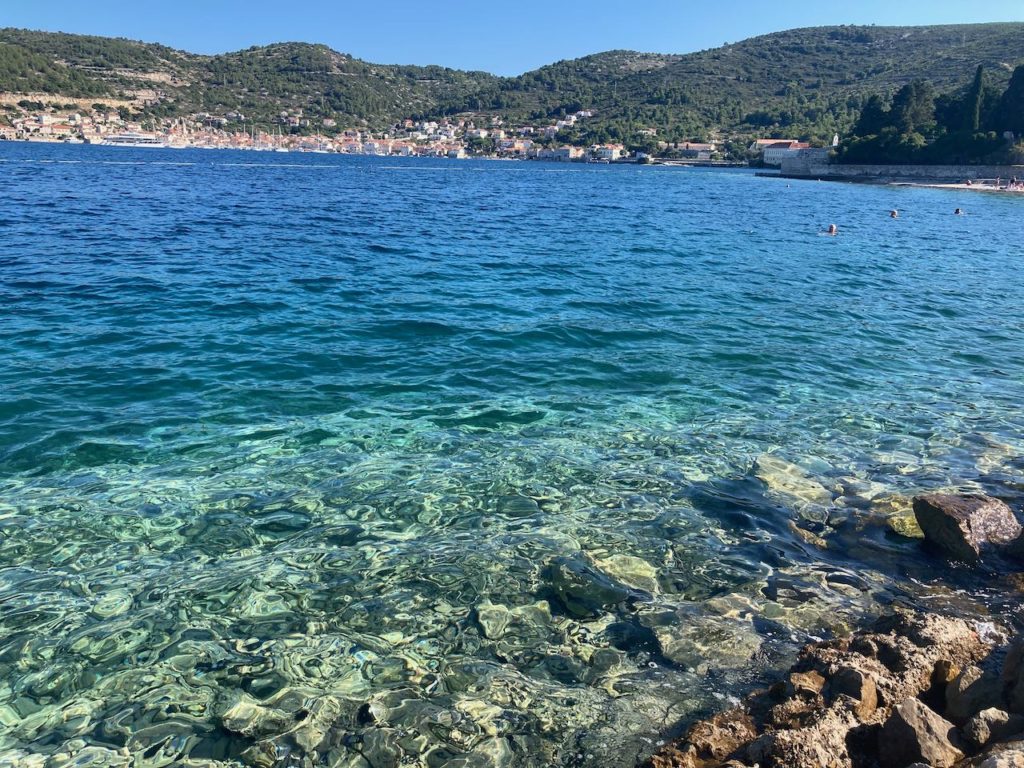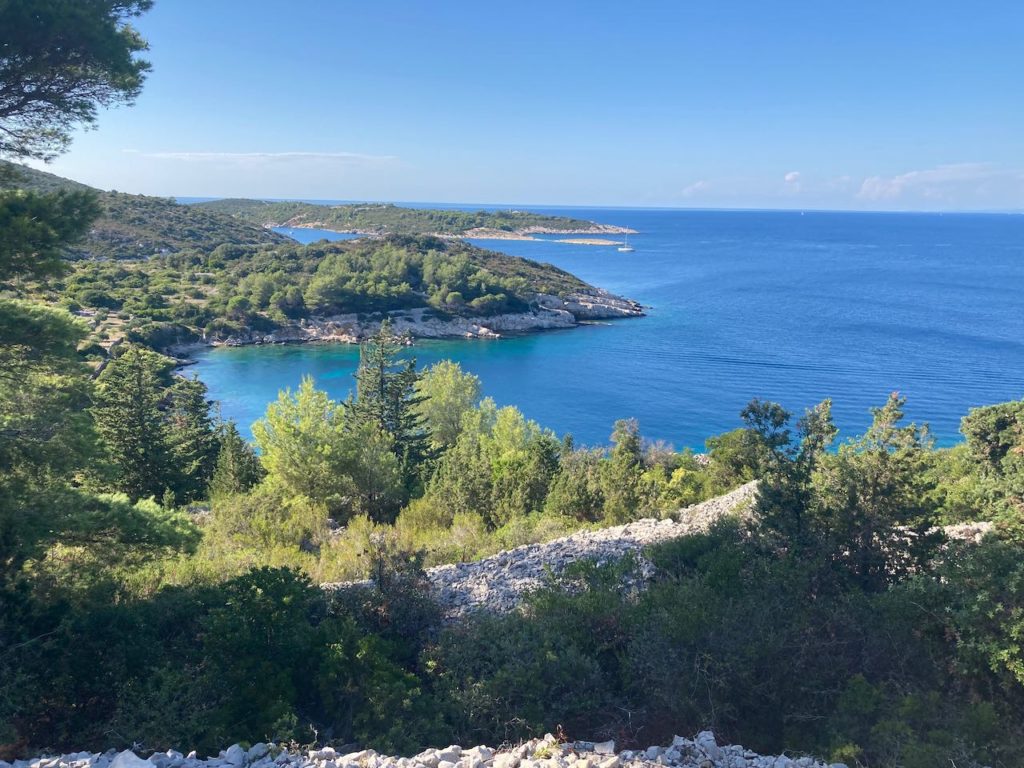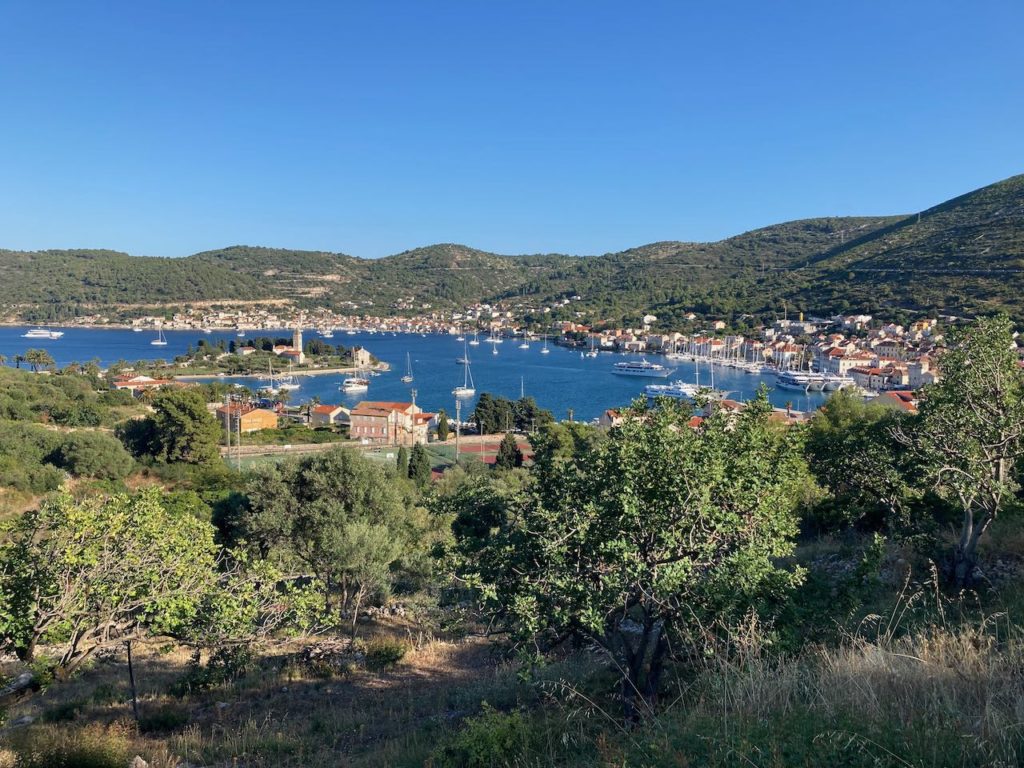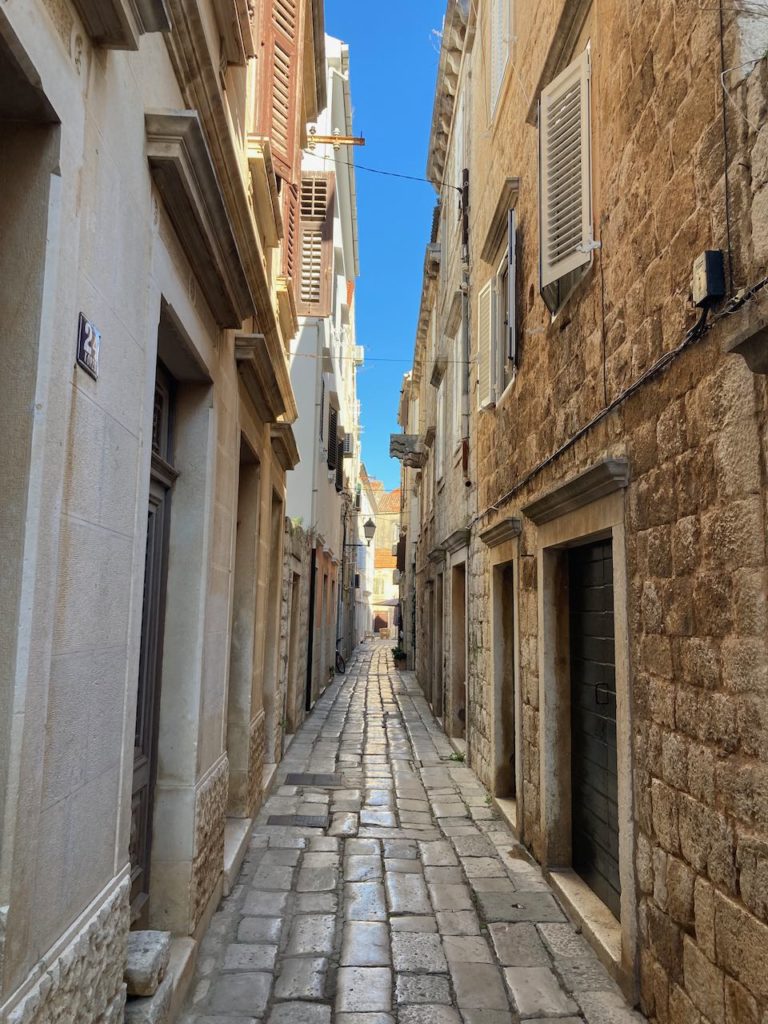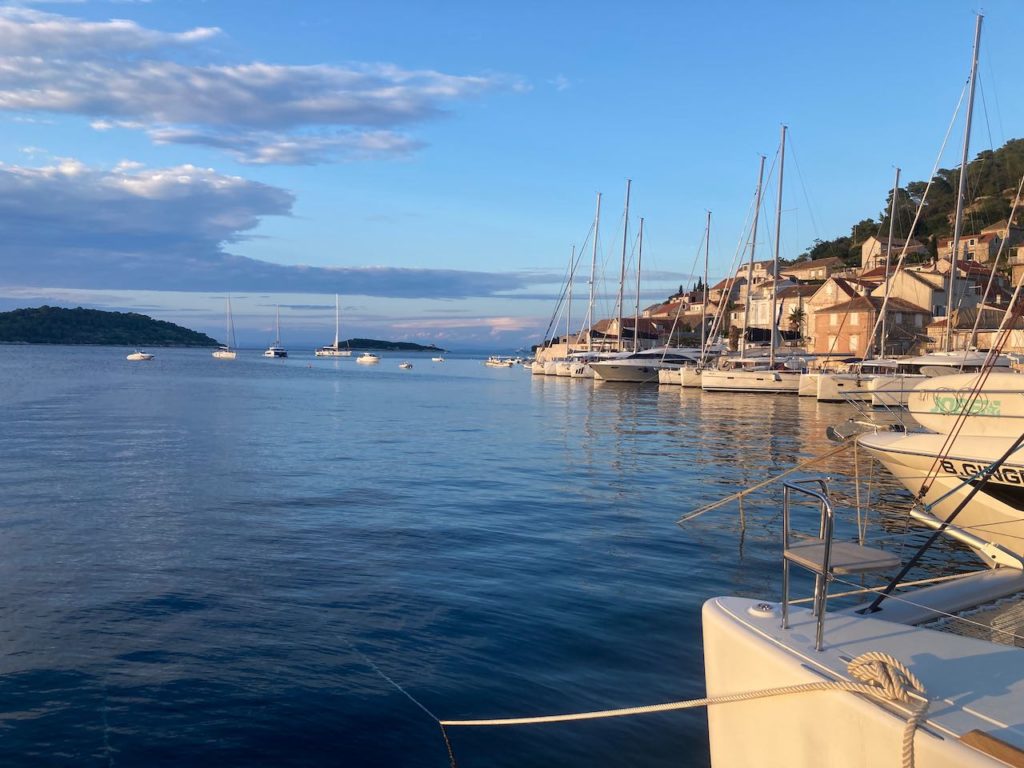 On Monday we headed to another town, Komiža, on the same island. It was a short trip, and Vedran arranged a historical tour of the island with a local guide he knows. Our guide picked us up at the port in his Land Rover Defender 110, which brought back a lot of memories for Jen and I as it was the first time we'd ridden in a Defender 110 since we sold Rafiki after returning from our Africa trip.
It turns out Vis has been a very strategic spot throughout history. During World War II there was an emergency airfield on the island since it was the first friendly landmass allied planes encountered after returning from bombing raids in Europe. Later it was a major military outpost for Yugoslavia, and it's riddled with tunnels that used to house defensive cannons and even a secret underground naval repair facility.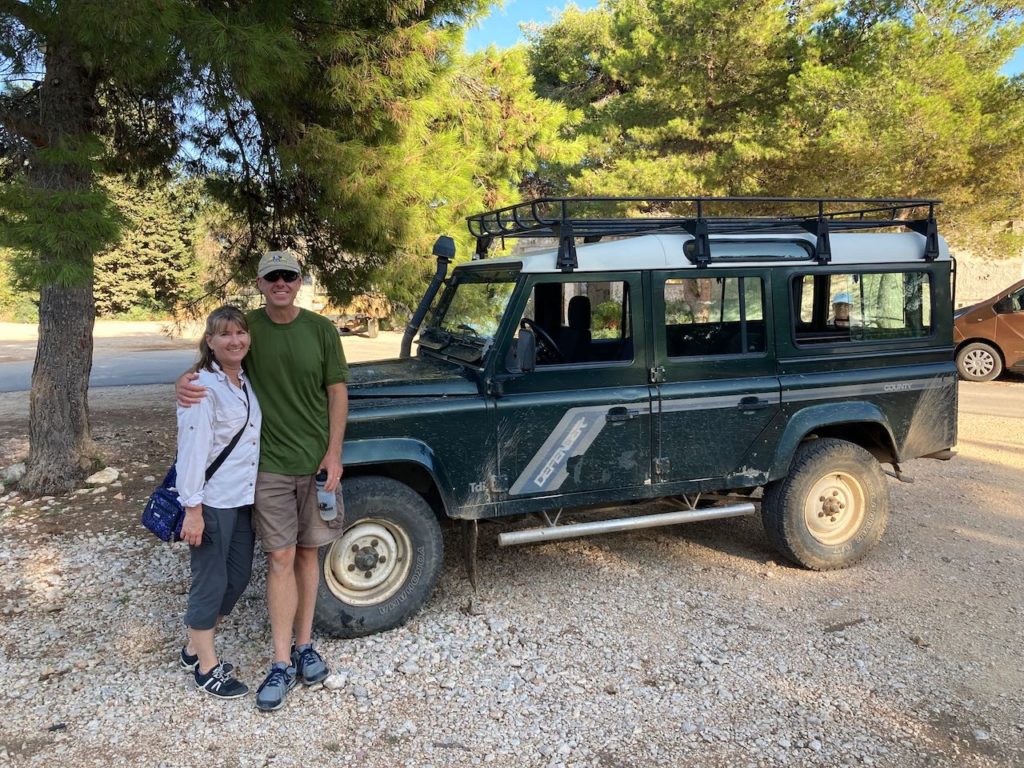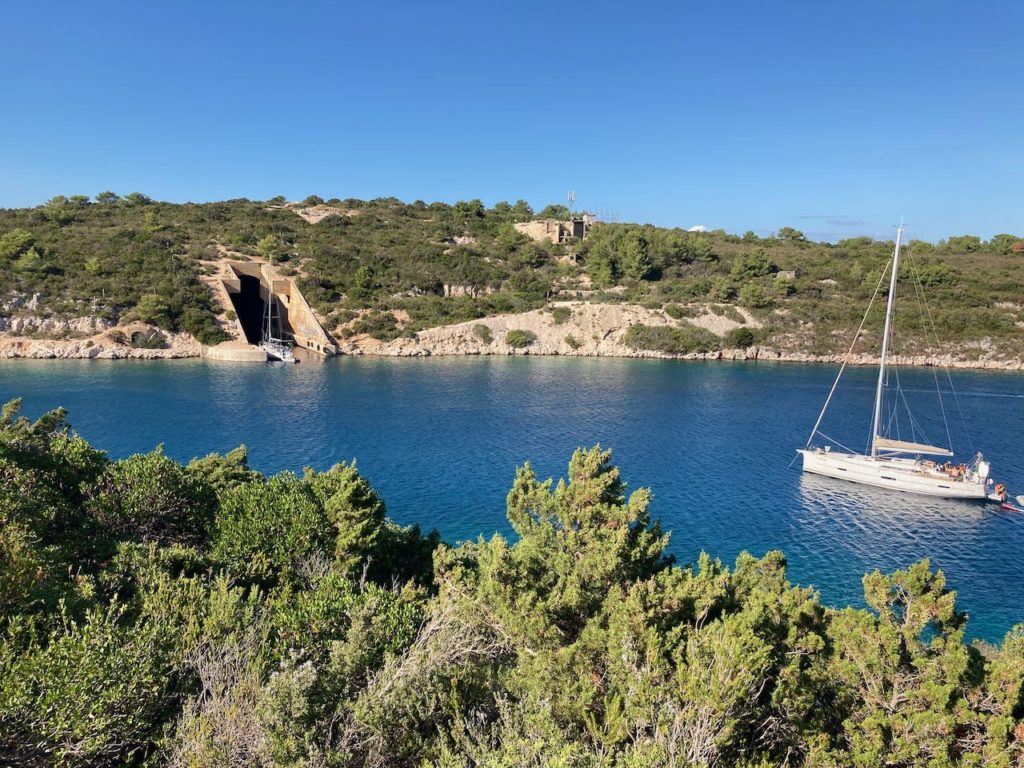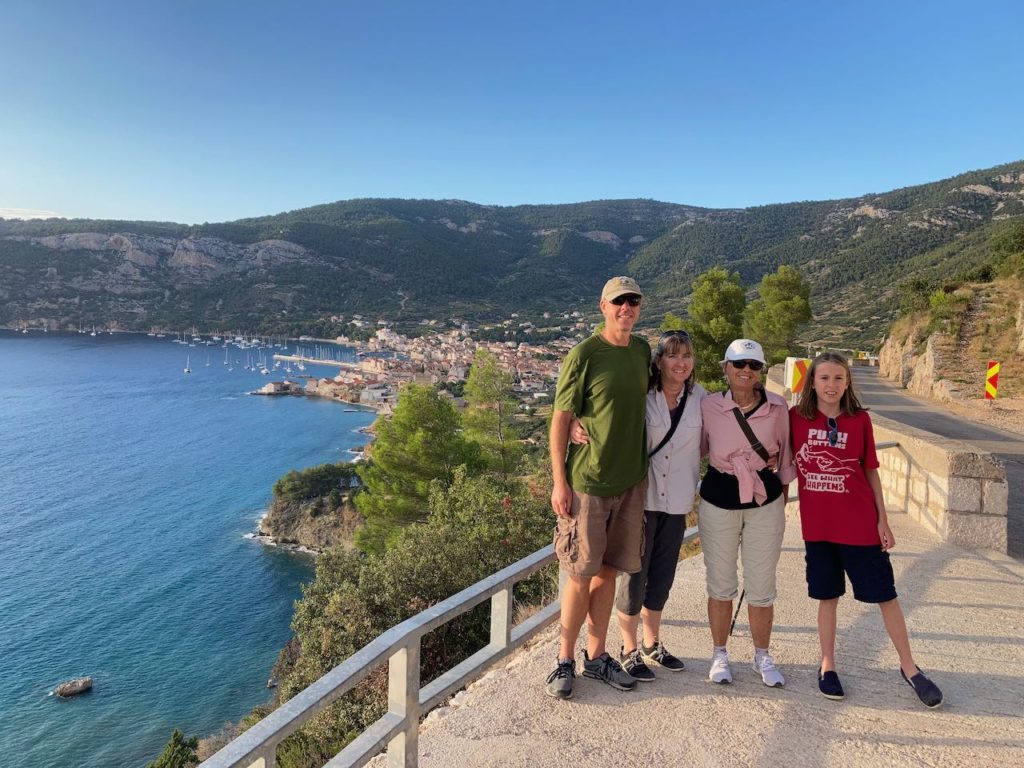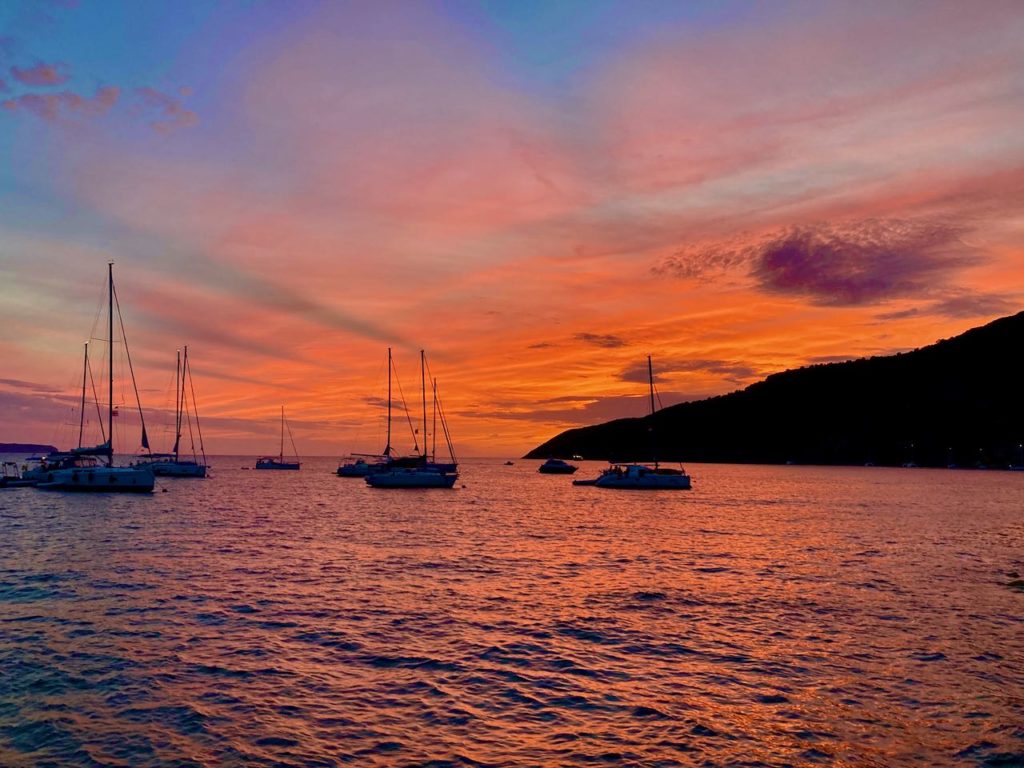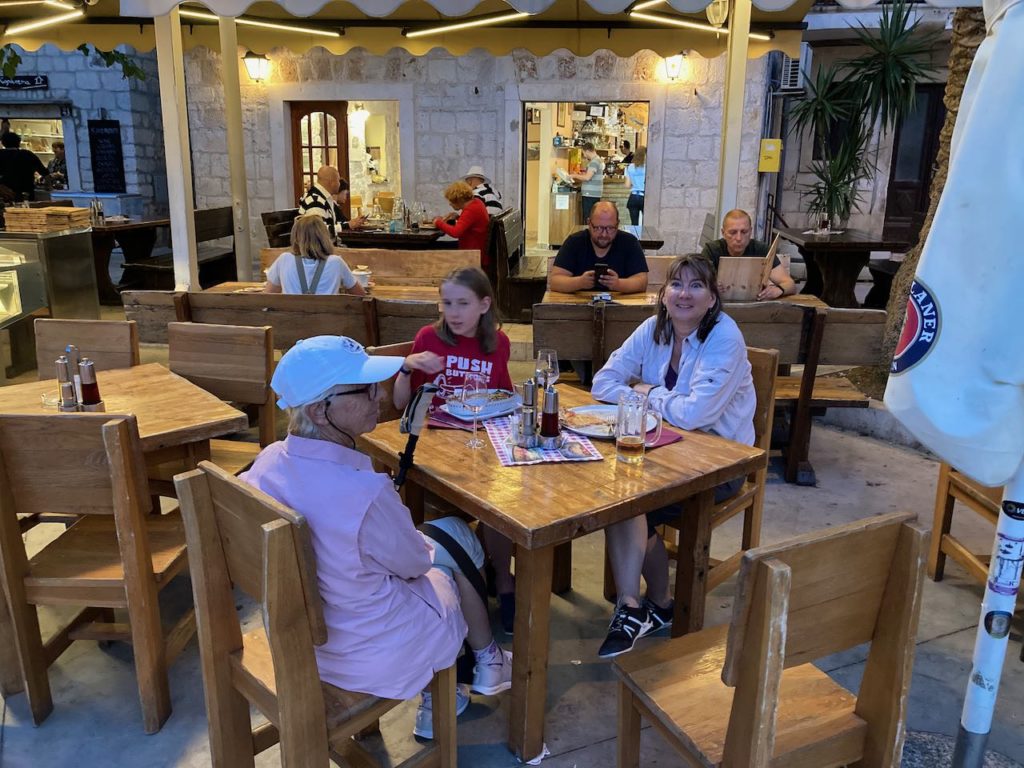 There's a lot more to the island's history but we have to move on to our next destination…
Our next stop was the island of Šćedro where we tied up to a mooring buoy in Moster Bay. This meant that we had to break out our dinghy for the first time if we wanted to go ashore. And, since the main attraction of this stop was a small restaurant famous for its grilled fish, we definitely wanted to go ashore. I helped Vedran lower the dinghy into the water and get the small outboard motor fitted, and then Quinn got his first dinghy driving lesson. Piloting the dinghy would be the highlight of the trip for him.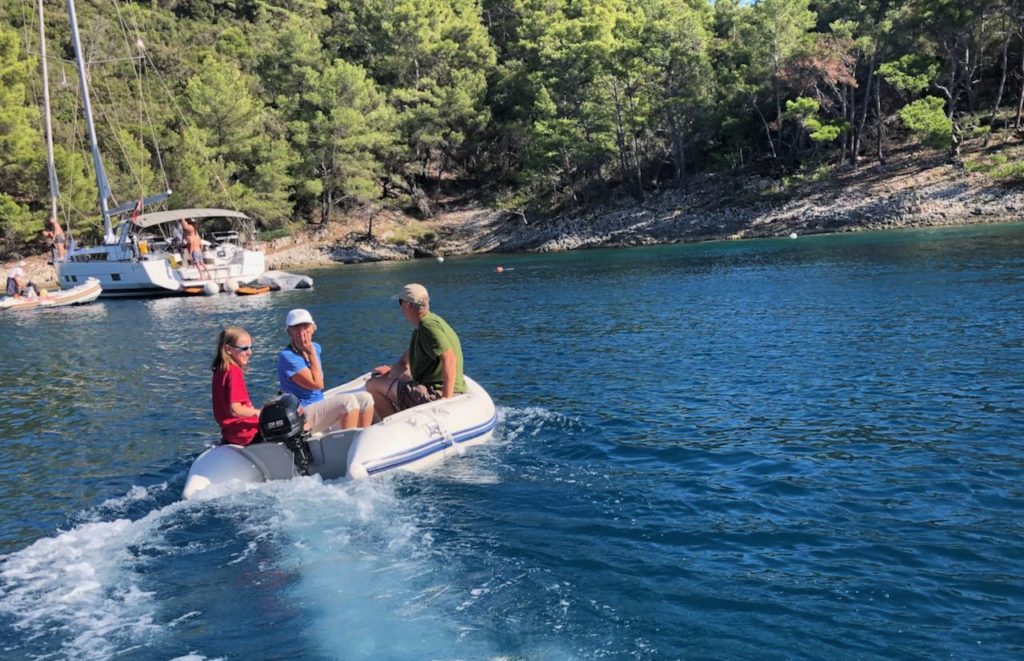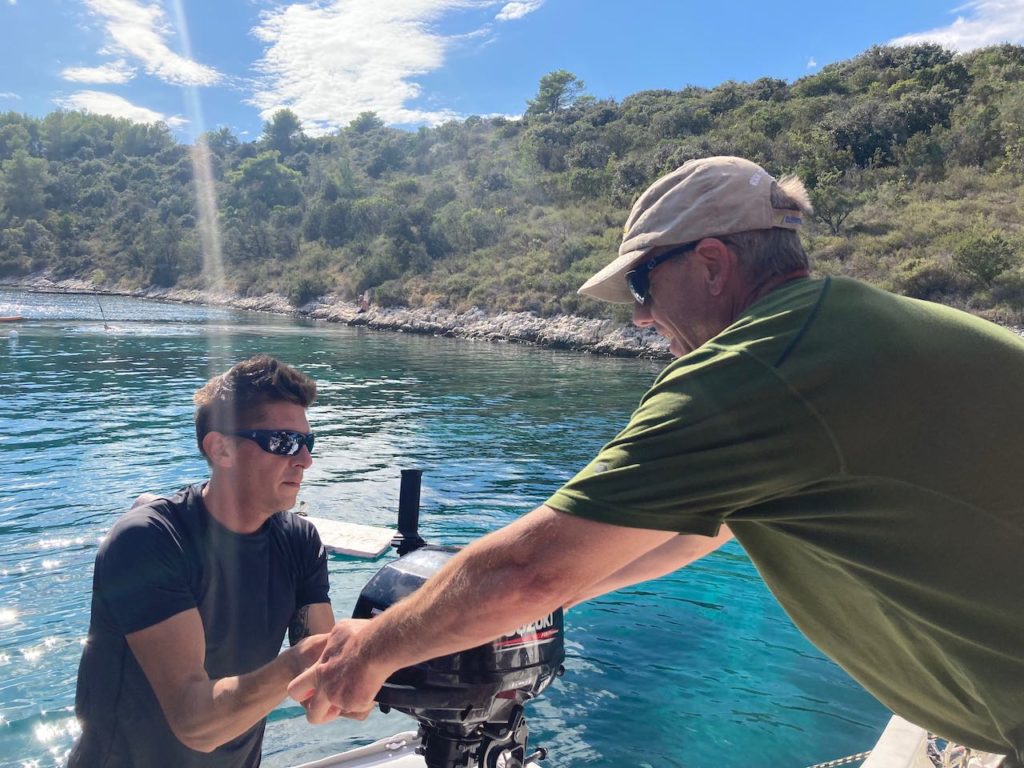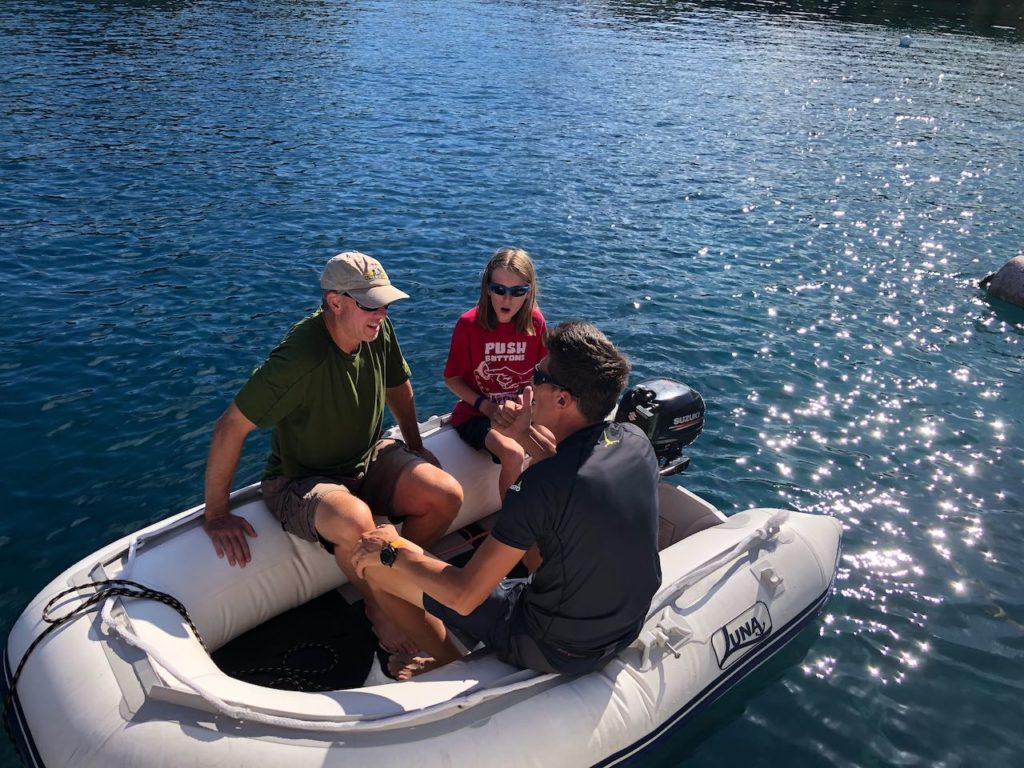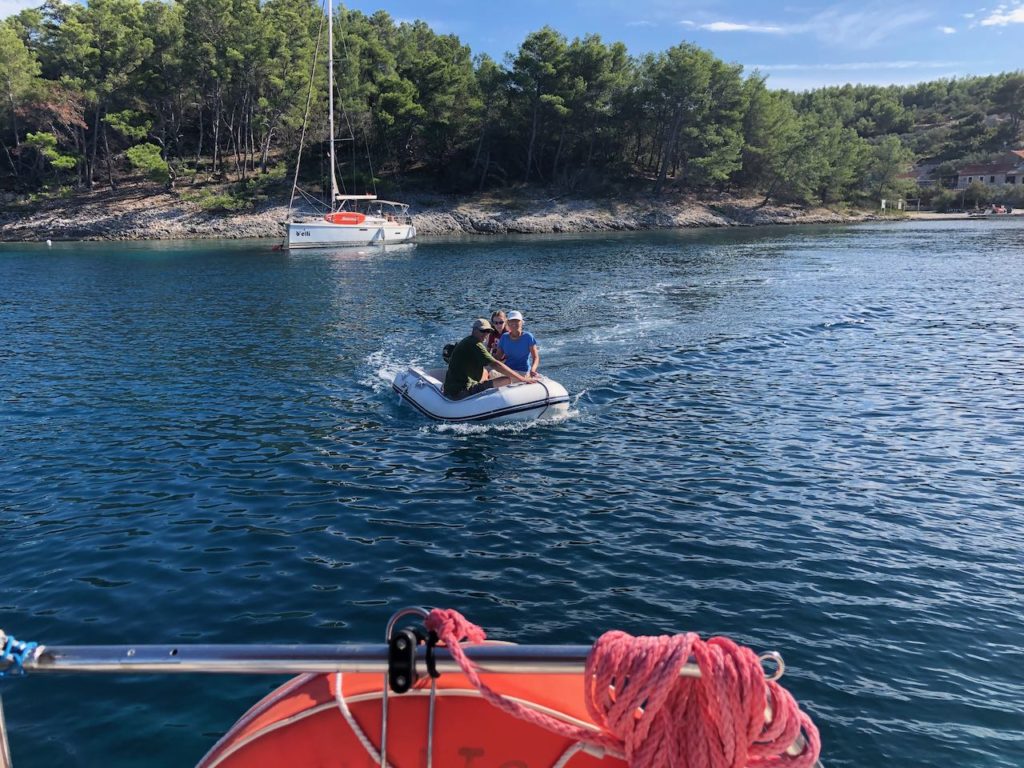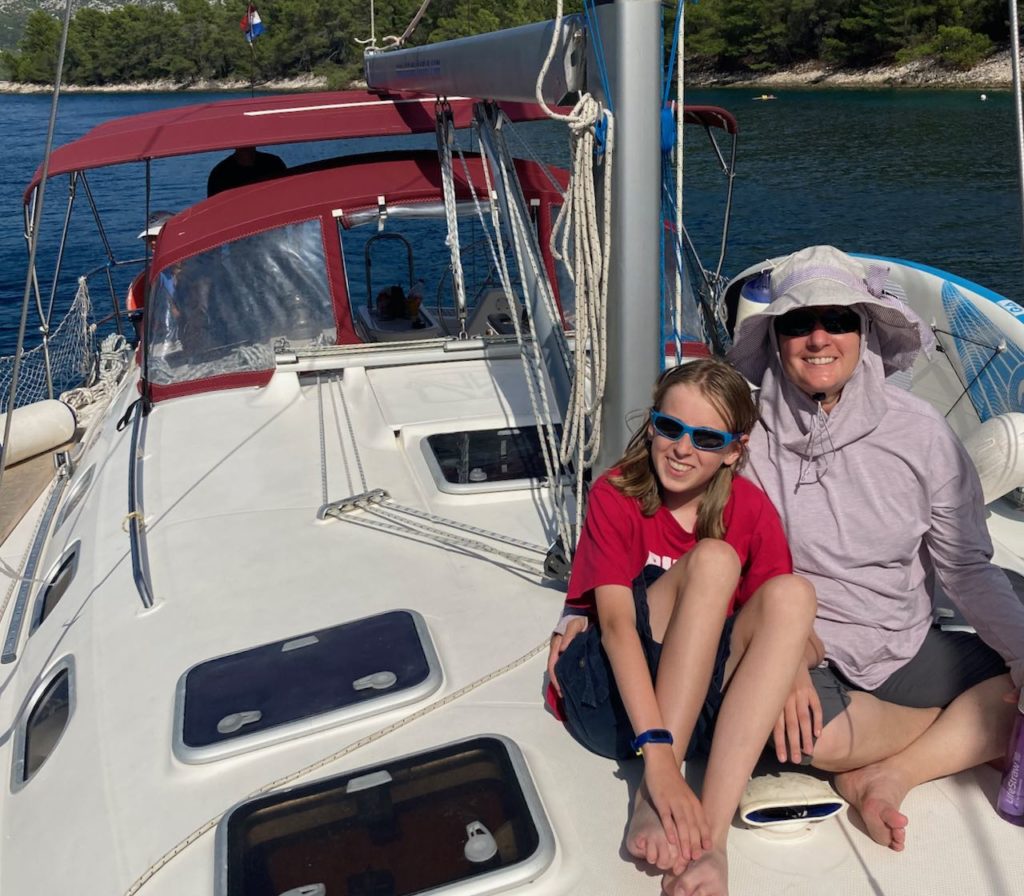 When Vedran called to get us a table at the restaurant, he found out that there was a large group of Swedes on their way and that we'd have to wait until 8 pm to eat. We spent the afternoon swimming, paddleboarding, and relaxing on the boat while we waited. Then Quinn drove us ashore in the dinghy and we enjoyed an amazing and simple meal of grilled amberjack at a picnic table next to the water. The wind was picking up, and we all had our rain jackets on, but somehow that just made the experience more memorable.
The next morning we spent a little time exploring the ruins of a 15th-century monastery before setting off once more.
Sailing
One thing we learned on this trip is that on a week-long sailing charter, you don't actually sail that much. I'd noticed while riding various ferries that most of the sailboats I've seen are motoring rather than sailing, and that was our experience too.
In order to make good progress under sail, the wind has to be just right — not too strong or weak, and coming from a direction that makes it easy to get to your destination. Yes, you can tack into a headwind or sail in light winds, but that can easily turn a 4-hour trip into a 10-hour trip.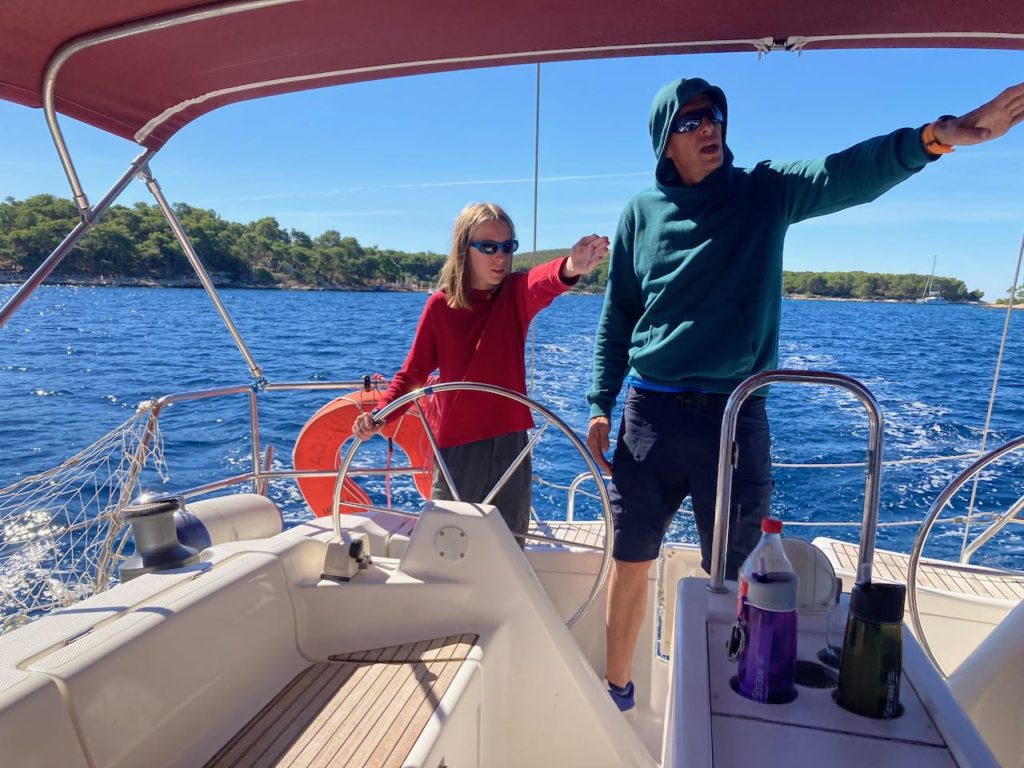 On Wednesday after leaving Moster Bay we had good wind so Vedran thought we'd be able to sail. The problem is the wind, known locally as a "bura" wind that comes from the mountains on the mainland. We hoisted the sails, but the wind was extremely variable and gusty. At one moment we'd be cruising along nicely, and then a gust would hit and send our boat heeling over at what felt like 45 degrees. After a few gusts that Vedran worried could tear the sails, we went back to motoring, anchoring that evening near the town of Milna on Hvar island.
Maslinica
With our boat due back at the marina on Friday evening, we headed back toward Trogir, stopping for our last night away in a different cove on the island of Šolta. This time we stayed near the town of Maslinica at a mooring buoy. This gave Quinn more time in the dinghy, and we enjoyed another delicious meal — this time a traditional Dalmatian fish stew.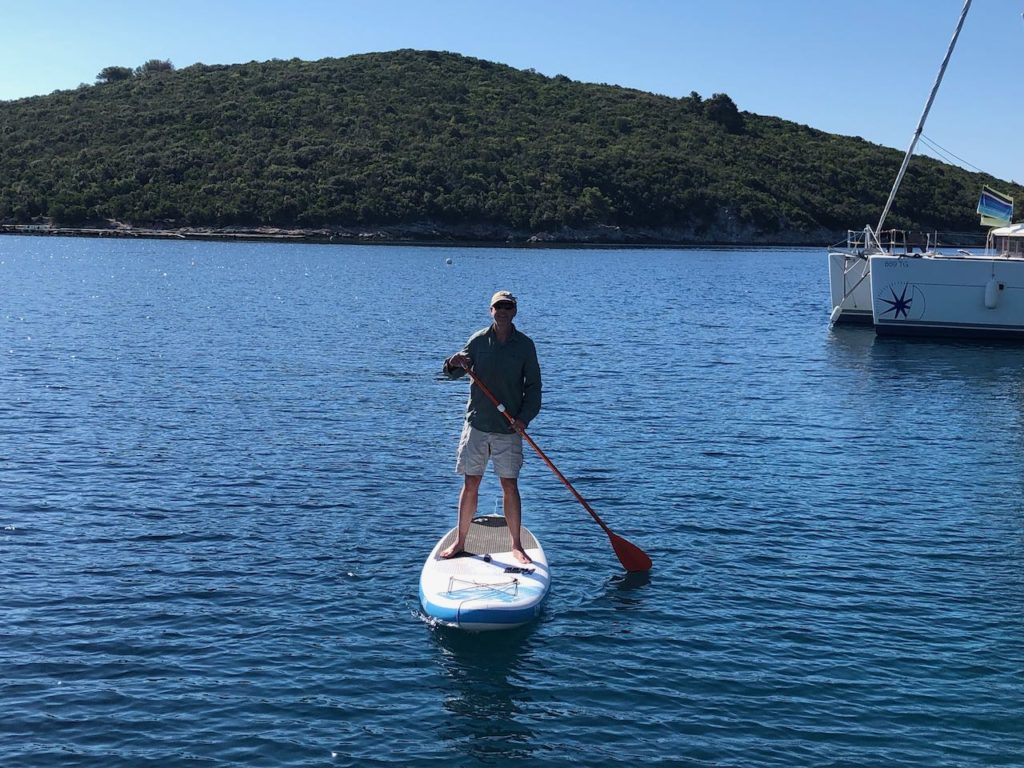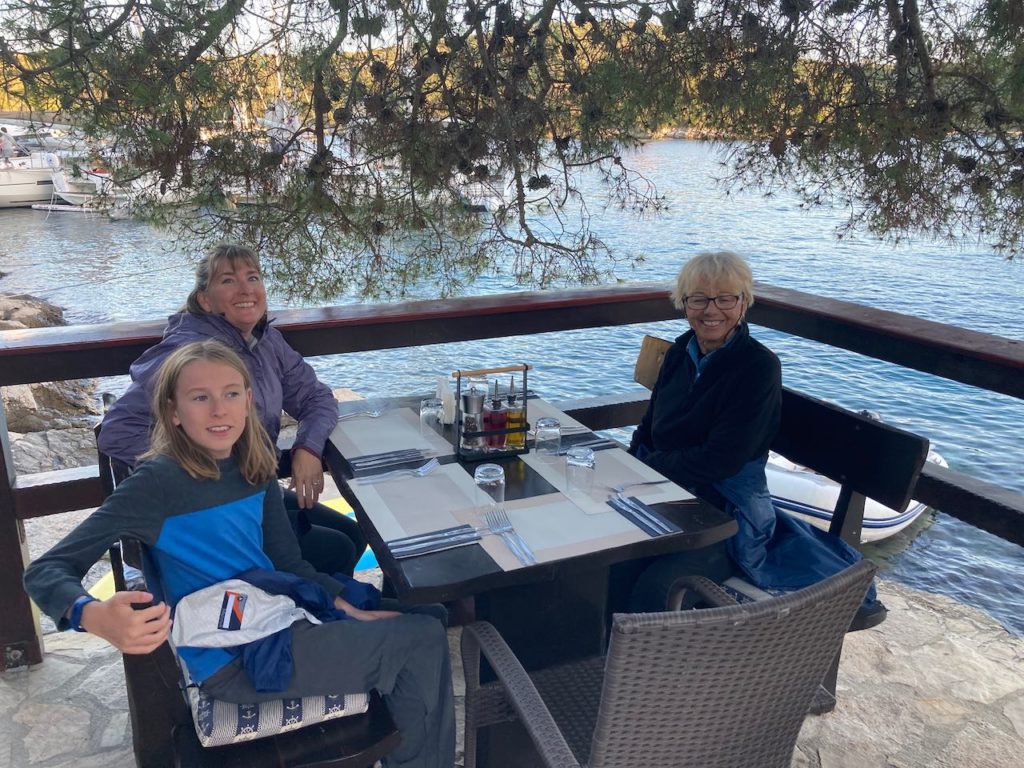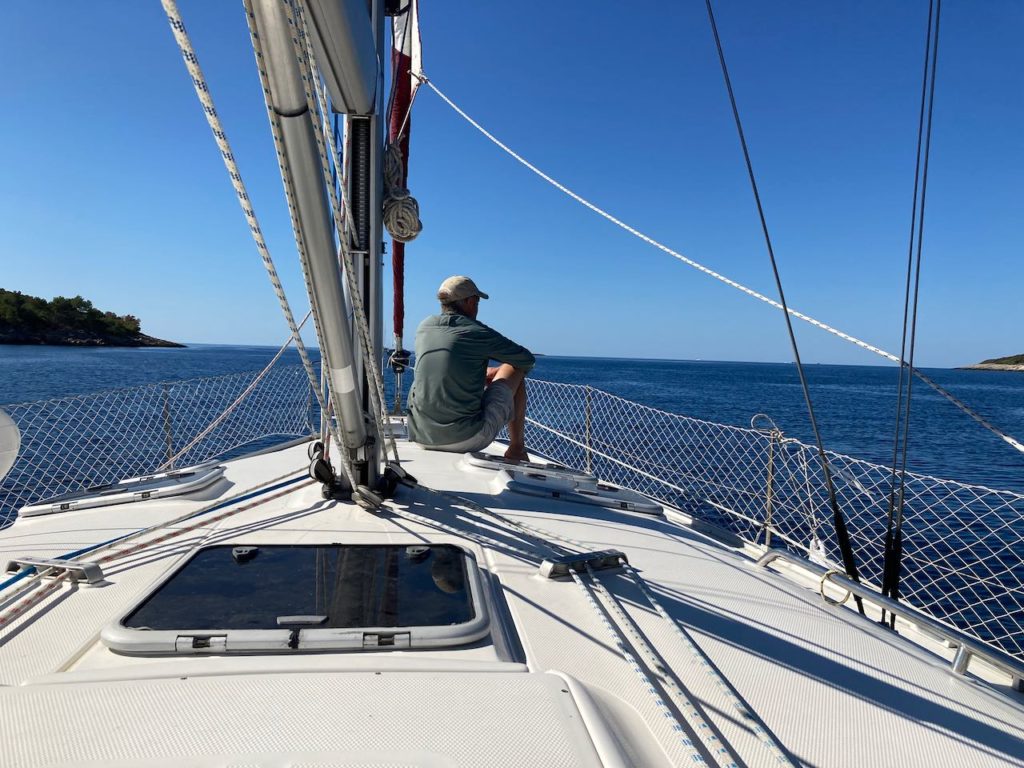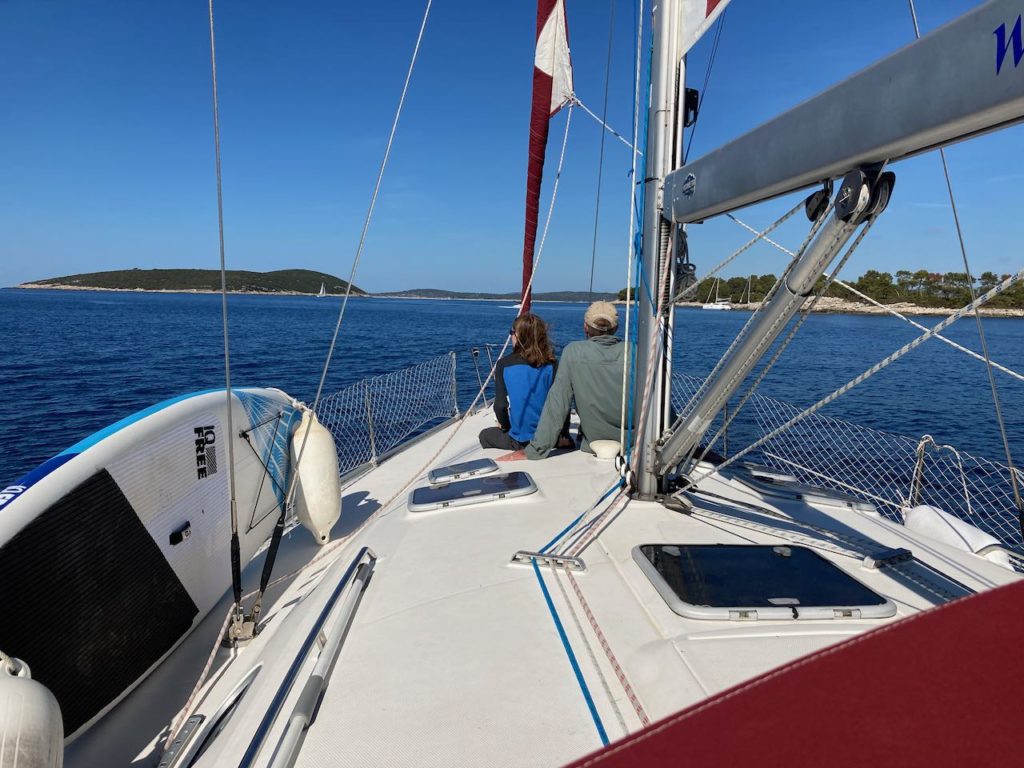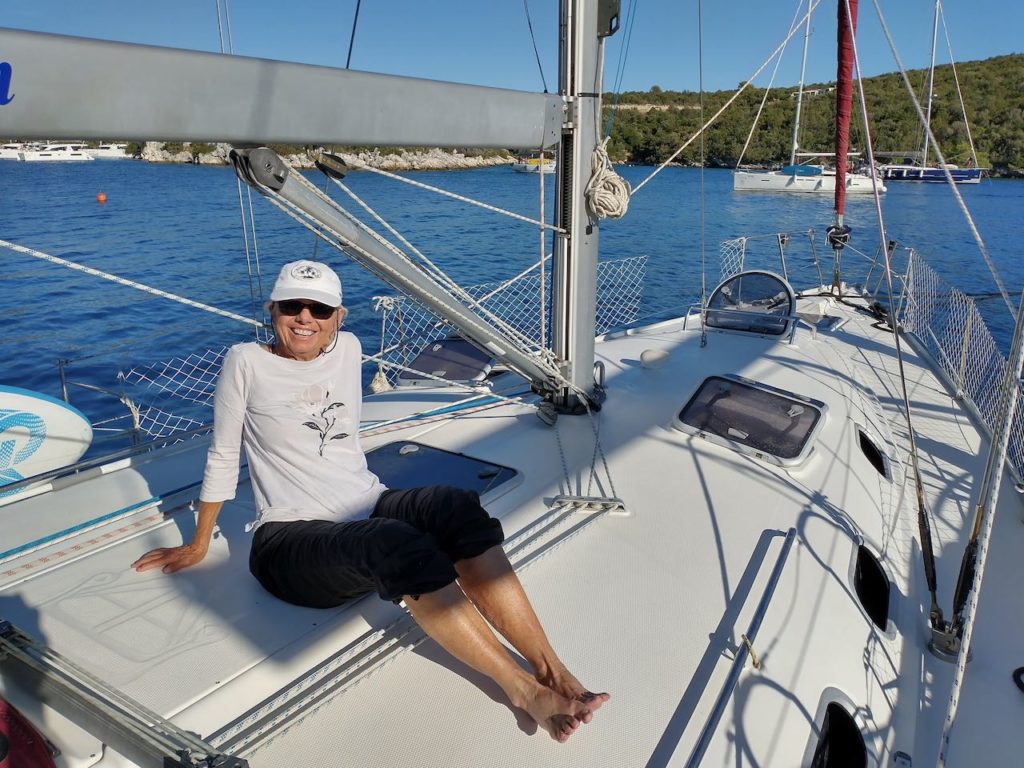 On Friday we anchored in another cove for a few hours while we made lunch and went swimming. Then it was back to Trogir where we re-fueled our boat and tied up at the marina for the night. We spent Friday night on the boat at the marina and moved out the next morning.
This was an amazing experience that I'll never forget. Our boat for the week, the Aquaholic, is for sale, but I don't think I'm ready to go all-in on the cruising lifestyle just yet. For one thing, having a local skipper to show us around and who knows all the best local restaurants and tour guides was amazing. Even if we'd been able to get our own boat, we wouldn't have had nearly the experiences that Vedran arranged for us.
After a day in Trogir doing laundry and relaxing, we hopped on a bus to our next destination, Dubrovnik! Stay tuned for more!