In Colorado, you can make plans first and then look at the weather forecast as an afterthought. Because chances are … it's going to be sunny. Winter in the Balkans … not so much.
We've been watching the forecast, picking out non-rainy days to go do stuff. It doesn't matter if it's in the middle of the week; we'd rather spend a rainy Sunday working than miss a rare sunny day.
Even during a cloudy day, we'll look at the hourly forecast to decide when to go out. Oh, look! Only an 80% chance of rain for the next two hours! I'm going for a run!
During the past couple of weeks we've had far more rainy days than sunny ones, but here are the highlights!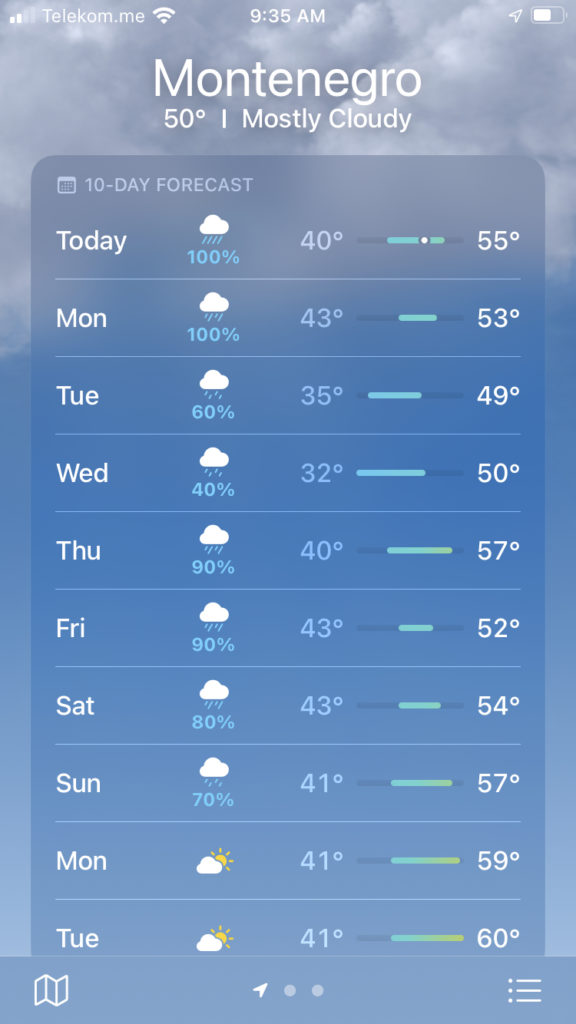 Thanksgiving in Kotor
We were hoping for good weather for the long holiday weekend, but alas it was not to be. Instead, we bought steak and spent an afternoon making a very nice meal. Jen made a pomegranate and apple crisp for dessert, which was lovely.
Pomegranates are definitely a thing here. They can be seen hanging unpicked from trees, half-eaten by birds, and even the tiniest corner stores currently carry them. Since we didn't know what to do with them we didn't buy any at first. Fortunately for us, when we were in Dubrovnik our landlord brought us some from a tree in her yard. After Kathy looked up a YouTube video on how to open them and extract their seeds, we set to work. I'd always thought they would be too seedy to enjoy raw, but we discovered that if you sprinkle them on crunchy granola or oatmeal, they're very good, adding a bright, tangy flavor. Couple that with the fact that they're supposed to be very good for you and we now have them nearly every morning with breakfast.
On Friday after Thanksgiving, we drove to the nearby town of Risan to see some of what Quinn calls "old rocks." These particular old rocks were in the form of Roman mosaic floor tiles laid down 2000 years ago when the Romans settled the area.
The next day we walked to old town Kotor to visit the Maritime Museum. As usual, Quinn wasn't very excited to go see old stuff, but there were fantastic ship models, antique swords and guns, and even a couple of interactive displays to keep him mildly amused. Pizza afterward partially made up for lost gaming time.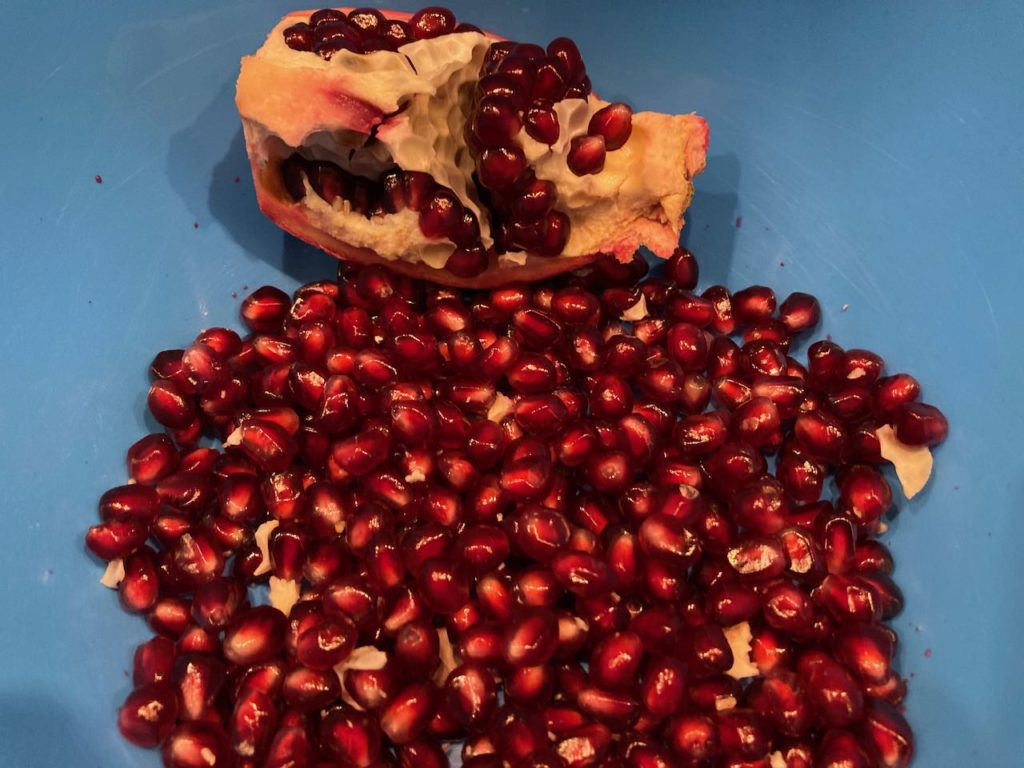 Snowy Cetinje
On our next sunny day, we made a day trip to Cetinje, a small town that used to be the capital of Montenegro. We decided to drive through Lovćen National Park to take in the views along the way. That route took us up a serpentine road to an elevation of over 4,000 feet where it had snowed the previous day (instead of the rain we got down at sea level). The road was icy for almost the entire drive, and I was glad for the national law that meant our front-wheel-drive rental car had snow tires.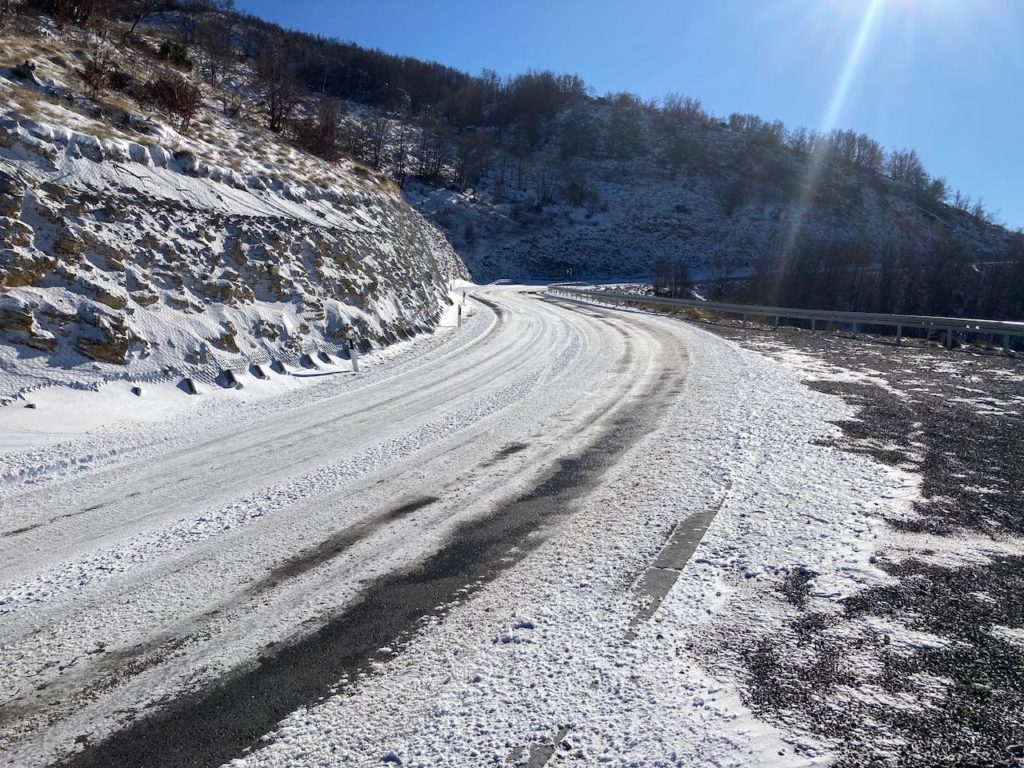 The serpentine was a bit sketchy covered with ice, but we took it slow, and the views made it worthwhile. We even saw a group of extremely hard-core long-distance cyclists with panniers making their way along the icy road.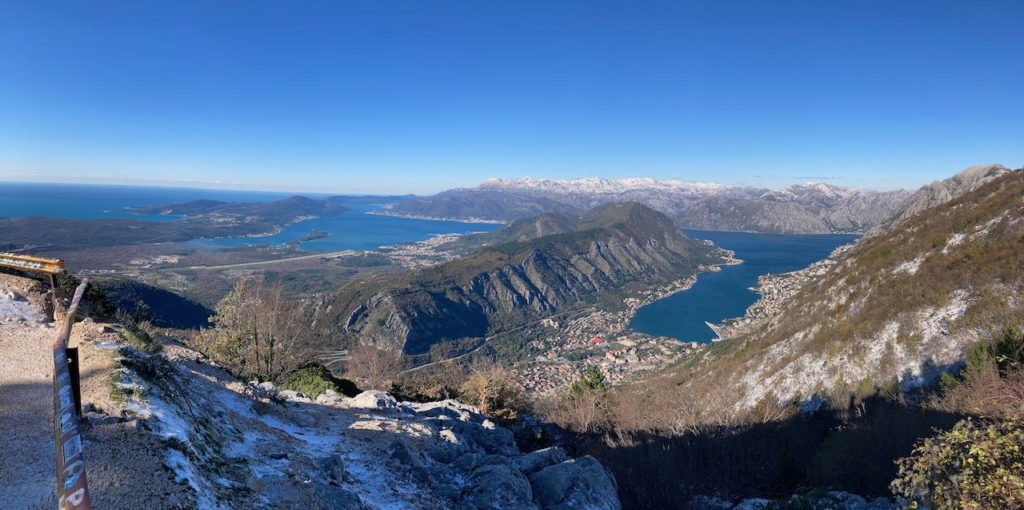 In Cetinje, we visited the "money museum." They had a working coin press from the 1800s and displays showing the great variety of different currencies that have been in use here over the years. In the early nineties, as Yugoslavia was breaking apart, the country was beset by hyperinflation, and anyone who could afford some milk was a trillionaire.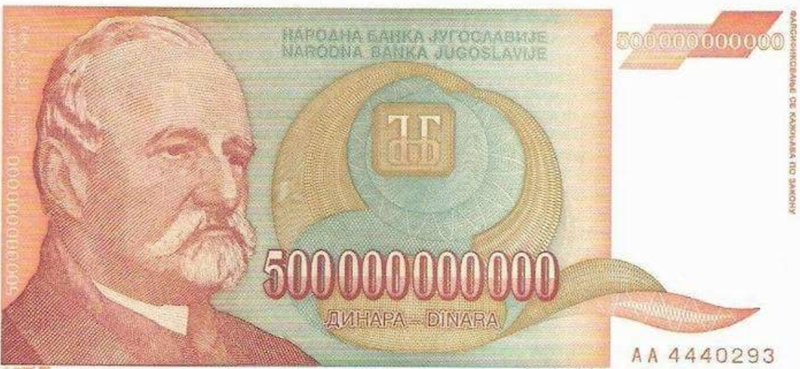 Hiking from Orahovac to Perast
Yesterday Jen and I took advantage of good weather for a one-way hike in the mountains above the bay. It turned out to be a difficult 6-hour hike, but the stunning views and sun made it very worthwhile. I leave you, dear reader, with photos from that day while I go back to watching it rain!