Bet you didn't expect to see skiing pictures on this blog! More on that below… We have a lot to report this month! After looking across the water at the Greek island of Corfu every day for the past month we thought it would be a shame to not visit. Not wanting to cut into our time in the Schengen zone too much, we booked an Airbnb on the island for a week instead of our usual month. Believe it or not, entering Greece was the first time we've been required to get a COVID test. Quinn got one in Saranda before we left, and we all got impromptu rapid tests at the border. We drove to Igoumenitsa where we caught a ferry for the 90-minute ride to the island.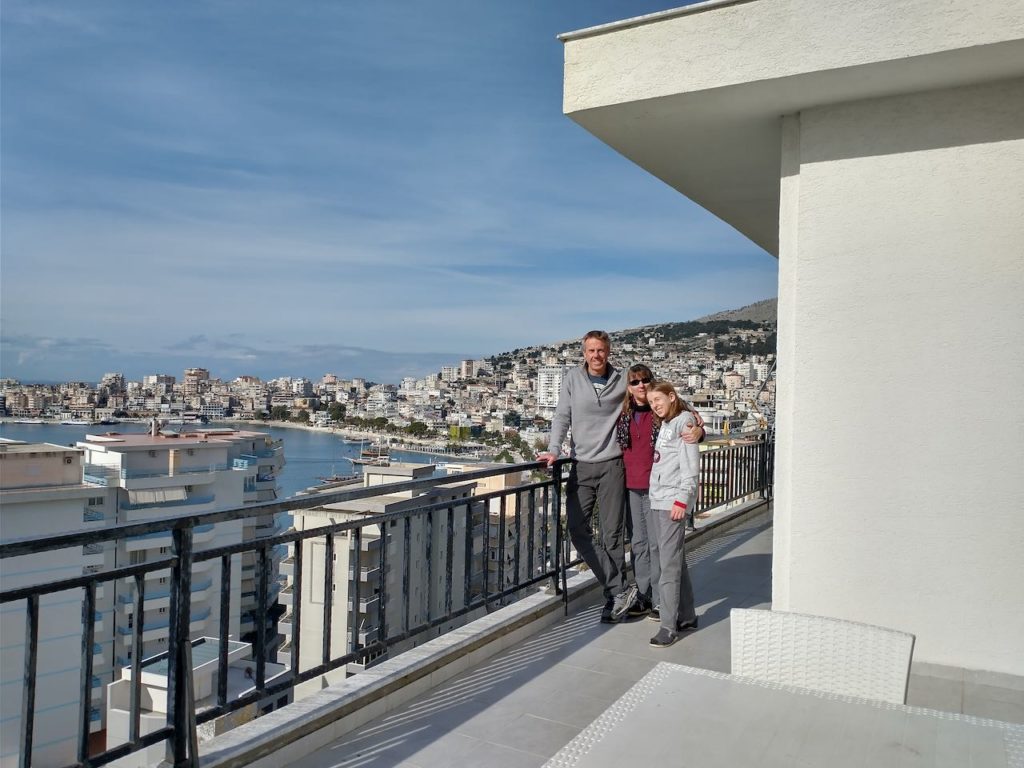 We stayed on a small farm in the countryside this time instead of our usual urban stays. Our hostess greeted us with a delicious home-cooked meal on our arrival. Corfu Town was a fascinating maze of old cobble-stoned streets and cafes. We lucked into a fantastic restaurant for lunch. Instead of giving us a menu, they escorted us into the kitchen where they showed us the pots where all of the dishes were cooking and we got to pick what we wanted. We never asked or were told prices, and we were a little afraid of the bill when it came, but it turned out to be very reasonable for a wonderful meal.
We had two days of rain that kept us indoors working, and even knocked out power for almost 24 hours. Since our apartment only has electric appliances we were unable to cook, but our hostess saved the day with another yummy home-cooked meal and a bunch of candles. The rest of our week on the island was spent hiking and touring some of the amazing coastal scenery.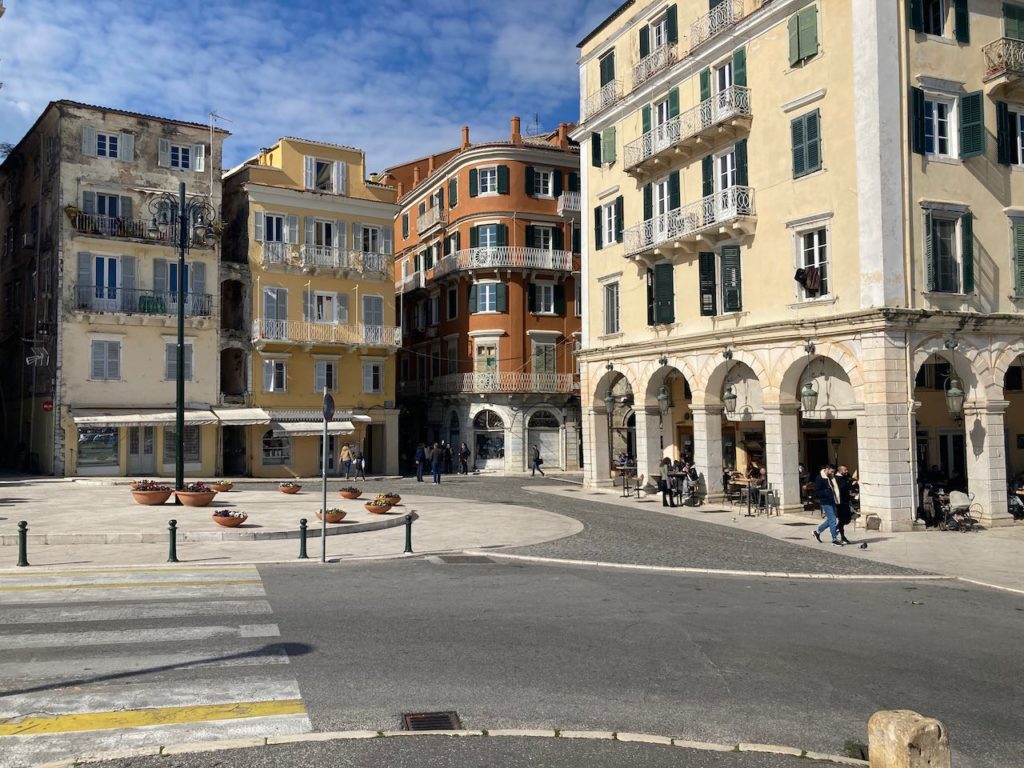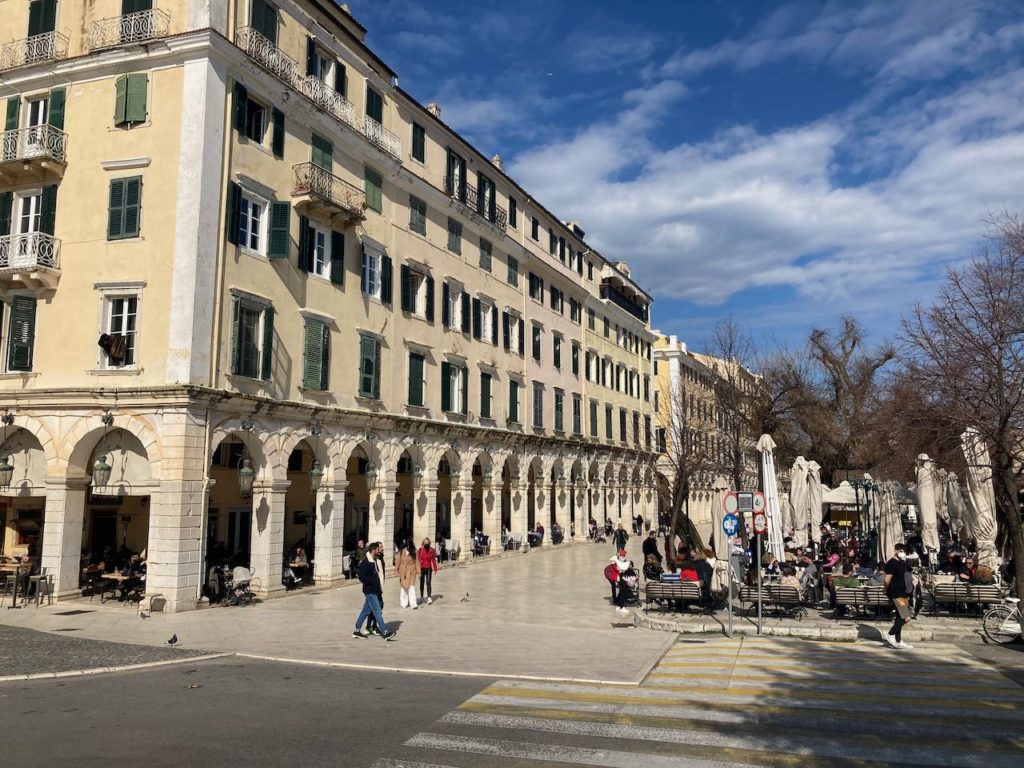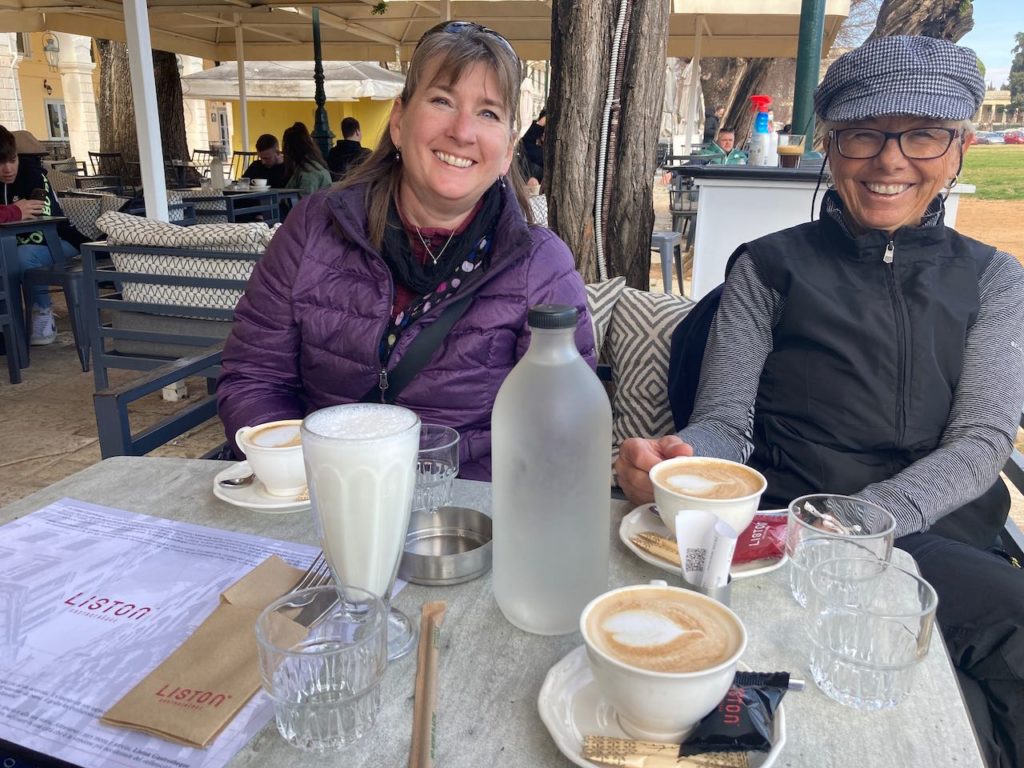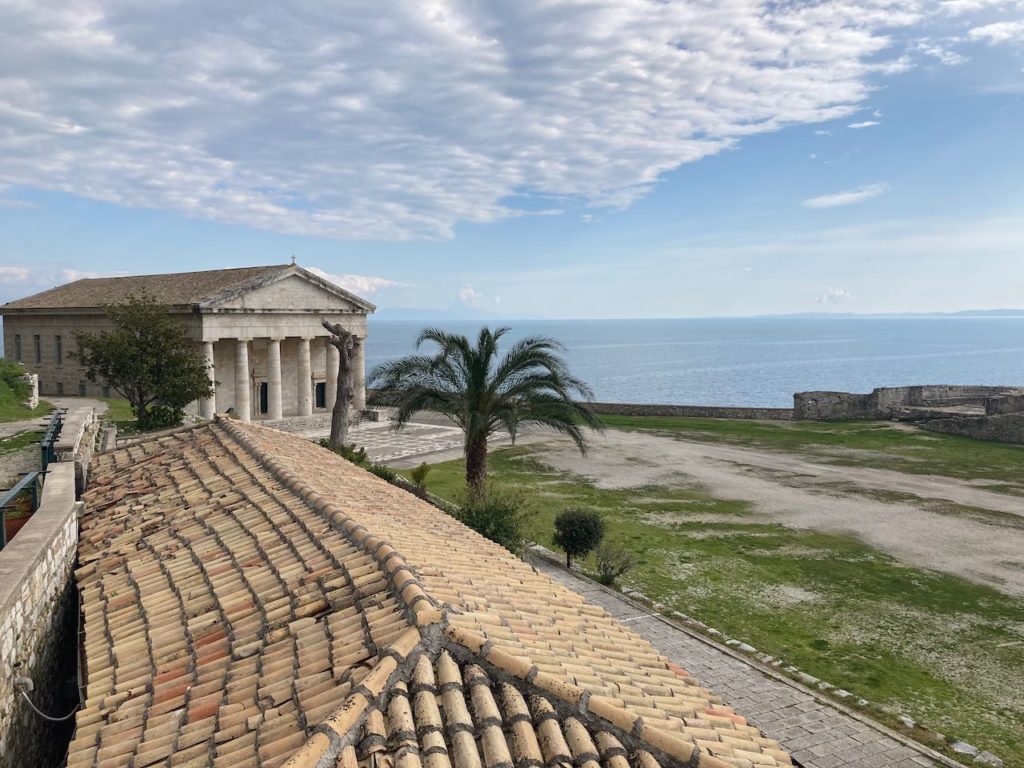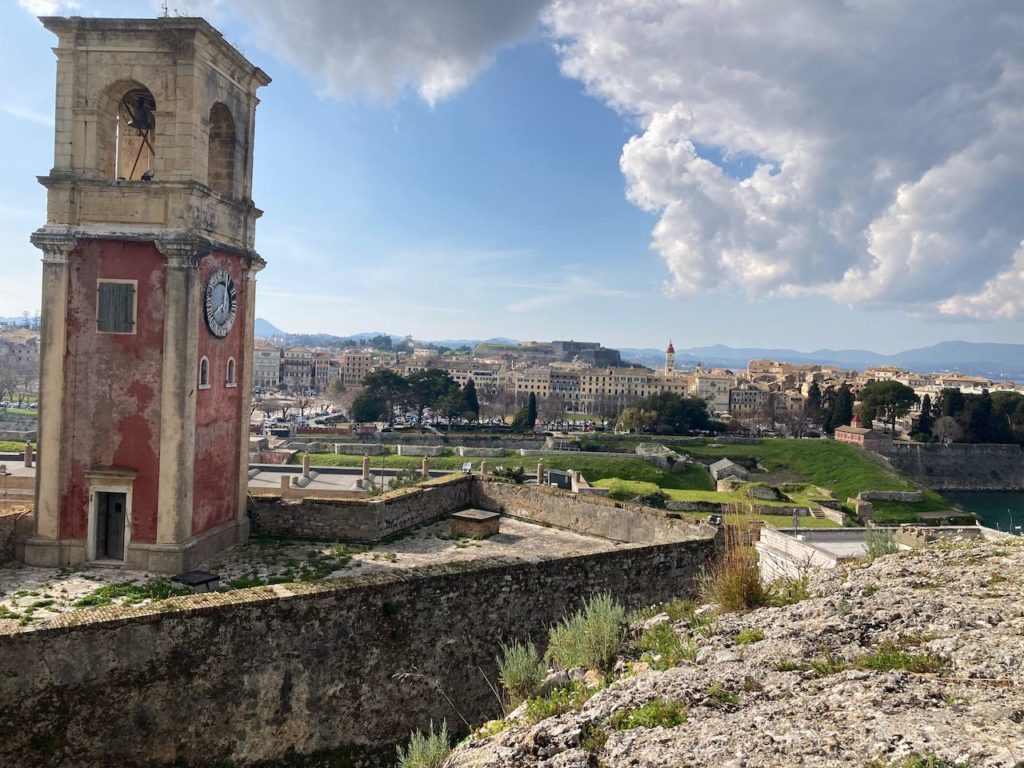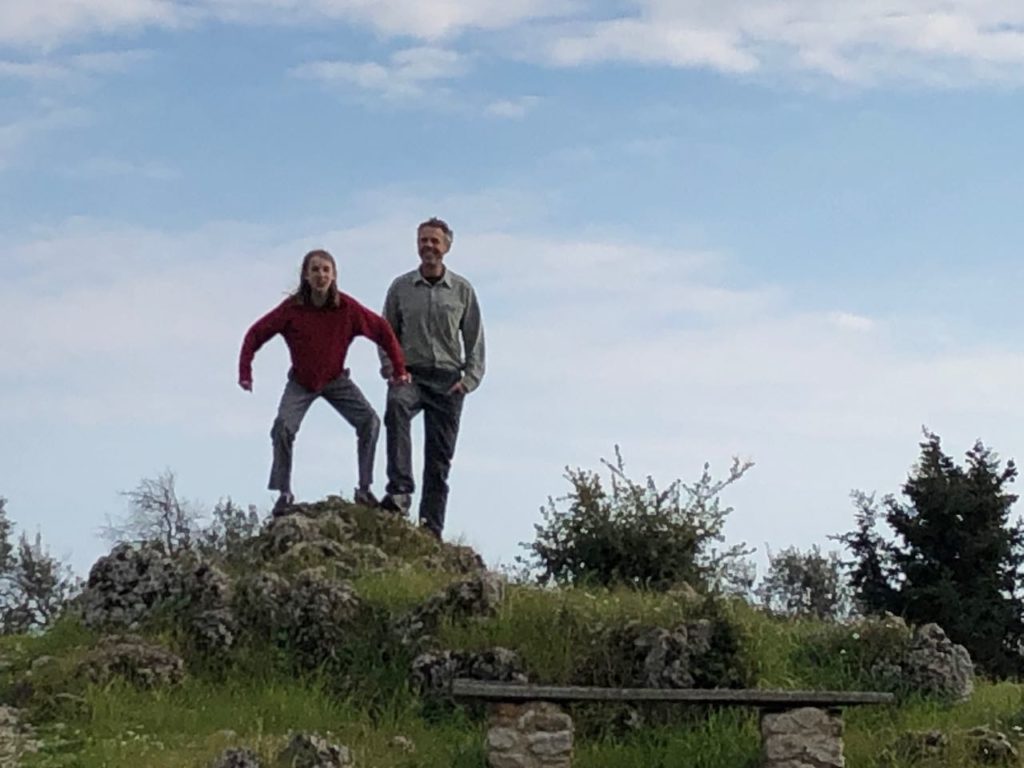 Soon it was time to pack up our trusty rented Opel Astra station wagon that we've had for the past month and head back to the mainland on the way to our next stop. We broke up the long drive back north with three days at the beach resort of Durrës in Albania before heading to our next stay in the mountain town of Kolašin in Montenegro.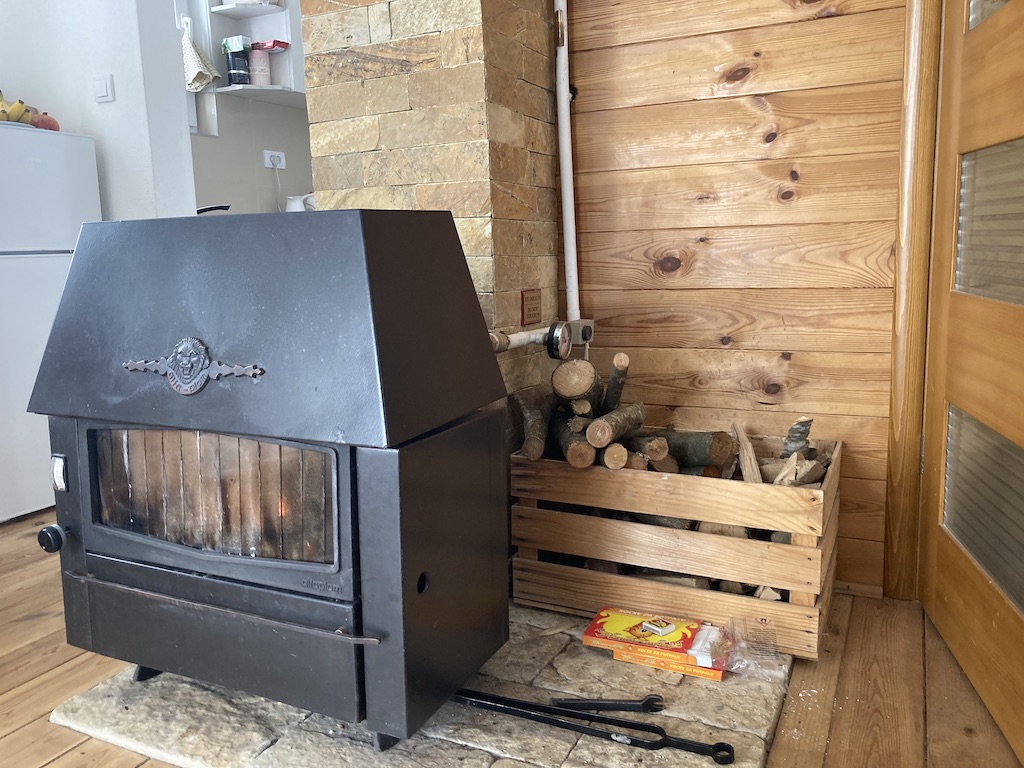 Even though we've tried to stay in warm climates throughout the winter, all of the apartments we've stayed in have been designed for the hot summers, not the mildly chilly winter that only lasts for a couple of months. With cold tile floors and drafty single-pane windows, we haven't really considered any of them to be warm. We told ourselves that surely a place in the mountains with actual winter must be better insulated. Fortunately, we were right! The tiny house we rented for our skiing week in Montenegro is very compact — probably only 800 square feet on two floors with two bedrooms and two bathrooms.
The place is heated entirely with wood using this stove. The stove has water pipes running through it that go to radiators in the rest of the house. It's kind of like a backcountry ski hut — wake up in the morning and build a fire. If it's sunny, let it go out until the afternoon. It keeps our little cabin warm and cozy!
We've been out skiing two days so far. The base of the mountain is at 1600m, which happens to be almost exactly a mile. The summit is at 6500 feet. But it seems like a much higher elevation since the top quarter of it is above the tree line. Our first two days on the hill were sunny with warm spring-like conditions at the base.
One of the amazing things is the cost. A one-day ticket at Vail is $159; here it's 15 Euros (less than $20). Ok, so there are only two lifts (both 6-packs), but it still seems like a bargain and the skiing is great. We rented all of our gear, including ski pants, gloves, goggles, and helmets from a small shop in town. No Christy Sports here.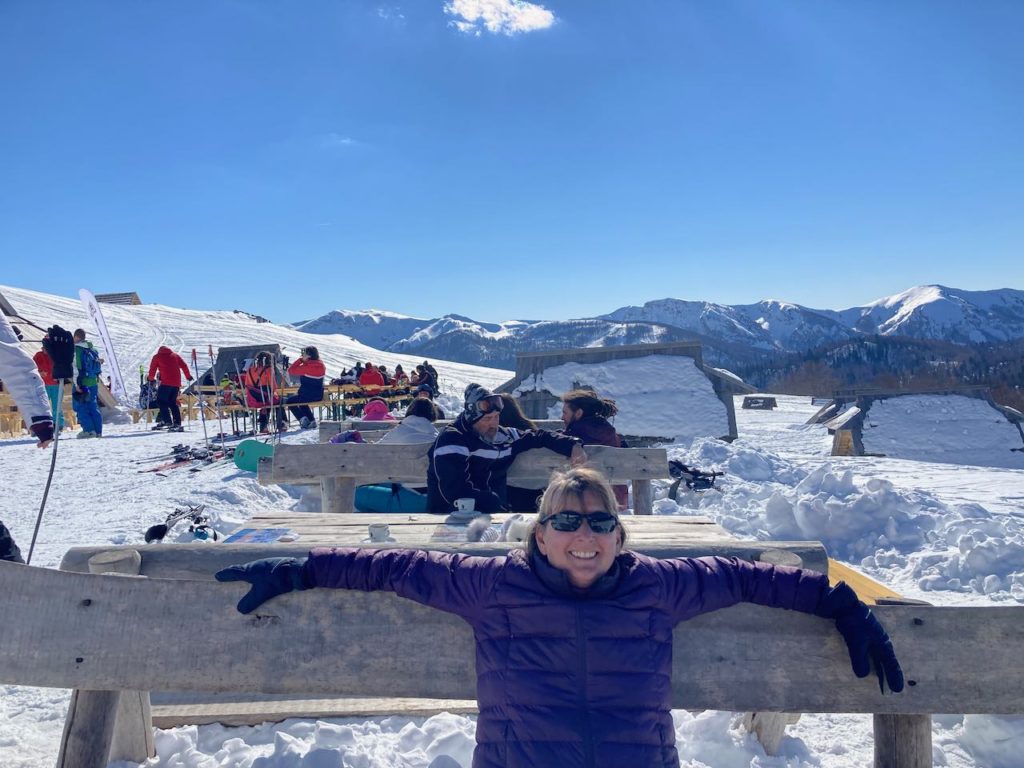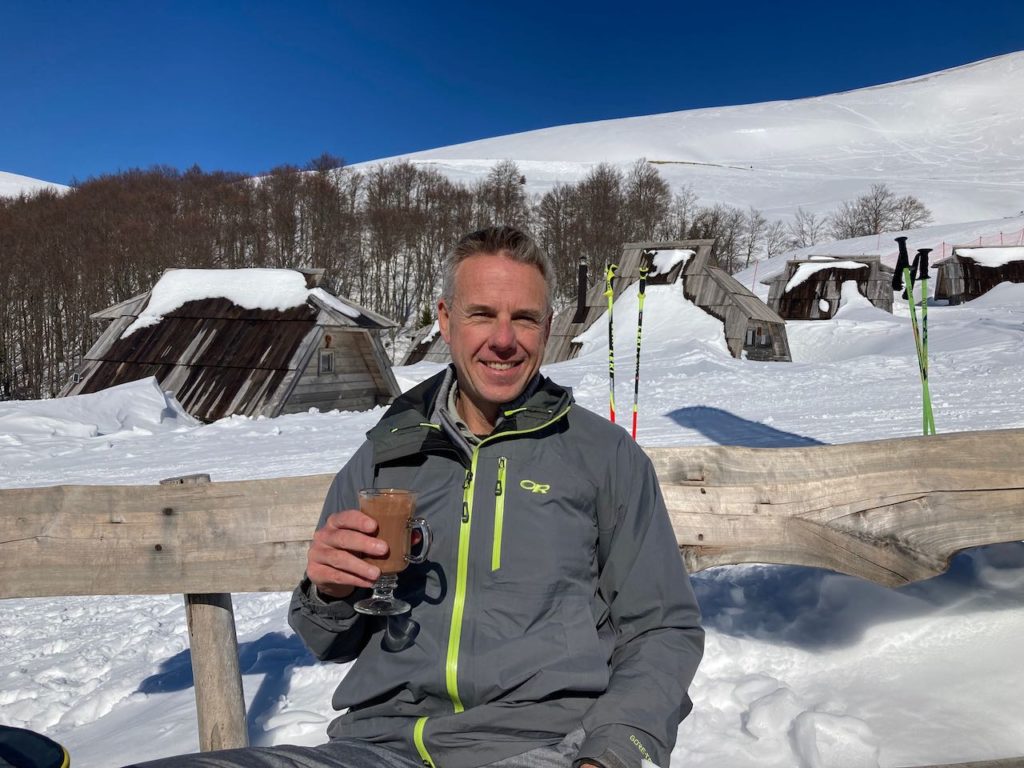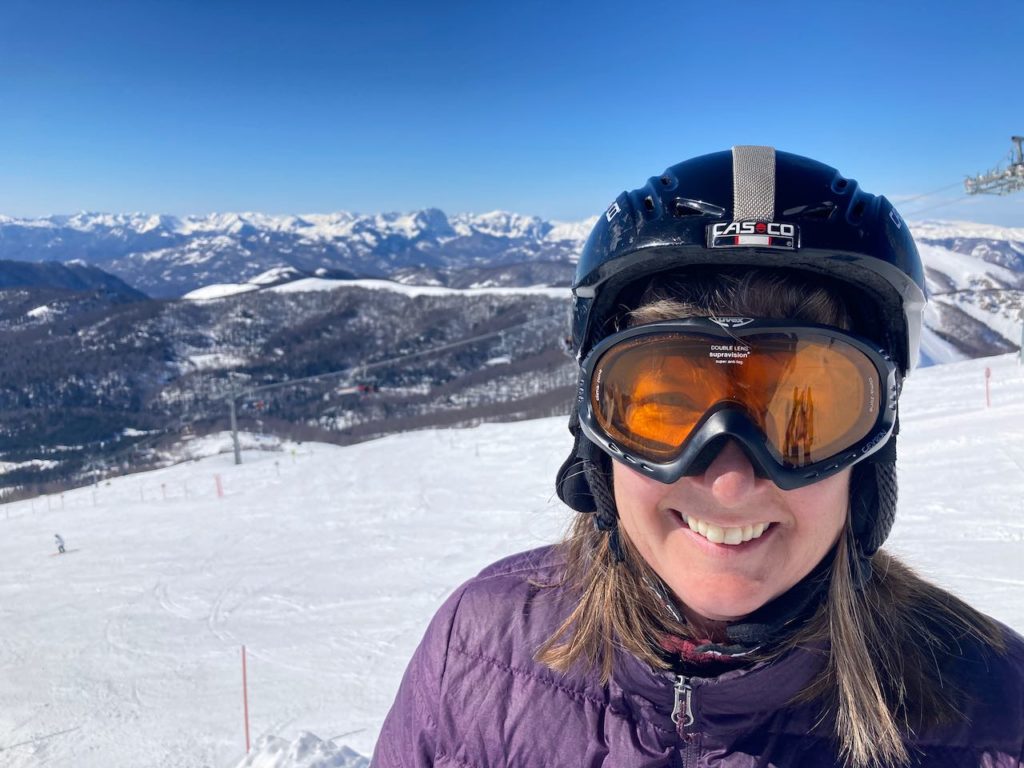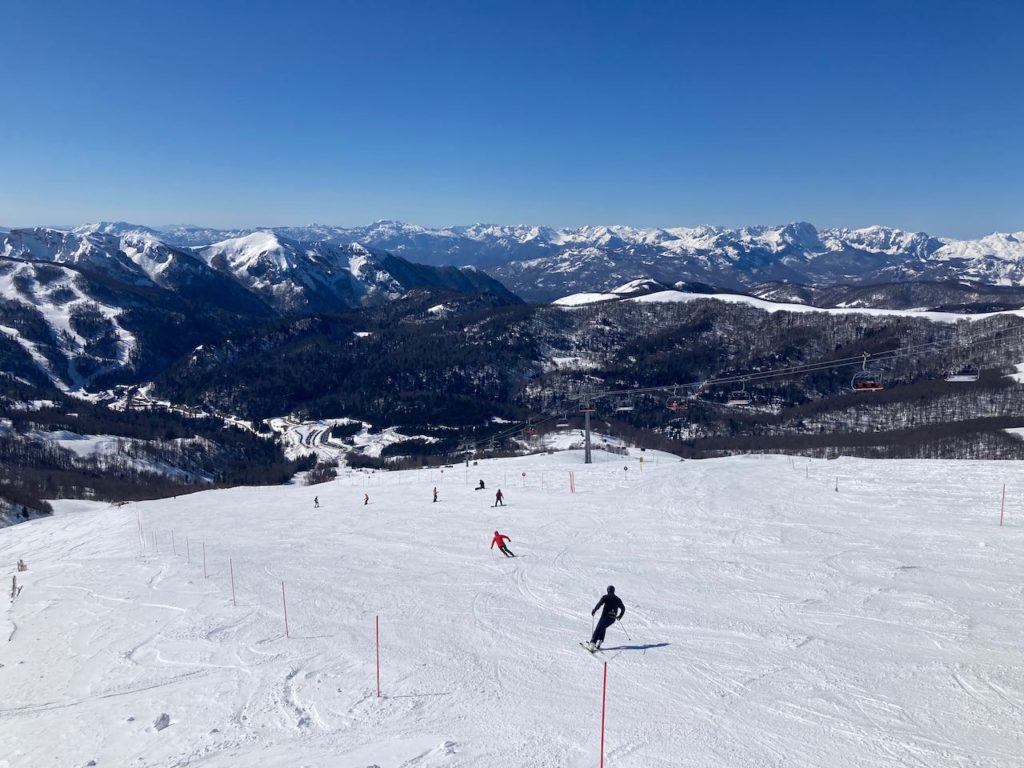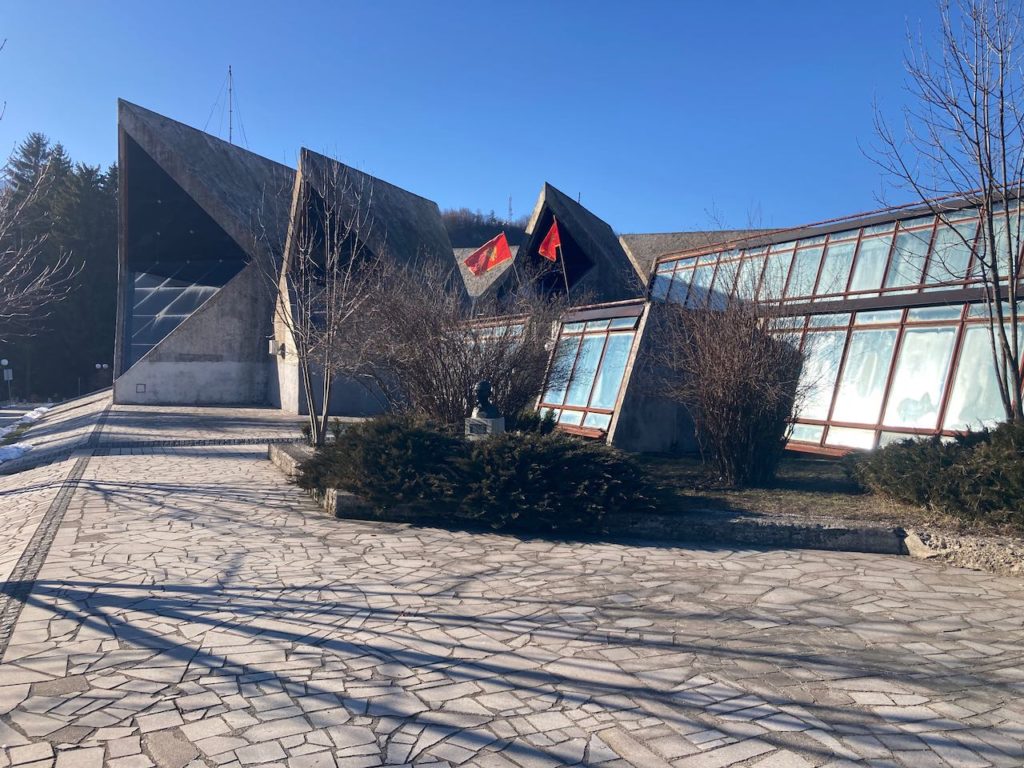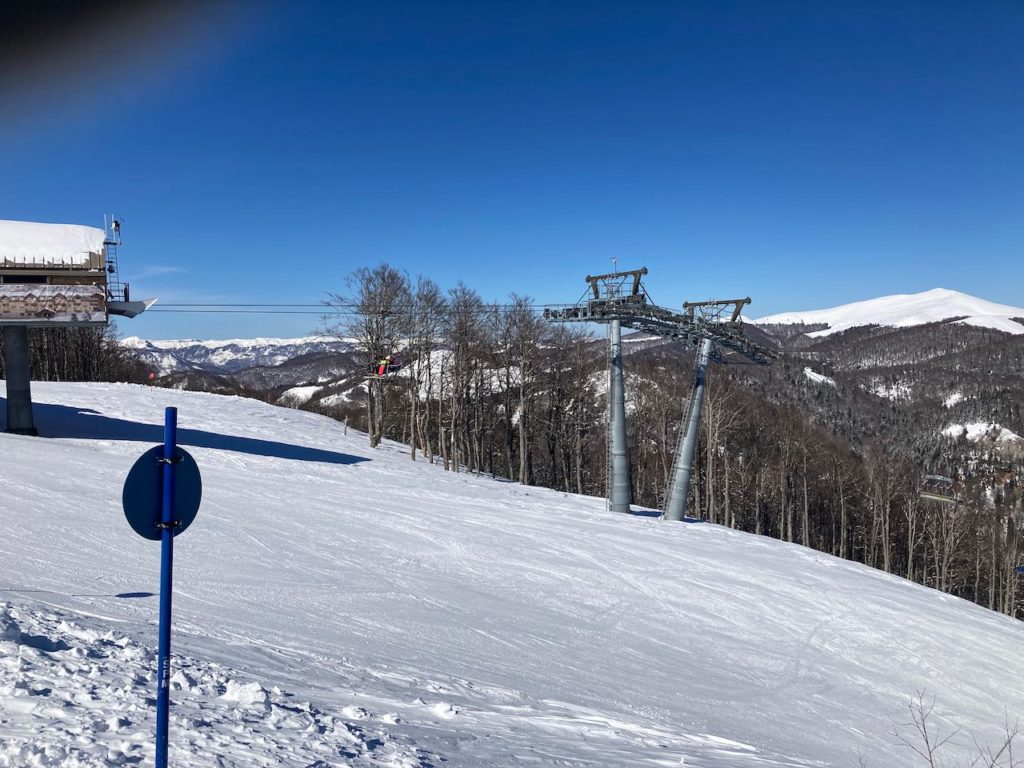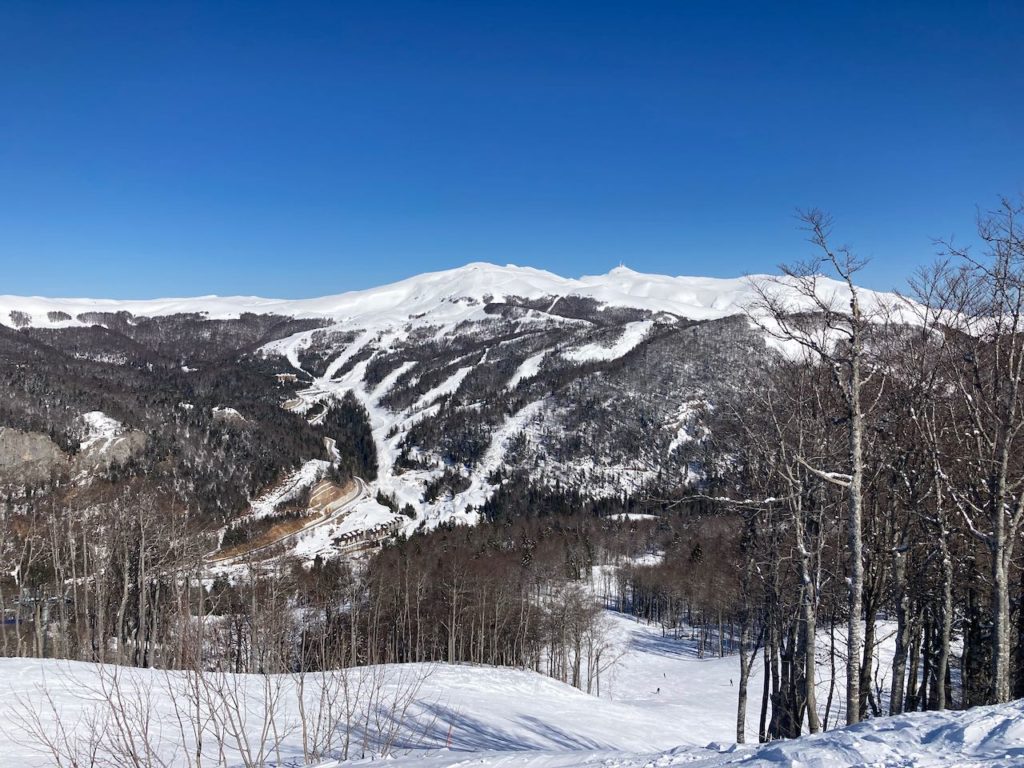 One afternoon when we didn't ski we went out to lunch at a local restaurant and ordered a grilled meat platter for two. As usual with these Balkan meat platters, there was enough for about eight. Which was fortunate when a friendly dog outside decided he wanted to play tug-of-war with Kathy's new scarf that Jen had bought her for Christmas. With quick thinking, Jen grabbed a sausage from our meat-laden box of leftovers. The dog decided it was much better to eat sausage than pay tug-of-war and relinquished the scarf. Crisis averted.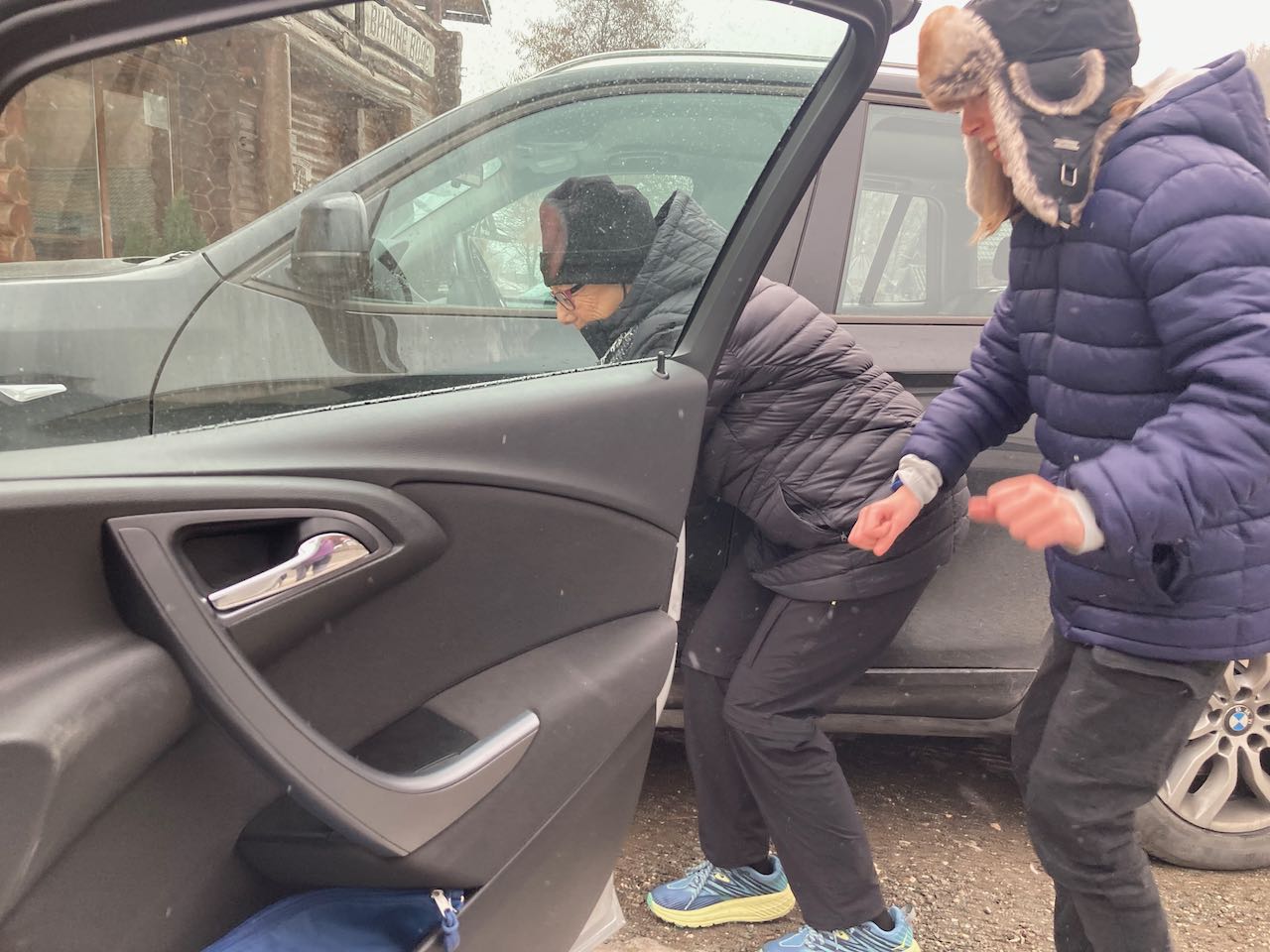 The past three weeks have been much faster-paced than we've gotten used to, and we've had a lot of wonderful experiences. The changes don't end there though! Next week we're finally flying to Paris to begin the trip we'd envisioned.
After yet another delay in the delivery of our camper, we finally decided that enough is enough and so we've changed our plans. The company that we'd ordered the campervan through has been kind enough to put it up for sale and will refund our deposit as soon as it sells. We've decided to rent a similar camper instead and will be picking it up in Paris next Thursday. Every time we think our ski cabin is small we just have to remind ourselves that it's a palace compared to the RV!